Seaview Services celebrates centenary
100 years of coaching is an impressive achievement, but running coaches from the Isle of Wight is not without its challenges
We hear of various milestone years in business here at Bus and Coach Buyer; 25, 50 or for some, even 75. But Seaview Services' 100 years is perhaps one of the rarest landmarks we have reported on, making it even more commendable. Such an occasion prompted Chris Peat to cross the rain-swept Solent to visit the Isle of Wight based family-owned operator.
As the precipitation dissipated to give way to sunshine on the island, Seaview Services' Phil Robinson was not only keen to talk about the centenary, he also wanted to highlight what the Isle of Wight has to offer the coach tourist and spoke about the challenges of running coaches on the island.
Happy to help
For an operator, 100 years in business is a remarkable achievement. But to the Isle of Wight, an island steeped in history, a century is not all that long. Having links back to prehistoric times with its fossil-rich beds, the island's timeline encompasses Roman conquerors, Germanic tribes, Viking raids, French invasions and a famous former-resident in Queen Victoria. Do not let these dramatic occurrences dwarf the importance of Seaview Services to the island. The company's two-tone green and red liveried coaches have become part of the island's furniture. In fact, the operation has been immortalised in the isle's history at the Isle of Wight Bus and Coach Museum, which has some of Seaview's vehicles.
"I want to promote the island," Phil said and the rich history and related sites surely would provide a draw for coach holiday makers. To encourage more coach passengers to the island, he is happy to help any visiting operators. He can provide a replacement coach if a visiting operator breaks down, as well as help repair it. Phil is no stranger to a vehicle workshop, he comes from an engineering background. He said: "I'm here to help out. If you knock a mirror off or the coach won't start I can help, but beyond that, we have DH Price Motors here that will help out as well."
He even said he would be happy to chat to operators for general information about the area. "We will help out operators who come to the island. Those that do come here tend to know us and we have helped them out before. I would like to think they would do the same for us when we are in their area."
It is not as easy running coaches on the island as it is on the mainland, Phil observes. He said: "The island is ten years behind anywhere else. So if you have a battery that needs replacing, sometimes there is just not one on the island. It has to come over on a 'dangerous goods' ferry. When you have a mainland operator come over here, they sometimes don't understand and think they can get the parts they need in an instant. It's a very difficult thing to explain to them."
Would Phil prefer it to change and the island be up to date with the mainland? "We don't want it better here. People come to the island because they want to step back in time, that's what it's all about. If we could, we would stay on the Isle of Wight and drive visitors around. Our work now I would say is 60% on the island and 40% on the mainland. We do bits and pieces on the Continent too; we have an international licence, but we are going to change that shortly."
Steeped in history
To mark the occasion of 100 years, a book has been written on Seaview Services by Terry Jones, with copies of it luckily landing in the depot the day before my visit. Terry, who bus and coach enthusiasts may know from his previous works on Claverham Garage, Shotters and Moss Motor Tours, was on hand to present a signed copy of the publication.
The book covers the full history of the operation, which was started in 1922 by Richard Newell, who commenced a bus service on the island. The Newell family had been busy providing taxi services in the island before that date.
The Newell's coaching operation was run under the name Newell's Express Motor Services. Its first PCV was a Ford Model T, christened Twinkle. As holiday camps sprang up in the 1930s on the island, the company's name was changed to Newells (Seaview). It took another new moniker in 1942, the now more familiar Seaview Services. On the death of Richard Newell, Seaview Services changed hands to John H. Higgin.
During WWII, the island's holiday camps were requisitioned by the military. Seaview Services did its bit for the war effort with a pair of OWB utility buses being allocated to the company towards the end of the war. As peace returned, there was great demand in the area for transport, with the rise of "Round the Island" tours.
The story goes that around this time John Higgin became good friends with Colonel Warner, who set up holiday camps in the area. Being good drinking partners, the Colonel offered John exclusive rights to the transport work for his tourists if he promised to paint his buses in his green and red colours. This was agreed, giving birth to the operation's current livery. The fleet grew in the '50s, often times being augmented in the peak tourism seasons with coaches hired in from dealers.
Unfortunately, this boom did not last, as the '60s saw rising car ownership decrease public transport usage. However, the company survived and in 1963 it purchased Read's Grey and Red Coaches of Ryde.
John Higgin retired in 1979, with Albert and Mary Robinson, who had their own much smaller operation, taking the company over in 1980. They decided to keep the Seaview Services name, preserving its goodwill it had accrued over the years.
As deregulation hit the industry in the mid-80s, the operation changed the branding of its stage-carriage operations to Redlynx, which was given a new red livery. At this time, it registered an extension of its route from Ryde, putting it in direct competition with Southern Vectis. After retaliatory action and further competition, an agreement was reached among the operators, which saw a scaling down of the commercial conflict.
Seaview Services has had disagreements with Southern Vectis since then, but in general Phil says the operators get on with each other.
In 1989, its original Seafield Garage depot in Seaview was sold for redevelopment and partially demolished. Its new site was in Sandown, but in honour of its old facility was named Seafield Garage.
It was not long after in 1992 that the bus service side of the business was disposed of, with the company focusing on its coach offering. The Round the Island tours business started to wane during the '90s, such that its activities now involve contract work, private hire and mainland journeys. Phil said: "In the '90s, we could see what was going on. We tried to get more mainland work."
The Island today
One of the latest developments at Seaview was its move of depot to a smaller site just over the road in Sandown. It has also cut its fleet back in the last decade from 15 vehicles to five. It has an O licence for eight and employs just the one full-time driver, with several part-time drivers to call upon when needed.
"I've got a brain tumour," said Phil, explaining why the reduction in its fleet was made. "I've had it for ten years now and it's something I'm still battling. So we decided to reduce the fleet and sell the old garage. I wanted to keep the company going. How long will we keep going for? How long is a piece of string? But we wanted to reach the centenary. My dad is 81 years old, so with his age and my health, we wanted to reduce."
What does Phil think the future holds for the operation? "Looking ahead, I think we are all going to find it very hard. It's these LEZs and CAZs that are going to crop up. The Isle of Wight is going to be hit by them. Southampton is going to have one in 2020 and Portsmouth is going to have one too. It means we are going to be hit to get onto the mainland. We're going to be stuffed!
"To invest in new vehicles to make us compliant with it, it's going to be in the realm of £2m. We would love to go buy five new vehicles, but there is no way we can afford £2m worth of vehicles. It is our biggest challenge and not just for Seaview but the Isle of Wight. Although you never know . . . we might win the lottery!
"The LEZs are our biggest threat. We're being hit and we shouldn't be. Politicians, wouldn't dream of putting a tax on cars. There would be an uproar and they would lose the next general election. I would like to see where all the money from fines for the LEZs and CAZs is going; is it going towards cleaning the air up?"
Seaview's biggest earner is school parties, generally from the south coast and London, taking them into the Isle of Wight. Phil said: "We do up to three coaches a week in summer." With the CAZs coming up, he believes schools may have to pay "big money" for coach trips.
Phil said: "We feel everything is going to go up. One of the catchphrases of our customers when we quote them is: 'How much?' You get a mainland operator to quote and they won't quote for the ferry and the extra man hours associated with the ferry. With the ferry, we have to put four hours on the driver's wage. You have got to remember, we have got to get off the island and they don't realise it can be as much as £20 per head."
Seaview Services works with both Red Funnel and Wightlink ferries, with Phil describing his relationship with them as good. This author crossed the Solent on a Red Funnel ferry between East Cowes and Southampton. The service was good, with plenty of choice of seating on the ship and great food. Red Funnel's 'Dancing Man', Jim O'Reilly, helped usher the author's car off the ferry and the dancing moves that won him VisitEngland's 2018 Tourism Superstar Award were present while doing so. He had received 64% of the record 20,642 votes cast by members of the public to receive the accolade.
"As a company, I would love it to go back to the old-fashioned days," said Phil, referring to the past business on the Isle of Wight for taking people on tours. Albert, Phil's father, fondly remembered the days when the company used to offer trips around the island, £5 per head. However, the company is not completely devoid of tour work, it does some for Gosport Ferry where it takes passengers to destinations such as Osborne House (where Queen Victoria once resided and spent her last days). Commenting on these trips, Phil said: "At the moment, numbers on these services are very good."
A significant number of Australian tourists come to the island, a market which Seaview has served. Phil said it is a lesser known fact that the first people to depart from the UK to Australia actually left from the Isle of Wight. "They were moored near Ryde. Quite a few Australians come and see a monument over here."
The company also gets a number of Dutch and French groups visit. Cruise work is something it does, with three jobs lined up for this year, receiving passengers coming into harbour at Cowes.
What killed off a lot of round-the-island tours was the release of local operator Southern Vectis's Rover tickets. These allow passengers unlimited travel across the island's bus network, which is run by the Go-Ahead Group owned operator. The Isle of Wight has a large retired population, Phil explained, who can use their bus pass for free bus travel around the Isle, another factor he believes has damaged his tour business.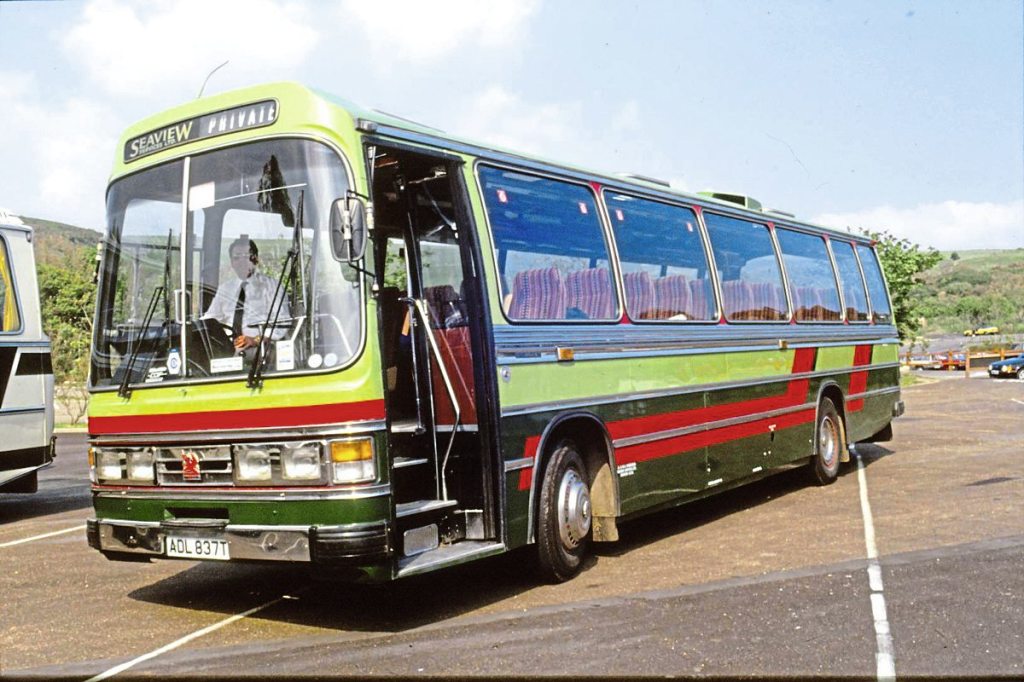 Promoting tourism
Phil said: "Doing tours of the island was one of the best things I used to do." He was clearly sad about the fact he cannot drive any more due to his tumour. He fondly recalled the times he would take tour groups around the Isle, regaling them with tales of the local area. He was the 13th driver in the country to pass his test at age 18, just as the law was changed to allow people of that age to drive PCVs. "I still have my badge and remember the number."
Phil's mother, Mary, highlighted how challenging it is to attract more tourism to the island. Phil said: "We would like to encourage more coaches to the island. It's a beautiful place and we will help operators out if we can."
Stumping him in his progress with this is the local council, which he claims does not understand the benefits of coach tourism to the island. Also, he noted a lot of hotels with coaching business have closed down. Phil said: "More money needs investing."
Albert, Phil's father, said: "We have got to have a good tourist chief, we have got to promote this place more. Two to three years ago, there was lots of advertising for the island on Southern TV. That's alright, but in the south they already know about the Isle of Wight. It should have been the north or the midlands that it was aimed at."
Phil is used to challenges in the industry though. "I set up the island's first CPC training centre here because I knew it was going to be difficult to get trained when the requirement came in." He has opened this training up to other operators in the area, including truck companies.
Last year Phil set up a deal with Cotswold Medicals, seeing the organisation's health professionals visit the operator to carry out the medicals, meaning the drivers do not have to go to the mainland for them.
The island is a difficult place to operate, Phil admits. He mentioned Moss Motor Tours, a fellow Isle of Wight operator, which ceased trading. He said: "They had just had enough." With a laugh, he added: "That's what we feel like sometimes. It is hard, but the mainland operators are having a hard time too. But we try our best.
"The challenge is the CAZs, but we are also trying to promote coaches to the younger generations too. We have the school kids and we have the older generations, but we don't have the middle ground, they all have their own cars."
One bugbear of Phil's is price concerns from groups. "We do attract some groups that want a toilet, TV and DVD, but don't want to pay the price. We are trying to educate people that if they want these things, they have to pay the price."
Something else he has had to keep an eye on is GDPR, the new data protection regulations set to come into practice on 25 May 2018. This will see companies review the data they hold on people. Phil said: "It's another headache."
Another challenge of running a fleet on the island is drivers hours laws. The island counts as an off-shore territory and the operator runs on EU hours . If the operator stayed on the island, it would run on domestic hours. So the hours are longer for it getting on and off the island, which means a normal day is 14 to 15 hour days. The coaches are all calibrated for EU regulations.
Future of the fleet
Technology and equipment is something Phil likes to keep up with where he can. Seaview Services uses Quartix to track its vehicles. He said: "Dad wasn't keen on it at first, but he is better about it now. We even give schools the code they need to be able to track the coaches they have hired."
The operator also uses Distinctive Systems' Coach Manager package for managing its fleet. Phil said: "We were one of the first customers Distinctive ever worked with. We pay our subscription and we enjoy it."
The fleet being tracked is a mix of marques, comprising of Van Hools, MANs and Volvos. Phil has bought a lot from Bob Vale Coach Sales in the past, being good friends with Mick O'Connor. Phil's personal favourite in his fleet is his Setra. Commenting on his preferred vehicles, he said: "I like anything German. If I had the chance to get another Setra, I would."
Commenting on his buying patterns in the future, Phil said: "If I ever live that long, I would like to buy the first coaches that are hydrogen-electric. That's what is going to happen in the future. They are not going to be battery operated, because when on tours you just won't find a plug to recharge them."
He added: "The industry is going to go greener. But it's going green too quickly and coach operators just can't afford the technology."
In terms of the coaching business itself, he would like to encourage more 30- to 50-year-olds onboard in the future. To do this, he believes coaches need to be more like a living room, more luxurious, with fewer seats and extra legroom and wifi. "That's how the future is going to be with coaches."
He likened it to changes in coaches years ago: "I remember the old Duples with no curtains or toilets. When I would say to my dad, 'We need a coach with curtains', he would say: 'You don't want curtains'. It was very hard for me to persuade him to get a coach with a toilet. Coaches are going to be more luxurious. But there is just not enough money in the industry for operators to meet those standards."
Despite the challenges ahead in the industry, compounded by the difficulty of operating on the Isle of Wight, Phil remains strong. Dearly missing driving, he is passionate about coaching and the island. This is evident in his telling of coach driver tales of the island (the one about English archers making rude gestures to French soldiers was particularly amusing), which he did until the sun began to set.
Fleet list
2010 Nissan Navara Tekna crew cab
2009 Volvo B12B Van Hool Alizee T9
2008 VDL SB4000 Berkhof Axial 2
2007 MAN 18.360 Noge Catalan Star
2006 Setra S416 GT-HD
2004 Volvo B12B Van Hool Alizee T9
Organisations
Seaview is a member of BUSK, the child transport safety organisation. It meets the group's Benchmark. Phil said: "It's good for risk assessment, we are all for it. Overnight travel with kids aboard? I've been there and done it, bought the tee-shirt. I wouldn't put drivers through it. that's why I'm a member of BUSK. If you want to ensure health and safety for children, just phone BUSK."
The operator is also a member of CPT, being among the first organisations to sign up to the trade body. Phil said: "To be honest, we don't really use them enough. I'll sometimes drop them a line, often about legislation, and they help us out with that."