Road Test – Five tonnes at last
They say that absence makes the heart grow fonder. Well, Rob Orchard has been waiting an age for the heavyweight of the MAN TGE range to arrive. Was it love at first sight?
It is more than two and a half years since I first drove the exciting new VW Crafter replacement for the popular LT Crafter. So what's that got to do with MAN TGE?
They are essentially the same vehicle save for the badging. The old LT was, of course, a Mercedes-Benz Sprinter body which was equipped with VW mechanicals. Unfortunately for Volkwagen, Mercedes-Benz didn't let them use the excellent seven-speed automatic gearbox they introduced on the Sprinter.
The fact that the two vehicles were essentially the same, except for mechanicals, meant that convertors and bodybuilders found it easy to convert either vehicle type using standard templates. The new VW Crafter/MAN TGE is not a Sprinter but a joint VW/MAN project, both part of the huge VAG automotive group. It is a totally new design of panel van/chassis cab. What's more, it is being built in a new manufacturing facility in Poland by a new workforce.
When VW announced the new Crafter they said it would be produced in 3.0/3.5/4.0 tonne GVW form with front-wheel drive and some rear-wheel drive, and in 5.0/5.5-tonne form with rear-wheel drive only. It would be available in a range of van sizes roughly equivalent to the old LT and in chassis cab form. The new vehicles would use a completely new VW four-cylinder diesel engine and it would be available with either six-speed manual transmission or an all-new, eight-speed, automatic transmission…the first time VWs in the 5.0/5.5 tonnes category would be available with fully automatic transmission. In addition the new vehicles would have advanced electronics including both electronic braking and steering.
Along the way VW also announced that they would supply the Crafter – rebadged TGE – via its bus/coach subsidiary MAN. It is an interesting move obviously aimed at widening their potential market using MAN dealers, who have not previously been involved in the van sector. It's potentially good news for operators because the MAN dealer network understands the market and its requirements, particularly the need to turn around vehicles quickly, far better than many van dealers.
Indeed MAN said from the outset that it was looking to become a major supplier to the market for conversion and bespoke vehicles. To that end it has spent considerable time and effort talking to the industry and, late last year, announced a number of preferred convertors which included Minibus Options, Stanford Coachworks, EVM, Mellor and Nu-Track. Whether all these will take up the offer remains to be seen.
So what went wrong? In my opinion, VW were totally over-optimistic. They said back in September 2016 that we would start to see 3.0/3.5t vehicles during second quarter 2017 with 5/5.5t in late 2017 and chassis cabs in early 2018. It just didn't happen. I think they over-estimated the complexity of bringing a completely new vehicle, built in a new factory in another country, by a totally new workforce, to market. And they have suffered. Any hopes of getting the product out there before the new Mercedes-Sprinter arrived were dashed.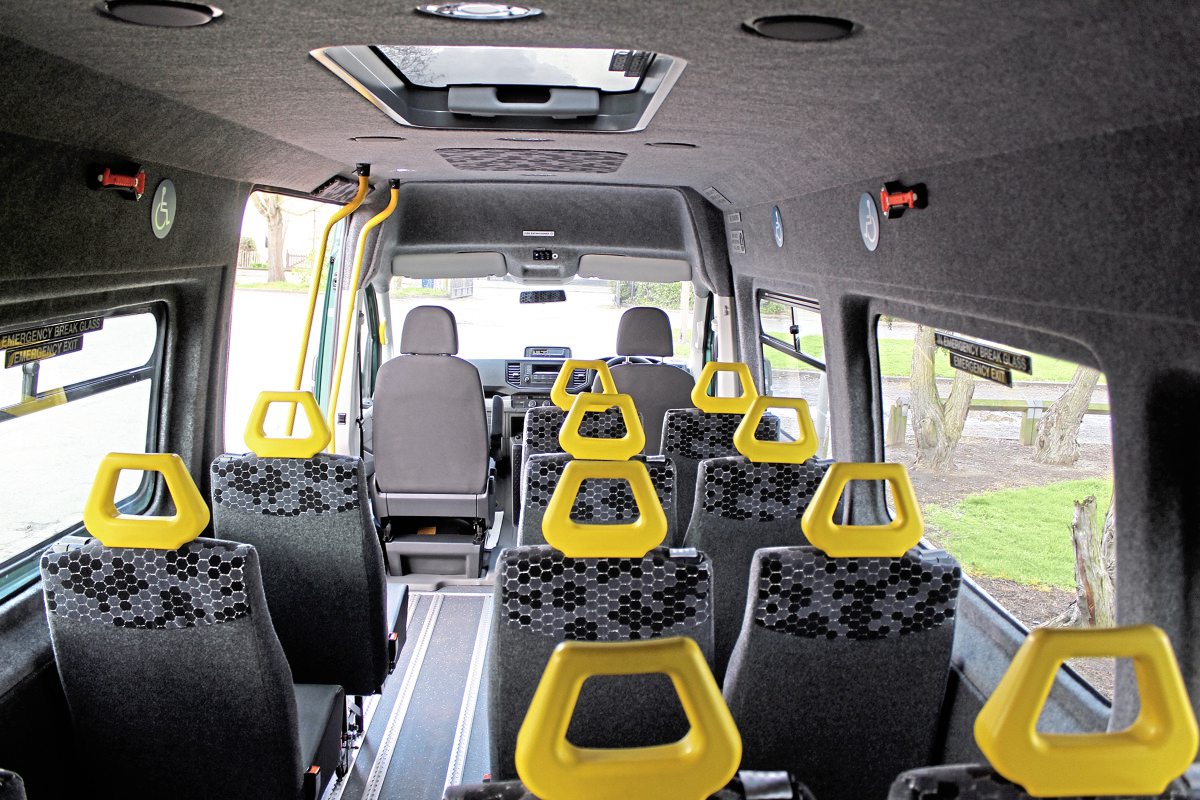 The first 3.0/3.5t began to dribble onto the market in second quarter 2018 and readers may remember I evaluated one of the first minibus conversions carried out by Minibus Options in June 2018.
I am sure the guys and girls at VW and MAN are totally fed up with me badgering them for news of when the 5.0/5.5t van and the chassis cabs would be arriving. At long last, Graham Wilkinson, Chassis Engineer, Bus and Coach at MAN UK in Swindon told me they had delivered the first five-tonner to Stanford Coachworks. I'd like to thank Graham because he has been enormously helpful. Sadly he still can't tell me when the 5.5t and the chassis cabs will be here but now that we've got the 5t, the others can't be too far behind.
Specification
There are five weight classes; 3.0t, 3.5t, 4. 5t and 5.5t GVW. There are three lengths; standard, long and extra-long. And there are three heights; normal, high and super-high. Not all variants are available on all models.
They are all powered by the new VW two-litre, four cylinder. direct injection, common rail, turbocharged diesel engine to Emission Standard Euro 6 using AdBlue. They develop 102bhp (78kW); 122bhp (90kW), 140bhp (103kW), and 177bhp (130kW) at between 3000 and 3600 rpm. The max torque figures are respectively 300 Nm, 300 Nm, 340 Nm and 410Nm available across a wide speed range. Engine stop/start and regenerative braking is standard.
The front suspension is fully independent and incorporates electronic steering – the first vehicles in this class to have this although Mercedes-Benz soon announced that their new Sprinter would also have it. The load rating on the front axle is 2.2 tonnes. Rear suspension uses long, semi-elliptic leaf springs. Rear air suspension is available as a retrofit option. The load rating on the rear is 3.5 tonnes, technically giving a maximum design weight for the vehicle of 5.7 tonnes but maximum GVW is limited to 5.5 tonnes.
The brakes use 16-inch discs all round and the vehicles feature a host of safety features such as ABS, ESP, BA, Hill Assist, collision avoidance, lane guard, side wind compensation, park assist and even trailer park assist. Some systems are standard, others are options.
There is a 75-litre fuel tank and an 18-litre AdBlue tank.
Wheels are 6.5 x 16 steel units with 205/75R R16 tyres, twin on the rear axle of most rear-wheel drive vehicles.
Electrics are 12V with 92 Amp/hr batteries and a 140Amp alternator.
Drivers receive a lot of attention on the vehicles. Aside from a very comfortable adjustable seat and comprehensive dash they benefit from heated electric side windows, external mirrors which are heated and electronically adjusted, a large tinted screen, small multi-function steering wheel, cruise control/speed limiter (although of course the vehicle is overall speed limited), digital tachograph, in-cab air conditioning and central locking. There are all the modern requirements of power and USB sockets plus mobile phone facilities and advanced sound options.
The vehicle is currently produced as a van with nearside loading door and fully opening twin rear doors and is also available in chassis cab form. No other variants are currently listed but will no doubt follow.
The vehicles are available in a range of ex-factory colours including white, red, orange, blue and green – interestingly, not black – or at additional cost in metallic grey or silver or pearlescent black.
The Stanford Vehicle
What Stanford has used as a base vehicle is, in essence, an extra long wheelbase, long rear overhang, high-roof van. As I write, the super-high roof versions aren't available.
This version is 7,391mm long, 2,427mm wide and 2,625mm high. The wheelbase is 4,490mm. It is powered by the 177bhp (130kW) engine matched to six-speed synchromesh transmission and has a standard panel van body with nearside sliding door.
The conversion excercised the design skills of the boys at Stanford's when it came to converting it into a minibus.
One of the first things the Stanford team found was that they could not fit their preferred front entrance arrangement, in which the front passenger door is modified to allow a stepped entrance and full-height door to be fitted. This was because, on right-hand drive vehicles, part of this area is occupied by the batteries and the AdBlue tank. That meant that on this initial conversion they had to retain the side entrance arrangement. They also found that the floor structure of the TGE is very different from that of the Sprinter and the floor is higher off the ground. This means that currently they cannot offer their popular fold-out entrance step/handrail unit.
The vehicle is finished in one of the ex-factory colours called Fresian Green. The eagle-eyed among you might also notice that this vehicle had a little bit of an identity crisis. Clearly badged MAN on the front and back, but the wheel finishers say something else!
Talking to Graham Wilkinson about the entrance problem he said that MAN UK had devised a way of overcoming the battery/AdBlue tank problems and will be offering this option to convertors/bodybuilders on future deliveries. This will be a MAN UK modification not an official VW one; that will take a lot longer to come through. Provided MAN UK have carried out or authorised the modification, the warranty of the vehicle will not be affected.
Another quirk that Stanford found was that, for some reason, the stylist had incorporated a downward curve in the styling lines of the body at the rear end, which does compromise the window line a little. The body is also slightly swaged in at the rear end presumably for strength reasons. It means the body is narrower at the rear than at the front. It isn't much but it is there, and overcoming it taxed the skills of the Stanford-le-Hope team for a little while. As Jess Rider, one of the Directors of Stanford, said: "All new vehicles have quirks for us convertors but we usually find a way around them and having good relations with MAN UK has helped in this respect."
As the vehicle is destined to become Stanford's demonstrator they opted for doing a conversion mainly to test out their theories and develop templates. They retained the side entrance door and glazed it. They left it unpowered though that is an option. They created a two-step entrance with well positioned handrails and decency screen. They also fitted an additional manually-operated extra step which automatically closes up when the door is closed. The rest of the vehicle is glazed as usual with large, bonded, tinted units.
Inside the vehicle has a flat floor save for the wheelarches. The floor uses the Innotrax safety flooring system and is trimmed in wood-effect vinyl. It is fitted with 14 Phoenix seats trimmed in moquette, and equipped with three-point belts. They are mounted on tracking with quick-release fittings. There is additionally a passenger seat in the cab and both it and the driver's seat are trimmed to match the saloon seats.
The interior is panelled out and trimmed to Stanford's usual high standards using soft trims in pleasant shades of grey. The ceiling is similarly trimmed and incorporates a glazed roof hatch and the LED lighting.
The vehicle has an Eberspacher system heating the saloon.
At the rear the fully opening, full height doors reveal a Ricon in-board tail lift plus the usual features like lighting etc to enable it to be used at night. A rear cassette type lift is an option.
On the road
First of all, there is the overall appearance of the vehicle. It is a very simple, classic, clean-looking vehicle; very VW and obviously developed off the back of the T6 Transporter design, giving a strong family resemblance. I like the styling, it isn't in any way flamboyant and will continue to look good over many years.
I thought the conversion by Stanford was well planned and to their usual high standard. I have to say the combination of the comparatively high floor and the fact this was not a super-high vehicle means it is a little claustrophobic. The floor to ceiling height is barely six feet…
If you have been driving minibuses as long as I have, today's cabs are a revelation… and the MAN TGE doesn't disappoint. It really is a very practical, comfortable environment with a beautifully simple but well-planned dash with clear instrumentation. Most controls are stalk-mounted or operated from the multi-function steering wheel.
There is plenty of space in the cab with useful storage spaces, cup holders and all the features you expect in a modern vehicle.
This vehicle had the manual transmission. I would have liked to try the 5tonner with the new fully automatic box but that will have to wait.  I have driven a five tonner before but that was very much a prototype so I was keen to see how that early promise had fed through into production.
The seat was very comfortable with a nice degree of support and very adjustable, important for short legged individuals like me.
The engine is remarkably quiet; in fact, barely audible on tickover. I headed out from Stanford-le-Hope heading towards the A13 to see how the vehicle performed. Vision through the massive screen was excellent and there were no obvious blind spots. The rear view mirrors are also good giving clear, vibration-free imaging. The six-speed box was light and efficient to use and seemed to have a good range of ratios though of course the vehicle was unladen. I'm not a lover of automatic engine stop/start but that is just me.
Road holding seemed to be excellent and the electronic steering was both light and positive but still had a nice degree of feel. Driving through the suburbs of Stanford it was docile and very quiet.
Once onto the A13 heading for Southend-on-Sea I could open the taps, and boy, did the vehicle respond. The acceleration was outstanding; bags of power and torque and all delivered without any fuss. I was soon up against the limiter and found the vehicle to be remarkably quiet and smooth. The quality of the build from Stanford's meant there was a complete absence of squeaks and rattles.
The A13 is mostly two lane so inevitably one gets baulked by slower vehicles but I found I needed only light pressure on the brakes to adjust the speed. There was plenty in reserve as I found when a Hungarian truck decided he wanted my lane, only he didn't think to tell me he was coming into it!
I did a good few miles in the MAN TGE and I have to say I was impressed. Bags of performance delivered without fuss and quietly. Excellent handling and roadholding and nice straight, true braking. Driving the vehicle was effortless.
I have waited a long, long time to get my hands on a five-tonne VW Crafter/MAN TGE but it was worth the wait. We have a new contender in the market at last and I think it will find many new fans – I'm certainly one!