A rising force
Westbus is looking to grow. It has recently relocated and to strengthen its offering, has added two Sunsundegui-bodied Volvos to its fleet.
Sparkling in the sunlight in Westbus's Hayes-based yard was one of two Sunsundegui SC5 bodied Volvo B8Rs the operator has recently received. Tim Miles, MD of Westbus, was suitably pleased with the new additions to his fleet. "They are the smaller 38-seat coach, a little unusual maybe for us. But they have been made to be as much an executive coach as possible."
Describing the vehicles, Tim said they have a rear mounted toilet, hot drinks facilities and DVD player. USB charging points are also installed, with Tim saying: "Everyone asks for them these days."
Joining us was Dave Tarling, Westbus Operations Manager, who said of the vehicles: "They are nice bits of kit."
Tim agreed: "They have taken a small minicoach and given it an executive feel."
Commenting on making the decision to add these Sunsundeguis to his fleet, Tim said: "We had a look at what was on the market. We were looking for a midi executive coach with a big coach feel. Volvo based Sunsundeguis gave us the best complete vehicle and price."
"It was just the best available package," Dave added.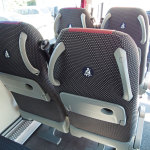 "Within that market, the midicoach with the bigger wheels, there is not a lot of choice," said Tim. "We are seeing more demand for that size vehicle, the 30- to 40- seat mark. The Sunsundeguis are our first midicoaches in recent years. We bought one in 1995, but it didn't prove terribly successful. We did have some minicoaches, we took one when we took over Armchair Passenger Transport. Feedback on the Sunsundeguis has all been good.
"I was able to work with Sunsundegui and Volvo on these vehicles. I got to go over to the factory and worked with their people to get the spec I wanted, to be able to keep that corporate look. Sunsundegui were very accommodating. I was allowed to pick and select which products and materials to use. That was really refreshing, to build our own bespoke interior. It's not really something you get to do often these days. I was really surprised Sunsundegui did that. They put themselves out to outsource material. The end result came out well."
Tim has noted other manufacturers have ceased to offer unlimited options. "Those other manufacturers, they're still great companies, but they've had to change. You find with bigger manufacturers; they offer only limited change."
The new Sunsundegui Volvos are used on a mixture of work, but mainly UK sightseeing tours. Dave said: "They don't do a massive amount of private hire. They are well liked on the tours. According to the guides, the way they are set out inside is lovely."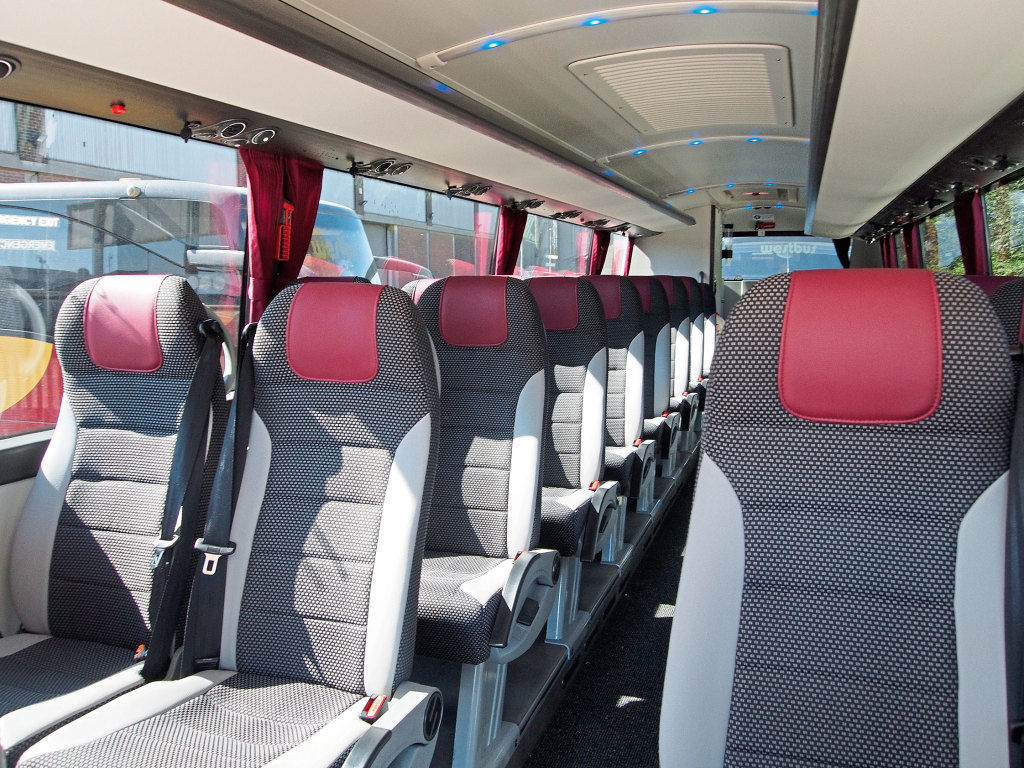 The coaches are supported by Volvo's Truck and Bus Centre in Hayes, but general maintenance is carried out in-house. Dave reported there have been a "couple of hitches", as can be expected with a brand-new vehicle, but they have now been ironed out.
Moving after 32 years
The Volvo facility in Hayes is approximately ten minutes' drive from Westbus's site. The building the operator inhabits is owned by its parent company, Metroline, which used to operate from there. Evidence of the site's former occupiers are the old double-deckers used on TfL services, currently being stored in the yard. Westbus moved there from its previous site in Hounslow in May this year, having been in its previous depot for 32 years.
Tim said: "This new facility is fantastic for us. We are fully self-sufficient here, we have everything: offices, engineering, toilet drops, fuel, washing."
During my visit, the operation was in the process of replacing its wash, with technicians from Smith Bros and Webb installing the equipment.
"There's room to expand and grow," Dave added.
Tim said: "The opportunity to move came through ComfortDelGro, who owns Metroline. They had a site mothballed in April 2017. We were keen to grow and expand and our old site in Hounslow restricted us. When the opportunity came up to look at this building here, we thought this would be a positive move; it would allow us to have everything on one site and be self-sufficient."
Dave enthused: "What else is good is there is under-cover parking for half the fleet. We could fit 30 vehicles plus in there. It also gives us the opportunity for earlier starts in winter, as there's no screens freezing over. The site is fantastic for the airport and the motorway. We're close to the M4 and M25, giving us a link to the whole country."
There was one issue with the cement works behind the depot, which at certain times of the day billows dust over into the yard, speckling the fleet with a powdery substance. Discussions are ongoing with the cement site and a solution is being worked on.
Tim added: "We are a little further out of London now, but that doesn't seem to have caused us any problems."
Does the traffic in the area affect them? "We find most clients have got wise to the traffic," said Dave. "So we are seeing site-seeing tours start earlier to cope with it.
"At peak times, it takes 90 minutes to get into Central London from here. You can hit Hammersmith in 30 or 40 minutes, but it's that crawl from there. Congestion is our biggest challenge we face. And no two days are the same."
"We have to factor the extra time it takes into the work we do, we have to consider it in the schedule," said Tim.
Dave added: "When you schedule nearly 50 vehicles daily, it becomes second nature. Another issue is at Heathrow; the security there has meant it takes longer to get through."
Westbus uses TomTom WebFleet to help navigate its fleet through the heavily congested roads. The system not only takes care of vehicle tracking, but it has fleet management software too. Tim said: "It's a good system."
The fleet itself is now 48-strong, which Tim reports is as big as it has ever been. And there are aspirations to enlarge it. There is a mix of marques. On the full-size side there are several Van Hools, both single- and double-deck coaches,
which are joined by four Irizar i6s delivered in 2017.
Also joining the fleet this year were two Iveco Turas 600s, which Tim was pleased to add to his fleet.
The Sunsundeguis are the latest to be added to the fleet. As for future buying habits, Tim said: "What we buy next year is anyone's guess!"
Meeting the standard
Currently, there is less than 15% of Westbus's fleet meeting Euro VI standards required by the Ultra Low Emission Zone (ULEZ) coming into force next year. "It's just another hurdle," said Tim of the ULEZ. "And it's a huge one we have to overcome. A handful of contract vehicles in our fleet don't go into the Zone, so a lot go in. We are working with an exhaust system manufacturer, who is developing something for us, particularly on our DAF-engine vehicles. This is going to come at an expense, it will cost the business a lot of money."
Speaking about the ULEZ in general, Tim said: "It's a ridiculous situation. We are nearly six or seven months off from the start of the Zone and we still don't know what systems are approved. Sadiq Khan has been voted in with these pledges and he's got to deliver and there has been no thought into how he is going to deliver it. It has got to happen, he has set a date and the industry has to meet that. It's very unfair. There is no consideration for us. I don't think coaches are seen as a big segment of the market, they don't know how many it affects."
Dave mused: "In the end, it could increase the cost for customers."
"I like to think operators will find a solution, be resourceful," Tim said. "It's not the first time we have had to meet such requirements. The solutions will come in time and people will be able to comply, but it comes at a cost. We know some smaller, family-run operations who could be having to spend £100,000 across five vehicles and that's a lot of money for them. It may be that vehicles fitted with this equipment operate longer in London to be able to get their money back on their investment."
Do the industry trade bodies do enough to fight the operators' corners? According to Tim: "They try their best."
Dave said: "They have campaigned tirelessly, but they are a very small voice."
They both noted this is not an issue confined to London, mentioning the emerging Clean Air Zones (CAZs) in other cities. Dave commented: "There is a similar system in Norwich, where they have an LEZ-style system in certain areas. It's being done for a reason, for clean air, I understand that. But I'm in a business and it's the cost of it that's the problem unfortunately. We are cleaning up the air a bit too late, but we do need to do it for our children."
Drivers and training
Another issue the two noted that affects operators up and down the country is the driver shortage. Dave said: "I think every operation has a man-power shortage. The introduction of Driver CPC took away a lot of our private hire drivers, who tended to be the retired guys. They just thought it wasn't worthwhile to continue. We lost a lot of invaluable knowledge."
Of the Driver CPC, Tim said: "We have embraced it though. When the first round of Driver CPC came round, we hired our own instructor and set up our own 35-hour course. It focused on areas that meant more to us: tachographs, drivers' hours, walk round checks. We had to do it, so we did it in a way that benefits the business.
Initially, the drivers were reluctant.
"They would say it was a waste of time, that they can't learn anything. But very quickly that changed. We worked with a company with some good trainers. It worked very well. Quite a few drivers came away saying they had learnt something from it."
Westbus is actually preparing to train some more drivers from scratch. Tim said: "We are doing this in collaboration with Metroline's training school. We are training suitable individuals this winter, hopefully to get them through in time for next season."
Dave said: "We'll be using our pool of existing staff as mentors for them. The guys and girls will need to know what they can't be taught in the classroom."
What makes a good driver? Dave answered: "Attitude is a great thing. If they approach you with a can-do attitude and willingness to learn, you can teach them to drive a coach or bus."
"There has to be a desire to want to be working on your own," said Tim. "There is a certain amount of independence, a bit free spirited, that drivers must be."
"And you have got to like people," added Dave, noting that if you have a coach-load of people behind your driving seat, you have to know how to get on with them.
Dave and Tim should know a good driver when they see one, as between them they have around 50 years' experience in the industry.
"I expect a high standard of staff and so does Tim," said Dave.
"We are working for a lot of big tour operators, so it is important we deliver a first-class service."
Dave added: "We treat every customer the same, no matter who we are carrying."
Team spirit
Running a good service means good management and speaking about the key to this, Dave said: "You need to be able to listen to your staff. You need a little bit of empathy and compassion to manage people; these guys have families back at home. They sell us their services, you don't own them. We have a fantastic team of drivers. They are willing to go the extra mile and I can't speak highly enough of them."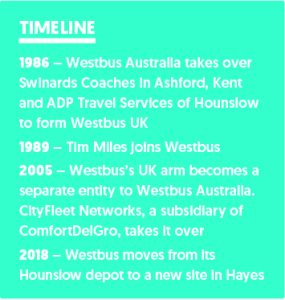 Clearly, having such a well thought of team is one of Westbus's major successes. But what else does Dave and Tim consider a success of the operation? "During the summer, getting from one end of the day to the other!" quipped Tim.
In a more sincere tone, he mentioned the longevity of the company, the achievement of surviving through so much change. He said: "I have been here since 1989. The company started in 1986 by a business operated by an Australian family, who were also called Westbus. In 2000 we were taken over by National Express. We remained with them for five years. Then in 2005 the main business in Australia changed hands and became part of ComfortDelGro Group."
As part of the ComfortDelGro Group, Westbus is under the same ownership as Metroline. Tim said: "We fit well with Metroline. We are part of the only group that has coaches, buses and taxis in London. They have other businesses in the UK: Scottish Citylink and New Adventure Travel. They are very supportive of coaches. They like the business and it's an area they want to grow. It's worked well for us.
"Changes in ownership is about as big as you can get with companies, but we've managed to grow steadily and we have remained profitable. We have just continued to deliver a quality coach service and at the same time been able to grow and run at a high level of service. The fact is that 30 years on we're still here in London when a lot of big companies here have come and gone. It's down to the team we have here."
Being able to weather economic storms has helped Westbus survive, according to Tim. He said: "I think coaches always work well in any economic environment. If you get a downturn, people turn to coaches for transport because it's cheaper. Our best years are during economic downturns.
"And in normal times we still do well," Tim added. "Our business is driven by tourism, which is something that's unique to London. I think the only other place like it in the UK for tourism is Edinburgh. But London is the pot of gold, I think it is always going to do well.
"But it's getting harder to find the right staff. Costs are increasing too. Fuel is creeping up. It is 10p a litre higher than this time last year. Not everyone is shouting about it, but that's what it is."
Commenting on the future of the industry, Dave said: "New technology is moving things on. I think we will see an automated bus service in and around London; possibly in our lifetime."
Tim was a little more cautious about this: "I think that's a fair way off, but bus is going very much towards electric and hybrid. And it's coming to coaches. Again, that's a long way off at the moment."