RHA stages second coach division launch webinar
The RHA has staged a second webinar to explain what it has planned for its RHA Coaches division, and the expertise it brings for future members.
The event – with RHA MD Richard Smith, Membership Director, Phil Snowden and Technical Director, Paul Allera – briefed operators on the RHA's current activities within haulage and other sectors and updated the many operators who'd registered for the webinar on areas of coaching policy it would like to address. It follows an inaugural webinar  available  on-line.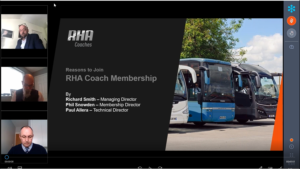 "We see around 80% crossover of issues shared with the haulage sector," said Richard Smith, referring to licensing, HR and other uniquely heavy vehicle legislation, and in personal guarantees for finance. Phil Snowden explained that the RHA already has a very active regional structure and will be building the same structure for coaching.
"Our members get experts support," said Phil, and listed its national helpdesk; field-based support, regional briefings and its 600-page handbook which combine to provide a full service for RHA Coaches members.
"It's important that we don't underplay the importance of regional support," he said. "This is pro-active contact and our conduit from members of the RHA."
The RHA issues regular briefings on trading aspects of the heavy vehicle industry, pay and costs such as diesel, whether bunkered or forecourt. It campaigns with PR through the media and lobbies central and local government.
Paul Allera said that RHA could count as successes its campaigning against Clean Air Zones in Leeds, Nottingham and Coventry, all suspended, and says it is still in conveesation with Bristol and Bath about their CAZ plans.
"I'm aware that for coach, we have to develop clear strategies," said Richard Smith. "We need more detail from coach operators to build a strategy and to deliver what you need." Richard said this explains why RHA Coaches will not be launched until April, as the RHA is determined that the division will be ready to deliver value from the word go.
Phil Snowden pointed out that the RHA Coaches membership fee – which has a ceiling of £1,000, and will be much less for many operators – is very much an introductory offer: "We're not putting rate cards out there. If you ant to join, you need to speak to us directly, but operators can get an idea of what to expect after Year One by looking at the membership rates we list on our website."
Operators who want to register an interest in joining can contact RHA directly through [email protected]