Review: Transport Ticketing Global
Visitors to Transport Ticketing Global at the Olympia London earlier this week were treated to a chance to see some of the latest innovations in the world of ticketing in our industry.
As the name suggests, the event is an international affair, with transport ticketing solution providers from across the world, as well as some home-grown talents. In addition to an exhibition, the conference included a range of presentations given by leading thinkers in the realm of transport ticketing.
Introducing Snapper
The event was used as the launchpad for Snapper Services' dedicated UK branch, headed by Director of Business Development, Jon Salmon.
Originating from New Zealand, the intelligent transport ticketing specialist used the show to launch its Mosaiq data and analytics digital tools, designed to create more reliable public transit networks and better experiences.
Mosaiq's Transit Intelligence Suite is made up of several cloud-based products that bring together and process multiple streams of transit data in one system, and gain a complete picture of operations.
Jon Salmon, Executive Director, Snapper Services UK Limited, says: "In the current economic climate, reliable, efficient public transport is more important than ever.
"Unfortunately, all too often, transit data sources are multiple and disjointed, and analytics software is complicated and costly. This makes it difficult for operators to accurately pinpoint which areas of a network need improving, where inefficiencies lie, or where resources are needed.
"This is where Mosaiq comes in. Our suite of products combines data from an unlimited number of sources, fills in the gaps, and through user-friendly analytics dashboards, enables users to quickly identify inefficiencies across routes, extend capabilities, and have full visibility over their operations. Not only can passengers travel with confidence as a result, but better transport experiences can accelerate the journey to a more sustainable world as people come to rely on public transport again."
Despite officially launching in the UK at the show, Snapper has already rolled out transport projects in the UK, including working with Ireland's National Transport Authority to provide a mobile reload application for the Irish transport card, Leap. It has also supported the West Yorkshire Combined Authority with data-enabled transit insights into bus services across the Yorkshire region.
Jon told B&CB the company will also be launching in the US in the middle of the year.
Ticketer
Transport Ticketing Global was a success for Ticketer, with the company scooping two gongs at the event's Transport Ticketing Awards. The ticketing specialist's founder, John Clarfelt, won the 'Industry Contributor' title and was reportedly very surprised, not knowing his colleagues had put him forward for the category. That was not all, Ticketer was also highly commended in the 'Ticketing Technology of the Year' title for its Tap Off Readers (TORs).
Ticketer's Tap Off Readers are designed to give operators richer data from contactless transactions for better network management, offer fare capping and deliver speedier boarding times. Passengers will also benefit from the latest Ticketer innovation which enables distance-based fares so that customers can pay as the crow flies from the start to end point on their journey and not the actual distance travelled on their bus.
Sally Whitson, CMO, Ticketer, said: "John is incredibly humble and always gives kudos and credit to the wider Ticketer team. However, ultimately, Ticketer would not be where it is today without John leading the team to deliver all the exciting innovations over the years. He has dedicated the last thirteen years to this incredible industry, and we are extremely proud of John, and for Ticketer, to be recognised for this huge achievement, in front of all our industry friends."
John Clarfelt, Founder, Ticketer, said: "I am so hugely humbled and appreciative, to have won the award. I had no idea whatsoever I had even been nominated. I am lucky enough to have one of the best jobs in the business, namely that I get to go visit our customers. What makes me even prouder is the continuing friendship, and respect, there is for Ticketer, from both operators and authorities. That is down to so many contributions from so many of Ticketer's employees – I am in awe of them, and so very grateful."
One of the key attractions to Ticketer's stand was the first outing for its Data Insight Hub, a system designed to give operators access to all of the fare collection information gathered through onboard equipment, such as Ticketer's Smart Gateway. It combines the gathered information in a comprehensive dashboard for operartors, which can be used to analyse boarding and fare collection data. For instance, the system can drill down and provide data on tap-on, tap-off levels for certain stops and areas served. It is based on the industry standard Microsoft Power BI package for visualising data.
One of the aims of its Data Insight Hub is to achieve democratisation of data, according to Ticketer's Product Technical Lead, Tom Wilsher: "Now anyone can use this data."
As ever, the company displayed its latest on-bus ticketing technology as well.
Leicester's TOTO win
Ticketer were also associated with another winner at the Transport Ticketing Awards, with Leicester's multi-operator tap-on/tap-off (TOTO) contactless fare capping scheme being recognised as Best Smart Ticketing Programme.
The award recognises public transport operators or authorities that have launched successful smart ticketing programmes in the last two years, taking into account the projects' user-adoption, duration and sustainability.
Launched in March 2022 as part of the Leicester Buses Partnership between Leicester City Council, Arriva, First and Centrebus, the project delivers the UK's first truly multi-operator contactless capping scheme where customers are always and automatically charged the best value fare.
Unlike other, subsequent, contactless capping trials the participating operators in the Leicester scheme are all separate commercial entities rather than sharing a common parent. This complexity was noted by the judging panel, who commented on the significant efforts made by the operators and their technical partners in overcoming challenges around data-sharing and delivering a scheme that provides maximum benefit for consumers without compromising each participant's own commercial confidences.
"Contactless capping builds upon the existing and well-established multi-operator ticketing scheme in Leicester" commented Toby France, Head of Commercial at Arriva who collected the award on behalf of the Partnership alongside Bijel Mistry, Leicester City Council's Transport Development Officer. "Giving consumers confidence to travel freely and flexibly across the wider bus network and know that they will always be charged the best value fare has the potential to be truly transformational, and we look forward to welcoming Stagecoach and Wellglade to the scheme as part of the next phase."
Vix Technology
Fare collection specialist Vix Technology, the company that supported Stagecoach in its move to introduce contactless payments, showed off its Pulse advanced cloud-native Automatic Fare Collection (AFC) platform. The system is designed to give operators the power to drive-up customer satisfaction, increase revenue and drive down operating costs. The account-based ticketing system includes real-time validation and the ability to support a wide choice of fare products and payment methods, with an outstanding mobile payment experience. It also ensures the best value fare for each journey. It integrates all fare collection and management, ticketing and payments across multiple modes of transport into a single digital platform. The solution also includes omni-channel customer management including sales and tokens as well as customer self-service for individuals and institutions/third parties.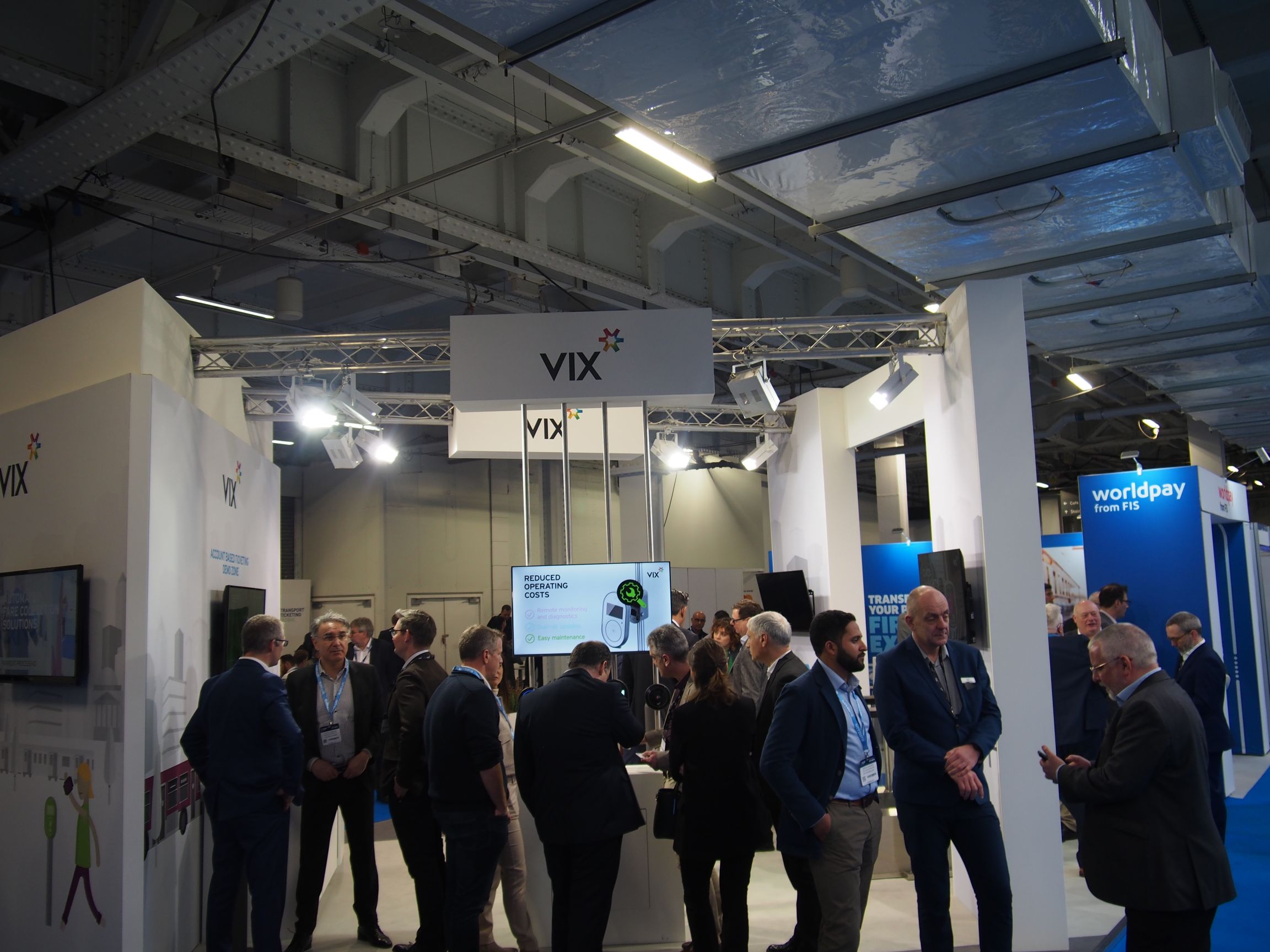 Vix also promoted its Assure contactless validators. The range of four models all include both wired and wireless installation options. They can be deployed on vehicles, at stations or be handheld devices used by staff. They have been designed to be fast to install with tool-less mounting and maintenance, plus automatic configuration.
UrbanThings
CEO of UrbanThings, Karl Partridge, is keen to introduce people to UrbanHub, a smart transport platform for cities and operators designed to accelerate the use of sustainable transport. the technology provides transport apps, websites, mobile ticketing, payments and analytics tools.
UrbanThings was acquired by smartcard, label and tickets specialist Paragon ID last year. Commenting on this, Karl said: "Paragon ID are a really forward thinking group; they are the company that supplies the Oystercard. They are very experienced in the world of transport. The acquisition has been like fuel for the fire for us. It's given us a real resource and enabled us; it's allowed us access to resources on a global scale.
TransMach
Transport Ticketing Global also gives exhibitors and visitors the chance to network with familiar and new professionals, which was the main goal of ticketing specialist TransMach. The company aims to provide a bespoke ticketing solution for operators, providing the hardware and software needed to run an efficient ticketing system across a fleet.
One of TransMach's recent projects is with Dublin's prepaid TFI Leap Card, which is now compatible with the company's on-bus smart ticketing machines. Dublin Coach and JJ Kavanagh and Sons are the first operators to roll-out the upgrade onto their fleets.
Among the products receiving a good response at the show is its inspection product, the handheld TM920 machine. These can be programmed in-house by TransMach to read smartcards and all other contactless card transactions using an API connection for checking the last used validation.
Flowbird
With a range of its ticketing and fare collection products on display at the exhibition, Flowbird is keen to talk about account-based ticketing. The company believes this is a cornerstone of modern mobility ticketing, as the industry moves towards Mobility-as-a-Service (MaaS).
Account-based ticketing collates taps or ticket purchase data and calculates the best value fare for each passenger. Various digital tokens can be used by passengers for this, including closed loop transit smartcards, cEMV cards, contactless enabled mobile wallets and QR codes.
Flowbird was demonstrating how account based ticketing can support operators to improve the effectiveness and efficiency of ticketing and fare collection at the show, with its CloudFare back office was live on three demo pods to demonstrate this. It was also showing visitors what it has learnt from over 20 deployments of open payments for transport throughout the world, as well as showing the benefits of its Mobility-as-a-Service app with a touch screen demo.
FAIRTIQ
The latest in PAYG ticketing solutions was shown by FAIRTIQ.
PAYG allows passengers to travel without buying a ticket, allowing the most appropriate fare for the journeys to be paid. FAIRTIQ provides an integrated, multimodal PAYG ticketing solution for all 250 operators in Switzerland and increasingly throughout Europe. The system is designed to be simple to use, according to the company, automatically selecting the best fare. It uses the features of a smartphone and advanced algorithms. It does not need any gates or ticket validators, which makes it very cost effective and quick to implement.
One of its latest deployments is a trial of the technology in Denmark, where it reached 10,000 journeys within two months of its deployment in the country in June 2022. A number of its partners, including SNCF in France have used FAIRTIQ as a platform to trial new fare models to increase ridership.
FAIRTIQ is explored further in a video by The International Association of Public Transport (UITP) and produced by BBC StoryWorks.
International visitors
As well as companies operators may be familiar with on these shores, Transport Ticketing Global also enables meetings with personnel from companies abroad that could soon become players in the UK market. Among them was Ecolane, an American firm specialising in MaaS (Mobility as a Service) solutions. ZED Digital is another solution provider, which specialises in hands-free ticketing, which works using a sensor-based validator to an operator's mobile ticketing app to validate payments. Its validators support a system whereby once passengers board, the company's hardware validators automatically link with smartphones to check their tickets.