Peelings Coaches: changing times in rural Norfolk
Peelings Coaches celebrates its centenary and looks back over the years of successful operation
Jonathan and Ruth Joplin bought the small coaching operation of Peelings Coaches in 1990 when it had already been trading for 67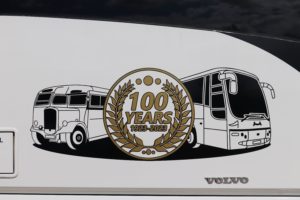 years. 33 years on, the family is celebrating the centenary and Stuart Jones went along to join in.
When Charles Peeling started running buses on market day services, in 1923, the economy of the rural area around Tittleshall, some 19 miles from Kings Lynn and six miles from Fakenham, was almost entirely built on agriculture and the landscape, with the way of life reflecting this. His coaching business expanded a little, but not greatly, and in time it passed to his sons Victor and Phillip. They continued until Victor's retirement in the early 1980s left Phillip running three coaches.
Jonathan Joplin's first job was on a large farm that employed 16 people. Today the same farm employs one man. Agricultural mechanisation is just one facet of the massive change that has overtaken North Norfolk, particularly in the last couple of decades with the boom in the purchase of houses in the area as second homes.
Jonathan had been driving coaches part time for Eagles of Castle Acre, as well as farming, since the age of 21 and got to know the larger-than-life character of Nigel Robertson, one of Peeling's drivers, during layovers in Kings Lynn. As a result of conversations between them, he and Ruth bought Peelings' business and vehicles when Phillip retired in 1990. The three coaches were all lightweights, which was just as well because if they had been heavyweights the couple probably couldn't have afforded the deal. As it was, they rented the premises initially, only acquiring them, and the bungalow next door, later. They said they wouldn't grow the business, but then they did.
Work
"Where we're situated the villages have changed. There are loads of second homes, no-one actually lives here," said Ruth. "Once upon a time we could get a full load for an excursion from the villages of Tittleshall, Massingham, Weasenham and Litcham, all of which were places on our bus routes, but we can't now without touching Fakenham. Now it is more Fakenham and Swaffham."
No area of the work has changed more than stage carriage work. The seven market day services once operated every week have dwindled to the PE1 service once each way from Fakenham to Kings Lynn on a Tuesday. '"There are no markets these days, they've gone," said Ruth. It is currently run with a lift-equipped coach rather than a bus.
"The Clubs have mostly gone as well. We used to have a dozen or so old people's groups and clubs, many of which went out multiple times annually. We still have a couple that go out once or twice and some former club members now join our excursions."
As it was for all operators, Covid was a worrying time, "2020 was going to be our busiest year ever, we were fully booked by March, even the holidays,' said Jonathan. "I honestly thought it would be the end, but it wasn't. I had the summer off. We were very lucky in that the local authority continued paying our contracts and we kept all the staff on throughout.
"Excursions took a hit during Covid and they are only now starting to recover. A lot didn't run last year but we are back up to 30 or so departures now. Last year we advertised 18 to 20 and only about six went. So far this year we have already done more than the whole of last year, we've only cancelled a couple."
"You can't do a simple seaside trip any more, people want a lot more," said Jonathan. "We used to regularly go to Great Yarmouth and even Hunstanton but people won't book on them now because they can go for free on the bus. A lot more thought has to go into planning now – it's a balance."
Bookings for the small UK holiday programme are 'fairly busy' this year. Jonathan explained: "We do six a year. We tried doing more but we ended up back at six because the same people were spreading themselves over the extra departures."
It is son Rob who draws up the programme and he explained: "We don't repeat destinations if we can help it except the Isle of Wight. We used to do Blackpool every year for the lights but people's expectations have changed. You're better staying in Morecambe or Southport and just having a day in Blackpool."
Jonathan added: "All you need is a good bed and a good breakfast; I don't know why some Blackpool coaching hotels can't manage that.
"Private hire has come back well. It's probably the busiest summer we've ever had with school parties, we had to turn folk away some days."
Probably around 70% of the workload is school related, with schools private hire and educational visits growing a lot. Peelings did get up to seven contracts but lost two earlier this year when the council doubled up on routes and switched some children to stage carriage services, even though these can mean long arduous journeys of over an hour each way. "We have two more up for tender next year, so it could be even less," said Jonathan.
People
Son Robert joined the business in 2008 and has been there ever since, handling the office side and planning the tours and excursions as well as driving. He'd previously enjoyed working at Fakenham Auto Electrical as a rep. Ruth encouraged him to take his Transport Manager PCV at 19 and he passed first time. Jonathan had been diagnosed with Diverticulitis and Diabetes and she didn't want the business to be left with no Transport Manager if the worst happened. He then passed his PSV test and joined as a driver, somewhat reluctantly, when keeping things in the family seemed a better idea than taking on another full-time driver. "He now does everything and I don't do much," said Jonathan. "He just about runs the firm with help from his mother.' Ruth says he is very good on the telephone and admires the way he can go home and turn off from it all: "I used to drive the route to Blackpool in my sleep the night before."
Younger son Jack has been on the books since he was 16, 13 years ago. After an apprentice mechanics course he was a general dogsbody in the yard before passing his PCV test at 18. He prefers coach driving but also does the coach painting and bodywork when required. Four other full-timers handle the driving and maintenance and the company's regular part-timer has been with them since Norfolk Green sold out to Stagecoach.
Training drivers has its complications as the names of many pick-up points relate to pubs that aren't there any more. Wootton New Inn has gone, The Ship at Gaywood is now a Tesco while the Green Hut at South Wootton was an old railway carriage.
Vehicles
From the small buses of the 1920s and 1930s, Peelings graduated to larger coaches and during the war took delivery of their first ever new vehicle, a Bedford OWB. Used Bedfords followed and in 1950, a Thurgood body Dennis Lancet III, the only other coach ever purchased new. Thereafter the focus was on used AEC's, including a rare Crossley badged Reliance Yeates Riviera, before a move back to Bedfords and Fords. When the Joplins arrived the fleet consisted of three Fords though there were a number of withdrawn heavyweights still in the yard. The lightweight policy continued until 1999 when a Javelin was purchased followed by Peelings first Volvo, a Volvo B10M Plaxton Supreme V that came from local operator, Smiths of Wood Green. The two brands have dominated since but not exclusively, as there have also been Iveco EuroRiders, DAFs and Mercedes-Benzes as well as a Duple 425, a Dennis R Series and a Cummins powered Van Hool T815. He reckons the R-Series is still the nicest coach he has ever driven: "Smooth, quiet and economical, returning 13-14mpg on a good run and 11-12mpg locally." There has generally also been a service bus or two owned, examples being an Optare Excel, a Mercedes-Benz Citaro and a Wright bodied Volvo B7RLE, though with the recent departure of the Volvo there are currently none.
Today the fleet stands at 11 vehicles including a Ford Tourneo eight-seat minibus and two heritage coaches and the nine licences held are sufficient for even the busiest days. Volvo continues to dominate, with six examples (four Plaxton, two Van Hool), plus a Mercedes-Benz Tourismo and a 25-seat Vario 814D Sitcar Beluga from Mercedes-Benz and Jonathan's latest acquisition, a Beulas Cygnus-bodied Iveco EuroRider. The Beulas, which was being painted when I visited, marks a departure in being the first Peelings coach to be lift-equipped and DDA-compliant.
All except the Tourneo were bought second-hand. Jonathan has never bought a brand-new coach and does not anticipate ever doing so. The 2016 Tourismo, Peelings first full size Euro VI coach, was bought during Covid in 2021 and seemed a very brave acquisition at the time, but it has turned out to be a real bargain with the way second-hand prices have risen since. "You should have bought two," said Jack, though perhaps one 48-seater in the fleet is enough.
Although he feels the fleet is in a good position at present, Jonathan said: "We've always erred on the side of caution, perhaps too much. We don't take on more work than we can handle, except once, and that worked out alright. In 2008 we bought an £80,000 Beulas and then immediately lost a lot of contracts. We used it on our tours to London, especially theatre work, and it turned out to be very reliable, earning us money."
Jonathan finds the availability of good used coaches is difficult at the minute because 'no one is buying new'. Ruth added: "The big coach companies need to be buying PSVAR coaches because that is often where our coaches have come from."
They see the coming years being challenging from an acquisition perspective, not only because of PSVAR but also because of the spectre of electrification, which is a problem for Peelings for the foreseeable future. "We can't do electrification where we are," Jonathan said. "If you put the kettle on it makes the lights go dim. I think we're at the end of the line. We'd need photo-voltaic panels and a wind turbine here to charge anything,."
New building

This summer has seen work begun on a new garage to keep the heritage vehicles in. It will be of metal framed, plastic clad construction with an open front and rear. The summer months have seen a lot of earth shifted on the site in preparation, with the frame scheduled to be installed in October.

Concurrent with this plan, the family has decided to replace the old workshop stores, which were becoming a little dilapidated. In their place will be a brand new 40ft shipping container partitioned to create a separate parts store and rest room.
Enthusiasm
As well as being serious about operating, Jonathan has always been enthusiastic about motor transport of any sort, not just buses and coaches, and also enjoys travelling on trains. This enthusiasm is reflected in the inclusion of two preserved coaches on the fleet strength. His favourite coach ever owned is the ex-Smiths Volvo B10M which has never been without a current Class 6 MOT since it was delivered late in 1982. First acquired in 1999 it had a sojourn with Fowler's at Holbeach Drove from 2005 to 2010 when it was borrowed back for a job and then repurchased. "I just love it," said Jonathan. "I'll take it anywhere; the Isle of Wight, Llandudno, Ipswich etc.. It does the occasional school too."
Driving it is very smooth. He says: "It's like a slug over glass." Ruth wasn't quite as enthusiastic last year when called on to do a short notice school swimming job during a heatwave. "It has no air conditioning and no tinted windows," she said. "It's like a greenhouse."
The other heritage coach is a shortened Ford R1114 with Duple Dominant body that had originally been new to Ivesway. This is known as 'Jack's bus' because he looks after it. He has repainted it in full Peelings livery in place of the all over yellow it arrived in from the late Neil Millington's former Classic Connections fleet. A 1974 Plaxton Panorama IV bodied Bedford SB was owned for a while but this was sold on to another preservationist and is now with AD Rains at Brinkworth. Jonathan did a school run in it for Eagles of Castle Acre on the afternoon of the day he passed his PSV driving test.
Earlier this year a Massey Ferguson 35 tractor was acquired that goes on local road runs, though the last few weeks have seen it earning its keep 'pushing soil about' in preparation for the erection of the new garage.
Another of the family's enthusiasms is the Canaries, Norwich City Football Club, whose logo is proudly displayed on the Peelings website. Jonathan has supported the Carrow Road team all his life (if you ignore a dalliance with Arsenal when they won the double in 1971) and he and Jack are season ticket holders. Though they are 'a yo-yo team' it is a friendly family club with good atmosphere and the provision for coaches is excellent. Peelings has a history of running a coach to every home game and when local operator, Carters of Litcham, gave up football excursions in 1993 they combined the Carters run with what they were already doing. After a slow start it became very successful and has remained so, operating in addition to a contract for the West Norfolk Canaries Supporters Club. Quite a few people drive to the yard to catch it so that they don't have to park. Prior to Covid, ridership was in the 50s and after a drop has built back up to be regularly in the 30s, with 27 on board for the first match of the season. "When they are on a winning streak you get people coming out of the woodwork that you never see otherwise. They are made welcome but they do get mumbled at."
"It is mainly regulars and it is busy," said Jonathan. "The big benefit of the services is that they get the proprietor to the ground."
Celebration

To celebrate the business's centenary, an event described by John as 'a gathering of like-minded friends' was held in Tittleshall on Sunday 27 August. To host it, Peelings borrowed the field opposite the garage to accommodate visiting preserved buses and coaches and hired the village hall to provide toilet facilities, catering, a pop-up bar and refuge in case of inclement weather. Jonathan was hoping for around 20 buses and coaches including members of his own fleet, and in the event there were 24 with several Peelings coaches left at the depot. It went well and was greatly enjoyed by both locals and visitors.
Future
Both now over 60, Ruth and Jonathan are easing back and taking more holidays. They have always achieved a better work life balance than many coach operators do, only taking on weekend jobs for regular customers, which is perhaps one of the reasons that they maintain their enthusiasm for the industry. "Hopefully the boys will pick up the reigns and drive things forward – they already are really. Rob is now handling the day to day running and the holiday and excursions side. All we want to do is keep it going for the boys. They both enjoy it and they're good at it."
Jonathan will still be around to help. "I will be as involved as they want me to be," he said, adding, "though I will have to try harder not to interfere."
Last word
After 67 years under the Peeling family and the past 33 years overseen by Jonathan and Ruth Joplin, Peeling's Coaches still does what it was set up to do, which is meeting a local need for the provision of group transport. Under neither family's ownership has the business ever been overly ambitious. It has rolled with many changes faced and adapted to each one in turn without taking more risks than necessary or making commitments greater than it could service. As another generation starts to take the helm, it doesn't look likely that it will stray greatly from the established path so don't expect to see brand new coaches arriving anytime soon, they're not needed, it's all about providing a friendly family service and ensuring that everyone they carry enjoys the experience.
Fleet list

1982 FAH275Y Volvo B10M Plaxton Supreme IV C57F
1982 CVH731Y Ford R1114 (T152) Duple Dominant C29F
JJZ8021 Volvo B12M Van Hool T9 C57F
JJZ9130 Volvo B12M Plaxton Paragon C57F
B12FAM Volvo B12B Plaxton Panther C70F
JJZ8022 Volvo B12B Van Hool Alizee T9 C49F
R25DDA Iveco EuroRider Beulas Cygnus C53F+Lift
JJZ9131 Mercedes-Benz Vario 814D Sitcar Beluga C25F
YN12BUH Volvo B9R Plaxton Panther 2 C53FT
2016 AV66JKF Ford Transit Tourneo 8-seat
2016 NH16FEH Mercedes-Benz Tourismo C48F 2016