PCV registrations grow 45.2%
Registrations of new buses and coaches grew 45.2% in the first quarter of 2022, according to figures from the Society of Motor Manufacturers and Traders (SMMT). The year-on-year increase compares with the weakest start to a year on record in 2021, when orders collapsed as a result of plummeting passenger numbers amidst pandemic-related restrictions.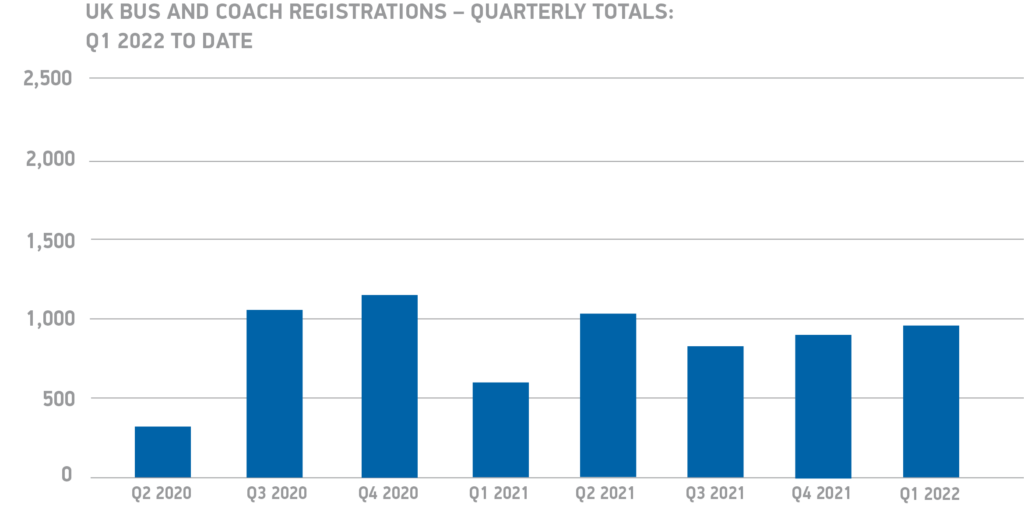 All vehicle types saw registrations rise, with single-deckers experiencing the largest growth, up 131.9% year-on-year with some 211 units sold. Registrations of minibuses rose 36.8%, with 647 joining UK roads, accounting for two thirds of all new registrations (66.4%). Double-decker demand also grew, by 8.4% to 116 units.

Still struggling
Despite the significant year-on-year increase, the sector is still struggling with low demand given long-term declines in ridership levels, with 44.4% fewer buses and coaches registered in the first quarter than the pre-pandemic five-year average.
"As declining passenger numbers continue to hamper the confidence of operators to renew their fleets, incentives are essential. Funding has slowly started to be released but government must act faster" – Mike Hawes, SMMT Chief Executive
Mike Hawes, SMMT Chief Executive, said: "The return to growth of the bus and coach sector, which is critical for the UK's Net Zero goals and levelling up agenda, is very welcome. It is, however, still some way short of a recovery. As declining passenger numbers continue to hamper the confidence of operators to renew their fleets, incentives are essential. Funding has slowly started to be released but government must act faster, using cash from the Bus Back Better Fund to support investment in vehicles and using its other funding streams to encourage infrastructural expansion, both of which are needed to deliver the rapid transition to net zero transport everyone demands."