Parade of Palladiums
Blackpool Transport take delivery of the next batch of ADL double deckers
The latest 25 ADL Enviro400 City buses in Blackpool's Palladium livery, were officially launched at a ceremony on the town's seafront, in front of the iconic tower.
On a warm, sunny Sunday afternoon on the Tower Festival Headland, members of the public and the press, along with representatives from Alexander Dennis Limited (ADL), Blackpool Transport and Blackpool Council, gathered to witness the official launch of the latest batch of ADL Enviro400 double deckers.
Earlier in the day, the new Palladium branded Enviro400 City provincial specification buses had left the operator's Rigby Road headquarters and assembled at their Starr Gate tram depot. At 08.00, they left in convoy to travel along the tram tracks to the Comedy Carpet in the town centre. It was an impressive sight and well worth the early morning press call!
The latest vehicles are part of MD Jane Cole's commitment to upgrading the fleet of 140 vehicles to ensure that by 2020, no BTS vehicle is older than five years.
Jane commented, 'Our partnership with Alexander Dennis has gone from strength to strength since 2016. We have received excellent feedback on the ten vehicles that launched in July 2016 from both customers and driving staff, hence the decision to place an order for a further 25 this year. We've explored ways in which we can improve the vehicles to better benefit our customers and Alexander Dennis have worked with us to achieve our goals. As we continue our collaboration with ADL in the coming years, I cannot wait to see what further improvements and developments we can implement to continually improve the journey experience.'
Sales Director, Retail Bus at ADL, Richard Matthews added, 'Today we have added the next step in that journey, one that will establish Blackpool Transport as a leading provider of public transport services. What we are experiencing today is testament to like-minded teams of people getting connected, to take a vision and mould it into reality.'
Representing Blackpool Council, Cllr Christine Wright, said, 'Blackpool Transport is continuing to thrive, bringing a dividend into the public purse and growing passenger numbers year on year. It was that success which meant that we are confident enough to continue to invest and grow the company, with this afternoon's launch of 25 brand new Alexander Dennis Enviro400 Palladium buses.'
Vehicle details
The Enviro400 City is an extension to the ADL portfolio, having been derived from their London specified hybrid City bus (Enviro400H City). Following the Enviro400 City's adaption for BTS to a single door vehicle, the newly created Enviro400 City is now available to the wider market.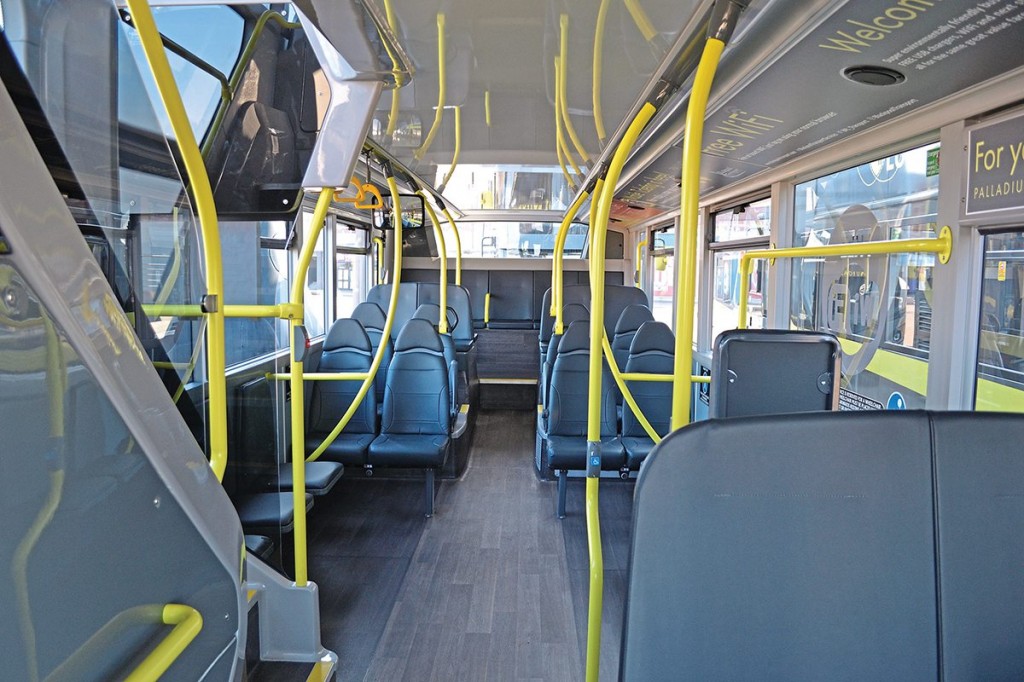 The 10.5m, 72 seat double decked bus is fitted with a Cummins Euro6, 6.7litre, six cylinder turbocharged and intercooled diesel engine, with a Voith D854.6 W53 gearbox, fitted with integral retarders and interlocks.  The emissions package includes Exhaust Gas Recirculation (EGR), Variable Geometry Turbo (VGT), Diesel Particulate Filter (DPF) and Selective Catalytic Reduction (SCR).
ADL have designed a spacious, comfortable, quiet and ergonomic driver's cab, giving excellent forward vision enhanced by the use of a curved windscreen. The cab provides intuitive on board diagnostics via the driver's screen. It has a Chapman driver seat  and features an improved cab door following consultation with some of BTS's drivers.
Accessibility features include Electronic Levelling Control (ELC) and a fast-kneel facility on the front suspension, reducing the height from 325mm to 245mm. The vehicle is also fitted with ADL's standard manual ramp. Continuous saloon lighting is provided by LED strips and LED lights are standard throughout the vehicle with the exception of the headlamps.
Customer-centric Specification
BTS have introduced a new level of customer comfort on the Palladiums this year, based on ADL's Passenger Plus package of available extras. At a special local event, Travel and Tourism students from The Blackpool Sixth Form College were recently asked to give their feedback on an Enviro400 City demonstrator with the Passenger Plus specification package, with a view to potentially introducing some of the features on upcoming vehicles. The results will be presented via video at the ALBUM conference, hosted by Blackpool Transport on 9 to 10 May 2017, complementing the programme theme for this year of 'The Customer Experience.'
The lightweight Isri Civic V3 Seats are trimmed in grey E-Leather. There are 43 on the upper level with 29 on the lower, with a dedicated wheelchair/buggy space.
Three tables can be found on the upper deck, with two along the rear seating section, to provide a social seating area. This is complimented by a panoramic rear view window. Each table has a bank of USB charging ports and USB points are fitted to the backs of the other seats throughout the vehicle.
The saloon has two-tone wood effect flooring and the upper deck stairwell has a glass wall to provide a lighter ambience. Free Wi-Fi is provided throughout.
Mobitech supply the audio-visual next stop announcement system as well as their Ultima white destination displays which were programmed on the day to read 'Blackpool Transport in partnership with ADL'.
The LCEB compliant Palladium has a range of smart accessories, including batteries and alternator. It features an electric cooling system and is fitted with stop start technology.
Synectics have provided the CCTV system, which consists of Synectics V400 recorder, 11 camera system with audio recording, HD front camera, reversing camera and driver's monitor.
The 2017 livery has been restyled by Buzz Marketing with a 2017 silver heart by the passenger door and the message '#Love your Bus' along the exterior advertising panel.
I asked Jane whether there might be a move towards electric vehicles and she told me that she expects the vehicles to evolve over the term of the contract and subsequent years, as passengers and legislation dictates.
For readers attending the ALBUM conference next month, there will be the opportunity to ride and view one of the latest Palladiums, along with the ADL Enviro400 City demonstrator.