Optibus predicts top five trends for 2023
Optibus is providing an eBook featuring predictions of the top five trends and priorities likely to be seen across the bus, coach and wider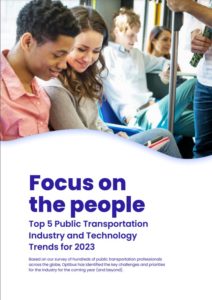 transport industry in 2023 and beyond.
The planning, scheduling, rostering, operations and passenger information software specialist conducted a survey of professionals across the industry in December 2022, asking what their expectations were for the year ahead. Overall, the results show that the biggest challenges of recent years still persist in 2023 and will continue to play a role in the coming years. The survey, entitled 'Focus on the people', found the biggest emerging trend is to place greater emphasis on people, both passengers and drivers.
The top five trends identified by the Optibus survey were:
Driver satisfaction and retention
Fleet electrification
Use of real-time information
Cost savings
Passenger experience
Read the report here.