Operator Profile – Onward and upward
It is 14 years since Stuart last made the long trip beyond the end of the M4 to visit Taf Valley Coaches' depot, high on a hill above Whitland. Clive, Heather and Joseff Edwards explain what's happened since . . .
It's in a picture-postcard location, right on the border between Carmarthenshire and Pembrokeshire, but the prompt for my visit to Taf Valley Coaches on that occasion wasn't the scenery but a newly refurbished office.
And now I'm back, this time for a new, purpose-built (indeed, Edwards-built) two-storey office block. That's the headline, but much more than that has been happening in every area of the Taf Valley Coaches – or Bysiau Cwm Taf, if you speak the language.
That the new offices are required is a measure of the continuing growth that has seen the fleet swell from 18 to 37 vehicles, the maintenance workshops extended, land purchased from the adjoining farm to extend the parking area and the number of staff increase to 45 including part-timers.
Growth was already being achieved on the coaching side, on private hire, tours and schools before the very long-established Silcox Coaches business in Pembroke Dock went through a very difficult period, ultimately failing in 2016. Clive was very sorry to see them go, saying: "It's a hell of a shame to lose a hundred-year-old company. They were good friends, we had always got on well. We took on about eight of their former staff and have tried to provide a service to the people of Pembrokeshire."
Buses burgeoning
The business's involvement in the tendered bus market has been up and down over the past 20 years, at one time dropping to only a one-bus requirement, but over the last three years it has risen to its new peak, with an eight-bus PVR on six routes.
Much of the increase happened very quickly following the Friday of the Silcox closure. That weekend saw the family work throughout the weekend to put everything in place for the services to begin on the Monday morning. Some tweaking of the timetables had to take place which saw the late night runs dropped because there wasn't the surplus manpower to cover them.
Taking on the extra bus work has meant more work for the team to keep everything right and it has also meant a greater capital requirement. Taf Valley actually has 11 buses to ensure that it can cover any failure immediately: "Bang – somebody's straight out there," said Clive, which is no doubt one of the reasons why its reliability figures are so consistently high. In the latest Bus Compliance Monitoring Report carried out by Bus Users Cymru, 142 departures were monitored and 140 left on time, with two late and none early, giving a compliance percentage of 98.59%.
After running buses in the same colours as the coaches, Clive bought four Enviro200s from Weaverway which had operated them from the former Tappins depot in Didcot. Painted in a red and black livery they had to be pressed into service before they could be repainted as planned. However, after several people commented on having seen them and asked where they were going Clive decided to rebrand the buses into the colours.
Newly delivered and still in white is the first bus that Clive has ever leased. Supplied by Mistral, the 19-plated ADL Enviro200 will be employed on the 381 service between Haverfordwest and Tenby. Originally a Silcox service, it was briefly run by First before Taf Valley won it in a tendering exercise.
Some of the services are very seasonal in nature because the area is very tourism focussed. This is especially true of the routes serving Tenby, which can carry very light loads on rainy days out of season. Ticketer machines with GPS tracking are used and, following an initiative by the Welsh Assembly, all services are contactless.
Most of the bus fleet is not garaged overnight at the main depot, but in Whitland where the company purchased a tyre sales company three years ago. Originally a form of expansion when there were no plans to grow the main coach business, the tyre company premises prove useful because while the tyre business closes at 5pm the first bus comes back at 5.15pm. A man is based there cleaning and refuelling the vehicles until 10pm every night.
New office
The newly-opened office building has a 12-metre by 10-metre footprint with a main central office on the lower floor and several smaller offices off it as well as a kitchen and a disabled accessible toilet.
Up the stairs there is a further room which will be used for meetings and training. This has yet to have the necessary furniture installed but the windows do provide great views over the surrounding countryside. It is a big improvement on the previous portable buildings which did not have their own toilet and provided only a makeshift kitchen.
Completed over period between March and December last year, the office is the latest stage of a general site improvement scheme, most of the hard work for which has been completed in-house. Only the jobs that had to be done by professionals were contracted out, everything else was done by Clive and other members of the workforce.
"All the donkeywork we did ourselves… me and the boys. We had a builder here to make sure that everything was all right," said Clive, who sees the need to do as much as you can in house and save money as an essential element of business survival. In total, he estimates that erecting the new office represents an investment of around £100,000.
One amusing incident involved a member of the team who went across the newly-laid concrete in the yard to make a cup of tea in the kitchen. On the way back he forgot about the wet concrete and walked onto the newly laid surface, ruining a pair of shoes and his trousers in the process.
Bright lights
Clive is well used to media attention, he sings professionally, makes regular appearances on the dedicated Welsh language station, S4C, and is currently working on his fourth album as well as singing regularly with a choir.
However, this time it was the company that was the subject of the attention in a six-part series that looked not only at Taf Valley but also two other family-run companies; Richard Bothers of Cardigan and Midway Motors of Crymych. Called 'Ar Y Bysus' – which translates as 'On the Buses' – it saw camera crews accompany the coaches on a number of trips, including one abroad, as well as filming around the yard. The documentary series aired in 2017 and was well received.
Clive continues to sing and has found a useful way of incorporating his talents in conjunction with the business. In the 2019 programme, building on success in previous years, there are two departures that give passengers the opportunity to hear him perform.
One is a three-day tour for which Taf Valley takes over the whole of the Royal Celtic Hotel in Caernarfon for a departure called 'Clive and Guests Entertain.' Bookings for four full coaches have already been taken for this. The second departure is further afield, visiting Carlow in Ireland. Clive will give two concerts during the six-day tour. Bookings are now being taken for a second coach.
With his business responsibilities, Clive inevitably has to turn down many of the singing jobs he is offered but he still spends many Saturday nights singing at different venues, often for charities. The company supports two cancer charities, Prostate Cymru and the Peony Breast Care Unit in Llanelli. Wherever Clive appears, he always takes along a good stock of holiday brochures with him. A particular honour this year is to be asked to deliver two 45-minute shows at the Royal Welsh Show at Builth Wells, where he also appeared two years ago.
Describing his singing as, 'a hobby that's become a bit more than a hobby,' he loves to entertain and see people enjoying themselves. He commented: "It's very similar to being a tour driver; you've got to keep everyone entertained. You can have a £350,000 coach and if the driver is miserable it doesn't mean anything."
People focused
Clive and Heather are very proud of the workforce around them, saying: "We wouldn't be where we are today without the dedicated staff we have. We are all a part of a team." The issues they face are those familiar to operators across the country.
"Ageing of staff is a problem for everyone," said Heather. "Here we have some staff on schools who are in their mid 70s." Recognising the need to do something to address the age imbalance, Taf Valley put three people aged 18, 25 and 30 through their tests in February. All were trained in a company vehicle by Mainport Training and passed first time.
The same approach is taken in the workshop where an apprentice mechanic has stayed on: "If someone else who had potential came along, we'd take them on," said Heather. "It's nice to be able to be in a position now to give something back to the community."
She continued: "A lot of operators won't take youngsters because of the insurance. We were used to it because of our son Joseff. You pay a premium for it but we've got to get youngsters in.
"We are trying to entice people in all the time. It is mainly people who approach us though we do advertise on social media." Heather added: "Insurance policies usually specify a 25-year lower limit but the time they are 25, youngsters have usually made their life choices."
The social media side is something handled by Clive and Heather's son, Joseff; Clive confesses that he doesn't understand it. There is a presence on both Facebook and Instagram. Instagram mainly involves pictures of coaches but Facebook also adds advertising for coach trips as well as people's messages to check whether a vehicle is running.
Joseff passed his PCV test as soon as he could; indeed he was still at school and used to drive the coach there and back again afterwards with the other pupils on board…
After university studying International Travel & Tourism Management and a spell working for the Student's Union, he has been with the business full time since October 2018. His responsibilities at present include looking at the contracts for holidays, IT and sorting out the 36-page holiday brochure.
Since the demise of Silcox, the number of UK and European holidays offered has increased from 24 to 44. He noted that: "Brexit has made no difference for us for the moment. The only thing so far is that we have all applied for international driving permits and they haven't come yet."
Many things have changed but Clive is still as vocal on the issue of driver CPC training as he was when I last visited. Then he questioned the need for it, predicting correctly that it would reduce the availability of part-timers. Now, his criticism is: "I think it's stupid you can do five courses the same and you are qualified. You could do First Aid five times, it should be different units."
In fact, local stipulations mean that his drivers can't cover the same course five times, because Pembrokeshire requires, as a condition of their contracts, that drivers cover both First Aid and The Educational Safeguarding Children in every three-year period. You could argue that this is over-stipulation because it only leaves scope for one other module, such as driver's hours in a normal five-module rotation.
Many but not all of the staff are bilingual which is a big help when many passengers' first language is Welsh. The holiday brochure is in English with a bi-lingual introduction and advertisements placed in Welsh language newspapers are fully in Welsh. On the service buses all next stop announcements are bi-lingual with Welsh first.
Maintenance matches demand
As the fleet has grown, so have maintenance demands, and the facilities and team have been increased to match. There are currently four fitters, one of whom was previously an apprentice.
When they first moved to the site in 1994 the garage was too small for coaches so it was demolished and a two-bay workshop built. In 2015, it was extended by the addition of a third bay; a 15-metre pit and a rolling road was installed in one of the existing bays.
Vehicles are washed every day and a large bay is provided in which to carry this out. It has the benefit of a full water recycling system that makes use of water harvested from the workshop roof.
Vehicles
Now standing at a total of 37 buses and coaches (if you include the Vauxhall Vivaro Combi eight-seater) the fleet is largely standardised though there are a number of one-offs too.
For coaches, the emphasis is on Plaxton bodied Volvos and VDL Futura FHD2s, while for buses the standard is the ADL Enviro200 with a trio of Solos still operated alongside them. Exceptions to these rules are a 2004 Scania Irizar 70-seater, a 2010 Autosan Eagle with the same capacity, a 35-seat Yutong TC9 and, the only tri-axle coach owned, a 57-seat 2018 Neoplan Tourliner. There are also four Dennis Javelins, all Plaxton bodied.
In size terms, everything up to 70 seats is covered, with the mini market covered by 8-, 16-, 24-, 33- and 35-seaters. Most coaches are in the 53- to 57-seat range but there is one 59-seat Leopard and there are currently five 70-seaters used for schools work.
"I don't really have a buying policy but I will try to keep to VDL and Volvo from now on because of where we are based. I can telephone Volvo until 18.30 tonight and they'll get the parts here tomorrow. That means everything; I can even go up there if I need to,' said Clive. The local Volvo dealer is Mansel Davies & Son of Llanfyrnach while DAF parts come from G.D.Harries or Swansea Bus & Truck.
On the bus side, the standard is the ADL Enviro200 in various lengths, though three older Optare Solos are still owned. Over 60% of the coaches have Plaxton coachwork and secondhand examples continue to be acquired. Clive attributes this to the parts situation and 'what you get used to' though he speaks highly of the relationship he enjoyed with Mick McElhone of Plaxton prior to his retirement.
"We find Plaxtons spot-on for the job. A lot of those we buy new we cascade"
Five of the fleet meet the Euro VI standard, which Clive regards as 'ample for the amount of work we do in London.' He adds: "The worry is what other cities will bring it in."
Despite the relative remoteness of Whitland, Clive is very positive about the vehicle support he receives. He commented: "We get great support from Moseley in the South and Plaxtons and, although we had some teething problems with Neoplan, they have really upped their game since. I'm very happy with the 35-seat Yutong too. It's a proper little midicoach, passengers love it and support from Pelican is spot on."
Last word
With private hire up around 30% in the past three years, a total of 18 school contracts, an expanded tour programme and the greatly expanded bus commitment, Clive is in no hurry to grow any further: "We're happy where we are," said Clive. "We'll now try and improve our age profile and get our average down.
"We don't 'buy' work and we don't work for nothing. If it doesn't pay, it doesn't go," said Clive of his operating philosophy, though he is fastidious about ensuring that everything that is operated is done properly and presented smartly.
2020 will see Taf Valley celebrating its 30th anniversary, which will be a very impressive achievement for a business started with a £3,500 loan from the Prince's Trust when the bank would not help.
In those three decades it has built up a loyal following among those in this rural catchment area, providing them with very high standards of service whether they are on a tour or just catching a bus into the village.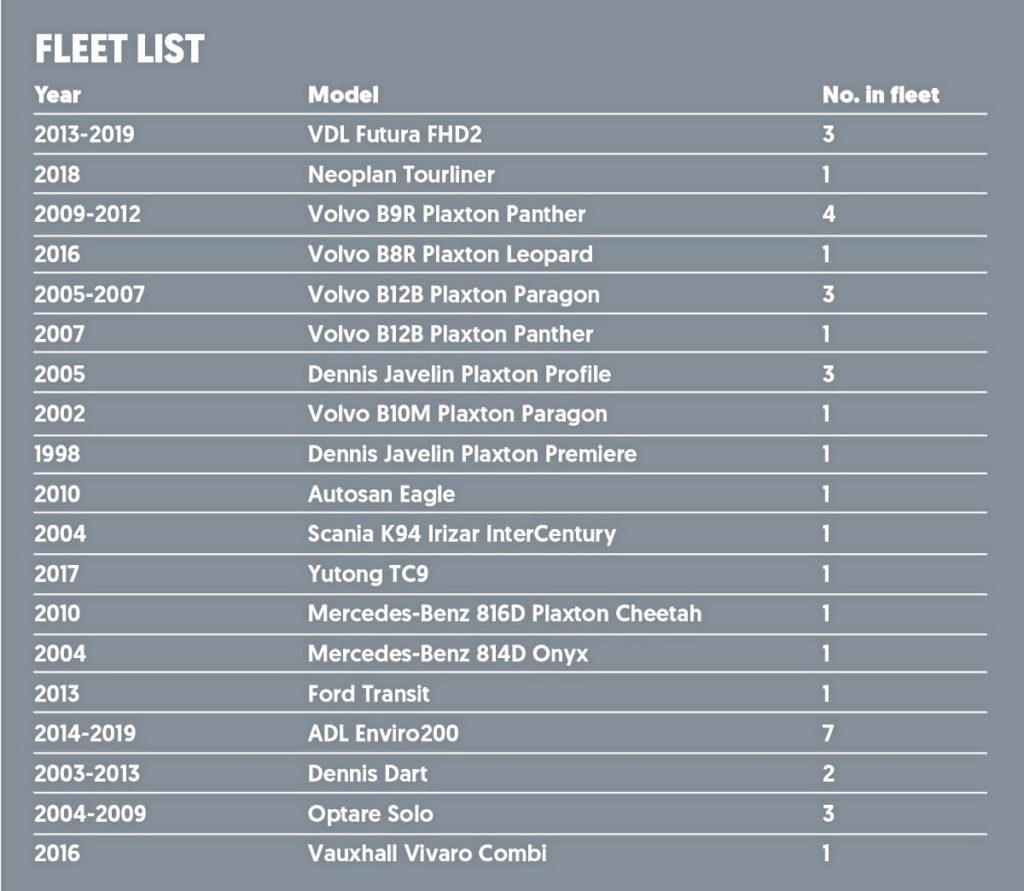 Want to tell us your company's story?  Contact us at: [email protected]