Operator – New dawn rising
Hull-based East Yorkshire is a traditional local operator moving into a brave new era.
Crossing the Humber Bridge to get to Hull-based East Yorkshire was somewhat emblematic of what is happening at the operator. The business is making a journey from its past form as EYMS, crossing a gulf of uncertainty to get to the fresh banks of a new tomorrow. The company has been acquired by Go-Ahead Group and big things are happening there. Taking the reins at this exciting time is Ben Gilligan.
In the early days of the acquisition, the focus was on operational issues, including addressing the shortage of drivers and making changes to central functions. As Ben settled into his new role of Area Director, one of the priorities was to get lost mileage down. Delivery of changes on the ground with the operation were also left until he had joined.
Taking charge of the sizeable operation is a significant task for Ben, not only because of the extent of the fleet and routes, but also because the operation's long and storied past brings with it a certain gravity. The business celebrated its 90th year in business in 2016 and is physically close to its history, still inhabiting the same building as it did in 1929. Changes made at the operation will certainly be noted, not just by the enthusiasts but also by locals, with the operation forming a big part of the everyday life of Hull and surrounding areas.
Although the focus is very much on being a local business, it is by no means a small operation, generating an annual turnover in the region of around £30m and it has approximately 700 staff.
As well as the change of name, passengers may have noticed the age of East Yorkshire's vehicles have decreased. Compared to this time last year, the average age of the fleet has been brought down to ten years.
Another change is the closure of the Beverley outstation in June, which was deemed unneeded.
Getting to grips with the make-up of the East Yorkshire operation was necessary for Ben. He explained the company's interurban network comprises around 25% of the operation. "The rail network in the area is not great," he said, "meaning there is a higher requirement for buses. Although Northern have enhanced services, there is no real rail service in the centre of our territory, so there is real value to our interurban network."
East Yorkshire operates an intercity network in Hull too, comprising around 30% of the operator's work. This puts them in competition with Stagecoach, which also has a Hull network.
There is also East Yorkshire's core town network, which operates in Scarborough, Bridlington and Hornsea. Ben said: "The town network is doing well. We have been invited to do a few extra things with it, like in the run-up to Christmas, we have put on some late-night buses on a Thursday for Christmas shopping in the evening. It's being run commercially."
The operation has 40 buses on its school and college conrtacts. It also carries out National Express work, with eleven diagrams operated using 12 coaches. It has recently started a new diagram between London and Manchester. Ben said: "The National Express work is very demanding, and quite rightly so. But if you get it right, it's good to do."
In addition to the National Express routes, East Yorkshire has its own coaching arm, which Ben described as small but important and profitable to the company. Its holiday programme is all bonded and includes city breaks to places like Liverpool. Flicking through the company's tour brochure, Ben mentioned a popular destination is the Isle of Man. It employs eight drivers in the coaching part of its business.
One change that has been made to the coaching side since Go-Ahead took the operation over is the ending of overseas trips. The new owners rule that they do not carry out overseas work and they were brought to an end for East Yorkshire last year, with the final one driven in March. Explaining why, Ben said: "The risks are too high and the company is just not in the business of doing that."
East Yorkshire's coaching arm has been reduced and reconfigured, getting more utilisation from 12 coaches, which includes Plaxton Elites and ex-National Express Caetano Levantes. The coach fleet is to be rebranded next year, with the exact branding to be used kept firmly under Ben's hat until spring. He did give a little insight: "We're going to bring it more inline with the look and feel of the rest of the rebranded operation."
Investing in fleet and staff
Having a new parent company in the form of Go-Ahead Group does of course give East Yorkshire more access to cash. Ben said: "I think we've been quite lucky. Between the acquisition and next spring, we will have had in the region of £10m worth of investment."
The money is being used to upgrade the fleet, with the aim of getting rid of its oldest double-deckers. The older vehicles are not to the standard the operator would like. Ben said: "We want the old Plaxton Presidents gone by spring."
New training vehicles are to be added too, moving away from the double-deckers learner drivers are currently being taught in to single-deckers.
It is not all about lavishing cash on the fleet for Ben though. Something he is passionate about is colleague engagement. "I do a lot of depot visits, sometimes getting there early in the morning to catch people before their shifts. It's a lot of hard work, but it gets the team onboard. I think it's paying off. People are talking to us, they are engaging with us. I've also made myself available on social media to them. I want to treat everyone equally."

In September, the company did a colleague engagement survey with its staff, which found their attitude was above the Go-Ahead Group average for bus, with 68% deemed what it calls 'engaged' with the business and what it is trying to achieve. Although this is seen as a success, Ben is not resting on his laurels and is resolute to improve the performance: "We're going to do another survey in 2020 and we want the score to be better."
He noted there is a challenge with East Yorkshire's current leadership team, saying it is relatively new and inexperienced. To overcome this, he got Barry Jones onboard as Head of Operations. Barry has a diverse career history, having moved to East Yorkshire from a role in Oman, but was previously with First in West Yorkshire for a number of years. This is where Ben met him. Ben said: "He is a good Head of Operations. He provides good leadership engagement and has carried out all the preparatory stuff to support our colleagues on the front line."
The company also supports its staff through recognising their long service. The day after B&CB visited, East Yorkshire held a ceremony to reward these loyal workers. Among those being celebrated was a 45-year veteran of East Yorkshire, with three 40-year long service awards, two 35-year awards and several other similar accolades set to be given at the event.
Staff have received the change of name to East Yorkshire well. Explaining the brand change that took place in March, Ben said: "We felt EYMS was a bit stayed and old fashioned. In January, we had a number of organisations pitch ideas for a brand change. But Ray Stenning at Best Impressions was head and shoulders above them all."
The fleet is currently being repainted and re-liveried into the new colours and branding. "We love it," Ben enthused. "It's bright and colourful. About 25% of the fleet is now in our new livery. It really stands out. It was launched in March and it had reasonably good feedback."
However, there was one breed of people who were generally against the new livery, namely enthusiasts. But it's a sentiment not shared by Ben: "The new name is more modern and forward looking."
The following April, East Yorkshire rolled out three new brands: the Beachcomber, Scarborough Locals and Coaster. Another new brand was launched in August: the Scarborough Sevens. "The feedback we have had has been fantastic in Scarborough," said Ben. "We have recognised the seasonal offer is an important part of the business."
East Yorkshire serves a lot of the holiday parks on the east coast of Yorkshire during the holiday season. It got Best Impressions to design a leaflet showing attractions in the area along with service information. Details of routes run by Arriva and other operators in the region has also been added to them, recognising that just getting people out of cars or other transport methods and on the buses is a win for them as much as it is for their fellow operators. 
Further to this, East Yorkshire has engaged in a ticketing partnership with Transdev, seeing its tickets linked with this fellow Yorkshire operator's Coastliner service.
Ben said: "We have put some proper supervision on the coast routes now. We have someone managing the seafront operations for us. And we have regular drivers on these routes now. It's been great, we have had an 18% growth across our seasonal offer. We have an 88% 'excellent' feedback rate on TripAdvisor. It's about the attention to detail, putting the time into it and making it work."
Another change being implemented is a new seat moquette,with the old ship  imagery on the seats now sailing over the horizon into history. However, like the previous moquette, the new version is designed and provided by fellow Yorkshire company, Camira. The decision to change this is all part of the operator's wider focus on improving not just the outer appearance, but the internal look and feel of its fleet.
A new philosophy
With all of these changes coming into affect, East Yorkshire held a leadership conference in June. This brought together some of the key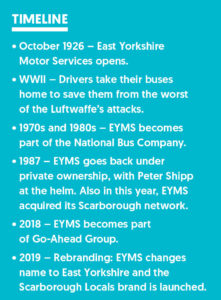 leaders and supervisors from around the business. It gave an opportunity for the senior managers to communicate and engage with the team on the wider corporate plan, as well as focusing on health and safety. Ben said: "It was a good day. It went down well and we got some good feedback from it."
Summing up the focus of the new management philosophy now in place at East Yorkshire, Ben said: "It's all been about modernising the business, investing in it. There is more focus on marketing ourselves affectively."
Another way it has upped its marketing game is with the introduction of a new website. Ben said: "The new website is inline with our new branding. We have a passenger app now too, which was put together by Passenger. They did our website. They are superb. What they offer is just what the customer wants."
He continued: "At heart, I'm an operations person. I grew up from the operations culture. It's all about 'brilliant basics', things like clean buses and smart drivers."
One way it is focusing on these 'brilliant basics' is the introduction of a new uniform that has been rolled out across East Yorkshire. "The uniforms look so much smarter," said Ben. The clothes were supplied by Tailored Image from Ireland. "The quality of garments from their group contracts is so much better."
Great opportunity
Explaining the changes being made while sat in his office in the listed building that is East Yorkshire's headquarters, Ben is clearly enthused by the developments going ahead. It is clear he feels his efforts have been beneficial to the business. But have there been any challenges since taking on the job? Ben thinks for a brief moment, but his reply is charged: "Time is a challenge. We want to do everything all at once. But it's about finding the biggest priority."
It is no surprise Ben is so excited to be part of what is happening at this iconic Yorkshire operator. "It's a company I wanted to work with for many years," he said.
Before joining East Yorkshire, Ben worked for a spell at South Yorkshire Passenger Transport Executive (SYPTE). "This gave me a great experience in local government, but it drove me mad," he said, laughing. "I just couldn't fit into the culture there."
Before his time at SYPTE, he worked with SheffieldBID, a business development programme. But what he is perhaps best known in the industry for is his time at First, where he held a number of director roles within its Yorkshire operations.
"I never had any particularly great desire to join the bus industry, but I remember when I did join I thought 'Wouldn't it be great to be a part of East Yorkshire?'. Last year, when I heard a sale of the operation was likely to happen, I thought it was a great opportunity. I've fallen on my feet."
What is it like working for another major operator, namely Go-Ahead? "I love the autonomy. You're just trusted to run the business. The view is you are locally based and the business is run locally. When you are left to make the right decisions, it makes you more motivated.
"It's big stuff we are doing here. How do we take the brand to the next level? How do we plan the next two years, with route relaunches and vehicle investment?"
People at the core
Looking at the time ahead, Ben said: "In the next 12 to 18 months, we are looking to refresh all the main routes we operate. We will be continuing with our staff engagement too, the other big priority is very much around people. It's about getting closer to them. It's about making visits, talking to them and doing something tangible with that."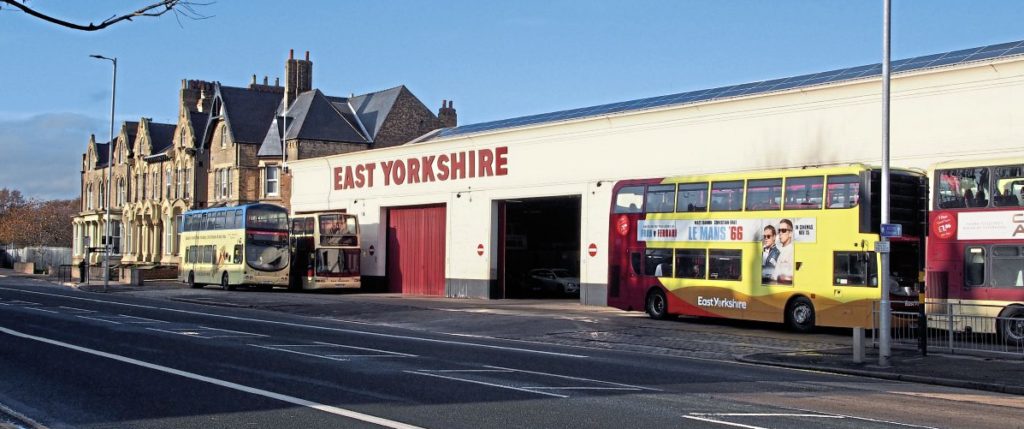 A measure the operator has taken to do this is the relaunch of its Hapi app. Provided by the Personal Group, an employee engagement company, the app helps communicate with staff and provides a platform for employee benefits too, among other functions. Ben thinks using apps is a good idea for engaging and communicating with its workers, saying: "The vast majority of people use a smartphone. I see them all scrolling through their screens in the depots. So I like to put that information there in their hands."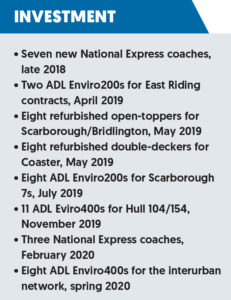 What is pleasing to Ben is that as it has implemented better staff engagement and rebrands across the operation, the business has experienced growth. He said: "The Hull operations have had good growth in the last three to four months. That's against the backdrop of costs going up. We are looking at everything we are running and asking: 'Does that work or not?'
"In September, we recast some loss making routes. But we are in a good place, where we are in the situation of routes making some profit.
"But things change. Northern Rail are looking at improving services, which will be a challenge. We have to consider how we will deal with that."
Another challenge lies in the coach segment of its business. "We have got some good local coach operators to compete with, like York Pullman and Acklams, for example. And we respect those operators, they're very good. But in coaching, we are doing alright. We have no intention of pulling out of coaching."
Ben will continue to focus on engaging with stakeholders in the following years. "We have good relationships with Hull City Council, we are on their committee. We are keen to improve partnership working. We also have good engagement with York City Council, as we have some services into and around York. We play an important role in bringing people into the city.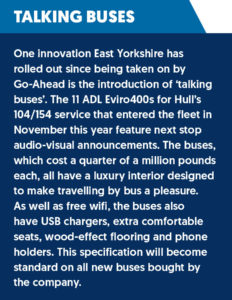 "We play a very active role in the North Yorkshire bus operators partnership. There are some good operators involved in that.
"With Scarborough Borough Council, we have some huge responsibilities concerning economic development. We are running evening buses at our commercial risk. They are wanting to achieve an evening economy. And if we all do something together, it should work."
In a time when the bus industry is seeing dwindling passenger numbers, the enthusiasm of Ben is reassuring. This is even more so when passenger figures are seen to rise, like they have in Hull. It may also be heartening to see the coach side of the operation is to continue.
This is a new dawn for East Yorkshire. When whispers surfaced of the sale of the business last year, many might have looked on it as a presage to its closure or break-up of its routes and services. Even when it was announced that Go-Ahead is the new owner, some may have seen the take-over of the company by a big, national concern as the end of an era, the closing of the history book; another local operator to be devoured by the large corporates, losing its distinct links with the local area. Go-Ahead is not like that though. Instead, it focuses on the 'local' in local operator. In actual fact, there is positivity in the air in Hull. Another way to look at it is as a rebirthing, a new day rising. Ben certainly does.