Operator Focus – Secret of youth
Johnsons Coaches doesn't struggle to find younger drivers to replenish the ageing pool. Find out how.
Coach drivers below the age of 40 are a rarity, it would seem. But there are exceptions, like Dale Worsfold from Shaws of Whitley, who is in his 20s and loving coach driving (see B&CB 1518, 22 February 2019). When we published the article featuring Dale, Johnsons Coaches of Hibalstow, a village near Gainsborough, Lincolnshire contacted us saying they knew the young man when he was learning to drive. Not only that, but at its depot, younger drivers are actually quite common.
"We're 50/50, youngsters and older drivers," said Martin Gregory, Director at Johnsons Coaches. "I suppose you're going to ask what the secret to it is. Well, more than anything, it's family values; that's one of the biggest things."
Martin himself was a younger driver, passing his PCV test with JR Dent of Market Rasen when he was 18. Due to his age and the restrictions on the licence to only drive 50km from the depot, the work he did revolved around school runs. When he turned 21, he moved out of the bus and coach industry and on to a haulage firm, which happened to be on the same industrial estate at which Johnsons is based.
He worked in the traffic department of the hauliers for 11 years, while also driving part time for the now defunct Barnards Coaches of Gainsborough. "My heart has always been in the coach side, but the money wasn't and still isn't."
After losing a big national contract, the nature of the work changed at the haulage firm, meaning it had to rely on operating bulk tippers in the local area. This was not the kind of work Martin was interested in, so in 2007 he went to Barnards full time, in an office role.
Although working in an industry he has a lot of love for, he was on a punishing schedule. "I was doing 80 to 100 hours a week in the peak season. I was getting there at 6am and could be cleaning vehicles at ten at night. I lasted five years, until 2012."
In 2012, he was part of the team delivering the Olympics in London. This was a nightmarish job, he related, saying: "I was meant to have weekends off. But I hardly came home. The first two and a half days on it I didn't sleep. It was horrendous."
This was the final straw for Martin: "I told them, I've had enough. I came back to the office, cleared my desk and left. I wasn't going to come back into the industry."
He quit in August of that year and was due to get married in New Zealand in January 2013, so between those months he registered as self-employed and ended up doing a few school runs and other jobs for Dents and NL Johnson at Goxhill.
How it began
The story of how Johnsons was founded starts in a pub: "I was in my local with my best mate. He asked me, 'What are you going to do when you come back from New Zealand? Why don't you try doing it on your own?'
"'It's not as straightforward as that,' I said. I explained the need for financial standing. He said he would meet me half-way, help me buy a vehicle and get financial standing. I was like, 'OK'. I was a bit shocked."
It was around this time the owner of NL Johnson wanted to retire, so the chance for Martin to buy the operation presented itself. He checked with an accountant the potential for buying the business. "I was told it was profitable but I would not make much out of it."Martin spotted some serious inefficiencies in the way the operation worked: "The owner was doing some jobs for £50 when they were worth £100. She didn't want to pack up and lose those customers, so she asked me if I wanted to buy two of the vehicles and keep the customers happy. I said yes, but I want a payment plan. In the meantime, I applied for three O licences."Once his licences were processed after he came back from New Zealand, Martin registered with First to do rail replacement work on a line from Doncaster. Over the following months, he slowly purchased NL Johnson's vehicles and the owner ceased trading. Two school runs were transferred across and the name Johnsons was retained for the fleet.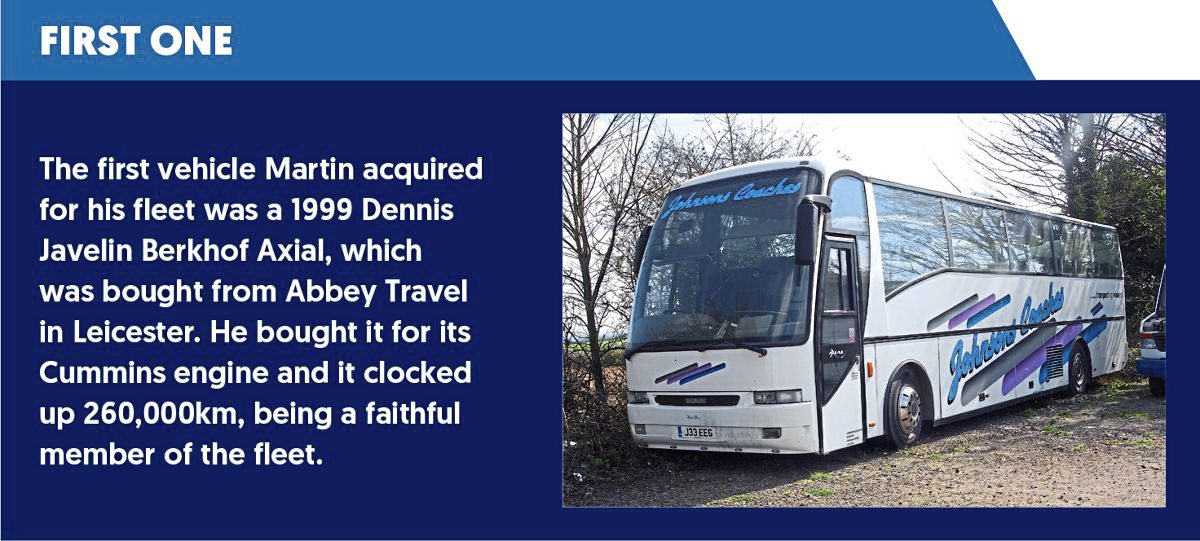 As well as the fleet, Martin also inherited part-time staff. He said: "My attitude was not to work people like I worked previously. I wanted a family life."
The two drivers he took on were in their 60s. Sadly, one passed away, but one of them, Rodney, is still going strong. "All the time he was with NL Johnson, he never had a coach he could call his own. I gave him a 2009 Berkhoff Axial 50 on DAF running gear and had a message on the side of his coach, 'In memory of John Laurence', his best friend. He loves it. He's 74, but he says he feels like an 18-year-old now. He loves his job. His CPC expires in September and he's saying he wants to do it again.
"But I don't know what's going to happen with CPC in September," he said, referring to the changes Brexit might bring. Johnsons' training is carried out at East Yorkshire (formerly known as EYMS) in Hull, by its training division headed by Darren Kendrew.
Martin has put and is happy to put people through their PCV test too. His wife, who is in her 30s, is doing her test this year. His sister, in her 40s, is doing her test too.
Family guy
"I promote family values," he said. This is extended out to the rest of the team, not just his own relatives. One of Martin's drivers, Dale Robinson, he knew from his days at Barnards. Dale joined Johnsons in 2014, while he was in his 20s. Martin said of Dale: "He's now in his early 30s and he's been everywhere in Europe; Russia, Lapland, Scandinavia. He's a naturally talented driver."
Martin sings the praises of younger drivers: "They don't need satnavs, they're not in fear and they will do any jobs."
He would not have his employees do work he wouldn't do himself. "We don't do nightclub work. And at a weekend, I would sooner be parked up by Saturday tea time. I promote family life."
A mark of how aware he is of his employee's family situation, he listed how many children some of his drivers have and even what age they are. He is even aware of what grandchildren his older drivers have.
He said: "Youngsters don't want the out-of-hours work. I'm afraid in this industry, there are those drivers who, if they smoke, are poorly paid and basically can't keep a penny saved. You get that sort of driver and it's them who need to do the out-of-hours kind of work.
"My ethic in life is work to live, not live to work. And that's what I did. I took a modern approach."
Work with them
"I work with them," he said of his drivers. "When they come and join us, we assume they are available to do occasional weekend work unless they notify us any different. If they can't do a certain weekend, all they need to do is fill a form in and we know. They all have certain jobs, so Dale has Scunthorpe United supporters. Dale and his wife Sarah, who works here, will be finished at 5.30pm because their kids' schools finish early next Friday. They won't be put on a job that will push that time."
He continued: "We started with a diary system to sort out jobs. But we're going digital; we're going to go for Roeville's Cloud-based system."
Johnsons does do weekend work, particularly at the height of the season, with up to five of its coaches out nearly every Saturday and Sunday. "You have to be careful not to force this work on to one driver. I sit down with drivers and work it out."
Martin has given his mobile phone policy a lot of thought, taking into account his driver's opinions. "I had a discussion with them. If we provide you with a company phone, then you must leave yours in your locker here. Or, if you want to keep your phone on you, would you be happy to contact us on it when you need to? It's about options, not about telling them."
Keeping his drivers in touch with the office is the Verizon Connect fleet management system. The solution can track vehicles on web-based maps and provides dashboards for users to notice any trends across the business. All of the drivers have the app for this, which means they can all be messaged via it.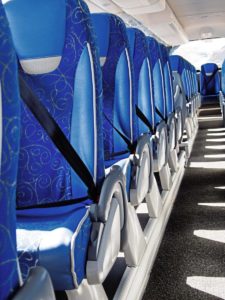 Good communication is promoted at Johnsons and helping achieve this is the fact the younger drivers are all friends. Martin said: "Dale had his friend Lee, who he told how good it is to work here. Lee came here and was put through his test and he's been here four years now. Then we had Sarah, Dale's wife. He asked if she could be put through her test. She was training to be a hairdresser at the time, but there isn't a lot of money in that. Sarah tested with EYMS and came onboard with us. She loves her job. We put them together on jobs; they've done skiing trips together. They come in one car and go in one car. They're young, they're in love, they want to start a family.
"The other youngsters, are given work which fits around their family life. We only take on the work we need. When I was at Barnards, I would be asked things like can I do Belgium at the last minute. So I had to turn round and go, grabbing some extra clothes while I was out there in Belgium. We don't do that, we don't overload ourselves with work."
Johnsons use the journey efficiency boosting Don't Travel Empty, which Martin reports was good when he had two of his vehicles break down. "But we don't put work up on there. When I get to the maximum I can do, I always keep myself spare. We always try and work it ourselves."
To keep the vehicles on the road, the operator uses MasterPart, especially for parts for its integral Irizar. Martin has a good relationship with Lee and Antony Johnson from Johnson Brothers, based on the same site as MasterPart and Irizar. He has known the Johnsons for years.
For retrimming and refurbishment, he uses Express Coach Repairs of Pickering. He has also made use of Express' neighbour, Floor Tek N Trim for seating work.Maintenance is carried out in-house, with a workshop area complete with inspection pits for this. Heading this part of the business is Raymond, Martin's father, who previously worked for Dents. He has been in the industry for 50 years. Vehicles are maintained to a high standard, having gone from an OCRS score of grey (unknown operator) to green (low-risk operator).
The young ones
The workshop is based in an industrial site known as the Old Cement Works, a site Martin admits is the one thing that could be better – it gets dusty when it is dry and the wind is up. Taking a look around the yard gave a chance to speak to some of the younger drivers: Lee Cutter (30), Dale Robinson (32), Sarah Robinson (24) and Matt Sandy (38). They were all positive.
"I've done a few things, I worked in a body-shop once," said Lee. "But this is one of the best jobs I've had. I've been to places I wouldn't go otherwise, like Austria and Paris."
"It's a good way to get to see the world," said Sarah.
"It's a good lifestyle," said Dale. "I got Lee the job. Martin put him through the test."
It is a tough job though, Lee admits, especially when driving in busy places: "You've got to have eyes on the back of your head."
Sarah liked the fact it is a family-run business: "I love it. We all get on with each other. "
What do they think could be done to attract more younger people into coaching? Lee said: "Younger people do need introducing to it. But it's not cheap to put people through their test, there's a lot of outlay."
Dale said: "There's not many young people who would think to go and do this job. I think if you got young people to come with us on a day, they would see and get more of an idea."
"But you can't really do it as work experience," said Lee. "But I think people think it must be like being a bus driver, going around the same routes. But every day is different."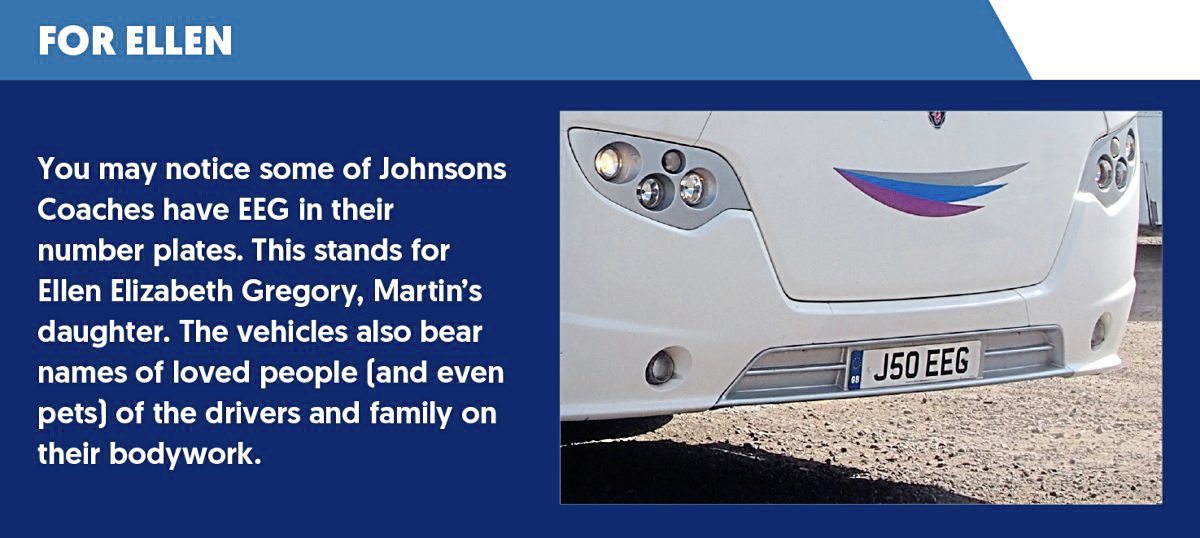 Talking about Martin and his management style, Dale said: "He's pretty good."
"You can have a laugh with him," said Lee. "And you'll never do a job with him you don't want to do. You can't beat it. If you go to a bigger company, you're just a number, not a person."Sarah said: "He's just part of the team, like everyone else."
Dale said: "Another thing to mention is we have allocated vehicles. It's nice to have our own vehicle. You want to keep it tidy; it's like your second home."
Dale said: "Don't misunderstand; if you do something wrong, he will tell you about it. When he had just started, he was doing up to 15 hours a day, so he has worked for it."
"And he's not afraid to spend," added Lee. "You know that your vehicle is good to go."
"I do spend thousands on them," Martin said, back in the office.
Reflecting on what could be a slightly different management approach compared to some operators, he believes this is how modern coach firms should work. Hopefully this vision will serve him well in encouraging even more younger people to join the coach industry. It is certainly high time for it. "Times change; and you have to adapt to these changes."