Operator Focus – Italian to the core
B.Bus takes off and brings the Italian experience to the UK airport transport market. It even uses Italian vehicles.
Cutting a vogueish figure, Tazio Puri Negri certainly seems a fitting character to bring Italian style to the UK coach and bus industry. The young, Italian-born entrepreneur has started B.Bus, an airport transfer minibus operation, ferrying passengers between London Luton Airport to their homes in north and central London.
"The idea behind it is very simple," said Tazio. "It's one of the first on-demand services that connects passengers from the airport to their homes."
Central to the service is the app, which allows users to book their transport. It features tracking, allowing users to see where their bus is, providing an estimated time of arrival. Payments for travel are made online. Tazio said: "It's designed to be a dynamic service. We strive to drop people off as close to their desired address as possible, within a minutes' walk from their home."
At the moment, the service is offered 7am till 5.30pm and is only available between Luton airport and central and north London. Although the buses can drop people off at a Tube or rail station for journeys further afield.
Grand plans
It is only early days yet for the ambitious Tazio and B.Bus, having only just passed the first month of being in service. Despite the focus being on these formative days for the operation, Tazio has not lost sight of his much grander plans. "The long-term strategy is to cover all of the major airports of London. Gatwick is planned as our second expansion."
There are even plans for airports to be served outside of the UK. But currently, the Luton operation is where the focus for the time being will remain.
Talking about the first few weeks of operation for B.Bus, Tazio was positive: "We've had a good response. We already transported around 20 passengers in the first two weeks. If you look at Uber, in the first few months of that operation, they had very few passengers."
Understandably the operation needs some time to get off the ground, to gather the required interest and trust. Tazio is marketing B.Bus in a number of ways, including two billboards at terminals at Luton airport. Here, the adverts are targeting up to 30,000 to 40,000 passengers per day, according to Tazio.
He has set up partnerships with hotels in London too, helping to signpost visitors to his service for their trip to the airport. Tazio has also recruited brand ambassadors, who are out there promoting the service, particularly to the youth market. "Students travel a lot," said Tazio. "We have been doing guerrilla marketing too. We are about offering a new service to the market that doesn't currently exist."
Another unique selling point for B.Bus, according to Tazio, is the price of a ticket. It costs £7.89 for a trip between the airport and London on his service. "The price is unbeatable. At the end of the day, we're 50% less costly than the coach."
He also notes the taxi is dramatically more expensive.
Italian experience
"We are offering an experience," mused Tazio. "We have brand new vehicles, we have a nice uniform, we have a particular scent in the bus. We have wifi that works and there are smartphone charging points. They are very high quality."
This is the Italian flair that Tazio is bringing to the fore with B.Bus. He said: "Italy differentiates in terms of quality. It's a kind of lifestyle; very simple but high quality. I think Italy survives because of this.
"It's about nice, clean buses; with the drivers wearing nice, clean uniforms. That nice smell in the buses that passengers will identify with the brand."
As well as flying the flag for Italy, Tazio is also sending out a 'green' message too. Natural-gas powered Iveco minibuses account for 50% of the fleet. He noted that in the car world, the future looks like it will bring electric-power and hybrids. However, in the commercial vehicle world, he sees gas as being the easiest fuel option to manage.
B.Bus is the first company in the UK to operate compressed natural gas-powered (CNG) minibuses after ordering three Iveco Daily Line Hi-Matics. It has three of these 16-seater alternative fuel vehicles. The buses are touted as producing 12% fewer NOx emissions, 76% less particulate matter and up to 95% less CO2 emissions when fuelled using bio-methane, compared to diesel equivalents. The CNG vehicles are built on a 4,100mm wheelbase and are powered by Iveco's 3.0 litre, 140hp engine.
These are in addition to three 19-seater Daily Tourys minibuses in its 100% Iveco fleet. The diesel-powered Tourys models (Daily 65C18HA8's) are powered by 3.0 litre, 180hp engines. Also built on a 4,100mm wheelbase, they offer easy-to-reach, lowered luggage compartments with a capacity of 2.5m³. Each vehicle comes with leather Kiel Avance seats with three-point belts, internal LED lights and individual passenger air conditioning vents. Both models have been equipped with the eight-speed Hi-Matic automatic transmission.
Tazio said: "We pride ourselves on being a responsible business. While we strive to offer our customers the best service, we are also aware we need to minimise our impact on the environment."
B.Bus opted for a full Iveco Elements repair and maintenance package with supplying dealer Iveco Retail in Croydon as part of the five-year lease arrangement through Iveco Capital.
I'm Italian and I wanted to export that to the UK
The Ivecos are part of the Italian style Tazio is keen to inject into his operation. On why he went for this marque, he said: "I'm Italian and I wanted to export that to the UK. I wanted to give that Italian experience and quality, but at a very good price. I spoke to Ford and Mercedes-Benz, but the price I would have to pay for their vehicles was much higher."
His gas buses, he said, offer 90% lower emissions. They could well be an attractive proposition for the environmentally conscious passenger, but he notes there is a drawback: "The only problem is the lower range they have than the diesels. They give 200km to 250km, the diesels do £500km on a full tank. So the logistics are not optimal."
At the moment, the gas-powered Ivecos go to a facility in Camden for refuelling, which is the closest one to his Luton operations base he is aware of. This loses an hour every time they fuel, according to Tazio, admitting that logistically this is not convenient. He expressed surprise there are not more gas filling stations in London. "The UK and London, they're not well equipped for gas. In comparison with Italy, Milan alone has eight gas stations."
Despite this, he remains positive about gas-power: "In the long-term, we will have a pure gas fleet." In reference to the Volkswagen emissions scandal, he said: "Diesel has been a disaster in the last few years. It's not seen as being 100% transparent."
Getting the vehicles on the road was not the easiest process, Tazio admitted. The biggest hurdle was getting an operator's licence. Exasperated, he said: "That was a nightmare because it took us seven months. We kept sending the information and they kept sending it back. We thought we had sent them it all correct. It was a very long and bureaucratic process. I was seriously doubting whether we would ever get a licence. We applied for a standard licence. In the end, everything went well."
Finding drivers was also a challenge. "Most operators go through agencies to find them. But I think they are a rip-off. Some take up to 20% of the driver's salary or charge £2 to £3 on top. We used the Indeed job vacancy website. We put an advert on there and once we got drivers, we asked them to find us some more."
What did he look for in his drivers? "We looked for a clean driver's licence and all the technical requirements. We wanted them to be a positive person too and have a certain degree of experience. To figure out what they were like, we had a 30- to 40-minute interview to see if we liked them. Then the second stage was to test their driving and a medical test."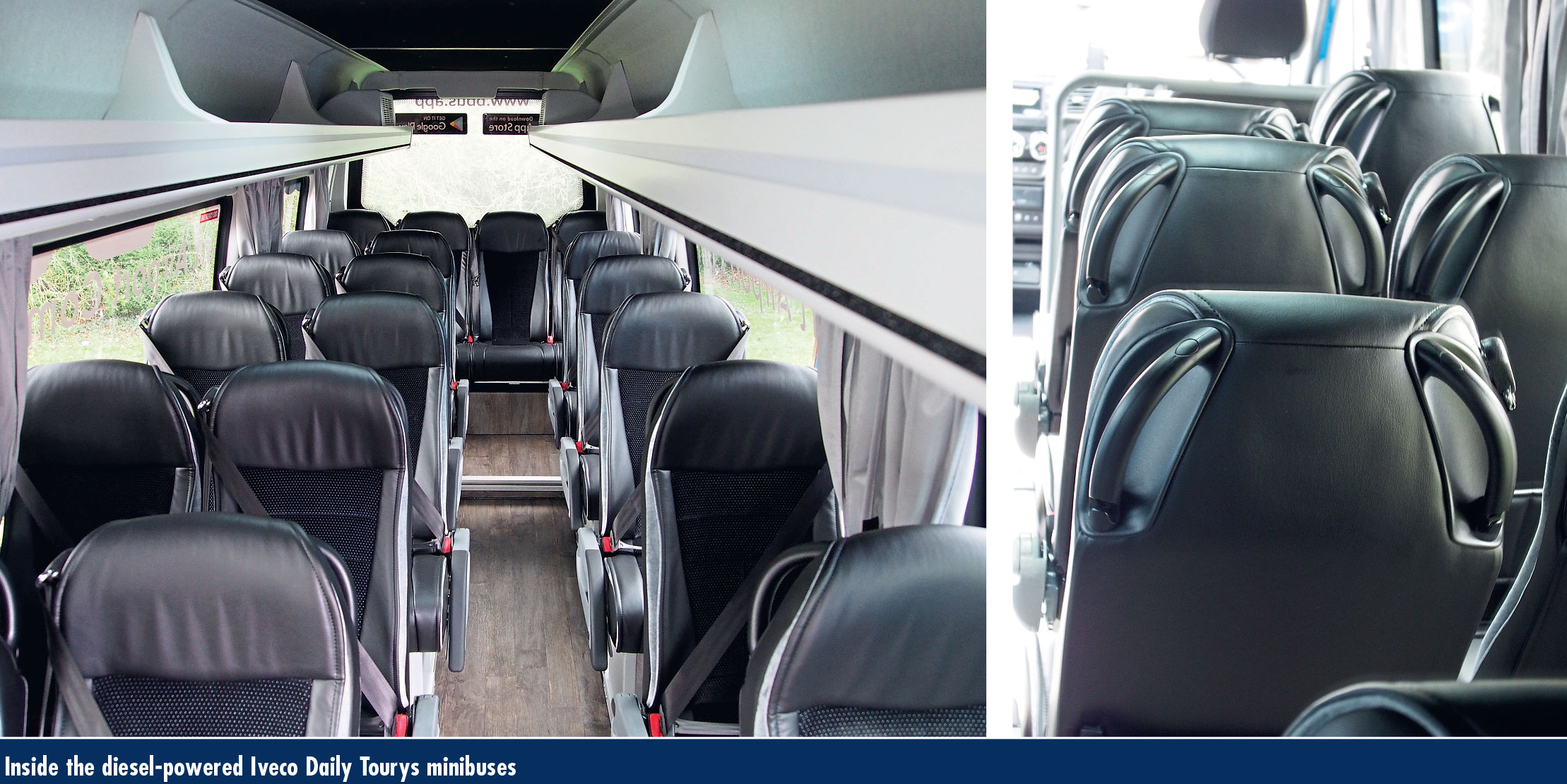 The drivers were given a couple of days of training once taken onboard. This includes making them familiar with the app and the buses. They are put through a simulation of picking up the passengers in Luton.
For Tazio, a good driver should have a positive attitude, be respectful of who they are working with and always try to provide the best service they can.
There are seven drivers in the team, who are supported by three full-time office workers. There are four people who work part-time in marketing and accounts. There are also two transport consultants who assist the operation.
From beauty to buses
Although new to the transport world, Tazio is not fresh to business. He attended the Hult International Business School, studying business administration and marketing. He then worked in finance, after which he worked in a company within the beauty industry. He said: "After two years, I was sick and tired of the beauty world."
And so this started the idea flaming inside me
It was while sat around a table with friends organising trips to the airport that the idea for B.Bus formed. "The taxi from London to the airport was going to cost £70. I thought: why is there not a service, a cheap one, that takes you from your house to the airport? And so this started the idea flaming inside me. I thought, I'm going to leave the beauty industry. This was one and a half years ago.
"It was quite risky. First of all, from the idea to a business plan, we went through a process of research for six months. The raising of money was done by an internal fund raising, privately financed. We got £250,000, which we used to build the website and order the vehicles with. It's very risky and exciting at the same time.
"There's a great need for this service and there's a big gap in the market for it. In Luton, 70% of the passengers go to London. It's a huge market."
Cleary enthused, he continued: "Getting the first passenger was amazing."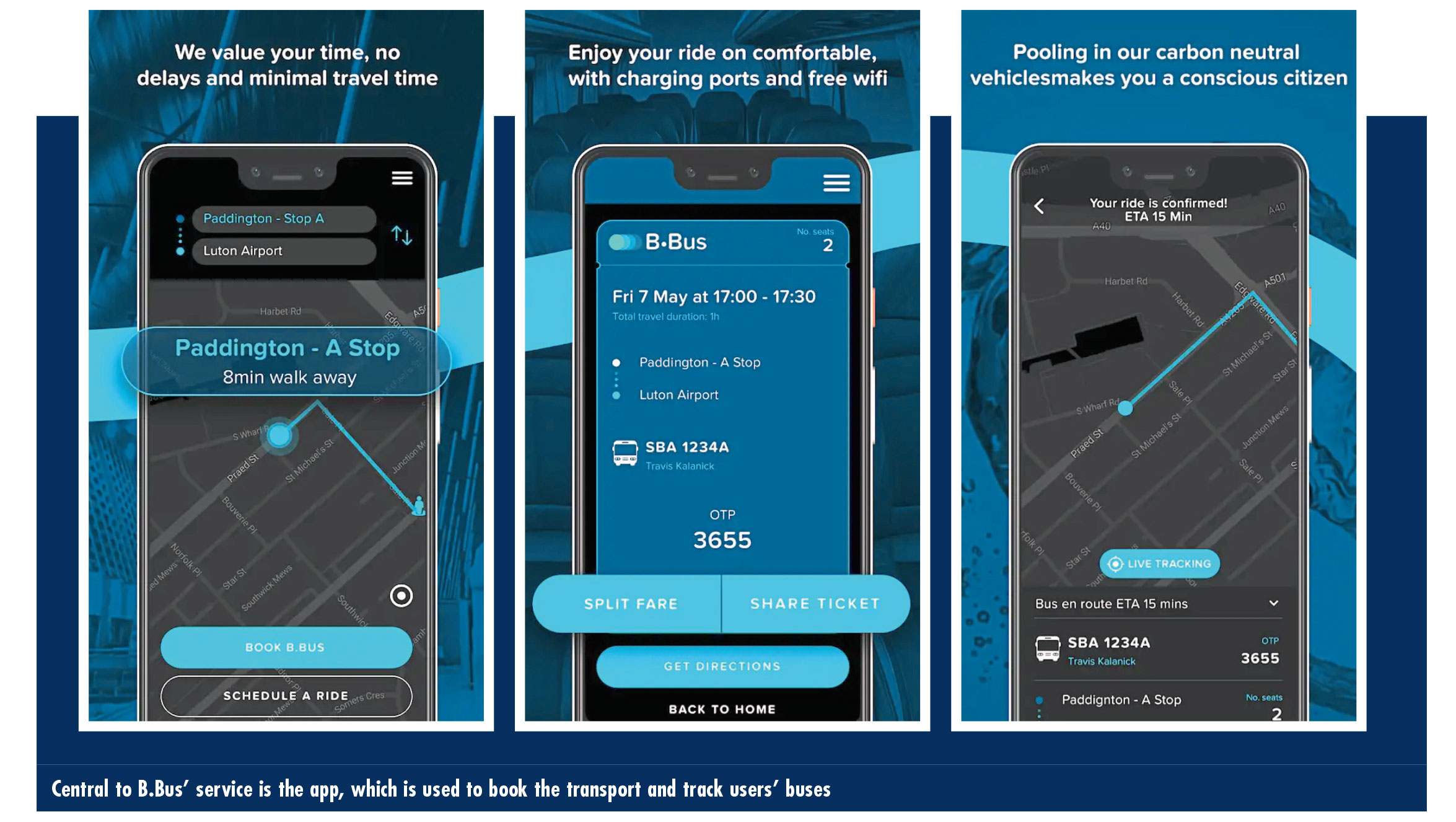 At the moment, B.Bus is still looking at ways it can tweak the service. Tazio said: "Once the passenger has finished their ride, we call them for two minutes. We ask what went well and what could be improved. The first passenger was a real excitement for us; it's great."
What might not be so great for Tazio is Brexit, especially with any implications it may have concerning travel into and out of the country. "It's not good Britain is leaving the EU. It's a disaster for everyone. Sure, there are certain things that need to be improved, but we hope the UK stays within the EU."
Tazio is especially hopeful this turns out to be the case, considering his ambitions: "The plan is to scale it up to other European capitals. I want it to become the Uber of airports. The main one we want to do is New York. Again, with that one, there is a lot of passengers and there are three main airports. It's super expensive to get to the city from them. And the trains are not direct. But before that, it's easier to expand to Paris, Madrid and Milan."
Back to the UK, he commented on the bus and coach sector: "It's a very interesting industry. There is lots to improve. Nothing has changed much in it; it hasn't advanced a lot. If you look at taxis, you have Uber; if you look at planes and trains, they have changed a lot. But with bus, there is still a lot of work and improvement to come. We are willing to be a part of that."
He notes it is not entirely out of touch with modern developments: "Payments online, there are a lot of bus companies starting to do that. There are a lot of things people are demanding to be improved, thanks to Uber having educated the customers in this way. That's what we're doing with B.Bus, to identify what we can improve to make the service better."
Tazio certainly has ambitious plans and a real vision of what transport could be like. Aiding him in making this a reality was the support he has received from the government. "The UK has been quite positive in terms of building a company from scratch. I'm pleased to say it's a welcoming country for start-ups."
How does he feel as B.Bus finally gets out on the road? "Very good. Maybe a bit traumatised with the whole licensing thing, but very positive and we are getting good feedback from the general public in the UK."