On the road to Net Zero
SSE's 11 day Road to Renewables tour (News 22 October 2021) passed its midway point with a brief press call in Manchester. David Cole was there for Bus and Coach Buyer
Hosted by Go North West and staged at the Museum of Transport Greater Manchester (MoTGM), the event provided an opportunity to look closely at the BYD ADL Enviro 400EV electric double-decker that is the focal point of the SSE and partners tour that was due to conclude in Glasgow ready for participation in COP26 events. On route to Manchester, the vehicle had already visited several decarbonisation projects and operators' premises. Like Go North West's Queens Road depot adjacent to the museum, the latter provided the opportunity for the vehicle to be recharged using a portable SWARCO overnight charger carried on the tour.
Talking with the participants, the tour supports awareness of key messages that the country needs to hear if it is to meet the planned transition to a Net Zero carbon economy. In respect of decarbonising buses, there is firstly an urgent need to release the anticipated funding to give operators the chance to invest in fleet replacement and avoid reductions in manufacturing capacity as they hold back from ordering new diesel vehicles. Secondly, the need for partnerships is essential to deliver the optimal solution for a route or network, bringing together electricity suppliers, power network operators, charging specialists and vehicle manufacturers. Production capacity for green electricity is also essential if the full climate change benefit of electric vehicles is to be achieved, otherwise they become a local measure with pollution effects shifted elsewhere.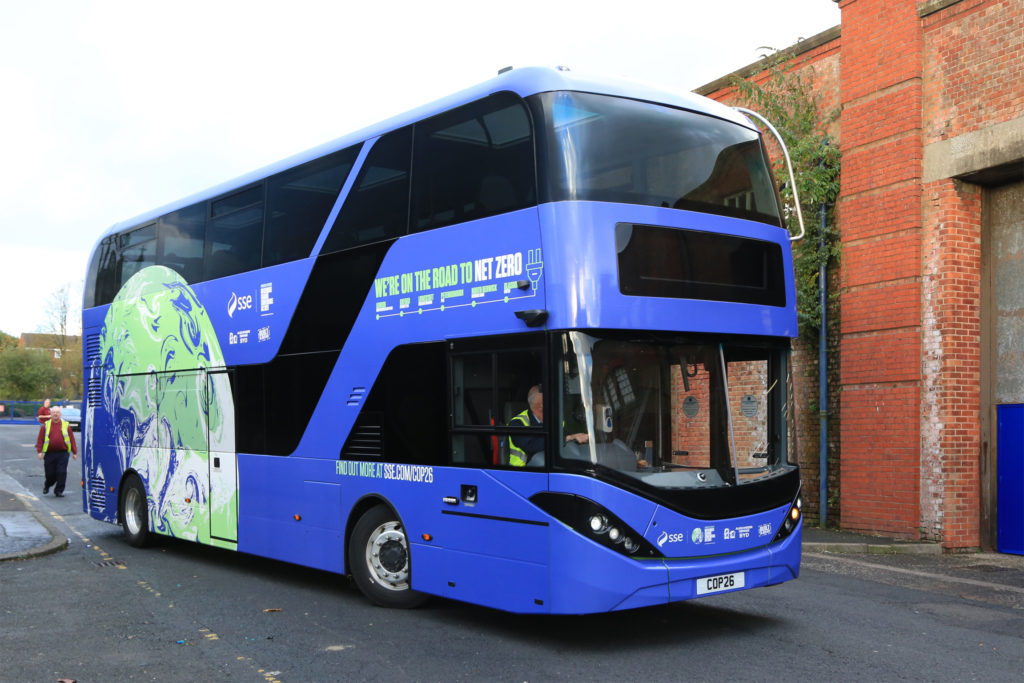 The 10.8m BYD ADL Enviro 400EV used for the tour has been completed to a high specification and will become ADL's single-door demonstration electric vehicle alongside the existing dual-door TfL specification example. The interior feels bright and spacious, aided by extensive glazed panels in the roof and either side of the staircase. The climate theme is emphasised by blue sky ceiling panels, green low-level mood lighting and grass green floor coverings. Enabling full electric operation, the passenger area heating and ventilation is delivered by a heat pump system at a fixed pre-determined temperature. The driver does, however, have control of a separate cab climate control system. ADL Smart Seats, trimmed in ELeather and equipped for both USB and wireless charging are installed together with a number of adjustable tables that have provided interview opportunities on the tour.
Full advantage has been taken of technology trends in driver safety systems including the installation of Stonebridge-Orlaco camera systems integrated by Synectics Security. Attention has been given to the screening between the driver's area and platform to deliver a practical and cohesive result. Navaho Technology passenger information systems are installed including high definition external display screens. Battery capacity to deliver a lifetime minimum 160 miles on a single overnight charge is installed and has proved more than sufficient for each leg of the tour at a limited top speed of 70kph.
MoTGM is no stranger to electric vehicles, its collection includes vehicles from the last serious attempt at battery electric operation in the mid-1970s, trolleybuses and the Manchester Metrolink tram prototype. Alternative propulsion in a very different way is represented by a 19th Century horse bus although its emissions would not deem it a zero-carbon vehicle! The adjacent Queens Road depot of Go North West is home to TfGM's Metroshuttle fleet that includes several fully electric Optare vehicles.