Northern star still shining
What makes Belle Vue Manchester one of North West England's top operators?
Chris Peat sat down with Philip Hitchen and his fellow Director, Ian Bragg, to find out what makes the business such a success
When Philip Hitchen, Director of Belle Vue Manchester, walks into his office, it is clear he has plenty of enthusiasm for his work. The company is considered one of North West England's top operators.
Belle Vue started in 1993, originally as a taxi firm, explained Philip. It became a limited company in 1996. Originally, it was known as Belle Vue Cars with a fleet of 15 taxis, although it did have some experience running minibuses. It was not until 1997 that it got its PSV operator's licence, taking an old Bedford Duple with Linden bodywork. Ian Bragg, said: "We didn't have a clue at the time. We basically used it as a big taxi."
The operation soon gained experience. It started carrying out a lot of services for Manchester City Council, providing transport in 16-seater minibuses. Philip said: "We had one, two, then three minibuses. Then a customer went: 'Have you got a coach?'
"We hired our first coach from Haytons. We then asked for five to go to Blackpool for a trip, then we went back for five more. We just grew and grew."
High level of service
The high level of service it offered as a taxi company carried over into its work as a coach operator. Philip said: "When we were operating taxis, we always gave a high level of service. We opened doors for passengers, that kind of thing."
"It was that personal service we provided," Ian added.
"We were running a 24/7 service back then," said Philip. "We went from taking breakfast staff at local hotels early in the morning to nightclub runs."
The operator focused on being a business that serves its local community. Its taxi side prospered, prompting it to buy new cars. It got into providing services to the BBC, with Phil saying he has transported famous TV personalities, such as mahogany-tanned antiques expert David Dickinson.
"The coach-side of the business exploded," he said. "Five vehicles became ten, then ten became 15."
A significant development was in 2003, when Belle Vue partnered with Transport for Greater Manchester (TfGM) for a school travel scheme. It saw the operator transport school children from the notoriously troublesome Moss Side inner-city area of Manchester. Philip said: "Five operators had turned it down. I drove on it myself and there were a few trouble causers."
However, he developed a rapport with the children onboard and made a success of a service that five other operators had turned down. Philip said: "Contracts then started coming thick and fast, all of them 'bad' school runs."
Wide ranging
Today, Belle Vue operates a 50-strong fleet of yellow school buses. They make up the majority of its fleet of 66. It employs 90 staff and carries a million passengers a year across its operations.
Its services are wide-ranging, with a variety of private hire options offered on its website, which can be customised to customers' needs. Its vehicles for hire include not only its modern fleet but a range of heritage vehicles too; the company employs Kenny Walsh, a prolific restorer of old vehicles of all kinds (more on Kenny and his work later in this article). Weddings and proms prove popular and it has hired vehicles for election campaigns. You may have seen one of its vehicles in a recent Tombola bingo company TV advert.
In terms of preferences for coaches, Philip likes Mercedes-Benz: "We used to be big fans of Setra."
The operator has recently purchased a Yutong TC9, the first it has bought of this marque. It features a toilet, 240V electric sockets and USB ports. Philip said: "Up to now, it is doing corporate work and private hire. It's good to drive, and being small, it gets around London nicely."
Another recent purchase is a pair of 20-seat Mercedes-Benz Sprinter based EVMs. He has four Mercedes based minicoaches in the fleet now: "EVM is a great supplier," says Philip. "The EVM is a really good product and we have not had a blip with any of them. They're nice people to deal with and offer good quality at a nice price."
Belle Vue has also bought a 61-seat Irizar i6. These buys were part of a £700,000 investment it has made over the past two years, with the latest batch of vehicles representing a spend of £383,000.
Philip said: "Increased demand for vehicles which can accommodate larger groups has dictated the need to buy a bigger coach than the traditional 49-seater. The minibuses are equipped to a very high standard and perfectly meet the needs of our contract customers and touring groups.
"Our business is developing and expanding all the time. Continual investment is vital to ensure all of our clients are travelling on a modern fleet equipped with wifi, USB and electric sockets and more, ensuring an up-to-date passenger experience."
Belle Vue's orginal minibuses were LDV Convoys. Belle Vue did a lot of private hire in the early days and, for coaches, started with Volvos. Today, the services tend to be more contract-based. For school services, it has some Optare Versa hybrids and 25 Iveco Scolabus vehicles.
Investing in staff
Not only is Philip spending on his fleet, he also likes to invest in his staff. For instance, he trained all of his workers in counter-terrorism, starting this before the Manchester Arena bombing in May last year. He said: "It cost us about £5,000, but if a bus blows up, we hope it's not going to be one of ours."
It also focuses on training its staff on customer service: "After any job we do, we give customers an after-service form. If we score anything less than nine out of ten, we wonder why. It's all about self-improving. If you want to improve your services, then ask your customers how. We looked at our product to see how we could be more appealing to customers."
Six years ago, Philip became ill and took time out of the business to recover. During this period, he had a chance to take a step away from the company and evaluate how it could be better run. "I knew I could do better; I knew I could achieve more."
Philip continued: "In 2010, I was in New York visiting a friend. We went shopping at a giant hypermarket, not something like Asda or Tesco. It was going into a farmhouse in terms of the décor; it was an amazing shopping experience. All of the staff there were really engaged, with big smiles. We got to sample food on sale. They had puppet shows for the kids, so the mother and father can be better engaged to make a sale. At the tills, there was a member of staff who took the food out of the trolley for you, and all the customer had to do was pay. I was so impressed by the organisation. I've never seen staff engagement so high. During my stay, I learned what it was about; they rewarded staff with praise and affection.
"We all know what can happen, a driver can do ten things; nine of those right and only one wrong. Which one are they going to hear about from management? We reversed that."
This prompted Philip to roll out iMA training. This is all about communication; it begins by identifying how a person wants to receive information and then teaches the learner how to change a message in a way that is most likely to be understood. Speaking on the same wavelength as the recipient should help communication and therefore increase levels of trust and co-operation in the workplace. After coming back to the business and implementing changes such as this, Philip said that in three months he had doubled the size of the company.
Another way Belle Vue improves the performance of its drivers is through its fleet tracking system, provided by Traffilog, though its Optare hybrids have Actia Tracking Systems fitted. The company had signed a contract to continue using the telematics company the day before my visit. Philip said: "Our perception of Traffilog was they were the market leader. We invest in technology a lot."
Benefits of using this system include not only being able to see where its vehicles are, but allowing it to control engine idling and improve driver performance. Being able to see how drivers are cornering and accelerating and other aspects of their performance allows the company to inform staff how they can improve their driving.
According to Philip, the tracking also leads to savings of up to 12% in fuel. For regular clients, Traffilog offers access codes so they can track vehicles they have hired. The system also allows Belle Vue to pay drivers who deserve better salaries with performance bonuses.
Phil said: "We have got great people, from the top to the bottom." "That's right, from the cleaners right through to the managers," added Ian.
Although business seems to be going swimmingly for Belle Vue, there are challenges ahead. Ian said: "I think what's going on in London with Euro VI is ridiculous. They seem to be driving people out of the city."
Philip mused: "We are living in changing times. You can have a 14-year-old girl become a multi-millionaire just by sitting at her computer on the internet. It's easy to get a business going now. Things have changed massively with technology.
"Everybody works for themselves. In driving, there are more self-employed drivers. I think the industry will go further that way, even with office staff. There is more legislation, as Ian says. I think the industry doesn't sell itself enough, though."
Quality, not price
Belle Vue certainly focuses on the quality of its services. Philip said: "We win contracts on quality, not price."
Considering this drive for excellence, he said: "Another string to our bow is our focus on auditing. We spend a lot of money for auditors to come in.
"I used to play a lot of football and do a lot of martial arts when I was younger and, through that, I noticed that my coach often got more out of me. If I was trying to do 100 repetitions, psychologically I would think I've got eight more to go when I was at 92. But at 95, the coach would say 15 more to go, and you would do those few more. I thought, wouldn't it be fantastic if we got that with the business.
"That's why we have auditors come in regularly. We bring in a compliance specialist for a fleet check. What I love about audits is they will hopefully find an area of work that can be improved. We bring in Backhouse Jones, too, I'm a massive fan of Jon Backhouse."
An important aspect looked at in these audits is staffing. On the subject of employees, does Belle Vue struggle to find drivers? "We don't struggle. But in the last 18 months it has slowed."
Ian said: "We have recently taken on a pilot scheme that sees unemployed come on a driving course with us. We have rolled it out in partnership with TfGM."
The drivers are well trained, Philip commented, saying: "We like drivers to arrive early to their client and phone them. We like them to do everything; they should know where they have to be and when. The drivers will do introductions, phoning the client the day before. We recruit on personality here and then try to teach them to drive. We still have that taxi service mentality."
He said the school services are operated just as the coach hires are. However, he said there is a difference with the tour drivers, saying: "They are showmen really; they are a different breed, a different driver. They will do things like instigate the first dance among the passengers and join them on their tables for dinner."
Ian said: "It's just all about interacting with the customers."
Commenting on the quality of drivers, Phil added: "If you look at the great footballers, they all have it in them, but it depends on the manager to bring it out of them."
To help bring the best out of its drivers, Belle Vue offers £300 of prizes to the best performers on the road as determined by its telematics package. The company frequently gets 'thank you' letters and it hands out £50 to the driver who attracts the best letter of the month. Another £40 is up for grabs based on their general performance; things like walk round checks and attendance.
"We did stop the bonuses once, but performance went down," said Philip. "We brought them back and morale went up."
Such management seems to be paying off for Belle Vue, Philip claimed. "If you look at insurance claim records, some insurers pay 60%, some 80% to operators. I think a well-managed company would get 40% and an exceptional one would get 20%. Ours is 30%. This is all down to driver management and training. We expect ten out of ten on every trip."
Despite having high standards, the company accepts its staff may falter from time to time: "If a driver is struggling emotionally, we will say to them they need to go home. We always have someone in the office who can fill in."
Talking about the industry in general, Philip said: "There are some really well-established names out there that are seriously struggling. They have just not embraced staff management and the digital side."
Pondering why this is, Ian said: "I think it's the older generation of operator."
Philip added: "What is it they say? The grandfather starts it, the son wrecks it and the grandson kills it. For me, I think some people treat it as a hobby not a business. I don't think people push the barriers in this industry. If you stand where you are, you will get overtaken.
"Also, when you look up and down the country, you see there are a lot of family businesses, with something like ten to 40 vehicles. They're really passionate, but their work/life balance is compromised.
"A lot of directors in this industry are too hands on, so they can only do so much in a week. They get to their 40s and 50s and they die from burn-out.
"I started working from home; I wanted to be working on the business instead of in it. When you're in the office, you can spend a couple of hours in the morning just firefighting, sorting the daily problems out. You have to get your priorities right. Ian here oversees the general operational aspects on a daily basis.
"When we had all of that snow earlier, people would phone in and we would hook the phone system up so calls go to workers' homes and they can work from home. We have flexible working now. But we are not Apple or Google."
Working from home enables Philip to focus on developing the business. One way it has done this is by greater use of social media. Digital interaction does not end there though. Belle Vue sends emails to make sales now and Philip writes a lot of blogs that not only focuses on his company, but looks at what is going on around Manchester.
Growth and industry developments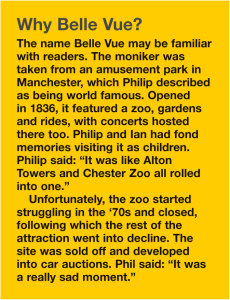 Belle Vue is a growing company, its investment in its fleet earlier this year (see B&CB 1470, 9 March 2018) is evidence of this. Philip said: "I would like to see us grow through acquisitions. But growth is OK if the foundations are right. We need to consolidate. We have invested close to £2 million in the last four years."
He continued: "Although coach hire might be declining, there is still a need for coaches. People will always want that all-singing, all-dancing coach. There is a saying here: people that trade with us, stay with us."
A change he is keen to see is better facilities for drivers. "I think coach drivers got a raw deal in the past. There is more of a move to give them better accommodation on tours now, which is a big thing in the industry."
One issue he does have is parking in London. "Nor is it much better in other major cities. Refreshment facilities aren't up to much either. But again, this is changing and we have the CPT to thank for campaigning for this."
He acknowledges getting good staff is a challenge for the industry. "But I think vehicles will go automated, maybe even in ten years' time. I think drivers will be looking to re-skill or make sure they are the best."
But what makes Belle Vue such a success? "It's about having the right attitude," said Ian.
Philip agreed: "And it's about anticipating the wants and needs of clients. If you meet those needs, then it's a match made in heaven. Like any business, it's about people management. If you look at Virgin or Google, they have a strong drive and a mission statement where people buy into the plan."
Walking round the depot, it is clear Philip's staff have all bought into the plan at Belle Vue. They are reminded of the high standards they must meet with the mission statements emblazoned across the walls.