New showroom, coach and chassis for Volvo
Volvo Bus has unveiled its new sales centre, and announced the 9900 premium coach and a new tri-axle bus chassis.
On the eve of Euro Bus Expo 2018, Volvo's new Bus & Coach Sales Centre in Coventry has opened for business.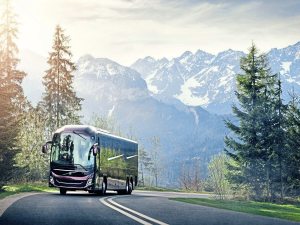 The £1.4 million investment, which has created a facility four times bigger, features a glass-fronted vehicle showroom, a dedicated handover area and upgraded meeting and presentation facilities. Just 20 minutes from Volvo Bus' UK Headquarters at Warwick, the bespoke building becomes the centre for all retail bus and coach sales activities across the UK and Ireland.
The opening came with the announcement of Volvo's show exhibits, which include the all-new Volvo 9900 premium coach with innovative design, fuel-saving aerodynamics, built-in safety and new passenger environment. Nick Page, Managing Director of Volvo Bus UK & Ireland, said: "It's really exciting to bring our much anticipated all new 9900 to the UK and Irish market and to set the benchmark for luxury travel.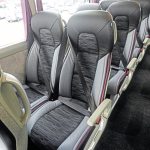 "Based on the well-established B11R chassis, we are confident that the overall look and appeal of the 9900 will strike a chord in the market.  Since the 9900 was launched in Gothenburg in May this year, the coach has been very well received by the market and Volvo reports the European order book is already exceeding expectations."
B8L chassis
Originally developed for use in Far East markets, the Volvo B8L will become a more familiar sight in cities such as Hong Kong and Singapore, further building on the reputation of its predecessor in these markets, the Volvo B9TL.
The specification for the UK market will allow a seated passenger capacity of up to 100. Phil Owen, Commercial Sales Director for Volvo Bus, told the press during launch: "Our existing two-axle diesel-powered double-deck – the Volvo B5TL – is the mainstay of many fleets, especially outside of London.
"By adding a three axle option, with the extra power required to operate at peak capacity, the B8L is meeting a growing requirement of running fewer buses with higher passenger loadings on certain routes, helping to free up road space, reduce congestion and as a result improving air quality.
"The experience we have gained through successful operation in some of the most demanding city conditions internationally gives us a high degree of confidence about the B8L's credentials when it comes to performance and durability."
The showroom
James Hyde, Retail Sales Director for Volvo Bus UK & Ireland, said: "Our Coventry sales centre was widely recognised as being in a great location to service our customers.
"However, our business has expanded significantly since we moved to the site back in 2010 and so it has been important to develop the site to provide a class leading customer experience reflecting Volvo's standing in the market.
"This investment encompasses the ethos of the Volvo Retail Excellence initiative, which aims to deliver the best possible customer experience from order right through to delivery."
Dave Porter, Retail Sales Manager for Volvo Bus UK & Ireland added: "Our soon-to-be-completed specification room including digital configuration tools will make the decision-making process as easy as possible for our customers.
New 9900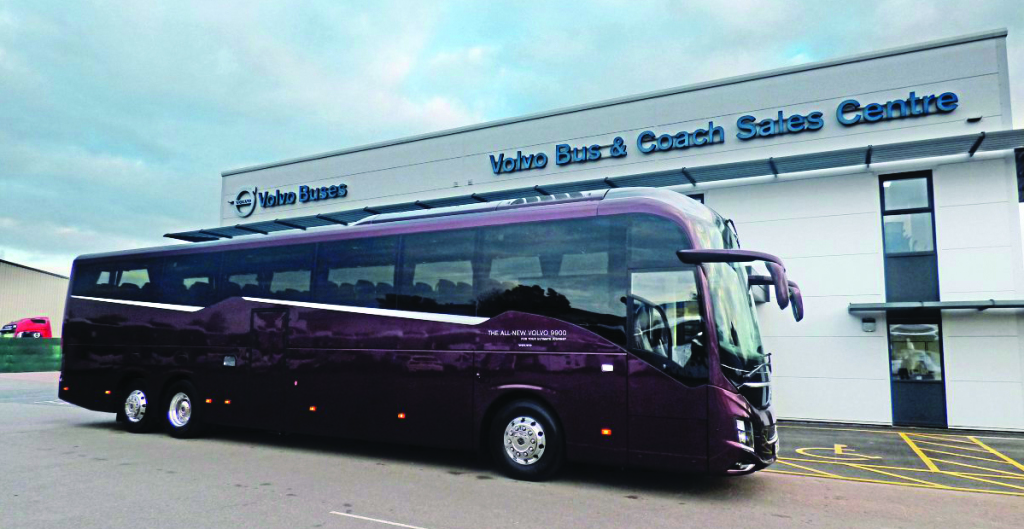 The new 3.85-metre high 9900 allows for an extra-high floor and the 'Z' shaped window line and theatre floor enables panoramic views to the front and sides.
The comprehensive specification, tailored for the UK and Ireland, is offered in a 13.1-metre or 13.9-metre lengths, with between 53 and 57 seats when equipped with a centre demountable toilet. The retail price has been confirmed at £285,000.
The 9900 has Volvo's D11K 460hp engine with I-Shift transmission. Safety features include: Front Impact Protection System, Front Underrun Protection System, Knee Impact Protection System, Volvo Dynamic Steering, Adaptive Cruise Control and fire suppression system.
"In addition to the success of the 9900 in Europe, and following the first UK order received from Steve Haydon at Hollinshead Coaches we have already secured a further ten orders to date from customers who are keen to add the coach to their fleets, including Hams Travel, Pierce Kavanagh, DJ Thomas, Brent Thomas, Bernard Kavanagh and Ridleys," said Nick Page. "We anticipate that this list will steadily grow now that the 9900 has been fully introduced.
"The 9900 is the fruition of a €40m investment by Volvo us and includes features such as the new 'Z' shaped window line and theatre floor, which introduce a whole new design language for coaches.  This innovative approach will go a long way in assisting our customers to persuade more people to travel by coach."