New Optibus app designed with drivers in mind
Transport technology specialist Optibus is launching the new Optibus Driver App.
The native mobile app and web tool is designed to improve communication between drivers and the depot for a better driver work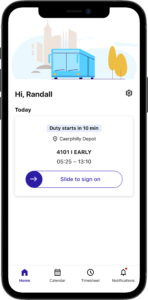 experience and more dynamic operations. Integrated with Optibus Operations, the Driver App was designed in partnership with drivers, for drivers, offering a single space for digitising and centralising depot-driver communications and work information.
In its research and interviews with bus drivers to explore how to improve job satisfaction, Optibus identified two key driver challenges that are immediately addressable using digital solutions: depot communication and job-related information. It found drivers want to feel their time is valued and that their voice is heard, especially when it comes to sharing insights into services and accounting for their shift preferences in work schedules. All this communication should occur on one platform that everyone knows to check for updates, according to Optibus. The technology specialist also found drivers find limited access to documents a major inconvenience.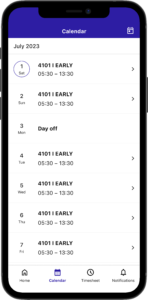 Optibus' Driver App was designed to help public transportation operators (PTOs) and public transportation agencies (PTAs) address these issues and improve driver retention and recruitment by creating a more modern, meaningful work experience. Leveraging cloud-native technology, the Driver App has been created to provide a professional, virtual space that connects drivers, depots and documents – from anywhere – and enables quick and efficient communication about service changes, HR requests and driver work preferences.
The Optibus Driver App enables drivers to better prepare for their shift, providing all the pre-shift information needed, as well as giving drivers real-time alerts and allows for individual needs for drivers to be taken into account when creating assignments. Shift settings can be customised to align drivers' work preferences with depot requirements and business KPIs.
The Driver App connects to Optibus Operations so users can assess how shifts impact costs, efficiency and overall operations and make data-driven decisions that improve resource management and operational outcomes.
"We are excited to see the positive impact that this technology will have on drivers and depots worldwide" – Amos Haggiag, CEO and co-founder of Optibus
Amos Haggiag, CEO and co-founder of Optibus, said: "The Driver App marks a significant milestone in our journey to empower the people who power public transportation. By putting innovation in the hands of drivers, the Driver App helps create an excellent driver work experience and ensure a strong workforce for passengers. We are excited to see the positive impact that this technology will have on drivers and depots worldwide."
The Driver App is compatible with Android and iOS devices and is desktop-friendly.