New horizons
Plaxton's huge Panorama double-deck coach is in short supply, with the factory unable to supply a press road test vehicle. But to keep you in the picture, we went out with the demonstrator…and came away impressed.
I've made no secret of the fact that I liked ADL Plaxton's Panorama from the moment it appeared at the NEC show.
My view of 'decker coaches has been jaded in the past by vehicles which definitely give top-deck travel a good name but which feel more like a pot-holing expedition downstairs – claustrophobic, with a variety of narrow channels to negotiate on the way in. Panorama isn't just about capacity; it creates a lower-deck environment which, quite apart from being wheelchair accessible, is almost as good.
It's a behemoth at 14.5 metres, for sure, but that goes with the territory when you are trying to absorb more than 80 people in comfort – 91 at a push. That aim runs the danger of making it too bus-like but Plaxton has neatly managed to avoid the comparison because it has loaded the vehicle with everything you'd want from a coach. I must have crawled over most aspects of the Panorama half a dozen times, and this magazine took a ride on early-adopter Acklams' vehicle when it first landed, our reporter giving it a sound review as a passenger. None of this, however, is the same as having the Panorama to yourself for a proper look.

Demonstrator
The opportunity arose with Greys of Ely, which had taken the demonstrator for a week or so to do a assessment of the way this giant could fit within its work pattern.

The Panorama, at about well north of £400,000, isn't a coach you'd buy on a whim. It's not just about the price – some VIP-spec single-decks can rush you that kind of money – but it's about whether it can be replace existing coaches, perhaps running one to replace two single-decks, or whether you can generate the demand for it. It's important to remember that very few hirers will be asking for an 85-seat coach because few operators have them. All the more so now that the choice is so limited: 'the other one' doesn't have roll-on wheelchair access built in, and only this one uses the Volvo B11R driveline.
The opening shot tells you what you 'get' the moment you see it – parked across all three of Greys' workshop bays, it's clearly very large. If you're proposing to maintain this yourself, you'll be asking some questions of your workshop in terms of length, for sure.
Greys' MD, Richard Grey, had already taken it for a spin when I arrived, surprising the morning's school run with it: "They're usually a lively bunch but they went very quiet, got aboard, and got straight down to charging their phones. I like that kids have no filters, so if you ask what they think, they'll tell you straight. Overall, they loved it."
The Panorama is certainly welcoming, with two wide, kerbside doors. The rear door is the ideal wheelchair entrance, complete with ramp, which leads not only to the rear stairwell – itself emerging ¾ down the upper deck – but the wheelchair space to the left, which on the demonstrator had two additional seats fitted to demonstrate the full capacity. Truth to tell, they impinged a little on the entrance door width but we understand why Plaxton would have them in place. Wheelchair access can also be gained through the front door, which is a mark of the thought that has gone into this coach.
Boarding, you are greeted by the fold-down courier seat to the right, the driver ahead on a fairly high pedestal seat and the staircase. Behind the courier seat, a dramatic structural stanchion is neatly shrouded in trim, and the first two seat pairs at the front have tables. All seats beyond are paired. But let's talk about the seats.
They are excellent Brusa 300 Extend, each with fold-up wireless charging pads and with USBs. They have a light beneath them which would be excellent for reading. The table seats, of course, have the charging pad installed in the table. There are 22 seats downstairs, 65 above, in this configuration, with a toilet. Without a toilet, you can have four more lower-deck seats.
It's a great toilet, too, nicely equipped and less upright-coffin-like than so many stairwell toilets. There is luggage racking over all the seats, though it is abbreviated in places by the ventilation pods.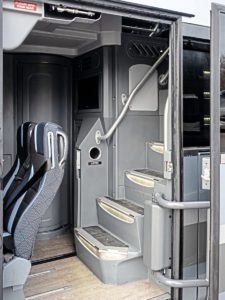 Both staircases are adequate, and emerging on to the upper deck with a little drama, the size of the interior of this vehicle becoming immediately apparent. Seeing 65 seats in 2+2 definitely reminds you that this coach is all about capacity. While on this subject, the Panorama is fairly well equipped with luggage space – almost 9m3 in lockers over the rear axle, which would be fine for many groups. For tours, Plaxton has created a special ski box with dedicated mounting points, and made the coach tow bar ready, so you could add a trailer.
Immediately obvious throughout the coach are its video monitors, very cleverly built over the seat backs downstairs, to avoid bumped heads, and upstairs not only centrally mounted at the screen, but with two smaller monitors built into the body mouldings so the front seat passengers don't have to crane their necks. The system has been supplied by AS Mobile Solutions of Bradford, and is Blaupunkt based. Richard tells me he did struggle to get the system working with video, as it has no DVD player; instead, the videos have to be on a memory stick. Doubtless, additional media could be specified at order.
Look and feel
The passenger experience in some double-decks, particularly downstairs, can be a bit gloomy, but the Panorama has this cracked.
Although the ceiling heights will have six-footers stooping en route to the seat, once ensconced, there is a good feeling of space. The window edges downstairs come to about shoulder level, which might seem a bit high until you travel, then you stop noticing. Upstairs, of course, the saloon is even brighter.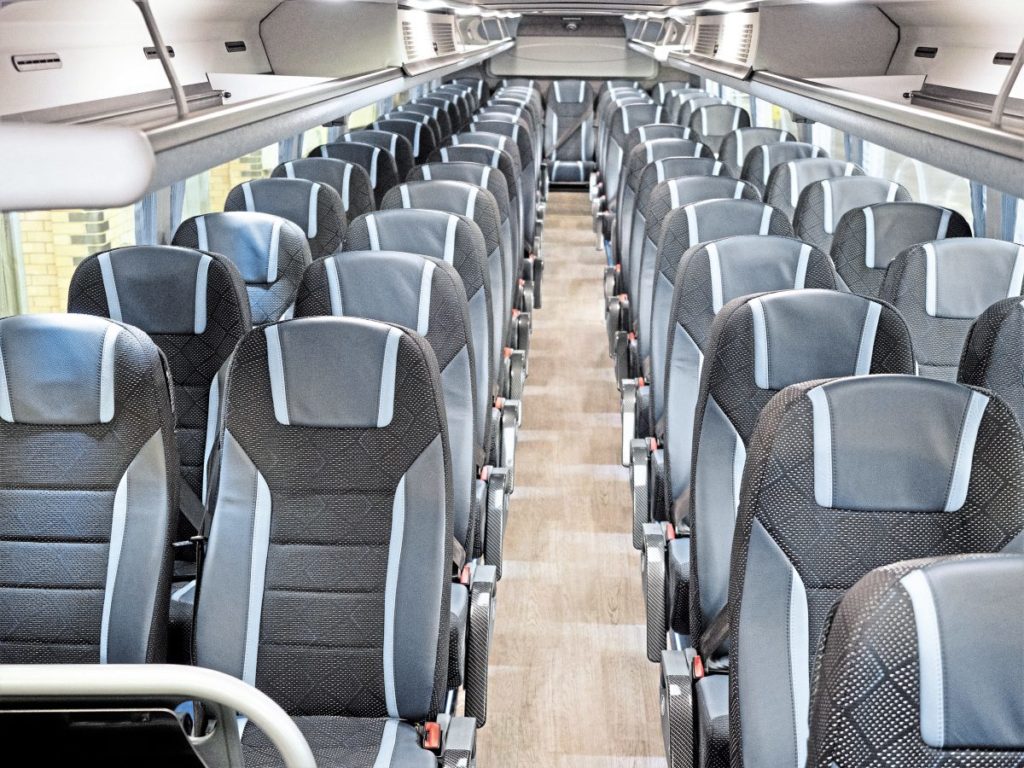 Above all, it's the attention to detail which impresses, with neat touches as simple as a litter box at the rear stairwell with holes facing both the downstairs passengers and those on their way down from the upper deck. The fixtures all look well accomplished and neatly trimmed and, for that reason, durable. So far, this coach has attracted interest from operators with express diagrams, and the need for the interior to be robust is paramount. Time will tell.
On the road
With 460bhp on tap, this near 19-tonne coach performs very well, the I-Shift automated gearbox typically leisurely through the first three gears, then making seamless changes at road speeds.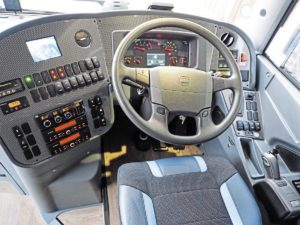 And it is extremely quiet, upstairs or down. Richard, at the wheel, said he instantly found the coach suggests to the driver that it is much smaller, the lack of a huge screen towering over the driver the probable reason. Yes, it is a big vehicle, but Richard said that at no time was this apparent, the tri-axle configuration going where it is expected to be, the all-round view very good.
With any coach this size, keeping a weather eye on the rear is essential but even with fairly substantial rear overhang, there were no nasty surprises. The ride was truly exceptional. On this demonstrator, there was a slight, bush-like knock on the front nearside over potholes which Plaxton was aware of and ready to sort out, but absolutely nothing rattled.
This is a 4-metre-high coach; so high winds will affect it but it has the full panoply of electronic safety aids including ESP, so won't be knocked off line easily.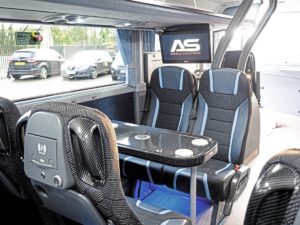 It wasn't possible to run a fuel consumption check on this short test, but doubtless double figures could be possible with this proven driveline and a proven driver. In reality, the per-passenger mpg will, of course, be exceptional – the offer, for groups, of a very good economy of scale over hiring two coaches.
The wheelchair accessibility is now far more important, with PSVAR, than it might have been on other coaches. This is a genuinely practical wheelchair-accessible coach, not a box-ticking coach with a side lift. The wheelchair space is accessed by four fold-and-slide seats; seats do not have to be removed, so the driver can create a wheelchair space, losing four seat spaces. Wheelchair restraints are from NMI.
Verdict
At this price, operators will first of all have to do some head-scratching and have a calculator handy to make the decision to buy one.
Those who already have busy 'decker coaches will know the advantages, and have the customers. That said, a really concerted, relentless marketing campaign, particularly to corporate markets, perhaps to the educational tour market and to hirers with a history of booking groups of more than 60, and an operator could generate considerable work for the Panorama.
Right now, the big numbers are going to express operations such as Scottish Citylink and Stagecoach/Megabus, to whom the Panorama is clearly aimed. I would not be in the least surprised to hear that National Express is getting interested on some of its high-volume diagrams, maybe with a weather eye on its festival work.
But the Panorama could have a broader market, too. Big-ticket fleet additions like this could potentially punch a hole in your profit, but could also nail a niche for you if you are in an area, geographically or a market, with little competition in the way of luxury, high-capacity travel. For make no mistake, ADL Plaxton is on to something with the Panorama, and it definitely finds an extra gear in the double-deck coach market.