New EvoBus UK CEO now in office
EvoBus UK's new CEO, Dr Jens Heinemann, is now in office.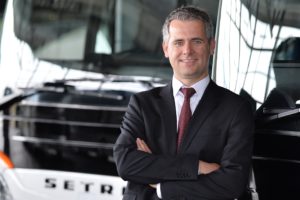 Dr Heinemann takes over from Michael Thielmann, who recently retired after eight years as CEO of EvoBus UK.
Jens was recruited by Daimler AG in 2002, moving to the company's headquarters in Stuttgart focussing on the sales development for passenger cars. From 2011, he joined EvoBus GmbH to head up the Setra brand communications team and specifically to launch the 500 coach series.
Becoming known as 'Mr Setra', he had responsibility for all Setra communications. Moving over to sales in 2016, Dr Heinemann accompanied the further development of the brand as Head of Setra Sales Germany and within a short space of time he had additional responsibility for the sales of Mercedes-Benz buses and coaches.
During his time in that position, Jens' focus turned towards supporting customer's transition to electrification of fleets. Jens paid particular attention to eMobility's integration within existing fleets.
He has also served on the board of GBK, a German association of coach operators involved in determining and upholding standards in various sectors and awarding quality marks.