Net-zero coaches: lack of tech certainty is barrier
Lack of technology certainty is the most significant barrier preventing coach operators achieving net zero, according to a zero-emission taskforce.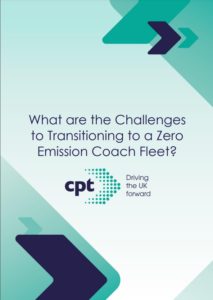 The group dedicated to ensuring the coach sector's transition to zero emission alternatives is both workable and realistic has provided insight into the challenges currently facing the sector on their road to destination zero. The Zero Emission Coach Taskforce (ZECT) has outlined, in a new report, the challenges facing the coach sector that must be overcome if they are to achieve the government's ambition of net zero by 2040.
The ZECT, established by the Confederation of Passenger Transport (CPT) in December 2021, brings together key stakeholders including coach operators, manufacturers, finance and infrastructure specialists as well as observers from DfT, Welsh and Scottish governments. Members were tasked with identifying the challenges facing the coach sector, supported with industry evidence.
The report identified the current lack of certainty over zero-emission technology as the most significant barrier facing the industry. It says questions still remain over whether future coaches will be powered by electric, hydrogen or a combination of both. This lack of direction has resulted in hesitancy and presented multiple additional challenges, the group claims.
These challenges include:
Vehicles: The few electric coaches that are currently available on the market do not deliver the required range that would give operators the confidence to continue operating the multitude of services they currently provide. While hydrogen vehicles would deliver a greater range, green hydrogen is expensive to produce, making it difficult to offer at a price that is cost effective.
Cost: Zero emission coaches are significantly more expensive than diesel and require additional investment in supporting infrastructure. There is the additional challenge of the uncertainty of the long-term value of a zero emission vehicle which makes developing an affordable business case difficult.
Infrastructure: Significant investment is needed to create a reliable network of recharging and refuelling infrastructure to support the new zero emission coaches and reduce range anxiety. In addition, affordable and moveable infrastructure solutions are required for installation at operator depots.
Training: Additional training could also be required for both drivers and workshop staff to ensure the new vehicles are operated, refuelled/recharged, and maintained efficiently and safely.
The taskforce will now aim to identify potential solutions to these barriers, potential collaborations with other key stakeholders and where there are currently no solutions, the taskforce will make recommendations for the required solutions to be developed.
The taskforce is to work with stakeholders to gather robust industry data to enable suitable zero emission technologies to be developed and will outline a pathway to net zero that is both workable and realistic for coach operators.
Chair of the Zero Emission Coach Taskforce, Ian Luckett, Passenger Transport Consultant at Luckett's Travel, said: "These past six months have been a truly fascinating time, and I have learnt a great deal, not only about the challenges facing the coach sector, but also those in the manufacturing, finance and infrastructure worlds.
"I am very much looking forward to the next phase of the taskforce when we will begin to identify potential solutions and collaborations with the other sectors to join them on this journey to net zero."
Rebecca Kite, CPT's Policy Manager, said: "I have been truly impressed with the level of engagement and enthusiasm shown from the members of the taskforce, this is a huge challenge and it is clear we are not going to get there on our own, collaboration across all sectors is key. I would like to thank all members of the taskforce for their participation and support in this work.
"Phase two is due to commence shortly and we will continue to liaise closely with government to ensure they can develop the policies needed to enable the industry to transition to zero emission effectively and sustainably."
The full report can be viewed here.