NCT's Mark Fowles in New Years Honours List
Nottingham City Transport's (NCT's) former- MD, Mark Fowles, has been awarded an OBE for Service to Public Transport and Charity in the New Year's Honours List.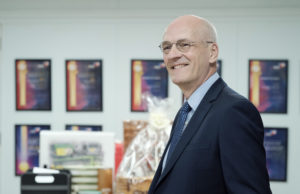 Mark held the position of Managing Director at NCT for 20 years until April 2021. He has been honoured in this year's New Year Honours List for his services to public transport and charity.
Liverpool-born Mark had the strategic vision, determination and passion to take NCT, an under-achieving loss-making municipal bus company with a poor reputation, and transform it into the thriving beacon of public transport it has become today. A release from the operator said: "Under Mark's vision and leadership, the customer, rather than operations, became Nottingham City Transport's main focus – quite literally its driving force."
Mark recognised the benefits a wide range of public transport providers brings to the city as a whole, and today, NCT's services are accessible to more people than in any other city and fares are some of the lowest in the country. The company's satisfaction score for 2019 in the Transport Focus was 95%.
As well as his work for NCT, for over ten years Mark was on the Confederation of Passenger Transport bus commission, more recently as the Vice Chairman. In 2009 Mark was appointed to the board of Traveline UK to represent the Bus Industry and lead the change on behalf of the industry. In 2013 he became Chair of Traveline. Mark was also a non-executive director of EMTIS from 2001 (Traveline's predecessor).
Mark was the Chairman of ALBUM 2017 to 2019 – the body representing Municipal operators and the independent sectors of the bus industry, and also the President of the Omnibus Society in 2018. He was also active in the Campaign for Level Boarding to help achieve a pathway for greater accessibility on the UK rail network.
David Astill, current NCT MD, said: "Mark Fowles was an outstanding leader of our business for 20 years, and all that worked closely with him know how deserving he is of this recognition and congratulate him on this marvellous award."
Together with his wife, he also set up a charitable body to raise funds for research into Facioscapulohumeral muscular dystrophy (FSHD). This is a highly complex muscle wasting disease and is a condition Mark's daughter, Kate, suffers from. He regularly co-ordinates activities such as charity golf days in order to raise money for this charity, and to date has raised over £125,000.
"I am proud of the company's achievements, and of my involvement within the bus industry and I'd like to thank employees, past and present, along with friends throughout the bus industry for their support" – Mark Fowles
Mark said: "I am pleased and delighted to receive this honour, it was a great privilege and honour to serve as Managing Director of Nottingham City Transport. I am proud of the company's achievements, and of my involvement within the bus industry and I'd like to thank employees, past and present, along with friends throughout the bus industry for their support."