Mistral funds Travel Xpress' new Enviro400
Mistral Group has supplied a new Alexander Dennis Ltd (ADL) Enviro400 to Travel Xpress of Bradford.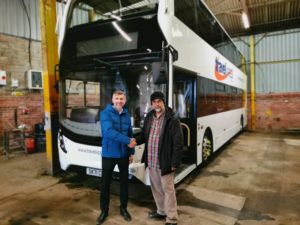 The family-run business has been providing transport solutions across West Yorkshire for over 20 years, covering a range of services from home to school contracts, corporate transfers and private hire bookings.
With 85 high-back seats fitted with three-point seatbelts, a digital tachograph and radio, Mistral says this latest addition to the Travel Xpress fleet provides multi-scope earnings potential at a time where versatility of fleet is more critical than ever to a successful operation.
"The enhanced operational scope of the product will help the business not just survive, but actually thrive in a difficult market" – Mistral Sales Manager, Andy Biggs
Mistral Sales Manager, Andy Biggs, said: "I've known Fida and the Travel Xpress business a long time since first joining the industry 12 years ago. It is always a pleasure to work with them on supply needs and I am delighted to have been able to make this deal happen. The enhanced operational scope of the product will help the business not just survive, but actually thrive in a difficult market and we look forward to seeing this vehicle out on the road moving people to places."
"Andy and the team at Mistral listened to our budgetary restraints, understood our marketplace and structured a flexible funding package that allowed us to continue our fleet investment plans in a sustainable manner" – Fida Hussain, Operations Manager at Travel Xpress
Fida Hussain, Operations Manager at Travel Xpress, said: "Significant investment to meet both Euro VI and PSVAR compliance across our fleet has been made in recent times. The adaptability and higher capacity of the Enviro400 provides an ideal replacement for our ageing lower capacity school double deck vehicles and offers greater revenue generating potential. Andy and the team at Mistral listened to our budgetary restraints, understood our marketplace and structured a flexible funding package that allowed us to continue our fleet investment plans in a sustainable manner."