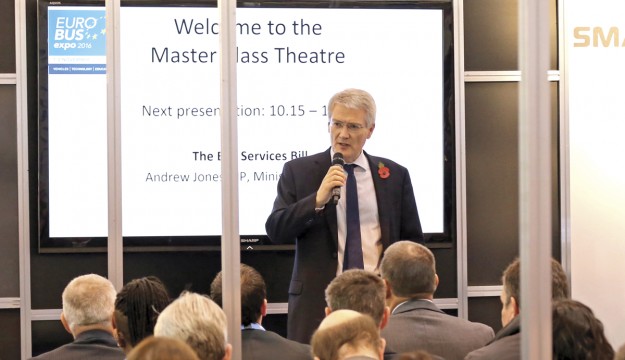 Full houses with plenty standing on the outside were the order of the day in the Master Class Theatre at Euro Bus Expo, particularly on the final day where the Minister with responsibility for buses, Andrew Jones MP, addressed the audience on the Bus Services Bill currently going through Parliament. He reiterated his view that 'Buses are the workhorses of our transport system and are vital to getting people around' adding, 'New electric buses, smart ticketing and smartphone apps for passengers will make journeys greener, easier and see more people travel by bus.'
Saying that 'passengers stand to get a very good deal,' he emphasised the benefits of the proposed open data policy which would extend to the rest of the country the information access currently enjoyed in London. He reiterated his views that franchising would only be adopted where appropriate and referred to the possibility of enhanced partnerships with alternative objectives such as emission standards or Oyster style ticketing.
The Minister took questions at the end of his presentation during which he made reference to potential changes in BSOG at some future point. These would not concern the rate of payment but the mechanism for its distribution which needed to take into account changes in the industry such as the adoption of electric buses.