MAN appoints new bus and coach Sales Director
MAN Truck & Bus UK has appointed Tracey Perry as Sales Director of Truck, Bus & Coach.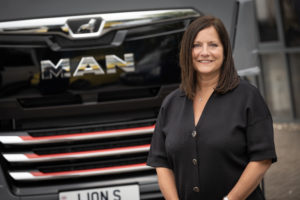 Tracey succeeds Matt Squires who starts a new position as the Operations Director for MAN Truck & Bus in Hong Kong. Taking over from Tracey's previous role of Sales Director Van is Toni Ward.
Stefan Thyssen, Managing Director of MAN Truck & Bus UK, said: "We are delighted to have appointed Tracey to lead the MAN Truck & Bus UK Truck, Bus and Coach sales teams. Tracey has extensive experience in the automotive sector and offers a wealth of experience and knowledge of the commercial vehicle industry, which will continue to prove a huge asset to the company.
"Since joining MAN Truck & Bus UK Ltd in October 2021, Tracey has successfully led the UK Van team, helped developed our strategy for sustainable volume and been instrumental in our customer-first focus while working with some of the largest fleets in the country.
"I would also like to thank Matt who has made a huge impact on the MAN Truck & Bus UK business over the last 27 years. He has shown great commitment to both the brand, steered and developed the team and helped further expanded and strengthened our customer relationships. We all wish him great success in his new position."
Tracey commented: "I'm really looking forward to my new role within the MAN Truck & Bus UK Truck, Bus and Coach sales team, and with them helping to shape the future of the MAN Truck business, meeting with customers to talk about our award-winning products and how these can make positive contributions to their businesses.
"As a vehicle manufacturer, with Truck products spanning the 7.5 to 250 tonne categories, MAN has a compelling range of robust and cost-effective vehicles. I've witnessed the range appeal to more and more customers, both family-owned businesses and larger blue-chip Public Limited companies. I can't wait to be a part of it."