LRTA launches calendar for Ukraine
Light Rail Transit Association (LRTA) Vice-President, Andrew Braddock, has put together a calendar to raise money for the Disasters Emergency Committee Ukraine Humanitarian Appeal. It features 24 images from NTA Chairman, Mike Russell, of trolleybuses and trams in Ukraine.
The calendar covers July 2022 to January 2024 and is A4 size, laminated card, 44 pages and includes 24 images of electric public transport in a variety of Ukrainian cities. The picture content ranges across the heavily industrial landscape of the disputed Donbas region and the big cities of Kyiv, Kharkiv, Odesa and Lviv to the more tranquil towns in the north and west of the country. The trolleybuses and trams of Crimea are included too.
The calendar is rounded off by Roger Smith's map of Ukraine, highlighting the electric traction centres as at 23 February this year.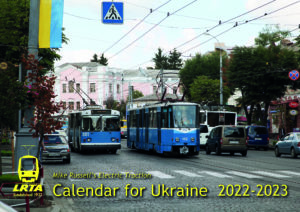 Much assistance with the project was provided by Kyiv-based Kostj Koslov, and a special version of the calendar – in Ukrainian – is being prepared for him and his fellow enthusiasts.
The calendar has been produced at no cost by Yes Print of Yateley – the publisher of earlier LRTA calendars and postage is being funded by the LRTA, NTA and BTS so that all amounts paid by purchasers can go in full to the DEC Appeal. If you intend to buy a copy, please give whatever you can afford in addition to the purchase price to assist this cause.