LOT Transport
From sleeping in a minibus to a fleet of buses, Jeanette Romani's determination knows no bounds.
Kirsty Flatt met this inspirational woman.
Jeanette's story of how she started off her successful local bus operation in West Yorkshire, which until recently, was known as Ladies Only Travel is a harrowing one.
On a night out in 2005, she was drugged and raped in a pre-meditated attack. Her drink had been spiked and she was taken from the club, where she was enjoying an evening with friends, to a pre-booked hotel by taxi where she was sexually assaulted and then returned to the club by her assailant.
As you can expect from such a life changing experience, many questions were left unanswered and one that still torments Jeanette is, 'How did the taxi driver not notice?'
After two years of essentially being a hermit, too afraid to go out, she was overwhelmed by a desire to do something for the women of Bradford and the surrounding area, to make sure that they arrived to and from their venue safely. Her idea was to provide a door-to-door private hire service for women only.
Arriving at her premises in Brighouse, I wasn't sure what to expect. The site is shrouded by locked black iron gates and one of the biggest dogs I've ever seen was prowling the perimeter. However, as the age old adage goes, 'never judge a book by its cover'. This couldn't be more the case. I was greeted by a short, attractive woman with one of the broadest smiles you're likely to see and led up to the offices, which housed a bright pink sofa and blinds and an inspirational quote saying 'Believe in your dreams'. The dog and I checked each other out and decided we could be buddies. I immediately felt relaxed in their company and Jeanette continued her story.
The banks were unsupportive, as was her wealthy father, so she gave up her home and moved herself and her then teenage daughter to live with her Mum, sleeping on the sofa. She bought her first vehicle, a blue LDV Maxus minibus, which she leased, paying £10k more than its worth in interest. She commented, 'I was so naive but nobody would give me the money. I loved that thing and it was fantastic on fuel.'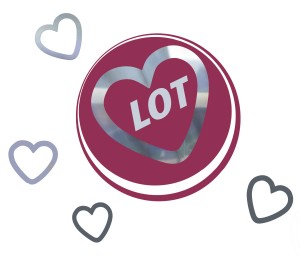 She acquired and still holds an International Operator's Licence and began trading as Ladies Only Travel. She was essentially homeless and all she had was her vehicle, a laptop and a mobile phone from which to run the business. The support she received from females in the area however was almost immediate and she started offering hen night services. This often meant driving to Blackpool, sometimes doing up to three trips a day and she spent many nights sleeping in the cold minibus as she didn't want to waste precious fuel on heating, waiting to pick up passengers.
Acquiring a loan was a continuing problem but she finally got help 'from the Provident' and she still proudly owns the repayment book. Within a year she had installed a landline at her Mum's home, added a six seater Chrysler Voyager to the fleet, appointed Natalie Baldwin, a female friend as an additional driver and set up Ladies Only Private Hire. The vision for this was to provide a taxi service exclusively for females, driven by women. She met with objections from established firms in the area; they didn't like her signwriting, the fact that she was female and that she didn't charge for additional drop offs, but as Jeanette explained, 'that just made me even more determined to succeed.' She admits that the job was tough, saying that groups of drunken women could often be a nightmare, with them falling out and even fights ensuing.
In 2007, she started doing work for Prince Henry's Grammar School in Otley, acquiring a Renault Master for taking the students on sporting activities and as a result, set up Kid's Only Travel as a separate entity.
Managing three independent companies; Ladies Only Travel, Ladies Only Private Hire and Kid's Only Travel, took its toll. As Jeanette explained, 'Juggling three different businesses with three different bank accounts was too much stress.'
Last year, Jeanette made the executive decision to close the other businesses and concentrate on the service work that she does for Metro, The West Yorkshire Combined Authority. She started contract work by default in 2011 when the H10 school contract passed to her from another operator. Not knowing anything about this side of the business and whether legally she was allowed to do it, she went to Metro and asked for their advice, as she had no idea how she got paid and how it all worked. She met with Steve Wainwright and he explained how the contract would run.
The relationship was forged and LOT Transport, as the company are now re-branded, operate eleven contracts for the authority, covering West Yorkshire, including Wakefield, Leeds, Halifax and Bradford. At the time of my visit there were new contracts out to tender and LOT Transport had recently been awarded another two, the 781 Leeds to Otley service and a shopper route in Bramley.
It has been said by some of her competition that LOT Transport's tenders are too cheap but as Jeanette explains, 'We don't have the overheads of some companies or a Finance Director sat in an office saying we must make this amount of profit on each service. We bid a fair price for a good job. We're not about ripping people off.'
Winning a new contract still gives Jeanette and the team a big buzz and she says that her greatest achievement was winning the Bradford Free City Bus contract, that First Group operated previously. She commented, 'This was a vital lifeline to the community of Bradford. Some operators thought we couldn't make it work but the difference between us and them is that it's not about the money, it's about the service we provide and because of that, this service still operates today.'
Jeanette speaks very highly of Metro, saying, 'They are an absolutely fantastic organisation. They have given us so much help and advice, everyone has been amazing. They even helped us with our BSOG grant and when they introduced a new system they set it all up and explained how it all worked.' This system is the Ticketer tracking system, which is linked in to Metro and shows where all her vehicles are at any one time as well as highlighting poor driving through excessive idling. She is extremely proud of the fact that they haven't gained any 'penalty points' saying, 'We're zero all the way.' She describes her relationship with Metro as 'superb', she said, 'We do a good job for them. We never miss trips, we've been late sometimes but that's unavoidable.' She added, 'We get loads of good feedback from our customers and we never get complaints. A driver from another operator made a complaint once though that one of our driver's was TOO friendly!'
All the drivers have their own route and because many of them are 'shopper type services' they have regular customers with which they have forged relationships. Jeanette commented that at Christmas the drivers are often laden down with gifts from their passengers. She added, 'Many of our customers feel like it is their own personal service with their own driver. They're on first name terms with each other.'
Their last run back is midnight and they've never had any trouble on the buses from customers, the exception to this was some school children that were using one of the service buses to get to and from school. They were really badly behaved and Jeanette even tried to give the contract back. She tried a different tack with an alternative driver and the problem was resolved, 'The kids sit down and shut up now and everyone is happy.'
For Jeanette, although they are in business to make money, their ethos is to put the customer first. On new routes that they have taken over where someone has a ticket from another operator, they charge a minimal 50p fare, this also applies to the elderly to encourage them to use the service before 09.30 to be able to get to the doctors.
Sexism is something that Jeanette has constantly had to battle and she referred to a local operator, who shall remain nameless, who said to her when she told him of her plans, 'You'll never make it in this industry, it's a man's world this.' He more recently told her, 'I really admire what you've done, I take back what I said.' I asked her how she had felt about this and she told me, 'The more people said no, the more I wanted to do it. I just thought, "I'll show you!"'
She believes that because she is female, she was constantly being ripped off by garages when it came to maintaining her vehicles. Although initially naive, she soon sought a second opinion that confirmed her fears. As a direct result of this, she set up Ladies Only Autocare Ltd within the grounds of her former yard, and employed a female mechanic and apprentice to not only service their own vehicles, but to undertake work for paying customers. This was closed down with the other businesses, to concentrate on the buses and she lost a lot of money that she had invested in it. Undeterred, she has equipped this site with a workshop, complete with a pit installed by a local company and has currently invested in a brake tester from Kismet as well as some vehicle lifts. This part of the business is managed by Nigel Lake who joined them last year and Jeanette describes him as 'brilliant! He really knows his stuff.' She would like to take on another apprentice but questions the work ethic of a lot of youngsters these days.
The company now employs 25 staff with two female drivers on their books, one of whom is Lisa, an old school friend and Jeanette paid for her to take her test. As much as Jeanette dreamed about having a complement of women, she soon realised that what was more important was having the right person, saying 'If they're the right driver, with the right attitude, they'll do right by you and you get so much more out of them.'
Despite being the boss, Jeanette is very approachable and clearly well liked. She operates an open door policy and during my visit, drivers were constantly 'popping upstairs for a natter.' They have their own staff room, which is less pink than the main office (although some rose hues have been sneaked in, and the uniform includes bright pink hi-vis vests) and they are provided with free tea, coffee and biscuits. This is also where staff training takes place as the room can comfortably hold ten.
Jeanette describes the team as 'her family who she would do anything for' and she personally buys everyone a birthday card and adds a little bonus. There is a lot of loyalty to Jeanette and she has only occasional, genuine sickness. She believes fixed rotas on set routes, with six hour shifts, helps. 'The guys bend over backwards for each other. It's a two-way street, treat me as you would like to be treated yourself. I'm all for giving people a chance, but I expect something back in return. When you work for me I expect loyalty and a good job.'
She doesn't believe in titles as such and everybody is treated and paid the same; she explained, 'It's a team effort, we all muck in together', so much so that she still opens up every morning and she is responsible for the hand washing of the buses. It's her Sunday morning ritual that she finds therapeutic. She admits to being a little OCD when it comes to cleaning the vehicles and enjoying listening to Radio Two's Sunday Love Songs whilst scrubbing away!
Daniel Barrett is the second in command and Jeanette's 'right hand man and particularly good with all the computer side of things and all the legal stuff', adding, 'all that technology is a minefield.' He runs the day to day operation with Jeanette. Eric Brown is described as 'a good people's person, who the drivers relate to' and he is usually their first port of call as he is on the ground. He also looks after their social media, tweeting when they need to inform passengers of service changes, updates and general news. Natalie still works for the company and one of her key roles is to sell advertising on the back of the buses to businesses and has managed to secure Close Asset Finance, who finance part of the fleet, and the White Rose Shopping Centre in Leeds. Jeanette commented, 'Everybody brings something different to the table, I've got the right people around me who I can rely on.'
Although the company has deviated from the original premise of being a lady only travel company, the ethos of putting passenger safety first remains and Jeanette has always instilled into her drivers that they should never leave a passenger at the bus stop, 'If they haven't got the right money, any money even, pick them up anyway, don't leave them there, you're going that way anyway.'
LOT are also part of the Bradford Student Safe Spot scheme, an initiative where businesses can offer a safe place for students feeling threatened. Jeanette has implemented this on all of their services allowing safe passage and shelter on the bus.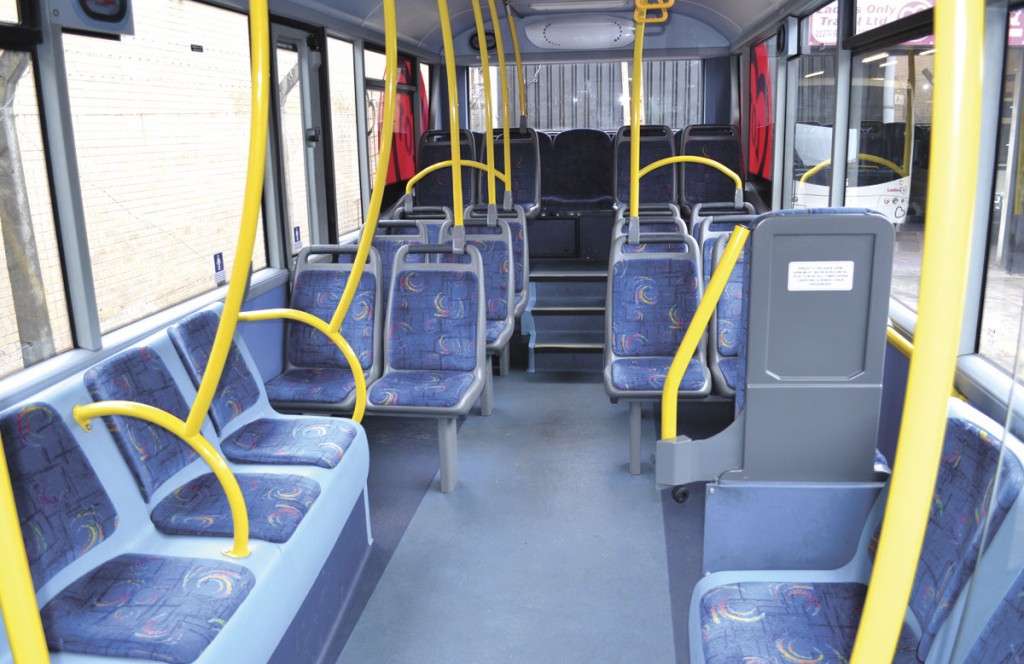 Jeanette doesn't drive anymore and actually admits to disliking it but she is very fond of the Plaxton Primos that she operates, referring to them as 'my girls.' They are a bit of a Marmite vehicle but Jeanette loves them and has had very few problems with them. She says, 'They are perfect for us, the right size and nippy'. Half of the fleet, which is a mixture of Primos, Optare Solos and VW minibuses, is owned and the rest are financed by Close Brothers.
The livery is unmistakable with a large pink love heart and silver hearts running along the bottom. Although this is a bit tongue in cheek, Jeanette explains the hearts by saying, 'it shows that we care. We care about who gets on our buses and who drives them.' Each one is numbered, Ladies 1, Ladies 2 etc and they have just experimented with painting one of the Solos half pink. I asked Jeanette what the drivers thought of the branding. She said, 'I get a bit of stick and some of them say things like they will put a balaclava on so no one recognises them, but it's just banter. I don't think they really mind too much.'
All of the vehicles are currently being fitted with CCTV and forward and rear facing cameras by Intelligent Telematics. Jeanette explained that unfortunately a few unscrupulous people will look for cameras before boarding a bus and have made false claims against her drivers, although often, witnesses have come forward against the claimant.
Jeanette has no regrets about the direction in which her business has gone, she explained, 'With contract work you're guaranteed money and you know exactly what you're getting. I've sacrificed a lot, I had no life for the last eight years, giving everything I had to the business and ploughing every penny back in. The hours were unsociable and I lost friends along the way, but I have a life back now.' She still works 14 hour days though. She added, 'Success is the best form of revenge.'
The Future
I asked Jeanette what the future was for LOT Transport, she told me, 'I don't want to lose my identity and get too big. I've changed the name to reflect the change in the business but LOT could stand for Lady Owned Travel. I started this for the reasons you know about and because I loved driving. I probably wouldn't take the bus test as driving something that big would scare me and I have professional drivers to do that job for me.'
'I don't know about progression. Who knows what the future will hold. I'd like to continue as we are. I'm dead proud of my business and what we have achieved. It feels wonderful to be employing people, knowing that you're putting food on their table.'
Despite the sacrifices she has made, Jeanette is adamant that she wouldn't change anything. 'I just want to keep going, I love this job, I'm so passionate about it and it's my life now.'
Afterword
It would have been very easy for someone in Jeanette's situation to become very bitter, but instead, with quiet determination, guts and a positive attitude, she has challenged and conquered those who doubted she could succeed. It's been a tough, sometimes lonely journey, with some hard lessons learned along the way, but she has stuck to what she believes in and is now the proud owner of a successful business.

She has a strong, loyal team behind her and the will to continue to thrive. Jeanette is not just a success story because she is a woman in a man's world or because she is a victim of an injustice, she is a success because of her tenacity.