London calling?
With London's tourism footfall at an all-time low, is now the time for operators to put aside misgivings and take advantage of the empty streets?
The collapse of the inbound market has deeply affected London, with perhaps half of the capital's 40 million visitors coming from abroad. This has been catastrophic for some coach operators, but the reluctance of people to fly to the sun has brought a boom in tourism at home. Every cloud….
London's shows and attractions are keen to get more customers, with the customary queues at hotspots such as the Tower of London and London Eye just a memory, the West End re-opening with musicals and no social distancing. Traffic is reduced throughout the capital. So surely it's the perfect time to add a London trip to your website and social media? Well, yes and no. We spoke to a range of expert voices, from tourism providers to coach operators, and that it's a case of proceed with care, as there are avoidable pitfalls which could wipe out any profit.
Mark Anderson, Anderson Travel, London
Mark Anderson, the outspoken MD of London-based Anderson Travel, says the collapse in inbound work has had him travelling outside of London with groups, as an obvious lift in domestic tourism has seen him barely venturing near an airport for several months.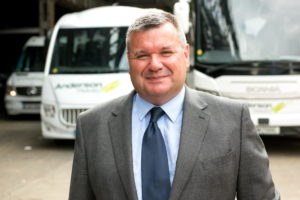 "You're right," he said. "I've been walking from my depot over Tower Bridge and not being asked to takeaphoto of visitors or having to side-step tourists taking selfies. Frankly, whole areas of London look like one of the post-apocalypse disaster movies, with grass growing through cracks in the road. There's certainly some capacity for more visitors. "But operators need to be aware that there have been a lot of traffic schemes and roadworks reducing roadspace, mainly due to the Mayor's incomprehensible policy of building empty cycle lanes. So although traffic is light, you could get caught in traffic jams. "In my view, the policy is adding to emissions and congestion. I think they thought 'build it and they will come', but they didn't. The cycle lanes are empty." Mark does agree that London's tourist attractions are crying out for more footfall but cautioned operators that the price of hotel rooms and restaurant meals has 'gone through the roof' and careful planning will be key to making a success of trips into the capital.
Peter Bradley, UK Coach Operators' Association
The MD of the UK's newest trade association – formerly the London Tourist Coach Operator's Association – is also a former Transport for London head of department, and knows his way around the capital.
"I think it's a prime time for domestic tourism to come here," he said. "There are indications of tourism returning but the open-top tours, for example, are running half empty. There are plenty of attractions open and looking for business, and there couldn't be a better time for a walking tour.
"There are a lot of roadworks restricting roads to one lane, which is a nightmare if a car breaks down in one. Of course, delays in these circumstances may be impossible to route around. And there are parking issues, such as thesuspension of the Park Lane coach bays.
"But the answer to the problems is planning; you can't send drivers to London without a parking plan. Pre-book parking where possible and be mindful of driving hours."
Peter says the TfL drivers' page is a useful and updated reference for parking and lay-over. Peter said that the London expertise among UKCOA members is worth accessing, either through the UKCOA email ([email protected]) or via the UKCOA Facebook page: "We have an open-door policy for these enquiries but, of course, joining is less than £1 a day so we'd hope operators would consider that."
Tim Southby, Heathside Travel, Ferndown, Dorset
The problems with parking coaches has the potential to make some operators turn away bookings, says Tim Southby, MD at Heathside Travel. Tim says the continued closure of coach bays such as Park Lane now makes it almost impossible for operators to meet the demands of some hirers and for single-manned coaches to stay within drivers' hours: "On top of which are the roadworks currently. We had a driver in London recently, and he said it was roadworks all the way, and I can't see that situation getting better any time soon."
Tim said the cruise companies which will be getting back to full strength by next spring may have a rude awakening when they try to book London sightseeing: "I've been told by one cruise company that they'll be booking 180 coaches a day from March onwards. If even a proportion of those head for London, they'll find nowhere to lay over.
"If someone had called two years ago asking for a London trip I would have said 'yes, that's fine' without hesitation. Now, I'm genuinely worried that when the call comes, I'll say yes and the job will cripple us within the first week. I know there will be some operators who will just say 'no.' "When the ULEZ came in, I willingly did what TfL wanted us to do, and upgraded our fleet to EuroVI. The situation with parking now seems likeareal kick in the teeth."
WHAT HOTELS AND ATTRACTIONS SAY
Bernard Patry, Kew Gardens
"Though group visits have been slightly down compared to a standard year, we have still had a fantastic season and would like to thank everyone who has come to see us this year. There is still time to plan an Autumn visit, perhaps to take in the spectacle of our new Japan Festival 2-31 October . We have easy access for coaches with pick-up and pre-booked drop-off just outside Elizabeth Gate. We do not have onsite parking, but there are several options in the local area. Autumn is when our bookings start to decline traditionally, though we have solid bookings in place for October. After that we do not have much on the books."
Anonymous hotel group
"The Government announcement lifting restrictions definitely boosted bookings for three and four star hotels in London. Feedback from other hotels in London is that July and August have seen a steady increase of coach group stays. The groups are staying two or more nights. We are expecting a positive and good Autumn, Christmas and Twixmas for groups in London."
Chris Ball, GLH Hotels
"There is great midweek availability; everything is slowly but surely opening up, and for all those people that may have shied away from the London big trip, there's never been a better time to 'do' London." Matt Coulter, Historic Royal Palaces "We are delighted to be welcoming group visits back to the Tower of London, Hampton Court Palace, Kensington Palace and Hillsborough Castle. Our major display; Royal Style in the Making at Kensington Palace, featuring Princess Diana's wedding dress has received a lot of good feedback from the attending groups. The easing of restrictions has led to a strong increase in visitor numbers and we are looking forward to receiving autumn and winter groups to all the Historic Royal Palaces sites."
WANT TO FIND THE PICK OF THE HOTELS AND ATTRACTIONS? READ OUR SISTER PUBLICATION, COACH TOURS UK, FREE WITH BUS AND COACH BUYER EVERY MONTH.