Lion's pride
Known for its lion-themed livery, Daventry-based 
Hunter's Coaches has turned 21.
Hunter's Coaches' lion-liveried vehicles have operated out of its home town of Daventry for 21 years now. Sitting down with its director, Ray Hunter, it is clear he is immensely proud of reaching this milestone year of operation. "It is quite a landmark," he said. "What's nice is the business hasn't been handed down to me. I started with one coach in March 1997."
He fondly remembered the weekend tour that was his first job with his first coach, a Jonckheere 53-seater. "It was a lovely coach. I bought it from the company I used to work for; they had retired. It did some good work for me. I then bought another coach six months later."
Starting an operation was an aspiration of Ray's for a while before making it a reality. He said: "When I worked as a mechanic, I thought wouldn't it be lovely to have a coach of your own. Then I had the opportunity to buy one and I thought go for it. I went to the bank to borrow the money and they agreed to back me, I went there with a business plan, and then I bought it. I was about 40 at the time."
Looking back to those times, he joked: "If I look back now, when my first coach cost me around the £23,000 mark, with ones these days costing £100,000 I would never have started a business."
He has enjoyed the work though and was no stranger to the industry when he started his own operation. "I've been involved since I was 17 as a mechanic. I worked for KW Coaches of Daventry. I worked there for eight years and then moved on to Basfords Coaches. I then went to Adkins of Boddington and worked there for eight years."
I was pretty confident when I started on my own.
Hunter's has been based on the same site since those early days, except in the very beginning the vehicles were parked nearer the entrance to the row of industrial units it is based. "As soon as this plot of land came up, I bought it. We've been here 16 years now. I had the choice of having a unit built or a plot of land. I went for the land because it gave me more space to park."
Fleet grows
Hunter's fleet has grown to operate 25 O licences, but the fleet stands at 27 vehicles. The work it carries out is varied. "We do a lot of private hire," Ray said. "And local schools keep us busy. We have 21 contracts and it's a good amount of bread and butter really. At the moment, it's Blackpool season, so a few of them have gone up there."
Hunter's provides travel for the Cobblers, Northampton's football team, as well as the Saints, the town's rugby club. He also transports Liverpool FC supporters in the area to the squad's home games.
One internet service he makes frequent use of is Don't Travel Empty. "It's very good, I would recommend it. If you have a problem on the road, you can use it to help you out. It's pretty good on the legal side. If you have a legal query, you can phone them up and get advice."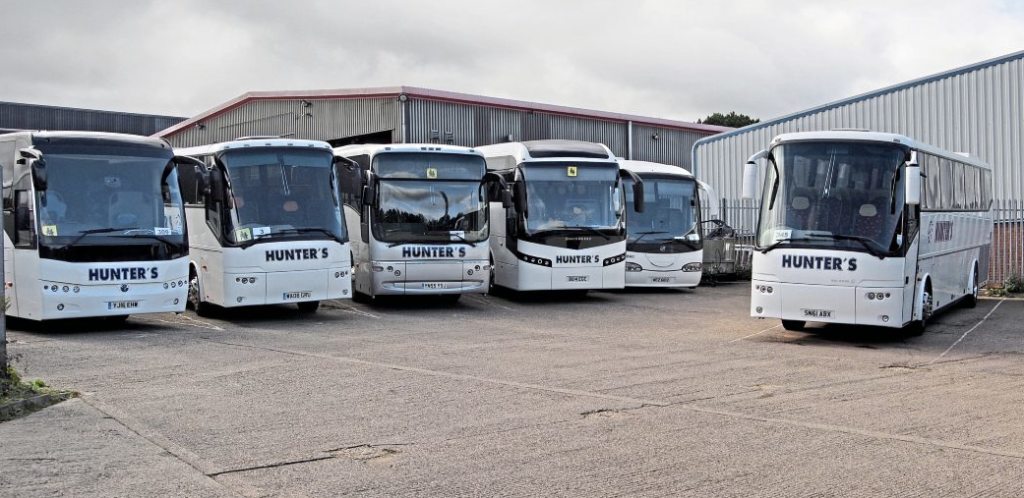 Ray runs a lot of work into London. He said: "I'm going to have to start thinking about another Euro VI coach for April, when the ULEZ comes in. I've only got three vehicles that can go into London at the moment. I do have quite a bit of work in London. If you think about it, during the first roll-out of the LEZ, we upgraded about five coaches and it cost about £5,000 per vehicle. But it's going to cost a lot more now and it's only six months away. For a lot of small operators, it's going to affect them; it's got to."
Hunter's newer coaches tend to be used on Just Go and David Urquhart Tours trips. One of his drivers, Wayne Fitzpatrick, has been the David Urquhart Tours' 'Driver of the Year' for the tour provider's south region for three years in a row.
Looking to the future, Ray commented: "I think in time we will do our own excursions."
Doing things for themselves seems to be the way to go for Hunter's. The company has its own team of mechanics and workshop with inspection pits, as well as a spray paint area.
Staff and support
Ray is supported in the running of the operation by his wife, Pat. He spoke fondly of her; "She does the books for me. She's hands on. She took early retirement and likes to be involved with the business and I'm glad she is. She is very good at what she does. I couldn't have done it without her, she has been my backbone."
With his wife involved, he said: "It's a nice little family-run business."
There are 26 staff at Hunter's. On the subject of hiring drivers, he said: "I suppose it is hard to get them. A lot of people don't want to bother these days. There isn't the young blood getting into it. They don't want to work the unsocial hours. And it's not getting any easier.
"At the moment, I'm quite lucky. I've got a new bloke starting with us on Monday, so I'm lucky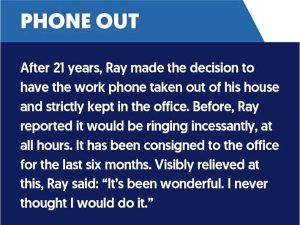 I'm getting another one. But it isn't easy; you only need a couple to cry off and then you're in trouble. I think it's the same in all the coach industry, you get a let down from a driver and you're stuffed."
What does he look for in a driver? "Someone who is presentable and conscientious. A nice attitude. You can always tell the bad ones."
Ray drives for the business too. "I'm hands on. I'm one of the boys; I don't sit behind the desk all day."
Celebratory Safari
Over the 21 years the company has been trading, Ray notes how much regulations have changed. "I mean obviously there's tachographs, but Driver CPC coming in, that was big. But it's a normal thing now. Legislation is where it's changed most I find."
Of course, the operation has moved with the times. "We have tried to upgrade, we did buy a brand-new coach, a Temsa Safari, which is used on Just Go work. The passengers like it and it's been good for the company. It has DAF running gear, which is good. I've always been a DAF man, but I've had Volvos in the past and Scanias. DAF tends to be most efficient."
The new Temsa Safari was bought in celebration of Hunter's reaching its 21st anniversary. At the same time it acquired it, Ray also took a second-hand one, exactly to the same layout. The 16-plate has 53 seats and a full executive specification.
Another recent acquisition was a Yutong TC9, which was added to the fleet three years ago. Last year, Ray took another one. "We find it's a nice vehicle," said Ray. "It's a 35-seater and it fits its work category. The people you deal with at Pelican Bus and Coach are just brilliant. Usually, if you get a problem, they are down the next day to solve it. They have people local to us for that."
Another coach marque he is pleased with is Bova, having four Futuras in his fleet. Ray said of these: "They're nice coaches and very well-liked by passengers."
An unusual vehicle in Ray's fleet is a 16-seater Volkswagen Crafter conversion. It is resplendent in a more showbiz burgundy colour compared to the white and occasional silver of the rest of the fleet; fitting considering the minicoach used to be what Welsh singer Charlotte Church went on tour in.
The age of the fleet varies from around the 2000 mark (with some of the older double-deckers, Leyland Olympians, from this time) to the present.
There are eight Olympians in his fleet, of which Ray commented: "They do have their problems. I think the best ones were those with Cummins engines."
Hunter's fleet of double-deckers are almost exclusively used on school runs, travelling often no more than 12 miles through the surrounding villages to transport pupils. In an interesting project, Ray has had one Olympian converted to have an extra three seats where the luggage pen used to be. The work was done in-house, saving him the cost of a third party to do it.
It is a relatively varied fleet at Hunter's, Ray has tried various makes and models. Commenting on what vehicles he would like to try: "I haven't tried a Mercedes-Benz. Maybe I would like to try one. EvoBus are only down the road, in Coventry."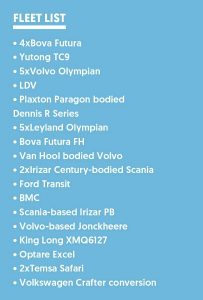 momentous occasion for Hunter's came in 2006, when its first new coach was added. This was sold to him by the late Alan White of Moseley in the South. He was sad to hear of Alan's passing earlier this year and spoke highly of him: "He was a great guy to deal with."
The coach was kept for six years in the Hunter's fleet and was then sold to an operator in Northern Ireland. Ray reports he does sometimes sell vehicles second-hand, but sometimes part-exchanges them.
Drivers are assigned to their regular coaches. Ray said: "When I was working for different companies, you always took over whatever someone else was driving. You never classed it as your own."
He noted the advancements newer PCVs are now fitted with to make driving them easier: "Drivers have it made these days. Coaches have come a long way, they're so different."
Proud and no regrets
What has he learnt over the 21 years he has been running the operation? "I've learnt not to cut corners. You were always tempted to in the early days. But now, for example, if I have to replace something I'm more likely to put a genuine part on; it lasts longer.
"My regret is I never got into business earlier. But you can't regret things like that. I don't know how things would have been different. You never know what's around the corner."
He is certainly proud of what he has achieved over the 21 years. "There are some firms out there that have bought a lot of new coaches, and they can make you envious. But I look back and think, I've not done bad.
"I am as proud as punch when I drive and you have four or five coaches on the one job, all lined up on the road, with my name on them. The other night, I saw four of my coaches in one area, all within minutes of each other. You just think, there's my babies."
Looking to the future, he said: "I hope to move forward, I certainly don't want to go backwards. I might go for more licences, I would like to progress."
For anyone just starting up in the industry, he advised: "Be cautious. Nobody gave me any advice when I started, so I didn't know what to look for."
He emphasised he has had no forebears in running Hunter's, starting from scratch: "A lot have had fathers that ran their business before them to learn from. I never had anything like that. So I'm proud of what I've done. Another one is don't take too much work on you can't cope with."
Talking about his general attitude towards operating, he said: "I'm one of the boys. I treat everyone with respect."