IVECO Daily base vehicle gets raft of upgrades
IVECO has updated its Daily series of vehicles – increasing finding favour as minibuses – with a raft of new features which will have appeal to operators.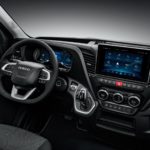 The Daily, produced in sizes up to 7.2 tonnes GVW, now has the IVECO ON telematics which not only allow operators to monitor the vehicle but to operate its settings remotely, such as locking the Eco mode to reduce fuel consumption and ensure no safety systems are switched off. Additionally, the driver can personalise the controls through the Easy Daily app and memorise them, so that when the driver takes over any equipped vehicle, it will automatically be returned to his or her preferred settings.
Daily can now have keyless entry and locking, so that the vehicle locks itself when the driver is out of range, and for operators, any changes to the Daily's electronics can be made 'over the air' reducing workshop visits. Likewise faults which develop are reported to the operator remotely through uptime monitoring.
IVECO has also added a number of proximity sensors which provide warnings of people around the vehicle, give lane assist and adaptive cruise control. Traffic sign recognition via cameras warn the driver of speed limits which can be set with a button press through the cruise control system. Blind spot warning and automatic emergency braking are incorporated, as is reverse braking assist and an alert for cyclists on the nearside.
IVECO Daily offers a range of quiet, efficient engines mated to the ZF-derived Hi-Matic gearboxes. In addition to products converted and coachbuilt by approved suppliers, Daily is factory-built in a number of minibus styles, and is available with air suspension. There are also electric versions of the Daily available.