ITT Hub – the highlights
Last week's ITT Hub at Farnborough International offered some interesting exhibits applicable to the bus and coach world.
Equipmake
Equipmake's conversion of Westway Coach's Van Hool T917 displayed at the ITT Hub is thought to be a world first.
The vehicle was displayed at the ITT Hub event at Farnborough International. It has had its diesel engine replaced with an Equipmake Zero Emission Drivetrain (ZED) featuring a 545kWh battery pack, alongside an electric motor, inverter and efficiency-maximising HVAC system. Despite the conversion, the passenger and luggage capacities are unchanged. The ZED is expected to give the repowered Van Hool T917 a range of up to 220 miles with a three-hour recharge time. Westway is to use the rechargers it uses on its electric Yutongs to give their repowered coach the power it needs.
Equipmake's ZED can be applied to any coach from single to double-decker. Repower solutions can be bespoke to specific customer requirements. According to the company, it can provide pure electric ranges up to 250 miles.
Westway Coach and Equipmake have recently agreed a partnership to accelerate the repowering of the operator's fleet. In-service testing of the company's initial coach is set to begin in the third quarter of this year with the objective that further Westway vehicles are repowered over the coming months.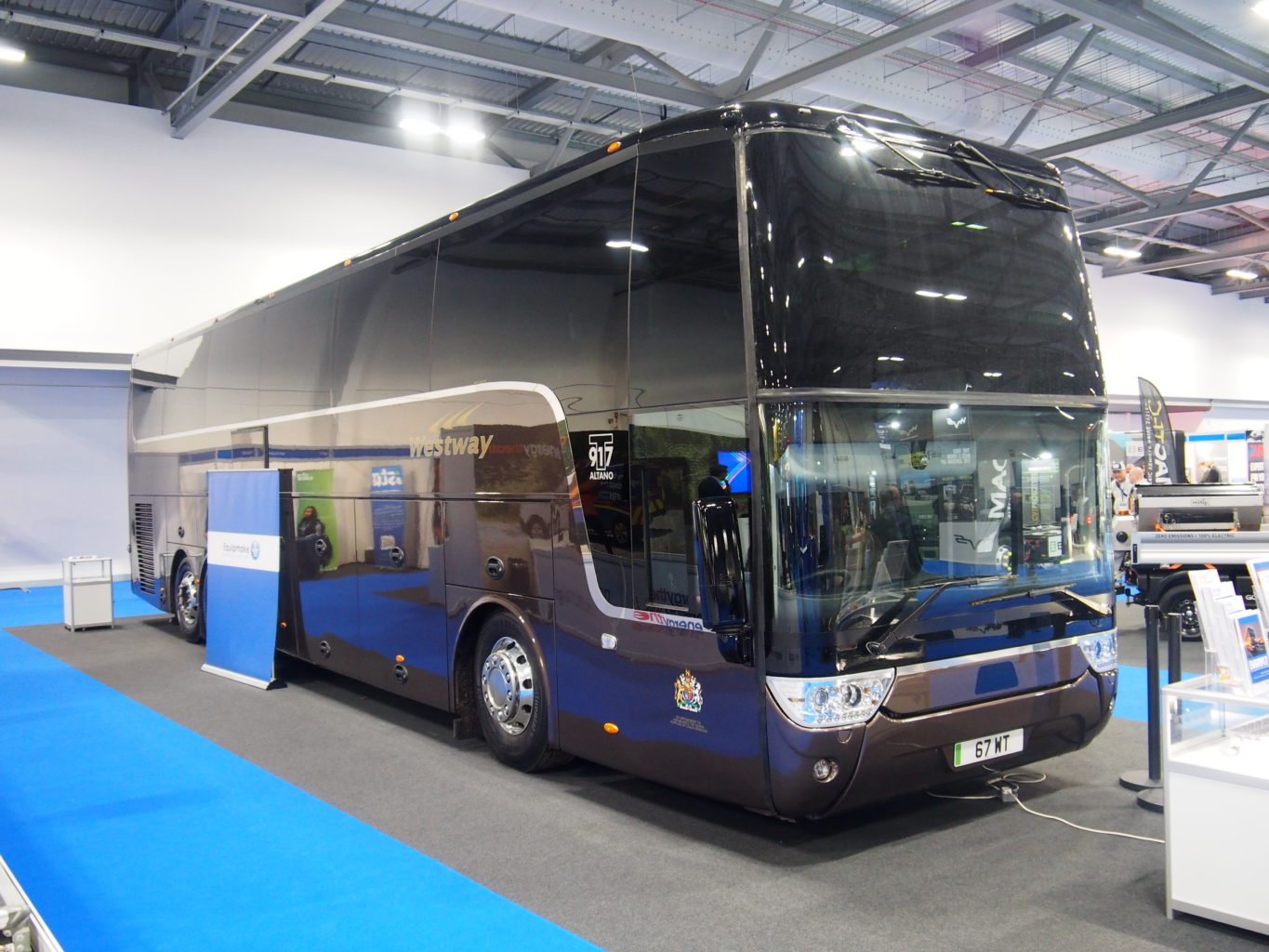 The coach is due to enter service on 31 August on private school work.
Speaking to B&CB at ITT Hub, Ian Foley, CEO, Equipmake, said: "I was surprised at the interest this has attracted. As a sector, coach has been neglected in terms of new technology like this."
From the first conversations between Westway and Equipmake to the finished vehicle took around six months, Ian reports. Once the feasibility studies and design for each coach is done per coach model, the convertor aims to get the conversion work time down to two weeks. "The key thing is they use the same system," said Ian, referring to the ZED.
Ian believes a turning point for electric coaches will be the ability to opportunity charge. "Once we add that to the mix, their range is increased considerably," he said. "Early on, we focused on the citybus, but we looked at coach and saw a great opportunity."
Ian believes the possibility of repowering a coach is compelling, considering the approximate 25-year lifecycle of these vehicles and the current emphasis towards zero-emissions. He said: "The extra longevity it gives a coach makes the prospect even more compelling."
The conversion should not adversely affect any fitment of PSVAR equipment, according to Ian. He said: "An operator suggested to me the possibility of having a coach repowered and fitted to PSVAR specification as a package."
Equipmake has moved into an additional site in its home county of Norfolk. The 50,000 square foot facility is a former RAF base and is housing the company's building and testing capabilities.
Equipmake has done a feasibility study into converting a Caetano Levante to electric and has discovered it is possible to convert. "We are keen to do more feasibility studies from our new site," said Ian.
Ilesbus
Gallagher's Travel sealed the deal on ordering eight Ilesbus Mercedes-Benz Sprinters at the ITT Hub exhibition in Farnborough.
The London-based airport transfer specialist is a new customer for Ilesbus and has gone for a 19-seat specification. A couple of them are due to be delivered next month, with the rest currently pencilled for delivery in September.
Gary Johns of Ilesbus told B&CB business has been 'absolutely flying' for the dealership. "The hardest thing has been the supply of Mercedes-Benz chassis. This isn't just the UK, it's a worldwide thing."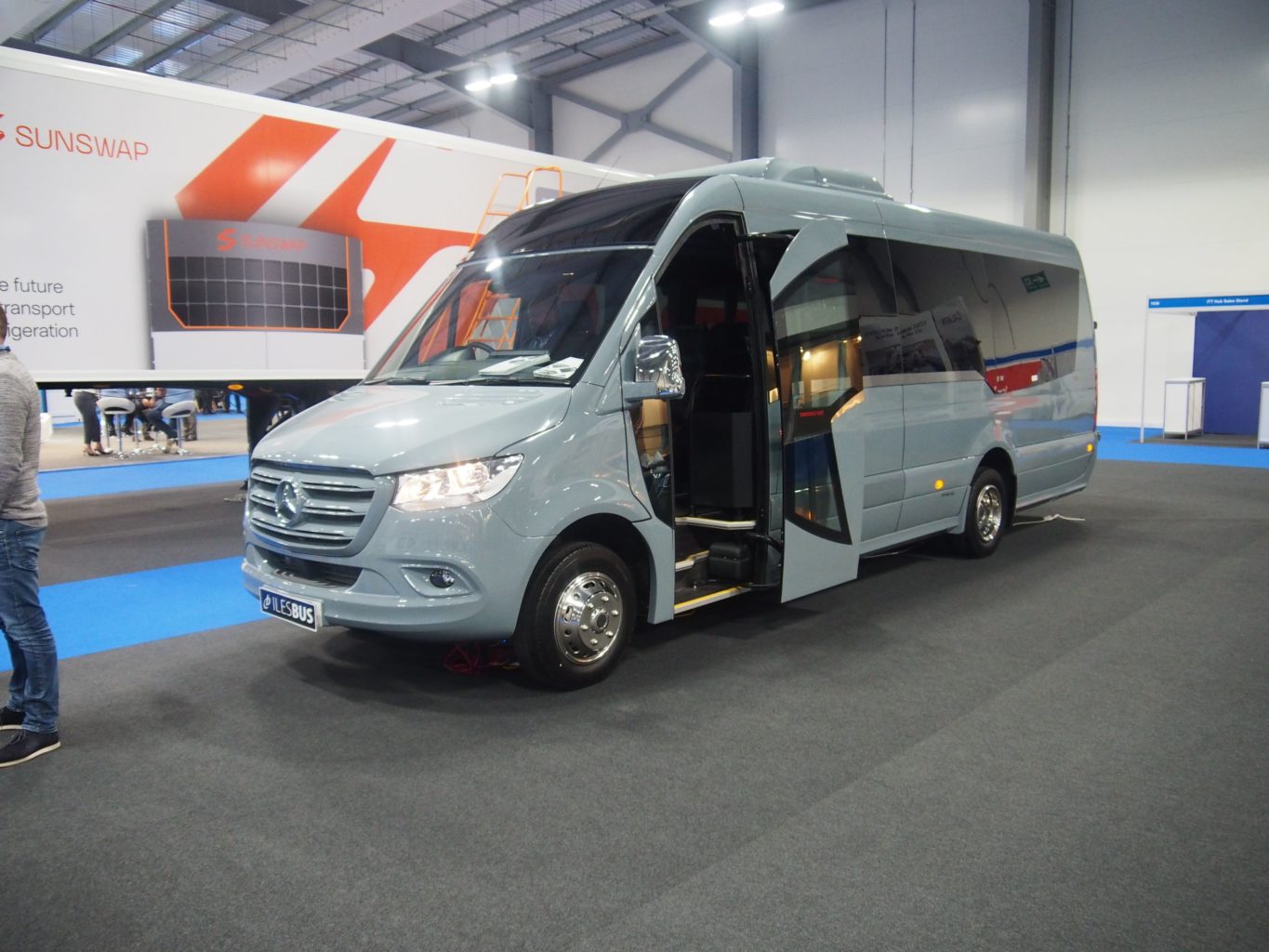 He reports distributing up to around 40 of the Turkish converted vehicles a month in the UK.
Gary said: "We've had massive growth over the past four years."
On how the success has been achieved, he said: "We visit the customer and give them what they want. I haven't got a standard vehicle. They get what they want; the look, the design. We always try and bring new things into it."
Parksafe
Parksafe provides a lot of its technology to Ilesbus, working hand in hand with the dealership. The business provides a range of solutions for the bus and coach world, having last year opened a specialist bus department.
Drawing some particular interest is its low bridge warning system. The Low Bridge Detection System (LBDS) is designed and manufactured in the UK and requires no driver input; with the height or width of the vehicle programmed at installation. It uses GPS vehicle location data and geo-fencing to warn the driver via LED-enhanced alerts and an audible warning system that automatically activates and can help to significantly prevent collisions at low bridges throughout the UK. It can be used as a stand-alone product, integrated into the vehicles cigarette lighter, or can be linked to company's live Parksafe On Demand online platform which provides instant, remote alerts and on demand access to the entire fleet of vehicles 24/7.
The company is holding a conference at Donington Park Race Track on 19 July this year, featuring a line-up of eight speakers from throughout the industry.
BYD
An AD/BYD Enviro400EV electric double-decker was displayed by BYD. The vehicle is from Go-Ahead's London fleet and has some interior enhancements on the capital's usual specifications, including skylights in the upper deck. Leonard Chew, Business Development Manager European Auto Sales Division, BYD (UK), said the base vehicle and drivetrain remain the same, but the interior has been brought up to date with a new interior design.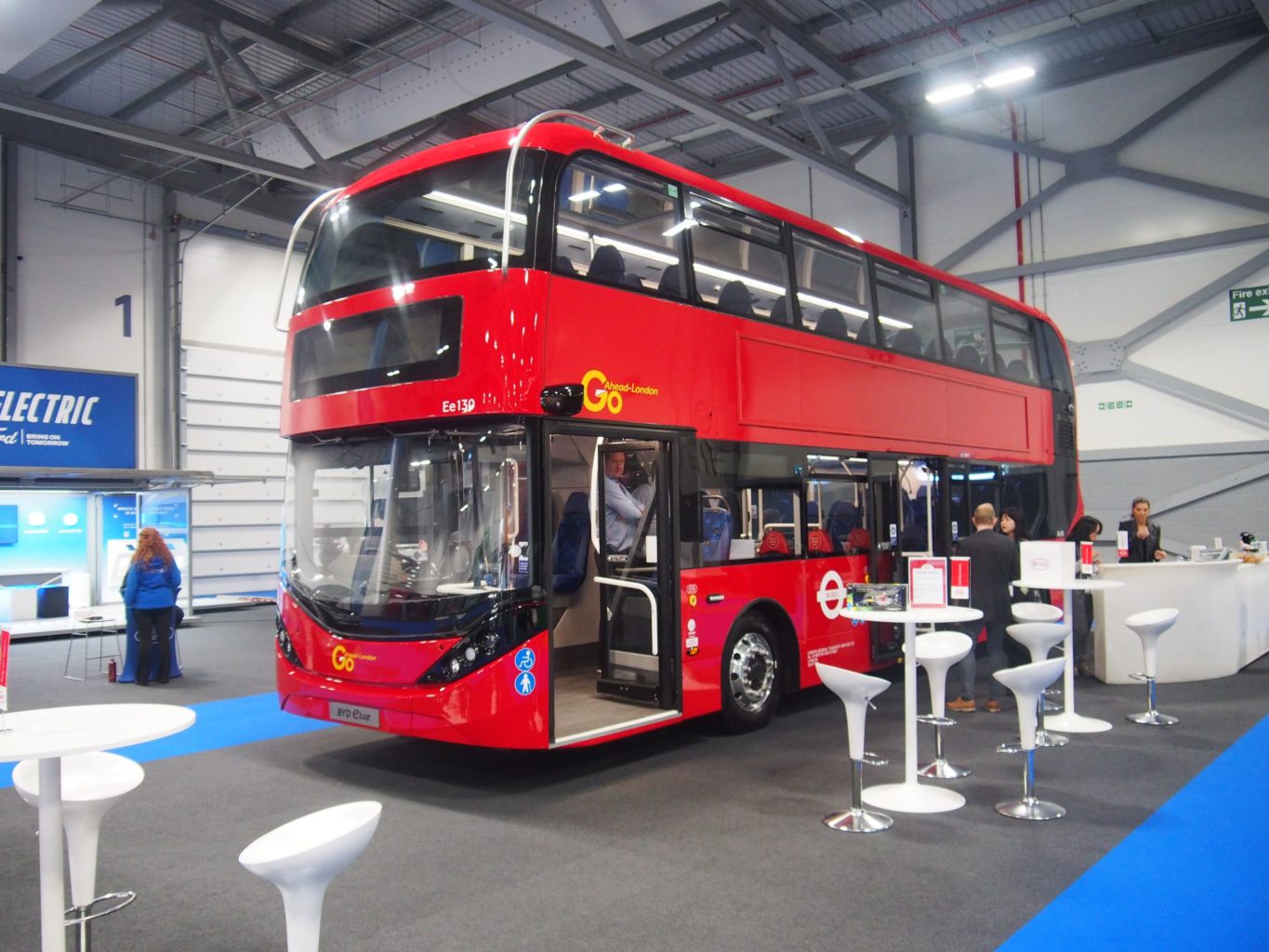 Leonard said the company is working on developments on its bus offering in the background. He said: "Hopefully in the near future we will be able to share something. The next product will be exciting; it will be a step change."
He confirmed the collaboration with AD is set to continue into the future: "Our expertise is the supply of chassis; the strategy has always been to partner with a local body builder."
Pelican Bus and Coach
Yutong dealership, Pelican Bus and Coach, had a couple of vehicles on show. The display included a Yutong TCe12 currently being used by Zeelo on its net-zero commuter coach taster roadshow, organised in collaboration with its client RNN Group. As well as providing transport, the coach has been used for educational purposes on electric vehicle technology at the roadshow.
Sales Manager for Coaches, Simon Collins, reports there is 'really strong' interest in the TCe12 and is talking to customers about it regularly. Some more of these vehicles are currently being delivered to Ember, the electric coach company providing intercity services across Scotland.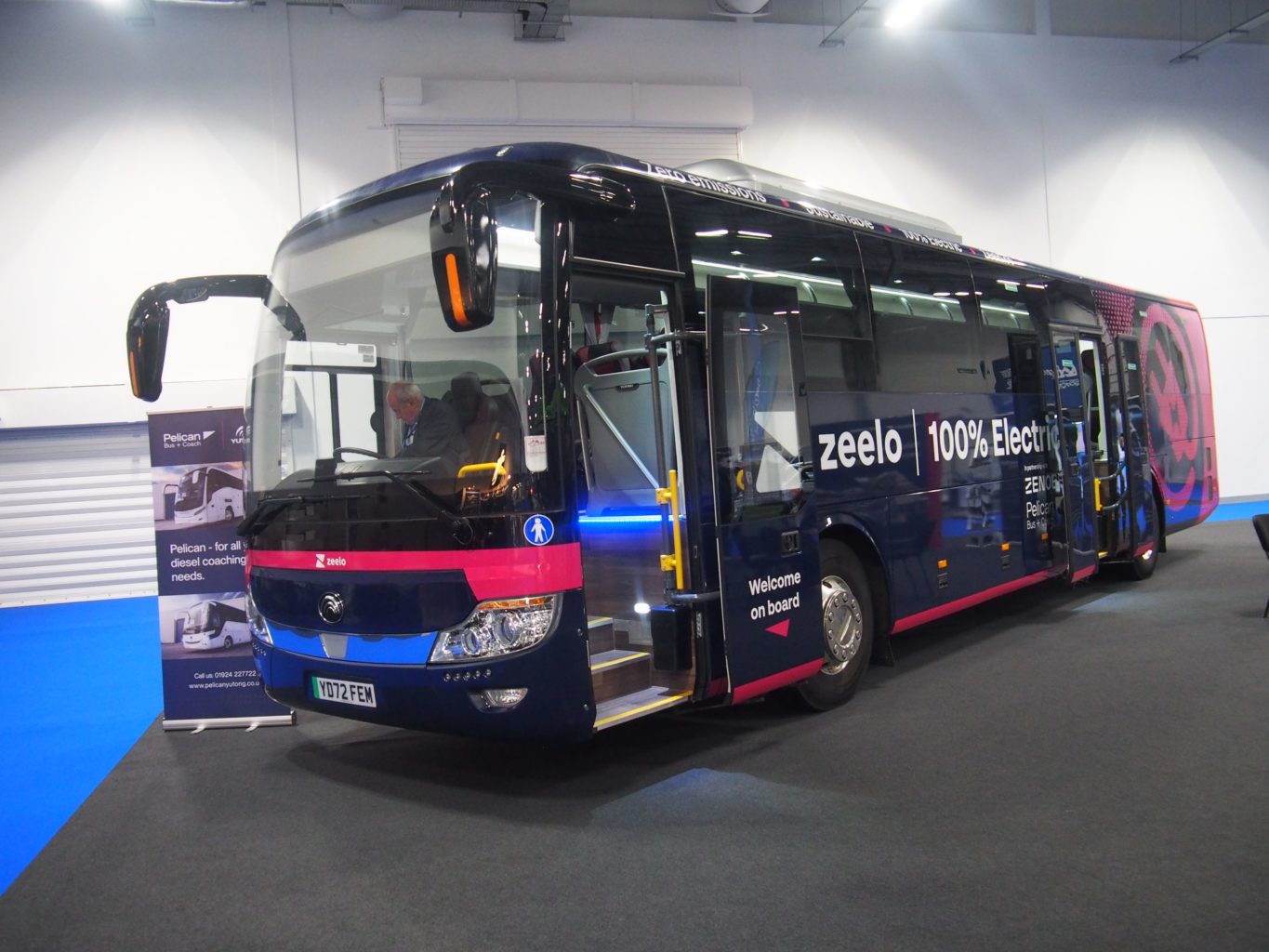 The other vehicle on the stand was a Yutong E12 from Newport Transport's fleet, part of the batch delivered this year. The 12.7m electric bus joins fellow E12s and the shorter E10s on service in the Welsh city.
On the coach side, the Yutong GTE14 tri-axle electric coach is 'soon' to arrive, according to Simon. A double-decker from Yutong is also expected to make its appearance in the UK later this year.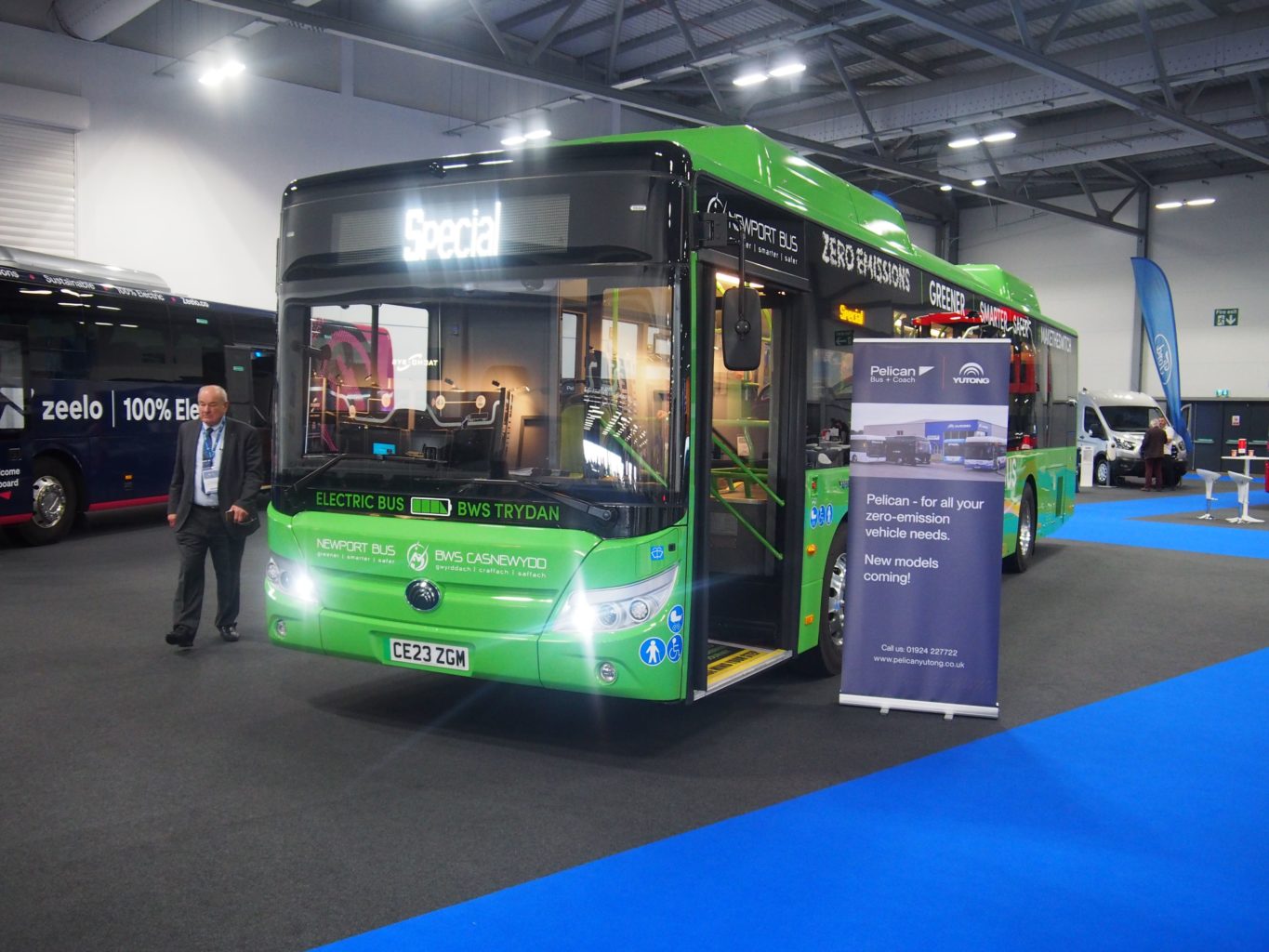 GM Minibus
An electric Maxus eDeliver9 Shuttle minibus conversion from GM Minibus was shown. The company provides this vehicle with four layout options: nine, 11, 14 and 15 seat options, including wheelchair access. According to the converter's marketing material, the vehicle has a range of up to 219 miles and a 45 minute charge time. As an option, it can be fitted with removable, light weight seats with quick-release fixtures. There is also an option for an underfloor or inboard electric wheelchair lift.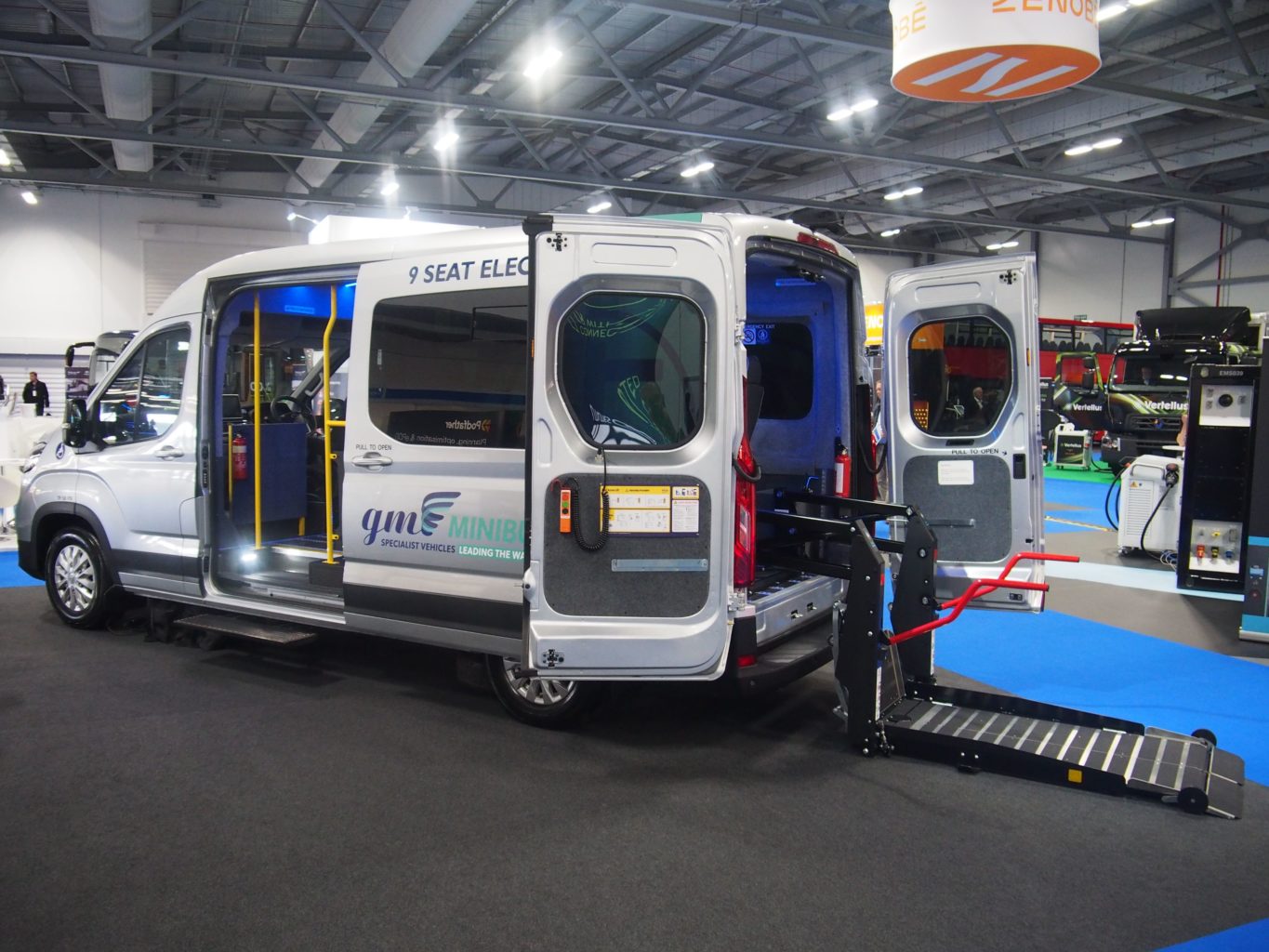 Trailar
Trailar was promoting its solar panels for buses and coaches. FlixBus is one of the early adopters in Europe, trialling them on coaches operating in continental Europe. Flexible and light weight, the solar mats the company installs on the roofs of vehicles are aimed at saving fuel, CO2 and maintenance costs.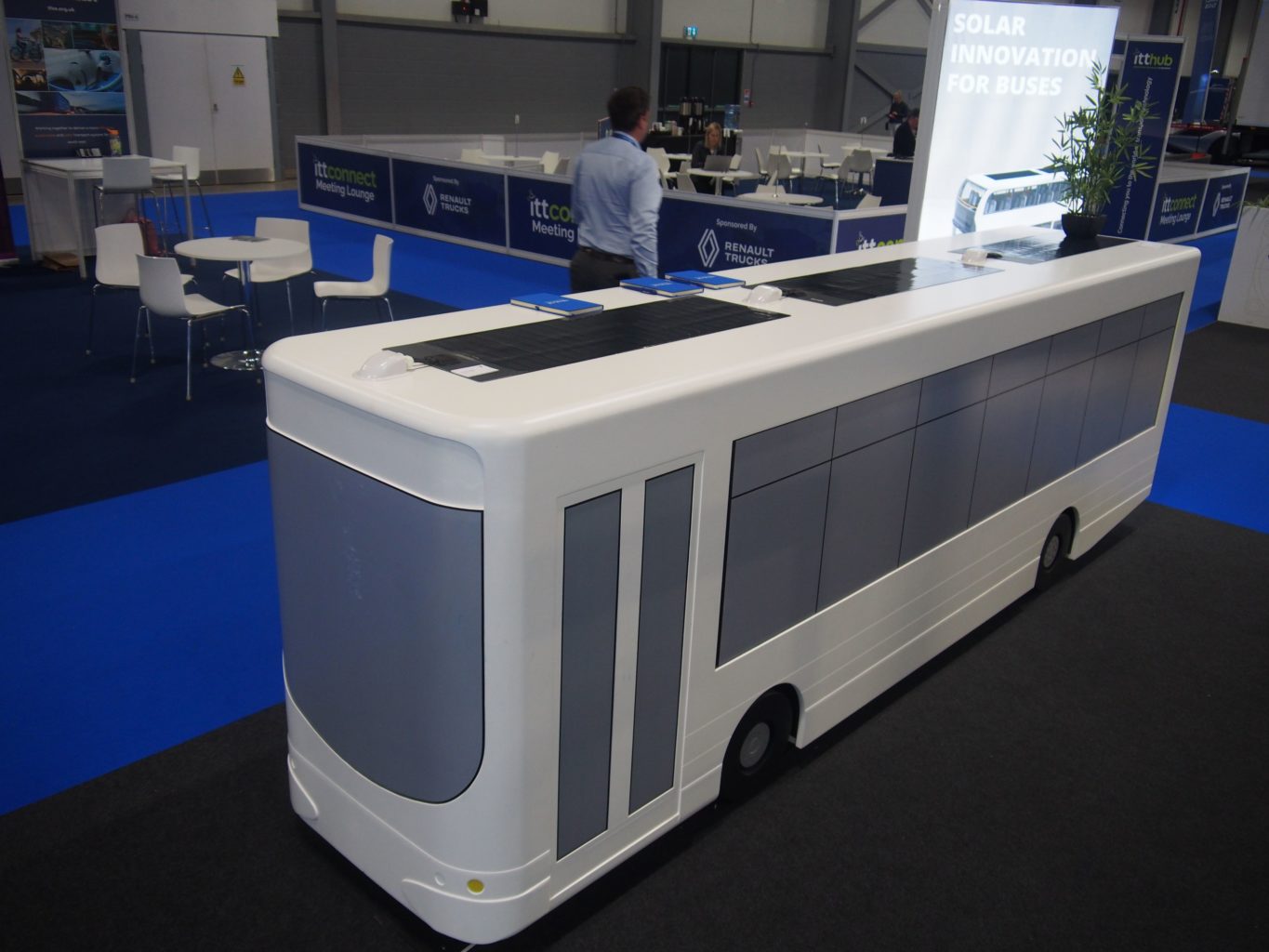 Trailar offers a telematics package too, which presents not just data from its panels, but also driver behaviour, brake performance and the vehicle's camera feeds among a host of other information. Stuart Porter, Commercial and Marketing Manager, said: "We are providing an holistic solution, a one-stop-shop."
Allison Transmission
The latest in Allison Transmission's electric vehicle propulsion solutions was on show, namely the new eGen Power 100s/130S. The latest product to be introduced to the company's eGen Power family of fully electric axles, key components include the new suspension systems, V-rod brackets, banjo housing, brakes, wheel ends and axle spindle were designed specifically to support the heavier 13-ton gross axle weight rating. The 130S uses a single motor to generate 225 kilowatts of continuous power, with a peak power of 325 kilowatts, and 26,000 newton meters of torque at the wheels. It also features a two-speed parallel axis gear architecture, efficiently meeting application launch and highway cruise demands, while maximizing energy recovery through 100% regenerative braking capability. The 130S joins the eGen Power line-up of e-Axles, which includes the 100D, introduced in 2020, as well as the 130D and 100S introduced in 2021.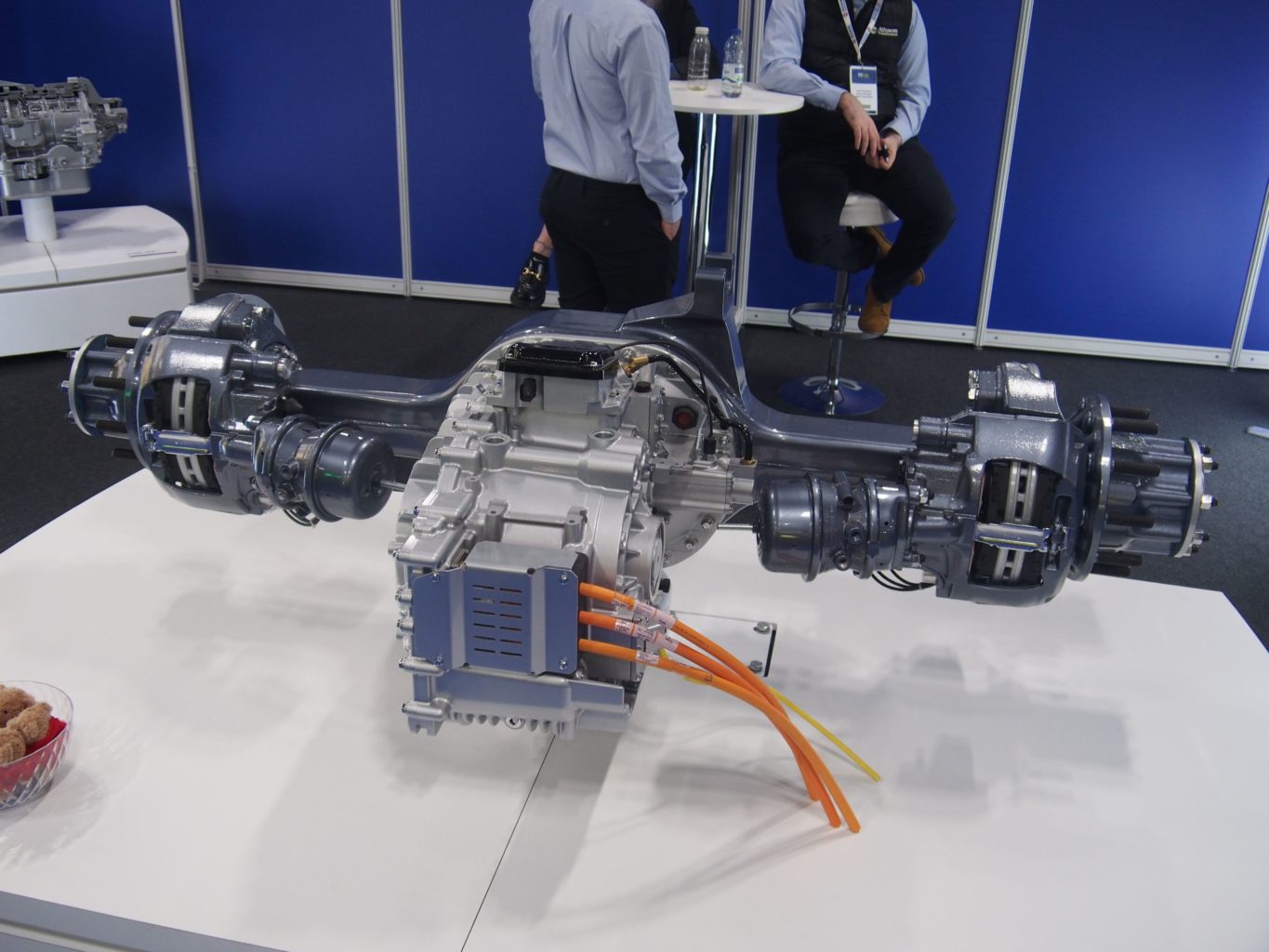 The eGen Power series of fully electric axles are modular and designed for installation and easy integration into existing vehicle chassis. Allison's portfolio of e-Axle models has been developed to address the diverse needs of Allison's customers as they evaluate electric vehicle capabilities to meet the rigorous demands of the commercial vehicle market.
Disc-Lock
Disc-Lock was displaying its wheelnut safety equipment. The vibration- and shock-proof wheelnuts from the company now have a new environmentally friendly, anti-corrosion coating.