Irizar's new i6S Efficient is on its way
13% emission savings
950kg weight saving
Modified front and roof
Irizar is launching its latest coach, the Irizar i6S Efficient.
Calling it the most efficient coach in its history, Irizar's new generation of i6S has been designed to achieve 13% savings in emissions. A weight saving of 950kg has been achieved with this new design and the aerodynamic coefficient is 30% lower.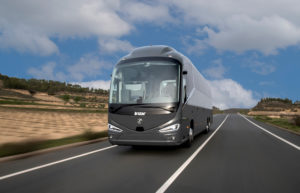 Perhaps one of the most immediately noticeable differences with the new version is its modified front and roof. The curvature of the windscreen and the other front windows have also been reworked to reduce air resistance.
Furthermore, the Irizar i6S Efficient has the option to replace the rear-view mirrors with digital vision cameras. These devices provide wide-angle vision in any weather conditions and improvements in the driver's direct and indirect field of vision.
To achieve the 950kg weight reduction, every component has been analysed and reduced. The weight of the vehicle has been redistributed with the goal of improving weight distribution.
A new generation of climate control has been used that provides improvements in weight and system efficiency, as well as being designed to lower life cycle costs. The new Breeze equipment offers a weight reduction of more than 35% compared to previous ranges.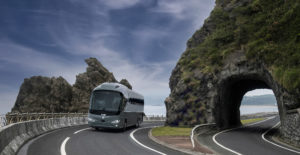 High strength steel and lighter composite materials are used instead of traditional structural materials.
These efforts have enabled Irizar to increase the space for passengers. Efforts have also been made towards reducing noise and vibrations. The cockpit has likewise been redesigned to be more comfortable and ergonomic and have a larger field of vision. The new line of Hispacold climate control devices is more compact, efficient and lighter.
The i6S Efficient has a new multiplexed architecture and communications protocol, which provides self-diagnosis services in real time. With the connectivity systems developed by Datik, all the data and usage statistics for the vehicle are stored in the cloud to maximise profitability, optimise route planning and minimise maintenance costs.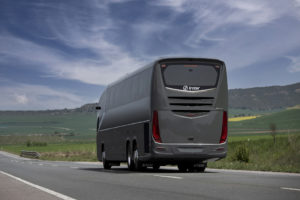 The i6S Efficient has what Irizar describes as the most advanced active safety systems for preventing accidents. It has a reinforced structure designed to provide improved response to torsion, flexing and head-on collisions, also improving its passive safety.
Aerodynamic studies and tests using simulators and measurements in real circuits have shown a 30% improvement in the aerodynamic coefficient and a reduction of up to 13% in consumption and emissions.
Like all Irizar buses and coaches, the i6S efficient has been developed using the most advanced technology in design, materials, components and production processes. Fatigue and durability testing was done on it at what Irizar describes as one of the most prestigious research institutions in the world to ensure its reliability and quality.
Irizar is able to personalise the new vehicle with 'endless configurations'.
The i6S Efficient is prepared for diesel, biodiesel, natural gas, biogas and it is designed to be adapted to future zero-emissions models.
The versions adapted to each market will be presented in every country during 2022.
The Irizar i6S Efficient is to be available as an integral option or as a bodywork/chassis combination.
Lee Wale, UK Retail Sales Manager for Scania, said orders for the Irizar i6S Efficient on Scania's 'next generation' chassis are now open. He expects orders of these vehicles to be delivered from spring 2023.
Specifications
Length: 10.8 (two-axle) to 14.9m (tri-axle)
Height: 3.5m – 3.7m
Width: 2.5m
Four Euro 6E engine types for the Irizar i6S Efficient are listed, including: Paccar MX11 300, MX11 330, MX13 355 and MX13 390.
See a video from Irizar presenting the new vehicle here.