Heart of the community
Robinson Kimbolton values its local economy, diversifying to offer its community more
Localism is key at Robinson Kimbolton. Based in the rural Cambridgeshire town of Kimbolton, the coach operator is at the heart of its local community, not just providing coaches but also running the local repair and service garage and a Budgens grocery store. Proprietor Charles Robinson tells B&CB that the facility the company runs from had to be modified to fit the shop in. The site is literally at the centre of the small town.
Charles is a big supporter of localism, buying and investing in the local area. After hearing plans from Labour leader Kier Starmer to put VAT on public school fees, his immediate thought was the impact this might have on not just his, but other operators' local economy. It spurred him to write a letter to the party urging a rethink. The operator serves its local public school and believes any move that would impact the number of attendees there would not only damage his own business, but that of the local area. The letter says many companies in the locality benefit from trade associated with the public school.
In the letter, Charles said: "I think it would be foolish to impose VAT on school fees. There would be a large drop in pupil numbers. These pupils would then join the state system at huge cost to the tax payer. Staff numbers would be reduced, the local economy would suffer greatly. The standard of living would drop over a wide area."
Charles told B&CB: "Our local public school has about 900 kids attending. The school provides a lot of employment for teachers and other staff. Without the school, we would be a much smaller company; I expect we would just do a lot more council contracts if it came to that.
"A lot of private hire is through private schools, so a lot of operators are in the same boat over this."
Charles has also written to CPT, of which he is a member, and contacted other operators over this matter.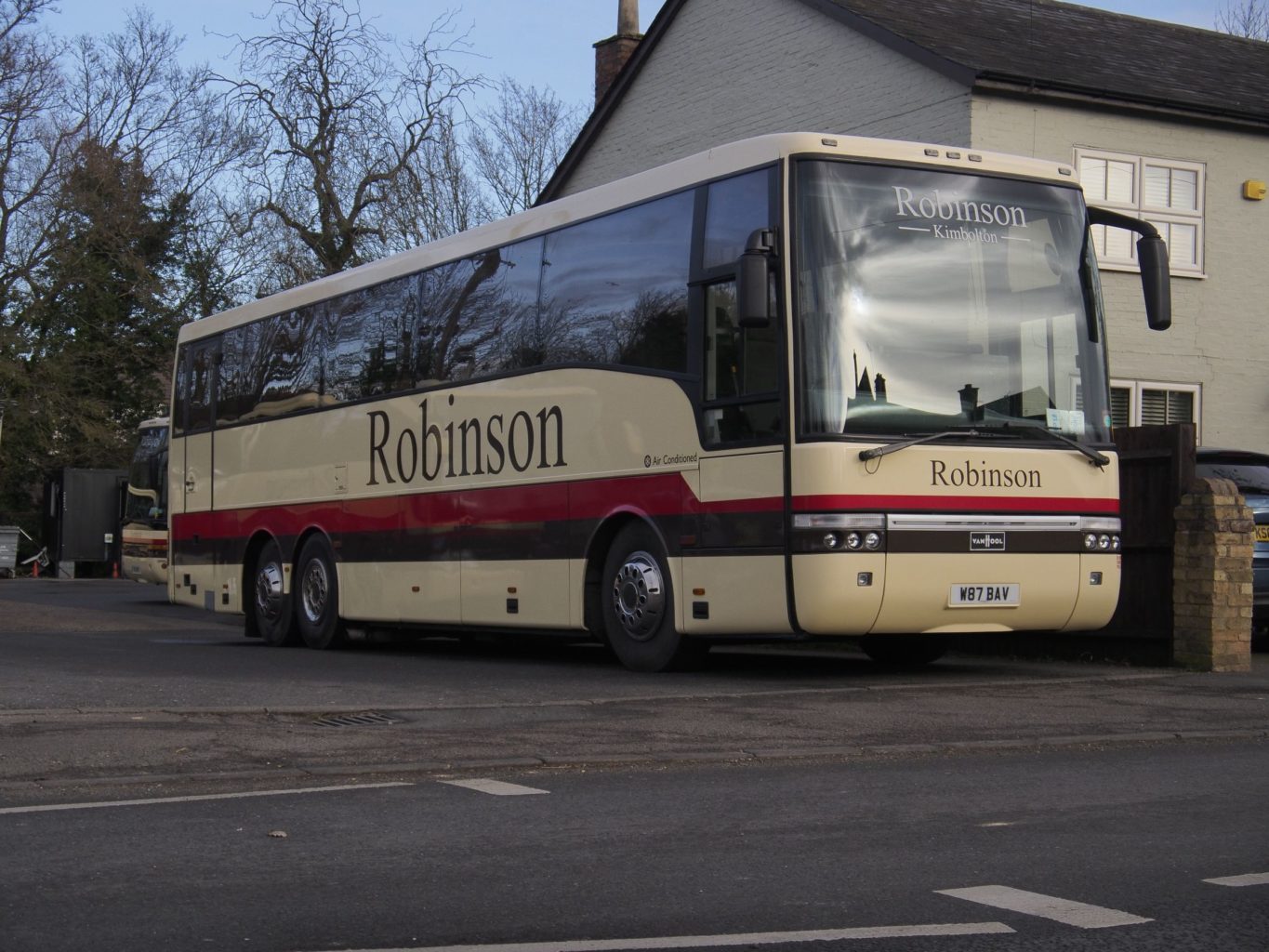 He said: "We always like to support local businesses. When we do business with them, they like to do business with us and they tend to give a better service as well. All of our businesses are about looking after customers, both with our coaches and Budgens, and 95% of our trade is repeat business."
Around 75% of private hire is linked to schools and further education. Charles estimates around 20% of his work is airport transfers and other private hires. Wedding transport provides another source of income, as does corporate travel with local businesses.
Robinson Kimbolton also provides its own range of excursions. Its fleet tends to remain on these shores, despite having an international licence. "We are busy enough here," Charles said. "And there is a lot to get involved with in travelling abroad, different requirements for different countries.
"We don't do much on Sundays and we don't do an awful lot of work at night."
It runs an 11-strong fleet and has an operator's licence for 12 vehicles.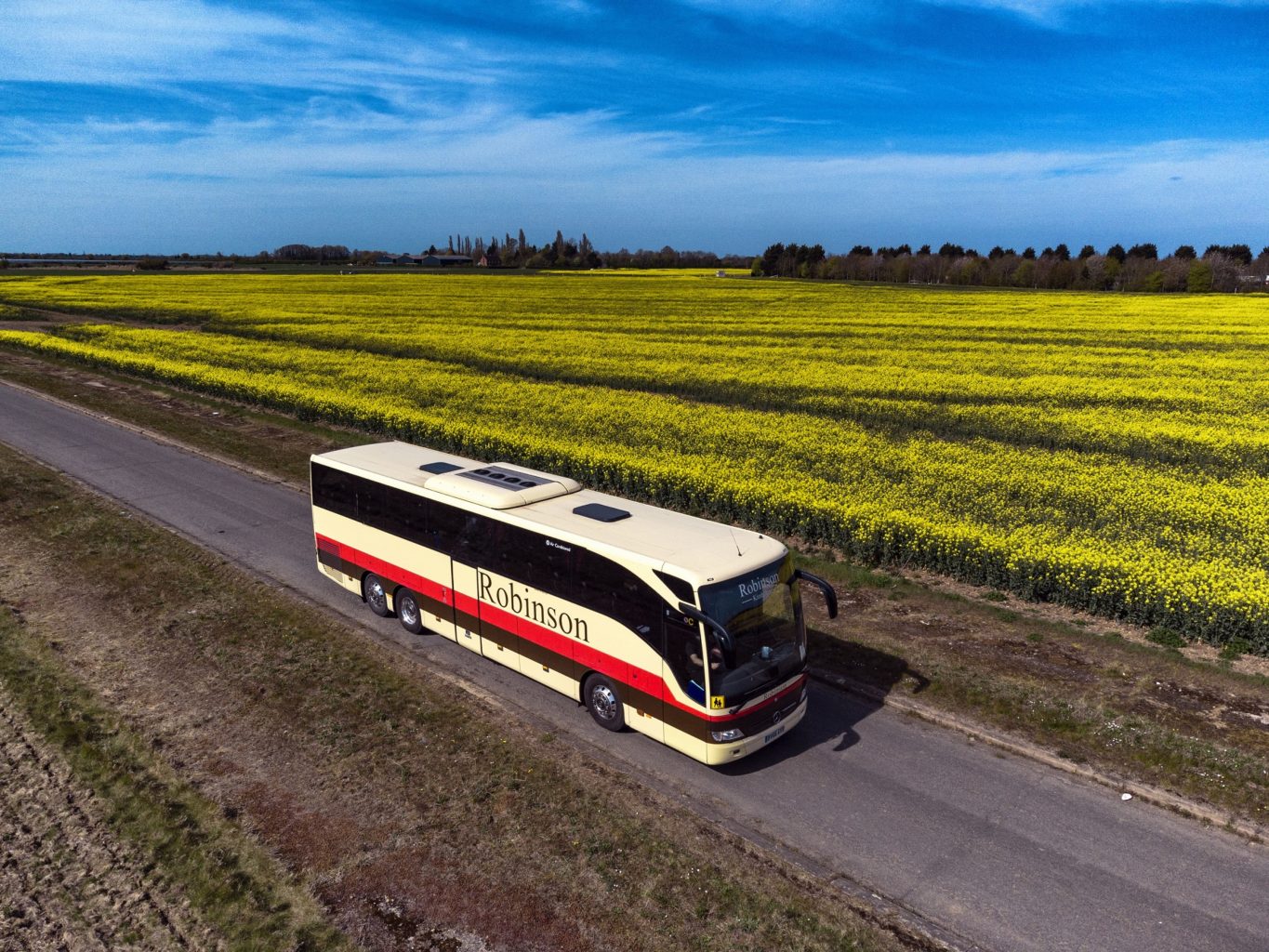 Diversification
Also keeping Charles busy is the family business's Budgens grocery store, which in addition to the coach operation and its garage, is representative of the company's ethos to diversify. Diversification of its business has always been a big part of the company's strategy (see separate panel
on the history of the company for more on the business' heritage). Before the shop, the operator also sold cars, selling Rovers and the previous incarnations of this brand. It stopped being a Rover dealership when that brand was broken up after the '90s.
"Car sales is good fun," said Charles. "But you're working six days a week on it; you really need to do that and nothing else to be able to fully understand the market, to know what is popular and what colours are selling, things like that. We stopped car sales in 2000 and the showroom sat redundant for a while."
The plan at this point was to move premises, relocating to a nearby industrial site with a view of expanding the coach operation. However, it was 2010, just a couple of years after the market crash of 2008, and the market for land was not favourable. "So instead, we decided to stay here. But then along came a friend of mine who owned a petrol station, who introduced me to the idea of opening a shop. After a long negotiation, we started the building process of the Budgens. And it ended up doing well."
The addition of the shop to Charles' business partly saved Robinson Kimbolton from the worst of the financial damage of the pandemic. He said of the effects of Covid-19 on his business: "We were fortunate on our insurance policy and everyone was furloughed, which kept expenses down. We weren't overburdened with HP either, so we were quite fortunate.
"The shop blossomed. I was scared to death when Covid came, but we came out of it OK. That's quite an extreme reason why diversification is quite a good thing."
A stroke of luck also helped it during this tough time. In 2019, the operator looked into investing in a new coach, which would have been a risky move to make if they had known about the upcoming pandemic the following year.
"By luck, we decided not to do it," said Tim Dawes, Coach Manager. Recent additions to the fleet are three 16-plate Mercedes-Benz Tourismos, which Charles said he acquired at 60% of what their market rate should have been before the pandemic due to the current market conditions for used coaches. He believes the diversification of his business is a strong factor behind it being in a position to invest in his fleet.
Charles is pleased with the vehicles he is operating, saying his drivers have some nice motors to drive. He said: "The next vehicle we go for will probably be four or six years old. It might be a Volvo- based Van Hool."
Outside of vehicles, Robinson Kimbolton could also invest in digitalising its business. Charles is eyeing investing in a fleet management software package. This is partly influenced by the use of TruTac's system to manage the maintenance of its fleet, which he says works well. Charles
said the business is just on the cusp of being of a size where purchasing this equipment is a necessity: "If we had a lot more coaches, we would have done it a long time ago."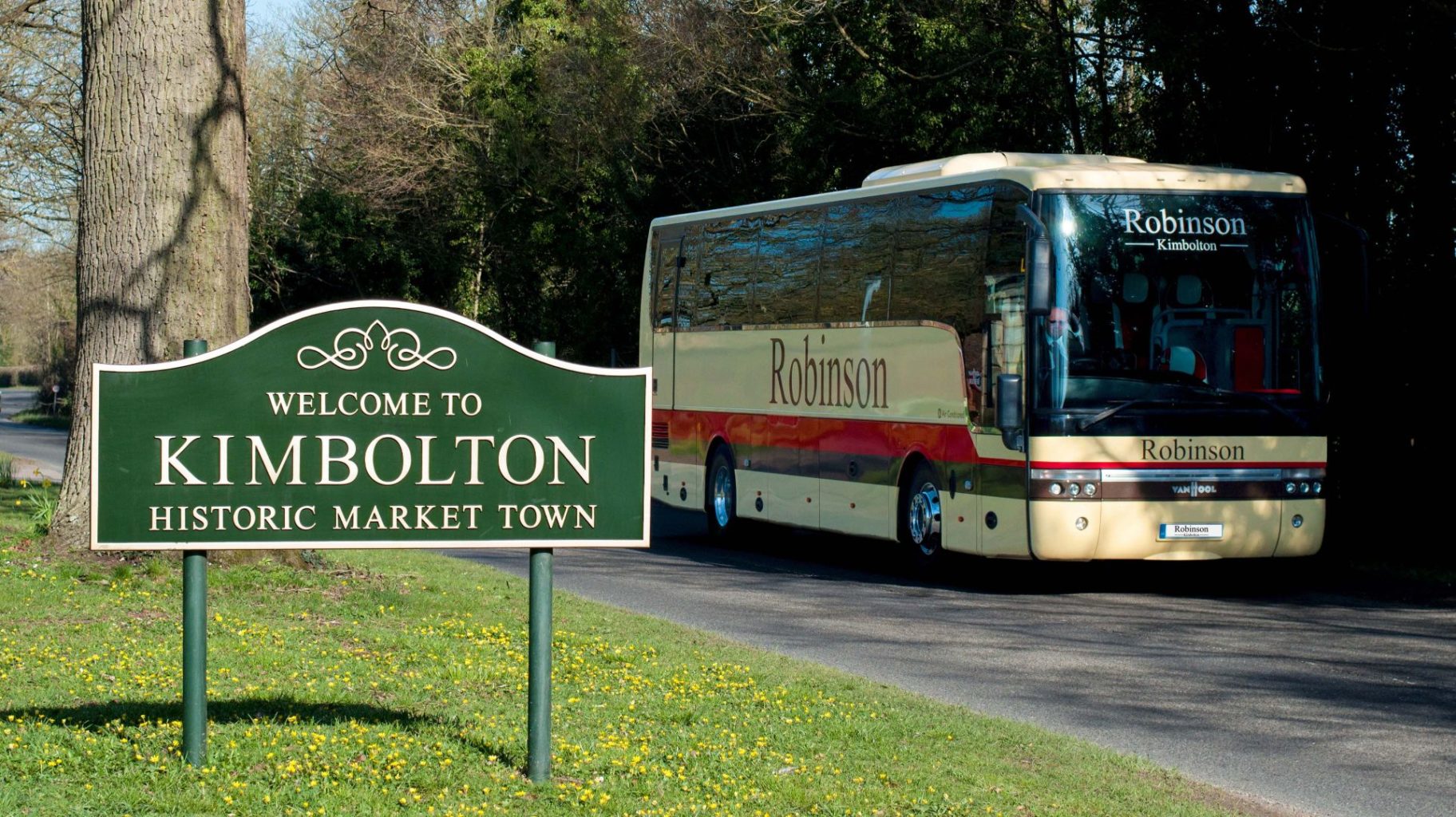 A relatively recent investment is in a wheelchair lift to make one of its coaches PSVAR compliant. Considering the heightened amount of discussion between the industry and government over this issue, Charles believes a reasonable outcome has been reached.
Aside from PSVAR, fuel costs are another issue. Charles said: "We have had to put our prices up; everyone has. With significant fuel prices rises and wages going up, we have got to. We are in the middle of the countryside here, we have to keep in mind some of our drivers come in from a long way.
"But we are probably busier than ever. We have had a lot of enquiries and a lot of new customers. I don't want to get complacent, but last summer was the busiest one we have ever had.
"I think behind it is schools bouncing back and everyone wanting to go on a trip after the pandemic. There are also a few less operators around, so there is a shortage of coaches; but I don't think that will last forever.
"We are back to pre-Covid levels. But you can only be so busy, you can't do the work 24 hours a day. Once you're full, you're full.
"There is no bonanza in coaching; you have just got to make hay while the sun shines."
On what the biggest challenges in the industry as a whole are, Charles believes the driver recruitment problem is certainly one of them. He said: "It's not just recruitment, it's retention as well. We are not too badly affected here; better than some. It is part-timers we struggle to get."
He says he has had several people put off from working for him part time because they would have to take a week's worth of CPC courses. He said: "We agree that safety is first on the agenda, but some of these CPC courses are not that relevant. We have had a couple who just drove the odd school contract who have not bothered renewing their licence because of the requirement for Driver CPC. It's a big obstacle."
The only reasonable solution to the driver shortage, according to Charles, is for the industry to train them in-house. And Robinson Kimbolton is doing just that, using a third-party training company.
Charles said: "Once they start driving a coach, a lot of people realise it can be quite pleasurable. We do advertise for drivers, but we have recruited drivers by as much as having a conversation with someone and happening to mention to them to try driving."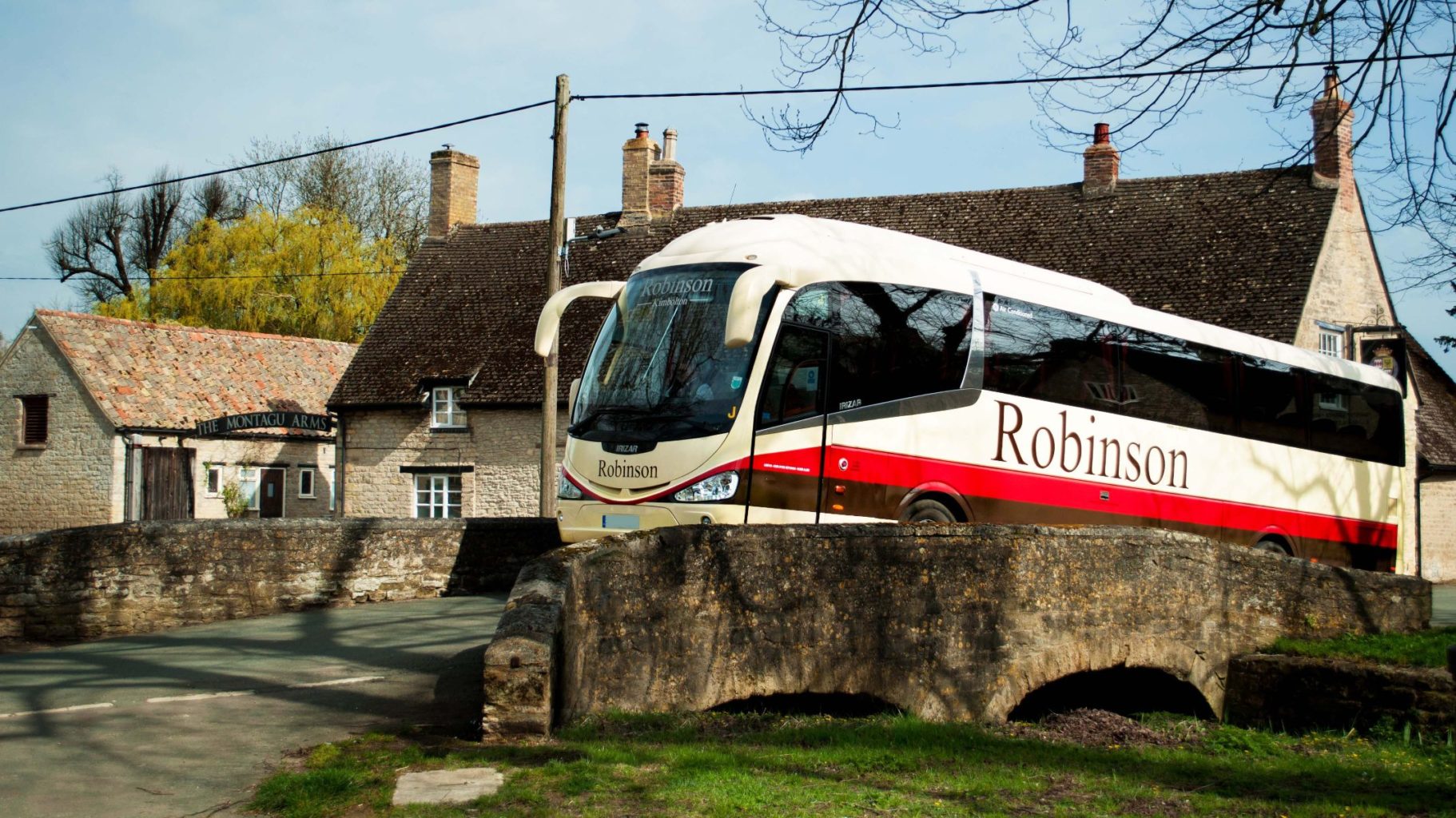 When asked what he expects the future might bring for Robinson Kimbolton, Charles is aware that there can be surprises: "Well, 12 years ago if you would have said I would be a grocer, I would have laughed. We are always looking for new ideas. We would be happy to invest if we think it would work. But I've not seen a lot at the moment.
"If I had expanded in 2010 instead of taking on the shop, I think I would have gradually doubled the size of the fleet. Here, we are limited by the workshop size. If we were to take a step, it would have to be a big step. But you never know what is around the corner.
"Maybe our kids will take over. One is in sixth form and the other at university. But they are not under any pressure to come into the family business. Hopefully we are here in another 80 or 90 years and we will see some solid, steady growth."
History

Founded in 1927 by Stanley Robinson, the company began life as a repair garage, with Charles explaining his grandfather would fix anything with wheels, from cars to wheelbarrows. At the time, the main road running through Kimbolton was the busy A45 (now the B645) and was a much more bustling place, according to Charles, providing a stop-off for many long-distance journeys heading in all directions. Going back even further, it was a major stop for horsedrawn coaches. It was not until after WWII that the business got into coaching. It provided transport for students attending the Kimbolton School who came in by train, carrying them from the train station that at the time operated nearby. The school then asked the business to provide more transport routes for the children, which saw it grow further into coaching. It was during this period, in the '50s, that Charles' father, Colin, joined the company.

The family company also had a car dealership, starting with Austins and Morrises. It supplied British Leylands, providing this marque all the way through to its incarnation as Rover and until the eventual collapse of that brand.

Like many British operators in the '50s and '60s, it expanded its fleet with mainly Bedford-based vehicles, with Duple bodywork a firm favourite. Many of these were bought new. As the years progressed, Plaxtons started joining the fleet. In the late '70s, the next generation of the family joined the operator, with Charles helping out.

From the early 90s onwards, a slew of Dennis Javelins entered the fleet, with a selection of bodywork from Plaxton, Berkhof and Duple. Charles said Volvo-based Van Hools turned into a preferred vehicle for the company, but the operator has since shifted to run a number of Mercedes-Benz coaches, with three Tourismos taking their place alongside an Irizar i6 and Van Hools among others.

Charles said: "We would have stuck with Volvo-based Van Hools, but the only thing is we are limited for height in the garage; we can't go over an Alizee's height. The Tourismos were not too high and seemed very reliable and had good mechanics."

The fleet used to be parked along the streets of Kimbolton and at its main site, but since 1984 are now kept in a yard two-minutes' walk away from the shop, offices and repair centre.