Heading skywards
The Bath Bus Company's foray into airport express services from the historic city may seem a leap from the open-top sightseeing which has made its name. But it's been a run(a)way success…
Growth of 20% year-on-year for The Bath Bus Company's Air Decker service to Bristol Airport shows no sign of slowing down.
The service which started almost seven years ago to connect Bath with the airport has just added two new MCV eVoSeti 'deckers to the fleet, on a six-vehicle PVR. But its beginnings were much humbler, Bath Bus Company MW, Martin Curtis, told Bus and Coach Buyer.
"I was a member of Bath Tourism Plus, which promoted tourism, and started looking at the airport. There was no service, whether car, bus or train, that was easy from Bath," he said. "So we made a number of trips to establish how easy it was, and looking at the signposting to look at improving clarity.
"At the time, the A4 was being developed as a Quality Bus Corridor, and we quickly realised that the best route wasn't the most direct. So we started looking at using bus lanes, the ring road and returning on the A38 and we believed we could make each journey in just over an hour."
Martin and his team then began planning a high-capacity service – the first direct bus link – in conjunction with the airport: "I announced the new link at a tourism conference locally, and it was greeted with rapturous applause. We quickly flooded tourism businesses and hotels with leaflets."
Bath Bus Company also runs open-top sightseeing in the city – famous for the Georgian crescent terraces and the Roman spa – and placed marketing in the buses to further publicise the new, A4 Air Decker link.
The route takes in Saltford, Keynsham and South Bristol before reaching the airport. It's a half-hourly frequency from 0700 to 2100, then hourly through the night with a two-hour gap from midnight until 2am. Timetabled journeys have been 'tuned' to reflect typical traffic density, with some peak-time runs adding 30 minutes to the journey.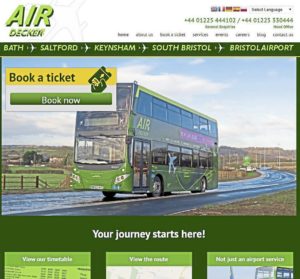 "It worked from day one. The growth has been phenomenal. Passenger numbers have risen every year by as much as 20%, and last year we carried 400,000 people," said Martin.
Part of the reason for its growth has been the growing importance of Bristol Airport, Martin says: "The airport has grown, and we have worked really closely with it. What was unexpected was that we thought the main market would be tourist, but since the service started, we have found that it has been used by people who commute by air or visit relatives. We had no idea there were so many.
"It's also proven to be an important employment link, with working people using the service including flight crews. It's also used in the reverse direction, into Bath, by commuters. Students travelling to and from university use the service. The final passenger element is OAPs on concessionary passes, who took to us because of our focus on customer service – not pulling away until they have sat down, for example."
The buses
When launched, the A4 Air Decker service was run with three ex-London United B9Tls refurbished and fitted with tables.
"They served us extremely well," said Martin. "Most have been withdrawn now. We then bought a Volvo demonstrator then started buying new buses – we have had five so far.
"Two were MCV-bodied Volvos, then we took a Wrights Gemini, then another MCV. MCV have proven perfect. We have visited the factory in Egypt – it's enormous. But even so, they have met the specification we wanted every time. There's a slight price advantage but above that, the styling is good and MCV has no problem when we request odd adjustments."
The adjustments have been perpetual, with layout tweaks brought in to help airline passengers stow luggage quickly and safely without conflicting with other passengers. Much of the seating upstairs is tabled. The buses have next-stop announcements and information screens but, more importantly, the ticketing has just gone contactless.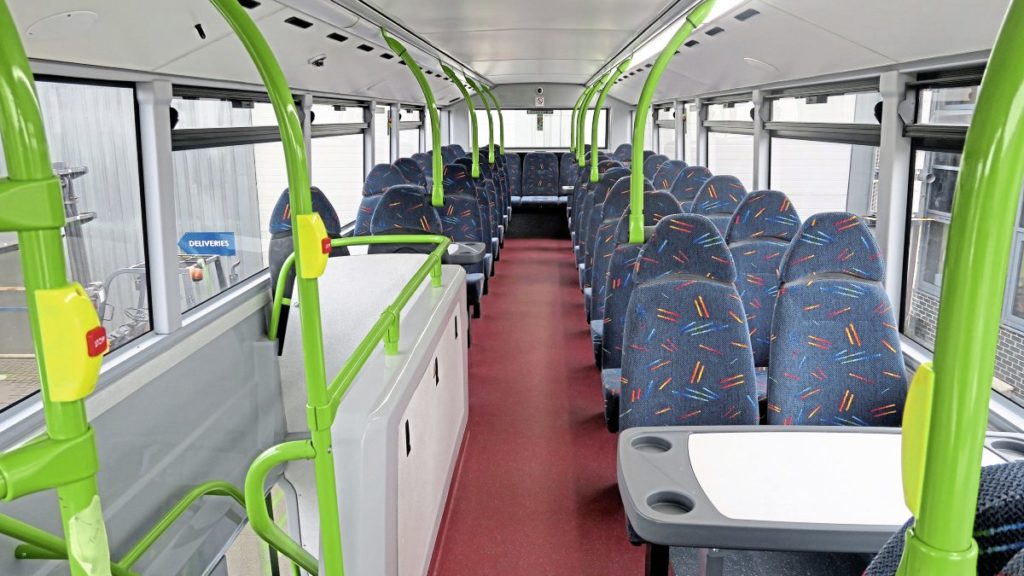 Bath Bus Company has chosen Ticketer to supply the system which is funded by the West of England Combined Authority: "To be frank, we had fallen behind a little on this. The uptake was instant, with 20% of tickets contactless within the week, and the proportion is growing."
On-line sales are supreme among students, who take this option and scan a QR code to board: "It's also interesting that a lot of passengers are using a bus for the first time in years, and we think go on to consider buses for other journeys, popularising buses rather like Park & Ride can."
Fares have been pitched shrewdly to beat all comers, at £15 single, £20 return for the Bath-Birstol Airport journey, and £11 and £16 from Bristol. Students and seniors get a discount, and children pay £9/£12 and £7/£10 for the single/return journeys from Bath and Bristol, respectively.
"The fares are highly competitive with taxi, train and with car, especially as cars have to pay to drop people off," said Martin. "The train in particular might involve some walking [there is no rail station at Bristol Airport] and all the buses into Bristol Airport stop right outside the departure terminal."
In terms of cash flow, Air Decker has been a major boon for Bath Bus Company, and not just in terms of turnover and profit margin: "When we started it, we thought the peaks would mirror those of the open-top service – we thought it would be about tourism. The surprise is that the biggest peak is Christmas and January, which very nicely balances the open-top tour season starting at Easter."
Co-operation
Co-operative working with the airport has been essential throughout the process, Martin says.
It is perhaps fortunate that Martin can liaise with Paul Baker, a former council transport executive now the Surface Access Strategy Manager for the airport, with whom he has a very good working relationship.
The airport has real-time information boards for the many bus and coach services, such as the Bristol Flyer, using it and under consideration is a new coach and bus terminal, very close to the departure terminal. Currently, the airport handles 9m passengers a year but is planning to grow to 12m passengers and, with that, develop its public transport offering.
"All operators into the airport meet regularly with the airport management, with parishes nearby included in the discussion."
Customer focus
Martin maintains that superior driver training and a team which cares shines through on the service.
Martin's background goes back to Badgerline but Bath Bus Company's long association with open-top sightseeing in Bath straddles vehicle operation and tourism, both of which Martin says have been invaluable in building the Air Decker service.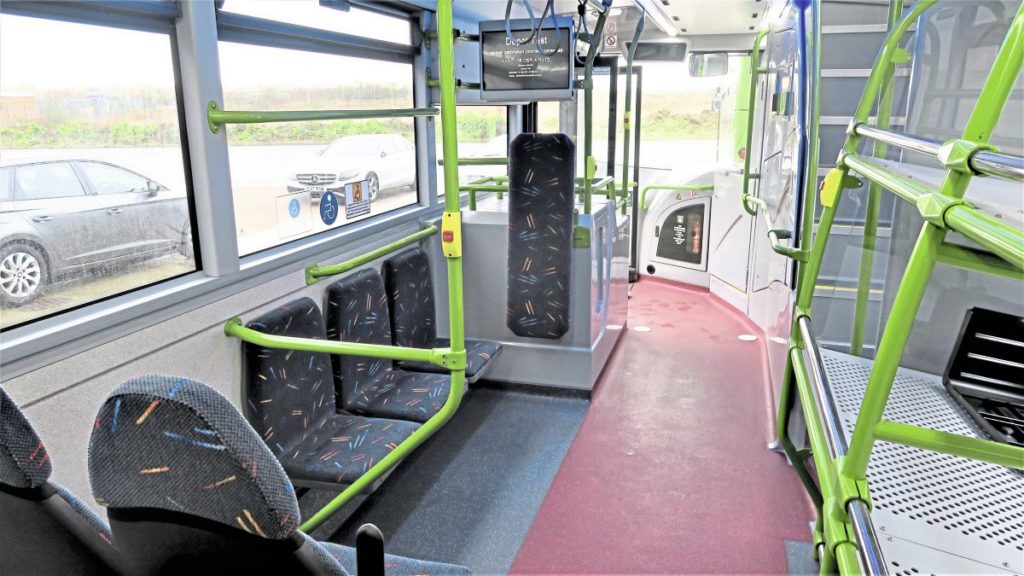 "We think of ourselves as bus operators who run open-tops. To run services you need to be recognising the significance in residential areas, tracking new developments, and ensuring you can make contact with residents. Our services are drawing on both bus and tourism expertise," he said.
"It's about making sure people know we exist, and in our case cross-marketing to improve visibility." That visibility includes a stop right outside Bath Spa railway station, which itself has an information centre to harvest passing trade.
One unplanned marketing coup is that the Air Decker service runs alongside the Bristol-Bath rail line for a couple of miles, and the buses are visible from the train. Liveried with an immense 'jet plane' motif complete with vapour trail, there is no doubt in any train passenger's mind what the service is offering.
He also paid tribute to his Marketing Manager, Vikki Annett, whose talents extend way beyond her remit to include having a perfect memory for driving staff rotas: "Vikki has become indispensable – such a talent," said Martin. "But we are just a small office team of seven, with a remarkably small budget, and we all have to do what needs to be done. I'm perfectly happy driving or delivering leaflets.
"This also means that we are very close to our market, and know what works."  Martin Curtis
"We're always on the look-out for anything new."
Final word
It's no surprise that, although part of the French RATP group since 2011 – with sister companies in Paris and, of course, The Original Tour in London – Bath Bus Company seems to get a great deal of autonomy. Martin has seen off some local challenges, many directed at open-top touring in the high-brow Bath environs. One by one, competitors have fallen away, and Bath Bus Company has upped its game with a succession of smart vehicles and the development of multi-lingual commentary alongside live guides.
Air Decker is typical of this approach, dealing with each snag pragmatically and practically, and focusing on quality instead of quantity, because the former happens to deliver the latter.