Green alternatives
Electricity is just one fuelling option when it comes to running a sustainable fleet, but let's not forget there are more ways to lower emissions.
Is the future electric? With the government announcing funding for the UK's first all-electric bus town, the focus does seem to be on shifting to electric power for the UK's PCV fleet. However, there are more green options for fuelling buses and coaches that are just as viable as plugging them in. We look at what these are and the benefits of them, while not losing sight of electric PCVs.
Diesel's not dead – RWT
Before delving deeper into running vehicles on green power sources, let's keep in sight that diesel is not dead, at least not in the very short term. Euro VI is already significantly cleaner than older engines and let us not forget the familiarity technicians have with diesel engines compared to other power units.
CAZs and the ULEZ can be seen to have given a requirement to speed up the deployment of these vehicles across the country's bus and coach fleet. But replacing a fleet of coaches for their brand-new, Euro VI equivalents to meet low emission zone standards is simply not an option for most operators. So one solution to avoid charges in these zones is to upgrade coaches already in the fleet.
RWT Commercial Services' Bob Turnock certainly advocates this. RWT works with Baumot, providing an installation service for the emission abatement equipment manufacturer's DPF systems.
Bob believes the emissions abatement equipment regulations should be governed better. He also believes the accreditation system for exhaust systems should be more streamlined: "There should be a PEMS test and then move on. We are making it very expensive. The whole thing is ridiculous at Millbrook. I think in some respects, exhaust manufacturers shouldn't be working with the government."
RWT provides a DPF cleaning service. It is something the company takes seriously, with Bob saying: "One of the issues people are not thinking about with this is the EGR manifold. It has soot and particles going through it. We have a Euro VI Scania and we are doing an exhaust clean on it. Before taking the exhaust off, we put a hydrogen cleaner through the engine, which cleans the engine, EGR, turbo and injector valves. Then we will change the DPF. That keeps it nice and clean.
"We are focusing on this because I consider diesel engines to get a bad press. They are clean, especially when you consider a Euro VI coach."
Bob is particularly keen on improving air quality: "Back in 2013 I wrote an article for a local newspaper. I was saying back then what people are saying now about clean air. I turned around and said: 'Are the lungs in London more important than the lungs in the provinces?' I was just ignored and told it was not particularly newsworthy. Now every man and his dog knows about it. But we have known about it for years. And now we've got the greens going overboard about it now."
He was scathing about lithium ion batteries, as used on electric PCVs, highlighting the potentially poisonous nature of lithium: "It's mined in South America, where they have lithium lakes develop where South Americans paddle. Are South Americans' lives not as valuable? Is that fair?
"Yes, we need to clean up our act. And there is lots of things we need to do. But stop penalising the diesel engine."
Electricity is not the answer for long routes, he claims: "How would you run a National Express service from Glasgow to Penzance on electric? You would need a hell of a long extension lead. An ideal solution for long haul is hydrogen. Hydrogen is the cleanest you can do.
"I'm not against electric vehicles, but you have got to be honest and say how clean electric is. It's clean at the plug, but it will never be fully clean until we rid the planet of fossil fuels."
Clean emission zones do not escape his ire: "We now have the LEZ around the M25. So has anybody talked to God and told him he can't allow the wind to blow east or west over the city so that he doesn't blow the emissions from elsewhere over."
Eminox has solutions
Eminox already has solutions accredited for upgrading Euro V Volvo B9 coaches and Mercedes-Benz Tourismos to Euro VI. The first of its emission reduction systems for Tourismos is in use with Hearn's Coaches in London.
A spokesperson from the company said: "Uptake is slow in the coach sector, we would have expected more coach operators to have decided on their compliance options at this stage. Even for those planning to make the investment later in the year, we would encourage planning ahead – establishing whether there is a retrofit option, choosing a supplier and understanding their lead times.
"We are expanding our coach range and are expecting to receive CVRAS approval for Volvo B12 and DAF MX-13 and PX-9 engined Van Hool coaches soon. We have allocated more engineering resource to develop further coach systems prior to the London LEZ changes. Which developments go forward will be determined by the demand from the coach market.
"Some operators are proactive on this, we've been able to let them know what's already in our development plan (and what isn't) and where there is significant demand for a vehicle not in the plan, we are responding with changes to our development priorities. Unfortunately, these proactive operators seem to be in the minority at the moment."
Excalibre and Irizar team up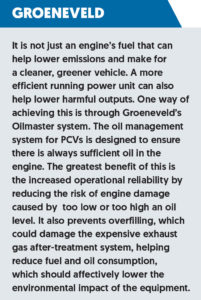 Irizar (UK) is appealing to owners of its DAF-based Integral coaches with Euro V engines to get in touch so that it can package retrofit options.
The Worksop-based importer has available exhaust treatment kits from Proventia and from Baumot for coaches built with DAF's PR265 and MX300/340 Euro V engines, and is hoping that a plan to retrofit back-to-back for its customers could give a significant cost saving.
"The Proventia retrofit engineered for South East Coaches by Excalibre Technologies is being checked for performance currently, while another option, from Baumot, is being tested at Millbrook, with initial results looking optimistic," said Julie Hartley, Irizar (UK)'s Sales Director.
"We feel we will very soon be in a position to offer this retrofit option, and our plan is to retrofit and register our own used stock, which we believe will improve residual values of our customers' vehicles, as the coaches will then be ready for the LEZ extension, and for the Clean Air Zones planned for many UK cities.
"Operators will then, of course, be able to avoid paying emissions fees but, perhaps more importantly, will have peace of mind knowing that they have more flexibility, and will eliminate the possibility of 'accidental' entry into the zones, with a subsequent fine," she added.
Alliance retrofits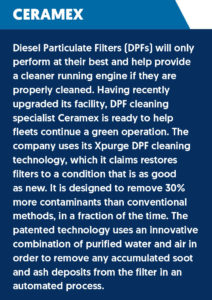 Aftermarket solutions supplier, Alliance Transport Technologies, has been selected to retrofit selective catalytic reduction (SCR) systems to more than 500 buses across the UK, working with an emissions control partner HJS. This follows successful emissions control projects in London, York, Sheffield and Southampton.
The SCR systems work by utilising emissions control technology to inject AdBlue through a catalyst into the exhaust stream of a diesel engine. Speaking about the projects, Stuart Raikes from Alliance, said: "The emissions control retrofit programme is a prestigious and important project and one that we're very proud to be working on. It's great to be able to demonstrate how we are making UK city's buses less harmful to the environment by improving their emissions control capabilities. This is an ongoing programme and we're committed to helping support the whole air quality initiatives.
"We can fully refurbish AdBlue dosing pumps at a fraction of the cost of purchasing a brand-new replacement part, offering options to operators when it comes to fleet management."
Cummins marches on
A march towards cleaner, greener engines is being taken by engine manufacturers. Cummins has done so with its new X12 engine, which has up to 480hp for powering full-size touring and intercity coaches. Certified to the stringent Phase-D stage of Euro VI regulations, design features include techniques to minimize friction losses and a weight-saving sculptured engine block. The result is a fuel-saving 11.8-litre engine, weighing in at under 920kg, but with the heavy-duty strength and uncompromising on-road performance required for 12m to 15m high-deck coaches.
Substantial weight savings are also achieved by using high-strength composite materials for the oil pan and valve cover. A key design approach with the X12 was to minimise friction losses throughout the engine, including the water pump, gear train, lube system and power cylinder.
The XPI fuel system on the X12 is derived from the more powerful X15 engine, with Cummins injection technology enabling smooth and rapid engine response to increasing vehicle demands, while minimising fuel consumption.
The X12 is a next-generation evolution of Cummins 12-litre Euro V engine, featured in coach applications worldwide as the ISG12. The Euro VI engine takes advantage of Cummins latest U-module compact box aftertreatment with integrated AdBlue dosing, providing a more simplified vehicle integration. Active regeneration of the aftertreatment is reduced to a minimal level and service cleaning intervals are extended.
The EGR-free X12 lowers heat rejection by around 40% compared with that of similar engines using cooled EGR, allowing the full power potential of the X12 to be realised while meeting Euro VI Phase-D. No EGR means a lower combustion temperature and less to cool, which helps to reduce the vehicle integration effort and cost.
Gas an option – Roadgas
Gas is also another option for powering PCVs. Roadgas is aiming to make gas an even more viable source by introducing leasing options for the relevant infrastructure equipment. Becky Rix, the company's Marketing Director, emphasised that biogas is a completely renewable resource, unlike our current electricity supply.
Roadgas offers options to either lease or buy capital equipment which allows small to large  operators work out the best solution for their business going forward.
David Rix, Roadgas Managing Director, said: "The capital investment required to support the introduction of biogas into a fleet of any size is significant and that is why we have developed a range of financial options to help Transport Fleet Directors and Managers transition to the use of gas as an alternative fuel."
Nottingham City Transport (NCT) is leading the way with this form of fuel, with First, Go-Ahead, Stagecoach and Reading Buses all operating some gas buses.
Although Roadgas can happily supply gas to operators, Roadgas Marketing Director, Becky Rix, said the company is not looking to supply gas contracts. It is the installation of the equipment and ongoing monitoring of it that the business is focused on.
All of Roadgas's station solutions are bespoke. Also important to note is that gas stations can be relocated, as they are not permanently fixed in a depot. Good news if an operator relocates.
An advantage over electric with gas-powered vehicles is the speed of refuelling. Electric buses often require charging overnight, while a gas bus is restocked with gas in a similar way to its diesel equivalent, spending roughly the same time at the pumps.
Zenobe – exciting times
"These are very exciting times," said Steven Meersman, founder of Zenobe Energy. "It seems bus and coach is at the centre of achieving the low carbon solution. Public transport is being recognised as a key opportunity to lower emissions. And we at Zenobe are very much a part of that."
Zenobe Energy provides an intelligent power management solution for electric bus and coach applications. It lowers the risk to its clients by eliminating the upfront capital cost and providing what is called electricity storage as a service. It installs, maintains and operates the energy storage equipment at a client's depot, providing a range of solutions for fleet operators. If required, the company will own and operate batteries in the depot, smart charging infrastructure and the batteries on the vehicles. This gives the customer a pence per-mile service fee or a fixed monthly charge.
Its equipment allows energy to be stored up during the day from the electricity grid while buses are out of the depot working, building up a surplus ready to be used when the vehicles return to the depot in the evening.
"It's not just about lowering emissions, it's about making it sustainable," Steven said. "We offer a managed service. It means just one party responsible for delivering the vehicles' charge."
It works alongside the government's Ultra-Low Emission Bus (ULEB) grant, helping the available grant finance go further.
The solution reduces the cost of investing in infrastructure. There are no issues when moving depot, the equipment can be moved between sites in the event the operation relocates.
Steven highlights an upcoming scheme whereby there will be an extra cost to connecting up to the grid. Zenobe aims to keep the grid connection times minimal. Steven said: "We make the grid connection as small as possible."
Last year, Zenobe secured a £25m debt facility from Santander to support the continued growth of the company. This follows the successful £35m of equity raised from JERA Co Inc and TEPCO Power Grid Inc.
Siemens – electric financing
The challenges facing the UK and Europe to develop sustainable clean transport options requires the deployment of technologies and solutions that integrate with existing infrastructures, according to Bernard Magee, Future Grid & eMobility at Siemens. This creates difficulties with charging practicalities, grid demands and financial challenges.
The full-scale electrification of buses is going to take large amounts of electrical energy, Bernard notes, and doubts have been expressed over the grid's ability to meet the demands for public transport. Supplying an electric fleet of buses with energy creates significant pressures, particularly during periods of high demand. Solutions and smart charging management software can shift charging loads to specific times and energy storage systems and off-grid green energy options can compensate for the rise and fall of demand.
Bernard highlights the move to an electric future offers many benefits but requires substantial financial investments. Even with the cost of batteries and chargers gradually declining, the upfront costs of most e-buses will be substantially higher than their internal combustion engine (ICE) equivalents. While this disparity is reversed after acquisition, the financial barriers go beyond acquiring a new bus fleet. At present only 1,600 technicians nationwide are qualified in electric vehicle and hybrid maintenance, according to Bernard. And they are almost exclusively employed within manufacturers' dealer networks, which has a knock-on effect for the cost and convenience of repairs.
Bus operators face major challenges to invest in a charging infrastructure to support electric fleets, Bernard notes. This demand has seen a surge in innovative financial collaborations between energy companies, operators, manufacturers and cities and councils to help minimise risks and spread costs along the supply chain.
Bernard said: "A finance model can take into account the total cost of ownership (TCO) of a fleet, including its maintenance and associated infrastructure; outlining all the capital expenditure, operating expenditure and any financing cost. Packages can cover an 'end-to-end' solution, capturing everything from vehicles to charging points and infrastructure.
"There's still an enormous amount of work to do that is going to need the coordination of multiple agencies, Government policies, industry bodies, energy and transport planning and financiers, but once all the correct infrastructure is in all the right places then the prize on offer is a sustainable clean transport future."