Goodyear launches new low-emission tyres
Goodyear is launching a new tyre designed to maximise efficiency and prepare for the future of city buses.
Acknowledging the transformation of the city bus market, with greater focus on electrification, Goodyear is releasing the URBANMAX MCA HL+ tyre. Based on the URBANMAX MCA design, the new MCA HL+ is adapted to support additional battery loads while enhancing lower energy consumption. The technology in the tyre, which includes a new tread compound, design and construction, supports the need for operators to reduce CO2 and noise emissions, particularly in densely populated areas. It is an all-position tyre with high-load structure enabling an eight-tonne axle load capacity required by modern electric or hybrid buses.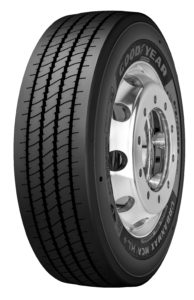 The new range is fit for all-season operation and has a 3PMSF sidewall marking related to its responsiveness on snowy and icy surfaces. Goodyear has integrated RFID tags to allows simple identification and connectivity to tyre management and tracking systems, further streamlining tyre management. The full range is also compatible with the Goodyear Retreading program.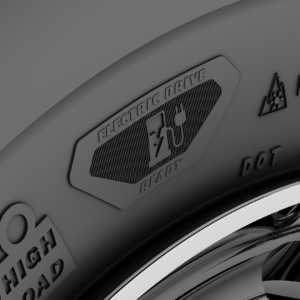 The URBANMAX MCA HL+ has a tread design with optimised rib layout to ensure even contact pressure distribution, shoulder robustness and stress reduction. Its low hysteresis tread should ensure cool running capabilities reducing heat build-up or energy loss and offering good wet grip for high traction at poor weather conditions. Its Flexomatic sipes close when rolling through the footprint so that the tread blocks interlock. This makes the tread stiffer and more robust while still maintaining high traction in more challenging weather conditions. Incorporated Interlaced Strip Technology is designed to assure less deformation in the carcass and creates a uniform pressure distribution across the footprint.
URBANMAX MCA HL+ has a reinforced sidewall and will protect the tyre to the higher impact risk within the urban environment. Wear indicators indicate the remaining thickness of the protective layer and when the tyre should be reversed, effectively giving it a second life.
"Our aim is to support bus fleet managers in lowering the carbon footprint by driving energy efficiency with low-emission tyres as well as smart tyre monitoring systems" – Maciej Szymanski, Marketing Director Commercial Europe for Goodyear
Maciej Szymanski, Marketing Director Commercial Europe for Goodyear, said: "Bus operators are under increasing pressure to meet environmental targets whilst adapting to changing trends in urban mobility. Goodyear's focus is to simplify the move towards a climate-neutral future by providing the technologies to win in a fast-changing environment for personal mobility. Our aim is to support bus fleet managers in lowering the carbon footprint by driving energy efficiency with low-emission tyres as well as smart tyre monitoring systems."