Go North West go recruiting
Manchester-based Go North West is running a series of Recruitment Roadshows. The events are designed to connect Greater Manchester jobseekers with the bus industry.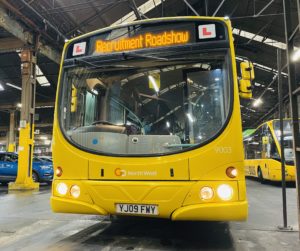 The Go-Ahead-owned company's yellow Driver Academy bus will be on hand with prospective applicants able to try sitting in the driver seat for the first time, along with experts the company's training, operations, driving and management teams available to speak to about careers at the company.
Applicants will also be able to fast track their applications at the Recruitment Roadshow events, with priority interviews guaranteed for attendees who meet the relevant criteria.
The first three Recruitment Roadshows will take place on Friday 22 October at Manchester Fort Shopping Park, Friday 29 October at Old Trafford Football Ground and Friday 12 November at Ashton's Snipe Retail Park. More tour dates and locations throughout October, November and December are expected to be announced.