Go-Ahead to trial Equipmake's Jewel E electric decker
Go-Ahead is to trial the Jewel E electric double-decker, a vehicle built jointly by Equipmake and Beulas.
The bus is due to be trialled in Go-Ahead's London operations in the first quarter of next year.
Equipmake's development team has worked closely with Go-Ahead London's Engineering Director, Richard Harrington, and his team of experts to meet the TfL's 2024 specifications.
The manufacturer has collaborated with a range of suppliers to integrate the most advanced technologies, guaranteeing the Jewel E's ability to meet even the most stringent requirements. Companies including Sure24, Forman, 21st Century, and McKenna have supplied systems such as cameras, intercoms, induction loops and destination displays.
The Jewel E is powered by Equipmake's Zero Emission Drivetrain (ZED), which the Norfolk-nased manufacturer says transforms zero-emission bus operating capabilities. Designed and developed in the UK, the ZED offers operators three modular battery pack options of up to 543kWh, which the company says is the largest capacity battery of any two-axle double-decker electric bus in the world. This delivers an electric driving range of up to 300 miles. Equipmake says its modular design gives operators the flexibility to scale the amount of battery throughout the life of a bus future-proofing it for a range of routes and distances.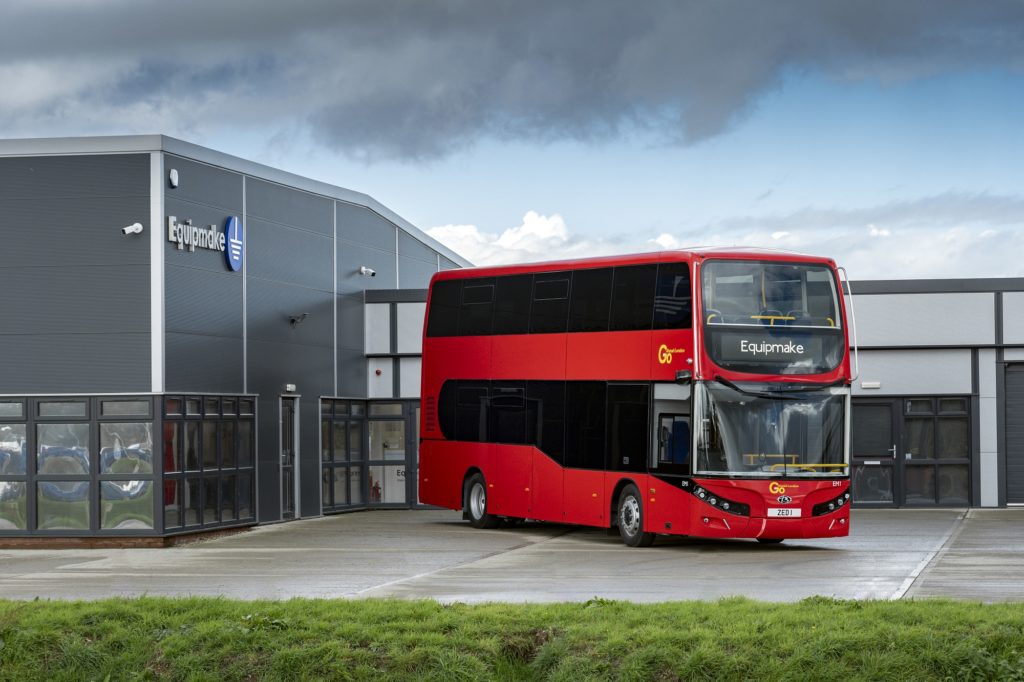 The Jewel E ZED chassis features Equipmake's HTM 3500 electric motor, which has been seamlessly integrated into the prop shaft without the need for a separate transmission. The motor is precisely engineered to meet the demanding requirements of a fully laden double-decker bus by producing 3,500 Nm torque at a motor speed of 1,000rpm and delivering 400kW maximum power. A Semikron SKAI inverter converts DC charge from the battery to AC charge to drive the HTM 3500 electric motor.
The Jewel E is set to be manufactured in 2022 at an all-new facility in Norfolk. The vehicle body is produced by Beulas in Girona, Spain. The vehicle chassis has been specifically designed for the Equipmake Zero Emission Drivetrain (ZED) by Agrale in Buenos Aires, Argentina, a truck and bus chassis manufacturer established in 1962.
Equipmake's Zero Emission Drivetrain (ZED) is soon to be trialed in single decker form on the streets of Buenos Aires, Argentina.
Richard Harrington, Engineering Director, Go-Ahead London, said: "What makes the Jewel E even more exciting is that it is one of the first EV bus to meet the new TFL bus safety standard specifications and requirements for 2024, which is a key advantage for our passengers and drivers and the public."