Focus on Fishwicks Fords
Rob Orchard looks at the latest Ford Transit offerings from David Fishwick Minibus Sales.
Virtually every operator in the country has one in their fleet and many of today's major operators started out by using the ubiquitous Ford Transit. It just seems to have always been there. It still is, but today's Ford Transits are a very different vehicle than the erstwhile 'Builder's van with windows' of days gone by.
In the same way that the Transit has been a staple in fleets all over the country for years it has also been a key model for coach dealers, none more so than Colne, Lancashire-based David Fishwick Minibus Sales. I recently visited it to see the latest offerings from this important manufacturer.
In many ways the latest versions of the Ford Transit are as sophisticated, certainly in specification terms, as their more familiar contemporaries the Mercedes-Benz Sprinter, VW Crafter and the Iveco Daily.
It might be fair to say Ford has been a little slow sometimes to react to the advances in vehicle technology and changes demanded by operators of minibuses, which has seen its contemporaries move ahead of them. That seems to be changing and changing quickly. Indeed, since the introduction of the Mk 8 in 2014 they have paid a lot of attention to raising the standards of the specification and the interior fitments. Ford has always been concentrated, probably for good reason, on its core product the ubiquitous white van but recent changes show that even here, customers are becoming more demanding in what they expect from Ford. I've always been somewhat frustrated by the Ford approach. They clearly have the technical skills within their massive organisation to have developed the Transit range further particularly in areas like heavier gross weights and we are we still waiting for a max weight Transit with automatic transmission?
However, the latest Ford Transits impress. They are markedly improved vehicles and there are even very strong whispers that it is at last looking seriously at automatic transmission variants in the upper weight sector. I hope those whispers turn into reality.
The Ford Transit does have some advantages over its competitors. It is competitively priced, simple to maintain and Ford has a service and parts network other manufacturers can only dream of. A fully-specified latest Ford Transit is still substantially cheaper than its rivals.
The main vehicle in the Fishwick's offering is the top-weight model, the Ford Transit 460 in its largest or Jumbo size: the L4/H3. Fishwicks can also supply the 3.5 tonne Transit with 11/12 seats and the 4.1 tonne Transit with 14/15 seats. The T460 L4/H3 produces a vehicle that is 6.704m long, 2.126m wide (excluding mirrors) and 2.746m high with a wheelbase of 3.750nm and a rear overhang of 1.931m. The GVW is 4.6 tonnes. Power is derived from the latest version of the 2.0 litre Ford Panther four-cylinder, direct injection, common rail, turbocharged diesel to Euro VI emission standards using AdBlue. The engine is available rated at either 130-bhp or 170-bhp. The 170bhp version uses a variable vane turbocharger to give greater power from the same sized engine. It is standard in the Limited and an option in the Leader and Trend models.
The engine is matched to a six-speed synchromesh transmission. Steering is powered and electronic and braking uses discs all round and is again electronic. A whole raft of safety features including lane guard, collision prevention, parking assistance are available. Some are included in base specifications and others are available as options.
Fishwicks produces a range of minibuses using the three standard Ford specifications as a base. These are the Leader, Trend and the Limited. It takes these and carries out interior and specification improvements to make high-quality packages. The Fishwick philosophy is to have a range of vehicles in build all the time. The specifications of these can be changed up to a late stage in the build, so they can be modified to suit individual customer requirements or become highly-specified vehicles available for immediate delivery from stock. This philosophy enables Fishwick to offer immediate delivery or quick turnaround of a wide range of 17-passenger vehicles.
The Leader
Standard engine is the 130bhp version with the 170bhp as an option. Vehicle is supplied with a power-operated, automatic, wide, extra entrance step at the sliding side-entrance door; auto stop-start; ESC, ABS and Hill Start Assist plus EDCC (Electronic dynamic cornering control); Easy Fuel capless refuelling; selectable drive mode; pre-collision assist with pedestrian detection and lane assist. Inside there is a fully adjustable driver's seat; 4.2in TFT monochrome screen with DAB/FM radio, pass connect AUX, USB and Bluetooth connectivity and there are two 12v power points. Cab windows are powered and the screen is heated. Soft trim interior with overhead parcel racks.
The Trend
Same engine options as the Leader. Over and above the specification of the Leader models the Trend has front fog lights; powered, heated adjustable exterior mirrors, rain sensing wipers, automatic headlights with static cornering light; front, rear and side parking sensors; chrome grille surround and privacy glazing in saloon. Inside, the vehicle includes front and rear independent air conditioning; leather trimmed steering wheel; adaptive cruise control; adjustable speed limiter up to pre-set max; reclining seats with armrest on aisle side; 8-inch touch screen, USB ports to offside passenger seats and remote central locking.
The Limited
Over and above the items within the Leader and Trend models the Limited includes the 170bhp engine as standard, Bi-Xenon headlights with LED DRLs and high beam assist and a body coloured front bumper. The side park assist has improved sensor coverage. In the cab a leather-trimmed gear lever and gaiter and a black dash trim with brushed aluminium detail is standard.
Additions
Additions to the specifications listed in the above models added by Fishwick are: re-location of the digital tachograph unit into a housing above the rear view mirror where it can be seen by the driver; stainless steel wheel trims and exterior chrome detailing. The package also includes a reversing camera which is available on the others as an option. A feature of the conversions is the Fishwick designed modification to the wheelarches, which increases internal space and avoids the over-arch seating being compromised.
The dealer also offers other modifications, notably a front drop-step passenger entrance in place of the side entrance; a powered sliding door entrance; stepped or flat-floor wheelchair-accessible conversions; luggage boot (replacing the rear four seats); USB sockets for all seat rows; LED interior mood lighting and high level exterior marker lights; multi-camera CCTV covering inside and outside with SD or HDD recording; entertainment package with wifi. Also available is a PA system.
The prices, including Fishwick's most popular Operators Minibus Conversion on the 17/18 seat variant of the Ford Transit, start from £30,195 for the Leader; from £32,495 for the Trend and from £34,815 for the Limited (excluding VAT) with various other conversion options to tailor the vehicle to your own specifications.
With their immense experience, the Fishwick GM, Mark Barlow and his Business Development Manager, Matt Eames, have produced some exciting packages which seem to have all the bases covered.
And new Sprinters as well
While at Fishwicks' depot I also saw the first of the new Mercedes-Benz Sprinter models that they are offering. Again, their system is to have a range of specifications in build at all times so that they can offer quick delivery.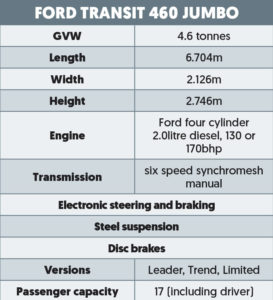 The base model is the Sprinter 516 L4/H2 model which produces a vehicle which is 7.367m long, 2.345m wide and 2.612m high. It is the rear-wheel drive model with twin rear-wheels and a GVW of 5 tonnes. Both 16 and 19 seat versions are available.
It is powered by the 163bhp version of the four-cylinder, 2.2-litre Mercedes-Benz engine matched to the excellent 7G-Tronic Plus automatic transmission. Fishwicks also offers the 190bhp V6 version of the Sprinter. This latter model is available to special order. It does have advantages where more power and torque are required. The marginally inferior fuel consumption is compensated by the high residual value these vehicles enjoy.
The new Sprinter, as B&CB previously reported, bristles with electronic systems including steering, braking and a whole host of safety features.
The conversion design carried out for Fishwicks is a product of their experience and customer feedback. It involves fitting a forward entrance in place of the side entrance; bonded tinted glazing; curtains, 16 or 19 Buckingham saloon seats trimmed in moquette or optionally in leather; soft internal trim; non-slip vinyl flooring; rear bulkhead in luggage space if specified; overhead luggage racks incorporating forced air and reading lights; LED saloon lighting including night-driving settings; Eberspacher convection saloon heater; and roof openable glazed skylight.
Other features are a comprehensive sound and communication system with charging ports, adjustable heated exterior mirrors, leather trimmed steering wheel and gear knob; heated windscreen and heated electrically-operated side windows.
Options include rear air-suspension, LED head and taillights, highbeam assist, fog lights with cornering function; 360 degree camera system; reversing camera, full Eberspacher air conditioning; Brusa seating; USB charging ports; mood lighting and stainless steel wheel trims. Also available are a fully adjustable, suspension driver's seat and full multimedia system.
Fishwick's also offer wheelchair accessible versions, which can have a stepped-floor conversion providing 16 seats and up to two wheelchair spaces or a fully flat-floor conversion with 16 seats and up to five wheelchair spaces. Wheelchairs are loaded through the rear doors using a PLS tail lift.
From my observation the quality of the conversion is very high and Fishwick's offer a really high-quality package.
Prices for the Fishwick Sprinters start at £56,995 for the 16-seater and £58,495 for the 19 seat version. Both prices are excluding VAT.