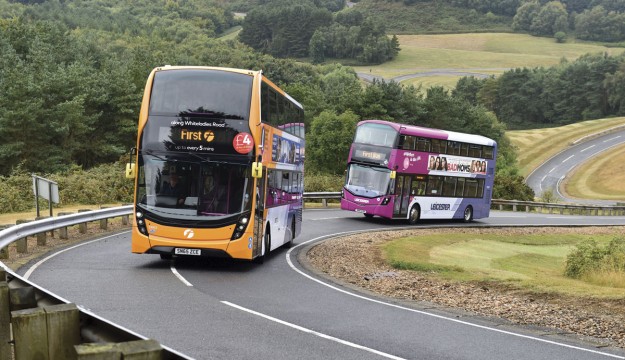 A further 10% improvement in both fuel efficiency and carbon emissions is being sought by First Bus in its latest round of testing at Millbrook Proving Ground
The operator spends most of August testing the latest bus technology in its pursuit of operating cleaner and more fuel efficient vehicles. Wrightbus, ADL and Optare have been putting their latest products through the company's comprehensive testing programme at the test ground. The annual event was launched in 2012 and quickly triggered a development race amongst vehicle manufacturers. MD of First Bus, Giles Fearnley, described the improvements since that year as 'remarkable'. Manufacturers have successfully improved the fuel efficiency of vehicles by 30% and reduced vehicle carbon emissions by 30%.
Using a testing procedure developed by First Bus and Millbrook's engineers, vehicles are tested on a course designed to reflect a variety of rural, urban and interurban bus routes. The buses are connected to equipment that monitors many aspects of performance. They undergo maximum speed and acceleration tests and are subjected to 25% gradients to ensure they meet some of the more demanding requirements of real world operations. Vehicles are weighted with ballast to replicate passengers. The results of the testing programme play a major part in the First Bus vehicle procurement strategy. In this financial year, First Bus is investing £70m in 305 new vehicles.
MD of First Bus, Giles Fearnley, said, 'In 2012 we laid down the gauntlet to bus manufacturers to drive innovation and deliver vehicles that were cleaner and more fuel efficient. As we emerge from our fourth testing event at Millbrook, I'd pay tribute to manufacturers such as ADL, Wrightbus and Optare, the progress to date has been remarkable. We're confident that by continuing our partnership approach with Millbrook Proving Ground and our vehicle manufacturers we can deliver a further 10% improvement in fuel efficiency and carbon emissions in 2017.'
'We know it makes sound business sense as well as good environmental sense to pioneer the introduction of lower carbon and lower emission technologies. As well as making the communities we serve cleaner and greener for the future, we're seeing great fuel efficiency benefits which are helping us ensure that bus travel remains good value for money for our customers. The improvements to vehicle performance that our annual competition has inspired have wide ranging benefits not just for First Bus, but the industry as a whole. Bus operators across the UK are benefiting from vehicles that are more fuel efficient, while the wider environment is benefiting from buses that emit significantly less carbon. I am immensely proud that we are leading the industry on this agenda.'