Exhibition – Treka steals show
Rob Orchard reports on the latest vehicle developments at the CV Show
From a minibus point of view Treka well and truly stole the Show at this year's CV Show held in Birmingham. A new vehicle from Treka is very, very rare. It is known across the industry for producing very practical coachbuilt and van conversion 16-22 seat wheelchair accessible conversions on the 5/5.5 tonnes Mercedes-Benz Sprinter, particularly popular with the rental sector. At Birmingham they surprised everyone with a new product, in a new class and using new vehicle bases – the Treka Everyday.
The vehicle on show was a conversion of the Renault Master, but is technically also available on the 3-4 tonnes Mercedes-Benz Sprinter, VW Crafter CR35/40, Peugeot Boxer, Citroen Relay, Fiat Ducato and Vauxhall Movano. Treka already has orders on some of these other bases. The vehicle on show had been developed for London Hire and was a 14 seat wheelchair accessible conversion. It is one of 17 being produced for this customer.
The vehicle was fitted with an NMI tracked Smartfloor, eight Phoenix seats with NMI quick release fittings and a rear mounted PLS in-board lift. The vehicle can seat 14 in the saloon or 15 if you include the in-cab seat and other makes of tail-lift are available. Alternatively, by the removal of some seats the vehicle can carry up to four wheelchairs.
The vehicle had a manual sliding side-entrance door and was fitted with an AVS extra manual step, though a powered step is an option.
Where the vehicle really differs from other small conversions is the light and airy interior. This is achieved by the use of moulded one piece GRP or ABS mouldings for all the internal cladding above the waist rail. When I say one piece, I mean it because, for example, the ceiling is a single piece ABS moulding including the angled cant rail sections. That means cladding with an absence of joints and seams – much easier to keep clean. It also means light colouring can be used which adds to the airy feel. The GRP is all produced in-house using the company's own GRP company. Lower side panels are ABS.
Other features were moquette ceiling centre strip, glazed roof-hatch Eberspacher dual heating ventilation system, LED lighting and the Trekabus seven-year warranty.
The vehicle on show was to M1 standard but M2 will also be available. It can be driven without a D1 licence on non-hire and reward work.
As I reported last year, the Treka factory at Brighouse is full up, producing its core product, the Treka 16, so how is it going to fit in production of this new model? Trekabus, although it trades as a completely separate company, is part of the Woodall-Nicolson/Mellor organisation. I put to Morgan Clissett, who runs Trekabus, how he was going to fit production of the new Everyday into the Brighouse facility. "We aren't," was his reply. "We are going to build the first prototypes at Brighouse, but the main production will be undertaken at the Woodall-Nicolson facility at West Houghton near Bolton in Lancashire where they have spare production space."
Morgan was quick to point out that although it would be built at the Woodall-Nicolson facility it would be built by a dedicated new Trekabus team and Morgan will manage the facility.
Aside from the new Everyday, Trekabus also had examples of its coachbuilt and van conversion Treka 16s on Mercedes-Benz Sprinter on show. These were both the 'old' Sprinter model but Morgan told me they had just started production using the new Sprinter models.
VW and MAN
The CV Show is slightly strange in that not all mainstream manufacturers exhibit at it every year. This year Mercedes-Benz, Iveco and Fiat were absent. This left the way clear for VW and MAN to really promote their Crafter/TGE models.
On the VW stand they showed the first conversion of a CR50 five-tonnes Crafter into a minibus. The conversion had been carried out by Taxi Bus Conversions (TBC) of Northern Ireland. The vehicle was a long wheelbase, long overhang, high roof example similar to the MAN TGE I evaluated recently, but like that vehicle it was not a super high vesion.
As I mentioned in the MAN TGE article (see B&CB 1527, 26 April 2019) a problem with these vehicles currently is the location of the AdBlue tank and batteries, which make creating a forward entrance difficult. On the MAN, Stanford Coachworks, who had converted the vehicle, had decided a forward entrance was not practical and opted to stick to using the standard side entrance.
TBC decided to go for it and went for a front entrance. In my MAN TGE article I commented on the fact that the interior height of the vehicle was tight as it is on the TBC conversion of the Crafter CR50. But before you get into the interior you have to negotiate the entrance. Now I am not very tall – 5ft 6ish! I went to enter the vehicle and smacked my head on the top of the doorway. It might be worth noting to passengers that they may need a little more care when boarding.
The entrance was fitted with a Stem extra step.
Having the front entrance does mean that TBC are able to fit in seating for 16. The vehicle was not fitted out to be wheelchair accessible but TBC do build vehicles of that configuration. Other equipment included front and rear parking sensors, reversing camera, air conditioning, tracked safety floor, Eberspacher D2 heating system, LED lighting and a glazed roof hatch. Apart from the entrance it was a very nice conversion.
Electric vehicles were promoted heavily by VW at the Show. I learned that the electric versions of the Transporter should become available in 2020 but the Crafter will not be until 2021. I also learned that they are trialling the Crafter with hydrogen power!
MAN
MAN also had a 5tonne TGE (Crafter) on show though you had to go outside to find it. The vehicle was a clone of the Stanford vehicle I reported on except for having the fully automatic transmission. This example had been converted by Minibus Options and like Stanford they had opted for using the side entrance which they had also fitted with its fold-out extra steps/handrail system. The vehicle had a tracked Smartfloor and seating for 15.
Unlike the Stanford vehicle, which had an in-board lift, Minibus Options had fitted a rear underfloor cassette Braun lift. To achieve the necessary ground clearance the vehicle had been fitted with a VB air suspension package at the rear, an MAN approved modification.
The conversion was to a very high standard.
A word on the auto transmission on the Crafter CR50. This is an eight-speed fully-automatic transmission – not the same one as used on the lower-weight, front-wheel drive Crafters. The transmission is in fact a ZF unit and similar to the familiar and popular Hi-Matic fitted by Iveco in the Daily.
On the MAN stand inside the exhibition they presented the first example of the MAN TGE (or for that matter VW Crafter) chassis cab that I have seen. The vehicle was a 3.5tonnes front wheel-drive example. What will please vehicle builders is the chassis is completely flat and unencumbered. 5/5.5tonnes versions are expected shortly – I wonder who will be first to build a coachbuilt minibus on one?
Mellor
Mellor used the show to launch an upgraded version of its all-electric, low-floor small bus, the Orion e. Advancements in drive train technology and performance, batteries and charging systems together with feedback from operators running the vehicles, have allowed Mellor to improve the specification of the Orion e. The vehicle uses a drive system developed by En Giro, which utilises a 96Kw six-phase motor which gives even quieter, smoother driving, with a peak torque value of 5,000Nm. This gives the vehicle even more impressive hill climbing ability, now up to 25% gradient with a fully five tonne GVW vehicle.
Batteries which remain lithium ion are also upgraded, producing even more power but achieving it with units that are physically smaller and lighter. This has enabled Mellor to take the batteries out of the saloon and mount them on the roof. That means the Orion e can now comfortably be seated for 16 passengers. It can now also comfortably cover 100-120 miles between charges and improved charging systems mean that a full re-charge on three-phase takes a maximum of four hours.
John Randerson, MD of Mellor, said: "If the Government is serious about tackling vehicle pollution in city centres then it needs to recognise the part that all-electric small buses can make. They have played a major, impressive part in the greening of the big bus fleet by providing substantial financial incentives for operators to make the switch. Why won't they do the same for small buses? In many cases the use of small purpose built buses can make a dramatic difference to the number of large vehicles needed in city centres and the amount of pollution produced, as we have demonstrated with our conventionally powered Strata and Orion ranges. With those facts staring them in the face, why won't they give similar grants for all-electric small buses – it just doesn't make sense."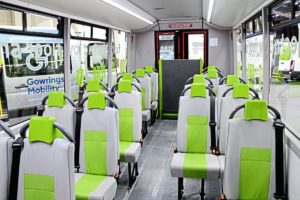 He contrasts the British approach with that on the Continent, particularly in Sweden and Holland where the State provides generous funding for the use of all-electric buses. Those are areas where most Orion e's have gone so far. John does see some signs of change but it is not coming from Westminster but across the border in Scotland where 'State' organisations are finding ways of funding electric vehicles. Mellor has recently picked up an order for five Orion e for Glasgow Community Transport which has an element of State funding although this hasn't come through Transport for Scotland, and he believes others will follow.
Turning to other models John told me that the Strata Ultra low floor bus has now completed its extended trials at Millbrook and certification is expected imminently.
He also confirmed that the Maxima high capacity, high-floor model will switch to the new Iveco Daily announced recently as soon as chassis become available.
The other Mellor exhibit at the show was an example of the VW Transporter-based Tucana II low floor, wheelchair-accessible minibus. The example shown was one of the 90 recently delivered to TfL for its Dial-a-Ride services. These vehicles have an unusual layout with two convertible NMI RIPS seats at the front of the saloon which can be used to secure wheelchairs loaded through the flat entrance with ramp. At the back there is a combination of three fixed and three tip and fold seats which can create further wheelchair space with loading by a rear mounted ramp.
John also revealed that the company has expanded its engineering and base structure production facility in Scarborough.
Ford
Ford announced new upgrades to the Transit range. Apart from some mild styling changes the main news was the introduction of new more fuel efficient EcoBlue Euro6/VI engines which Ford claim are more fuel efficient, less polluting and more powerful. It announced a mild hybrid called mHEV which replaces the alternator with a starter/generator system that provides a level of battery recharging under braking. It also announced a new power rating for the 2.0 litre diesel engines at 185bhp and producing 415Nm of torque.
It has introduced electric steering and braking, which has allowed the range of electronic assistance and safety systems that we've recently seen introduced on vehicles like the new Mercedes-Benz Sprinter and VW Crafter/MAN TGE; systems like park assist, collision prevention, lane guard, etc.
The big news from Ford is that at long, long last it will introduce a ten-speed fully-automatic transmission to the Transit in 2020.
PSA Group
The PSA Group covers Peugeot, Citroen, Fiat and now Vauxhall. All were exhibiting except Fiat. Its big news was the announcement of an all-electric version of its large van models (Peugeot Boxer, Citroen Relay, Fiat Ducato). Vauxhall's large van, the Movano, is actually a Renault product and not covered by this introduction.
The all electric vehicles have a 44kW/hr battery capacity and an operating range of 100-140 miles. Recharging rates using three-phase electrics are 0-5% in five hours but 50-100% in just two hours.
The PSA Group also announced new mid-range vans: Peugeot Partner, Citroen Berlingo and Fiat Doblo.
Vauxhall introduced a new mid-range van. This perpetuated the Vivaro name but  the previous Vivaro was a Renault product, this one was a PSA product. This leads me to think that ultimately the current Vauxhall Movano will morph into the PSA model epitomised by the Peugeot Boxer.
LDV (Harris)
LDV (SAIC) through its distributor the Harris Group continued to promote its V80 all-electric minibus and scored something of a coup with its first bulk order for minibuses. London Hire having been seeking a practical and reliable electric minibus for its city centre operations. It has ordered ten LDV V80s which will be converted by GM Coachworks of Newton Abbot. The vehicles feature a fold out extra step at the side entrance, flat-tracked floor and seating for eight passengers. Wheelchair access uses an underfloor cassette mounted tail-lift. It will be interesting to see how they stand up to city centre operation. LDV are claiming the vehicles will cover 120 miles on a charge and that rapid re-charging is available.
LDV also showed a diesel powered V80 this time converted by regular convertor, Stephen Ferrie at Donegal Automotive Services. The vehicle featured a Thuile extra step at the side entrance and seating for 16. This one was not wheelchair accessible but these are available.
SAIC also used the show to launch its new mid-range contender the all-electric EV30. This has a Euro 6 engine and a range of up to 200 miles plus quick re-charging.
Harris has teamed up with BP Chargemaster to provide operators with dedicated charging systems to suit their operations.
Stanford Coachworks
Stanford Coachworks had the only minibus example of the 'new' Sprinter range on show. It was an FWD 316 model with automatic transmission. It featured an extra step at the side entrance, flat-tracked floor with luxury Phoenix seating for eight passengers. Seating was equipped with NMI quick release fittings and the vehicle can carry up to three wheelchairs which can be loaded at the rear using a Ricon in-board lift.
Stanford also showed a Peugeot Boxer converted for London Hire into a mobile office/meeting facility. It had a multi-media offering with large screen and a discussion area with bench seating, mood lighting and a central table.
Gowrings Mobility
Gowrings Mobility showed a Vauxhall Vivaro (not the new one) it had converted. The vehicle had a side entrance with a large extra step, safety floor with seating for eight and tip and folds in the rear to create a wheelchair space. Wheelchairs are loaded using a Ricon in-board lift.
DAF
DAF is not a name we normally associate with minibuses but the DAF LF chassis has begun to make its appearance in our market in the midi range as an alternative to the Mercedes-Benz Atego. Notably Noones launched an LF-based version of its Turas 900 at the last Euro Bus Expo. Now DAF have announced that there will be an all-electric version of the LF available in 2020.