Equipmake bus leaves for Argentina
A zero-emission Equipmake bus is leaving Norfolk today on its journey to Buenos Aires for in-service trials.
Featuring Equipmake's zero-emission powertrain, the bus was developed in the UK and has now completed testing in this country.
The single-decker is set to start in-service running in Argentina's capital in Q3 of this year. It is set to be the first overseas on-road trial of an Equipmake-developed electric bus.
Developed as part of the Advanced Propulsion Centre-funded CELEB (Cost Effective Low Entry Bus) project, the objective of the program has been to deliver a cost-effective bus designed for the South American market.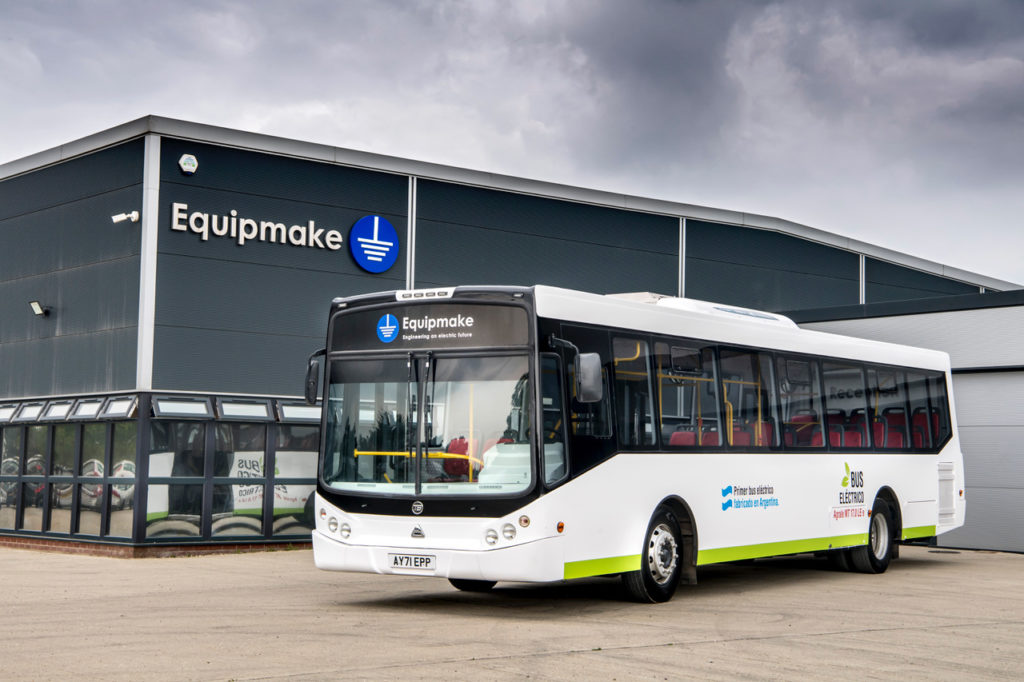 Working with Brazilian bus manufacturer Agrale and Argentinian coachbuilder Todo Bus, Equipmake has developed, from the ground-up, an electric version of the Agrale MT17.0LE single-decker, installing its own Zero Emission Drivetrain (ZED). This modular and scale-able battery drivetrain, developed at Equipmake's HQ in Snetterton, is the same technology also used in Equipmake's new London-specification bus, the double-decker Jewel E.
The Agrale MT17.0LE project features a bespoke Equipmake ZED with a 318kWh lithium-ion battery, Equipmake's own HTM 3500 electric motor (producing 3,500 Nm torque at 1,000rpm and 400kW maximum power, seamlessly integrated into the prop shaft without the need for a separate transmission) and a Semikron SKAI inverter.
Durability programme
Over the last 12 months, Equipmake's engineering team has put the new bus through an extensive durability programme in and around Norfolk, with thousands of test miles completed on proving grounds, city centres (including Norwich) and on motorways.
From this robust test programme, Equipmake estimates the new electric Agrale MT17.0LE will have a range of up to 150 miles, which it says is more than enough for a day's use in Buenos Aires. When the battery is depleted at the end of a complete duty cycle, it can be recharged at the depot overnight via a CSS2 DC charging point.
The Equipmake ZED-powered Agrale MT17.0LE is a 12m single-decker capable of carrying 70 passengers. It will be operated over the next 12 months by DOTA in Buenos Aires. Following the successful completion of the trial, the objective is for mass manufacture to begin in Buenos Aires with Agrale and Todo Bus, using licenced Equipmake ZED technology.
"We are now looking forward to the start of the trial and the potential for this new vehicle is huge" – Ian Foley, Managing Director of Equipmake
Ian Foley, Managing Director of Equipmake, said: "On behalf of everyone at Equipmake I am delighted that, following the completion of final testing here in Norfolk, the Agrale MT17.0LE featuring our ZED system, now begins its journey to Buenos Aires for in-service trials. Through this innovative Advanced Propulsion Centre-funded project, we have worked closely with Agrale and Todo Bus along with other key partners, and the result is a state-of-the-art yet cost-effective bus.
"We are now looking forward to the start of the trial and the potential for this new vehicle is huge. Buenos Aires has around 16,000 buses on its streets – roughly twice the size of London's fleet. There's no doubt that electric buses can play a significant role in helping Argentina's capital hit its 2050 net zero objective."
Repowers
Equipmake's ZED system also underpins Jewel E, a new double-decker electric bus developed with Spanish bus builder Beulas. It also enables the repower of almost any type of bus too, replacing an existing internal combustion engine drivetrain.
Ian Foley, Managing Director of Equipmake, added: "In parallel with the creation of new electric buses, repowering is an important and cost-effective transitionary technology that can bridge the gap between diesel and a new electric bus fleet. There is clear appetite for the technology, with strong demand from operators, leading to the expansion of our facilities in Norfolk. We believe interest will only increase and, next to the associated financial benefits, repowered vehicles can very quickly bring cleaner air to any town or city."