Enthusiasm and compassion
Richard Bamber of Anthony's Travel enthuses over how the industry could be improved and discusses mental health issues
During a day when a month's worth of rain fell within 24 hours in some places, it would be easy to be as miserable as the grey, frowning clouds delivering the downpour. But that is not the case for Richard Bamber, Managing Partner of family-operator Anthony's Travel.
Meeting him in the thankfully dry confines of his office in his depot in Runcorn, he talked enthusiastically about various aspects of the industry.
Strong relationships with suppliers is one belief he espoused early on in the meeting: "You need suppliers to understand your business." There is plenty of talk about them, he notes, with online forums full of chatter. But there is a lack of dialogue between them and operators, he believes. He said: "It's not just about the quality of the supplier, but it's also about them understanding your business and what you want to develop."
However, this is not the case with Unicorn Underwriting, Anthony's Travel's current insurance underwriter. Richard said: "Unicorn realise that it's got to be about relationships."
The operator re-signed with them at the Coach and Bus UK exhibition at the NEC last month. "They want to understand their customer's business," Richard explained. "We had a relatively bad year last year; but it was a blip. But Unicorn know we have good standards."
Accessibility an
opportunity?
As well as needing to develop relationships with suppliers, Richard noted another challenge all operators are facing is the ever-growing amount of legislation. "I think the PSV industry is one of the most over regulated ones. There are ever-changing goal posts. But I think it shows we are resilient. When they announce new things, we are used to hearing people go: 'This will be the death of the industry'. But we always rise to it."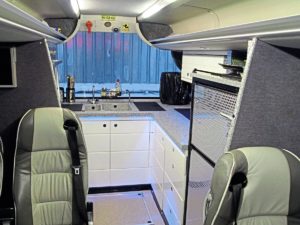 Another change Richard says has had a considerable affect is disability access, with PSVAR coming in to force on coaches in January. Richard said this will affect him, but not massively. The operator has four 49-seaters fitted with wheelchair lifts to cover the relevant work.
Disabled access has been a key consideration for Anthony's Travel, being something Richard's father and founder of the business, Tony, was keen to promote. Richard said: "My father pushed that side of things, because around here some of the accessible vehicles did not present well.
"We have an aging population, and all the ailments that come with that. But I don't think the coach industry has recognised this at all. I think there was a misconception that disabled people are of lower income. The transport being provided to disabled people over the years has been very social-servicey. But we are dealing with a lot of pensioners who have massive pensions. Some operators have a coach with a wheelchair lift and they try to cram as many seats in as they can, it's often a coach in its second or third life and the executive side of it is gone. People find that patronising. Our objective is to be able to carry five wheelchairs per coach and they benefit from exactly the same things as everyone else; there's no compromise. It's about inclusion rather than exclusion. It's about being discreet; the vehicles don't stand out as wheelchair accessible."
Anthony's Travel has been battling with its local authority to get a blue badge for parking. Richard said: "We have got accessible coaches and we wanted a disabled parking badge. We had a real battle with Halton Borough Council. Common sense was not prevailing. We got our solicitors Backhouse Jones involved; it was a real nightmare. After a few thousand pounds spent, common sense prevailed."
Richard believes some operators are burying their head in the sand over the need for accessible vehicles, choosing to ignore the requirements of an aging population. "Operators say they never use their wheelchair lifts. But do they market the fact they have them? It comes back to the point that the industry is just not marketing itself."
Why does he think the industry is this way? "As an industry, we spend a lot of time firefighting. There is no proper business plan and they expect things to just go away; or if they moan about it enough it will go.
"We are not powerful like other industries are. But the big operators are very powerful. You can see that in how they have influenced CPT. How many smaller coach operators meet up with their local MPs? Not many. I've had them down here for tours to give them a better understanding of what I do. And operators aren't collectively coming together to make things happen. It's no good just relying on our trade body to do it, we need the industry to do it."
He gave the example of the ULEZ: "We knew this was coming. We should have educated Sadiq Khan of the benefits of coaches to London before he was elected."
During his time as CPT regional chairman, Richard tried to make conversations among the industry a priority. He ensured that at regional meetings there were synergies among the speakers and suppliers attending, creating a theme for the event. He said: "It's about being more proactive and building that relationship with suppliers, that's where we need to be."
Also during his time as CPT regional chairman, he made sure his annual dinner dances were some of the biggest events in the trade body's calendar. He said: "They were massive, we had about 320 people in at one point. There were loads of young people in, it was a real atmosphere. It's about adding that fun factor."
Holding these fun events, with pictures of it appearing on social media, is a good advert to attract more people into the industry, according to Richard.
Battling negativity
"I think where the industry has struggled over the past few years is the fact it is quite a negative industry." Richard went on to say there is a lot of complaining from operators over the challenges faced. "You can't sit there and moan. That negativity goes through the office, the staff and on to customers. The industry can have a bad reputation. But we don't do enough to market it.
"I try to promote the industry. We don't do enough to market ourselves. I've mentioned this to the CPT and promoted the idea of coming together to market the industry as a career option. We should be telling people about the industry, that there is lots of variation, there are different styles of driving."
Richard mentioned the Driver CPC should be a way the industry can lift its reputation. "The whole point about DCPC is that it drives up the standard. But it has ended up being generic courses. Is it driving up standards? Not necessarily."
When it comes to skills, what would benefit the industry is more people skills, according to Richard. "We had a driver who was great at driving. But this driver was not a good 'people' person."
Richard looks towards recruiting more retail staff, who have the face-to-face customer service experience that may be required.
To improve customer relations skills and other abilities, Anthony's Travel focuses considerably on training. The company has had a series of videos made featuring serious topics but delivered with humour. "I believe in learning through laughter," said Richard. "With training, you have to make it an investment rather than an expense."
Talking technology
The industry could also make further use of technology to raise standards, he believes. Anthony's Travel was one of the first coach companies to use CCTV in its fleet, having the first cameras fitted in 2006. Over those 13 years, it has always used Synectics cameras and DVRs. "The bus companies have been fitting them for ages, but coaches haven't. What it does is it minimises the risk of problems. In 2006, we decided to retrofit the whole fleet."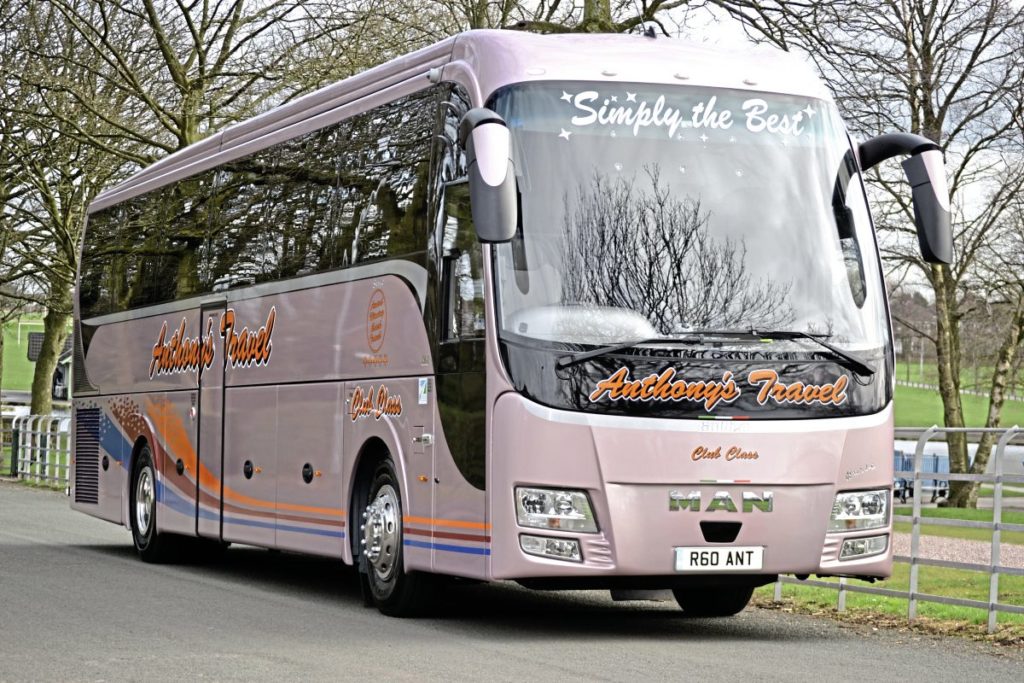 The company went on to enable sound recording as well as cameras. Richard said some drivers were concerned by this, but went on to say: "But I explained I haven't got time to be sitting through the hard drives and finding out what they are saying about me.
"There are numerous things CCTV has got drivers out of. Many years ago we got a contract with a group of senior citizens. I was told the driver was surly, didn't help them off the coach and snapped at them. I asked that driver and he said he didn't do anything like that at all and to pull out the CCTV. The CCTV caught him helping them off. It then showed the group organiser get on the microphone thanking the driver. From what I could see, the driver was perfect. It turned out it was the former-group organiser that made the complaint. It turned out she had her own preferred coach provider. For the driver, if it wasn't for the CCTV, he could have been in trouble.
"Now drivers ask for the CCTV footage themselves if something happens. They realise it's about protecting themselves, they realise the importance of it. 99% of the time it has got drivers out of trouble.
"CCTV is a fantastic investment. I've never been able to understand the logic of some operators who will pay £3,000 extra for alloy wheels but not pay for CCTV. Don't get me wrong, I pay for the extras, but I'm about priorities."
The same applies for telematics too, with Anthony's using Synectics' Genius unit for that. "It's a great system," said Richard.  "Investment in technology is very important. Through being proactive with it, your claims will be reduced. You'll still have incidents, of course. But without that equipment, I would dread to think how much insurance would be."
The company has added Michelin-made tyre pressure checkers provided by Wheely-Safe, which Richard is very pleased with. It also installs Alcolocks from Alcolock UK across its entire fleet following a brief trial period with them. For tachograph management, it makes use of TruTac's solutions.
Investing in the future and developing the business are all essential to Richard. He said: "If you don't evolve, you'll dissolve."
Time to talk
Despite the huge enthusiasm from Richard and his seemingly bottomless well of ideas, it would be easy to assume he is indestructible.  But no one is. He has been open in the past about about the struggles he has had with mental health.
He has spoken about his own struggles at Halton Borough Council's 'Time to Talk' mental health event earlier this year. He said: "My dad was diagnosed with prostate cancer and after he died, I was on the treadmill of trying to make him proud. I was working 100 miles an hour and as we try to be a big part of the community, I would be invited to events in the evening as well, which I did. My wife would tell you I have an inability to say 'no'. I was burning the candle at both ends. It was like a pressure cooker. I was struggling inside.
"I was on anti-depressants for a few issues and I came off them, I went cold turkey, because everything was going alright. Then I had a run of problems. I couldn't cope."
What has surprised him is once he opened up about his struggles, he received responses from many others in the industry who have had similar experiences. He said: "It certainly surprised me how much of it is swept under the carpet. It is good to talk. I'm lucky because I've got people to speak to, people look out for me. I've got good, close women friends who I can talk to. Blokes, they don't talk. They deal with it in other ways; they might go out and get drunk. Is that the answer? Probably not. And the trouble is we are in a predominantly male industry.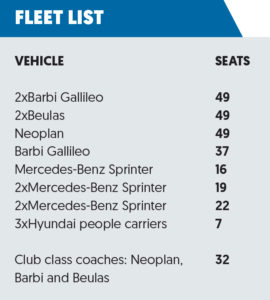 "When I spoke at Halton Borough Council's event, it was mainly men speaking, but it was mostly women in the audience. Women tend to have more empathy and are better at listening. We have got quite a few female members of staff in the office, but it's mostly men.
"I've always had an open-door policy. My staff can speak to me about anything. Sometimes you don't have an answer, but they like to know they are not alone. It's something any compassionate company can put in place."
He suggests looking out for dips in character and work performance in staff, as they can be signs of mental health issues. He said: "But you have just got to look out for your workforce. What affects one, another might take in their stride. Common ways to identify them are impossible. Looking out for individuals can become harder in bigger organisations, but this is where line managers come onboard."
One way Richard looks out for his staff is by paying for their Transport Benevolent Fund membership, which gives the team access to help with healthcare needs and general support.
When it comes to managers themselves experiencing mental health problems, Richard said: "It's good to talk and it's important to seek help. And don't see that as a weakness. Don't be embarrassed about your situation."
He is aware that mental health could become the new bad back, in terms of being a convenient excuse to get time off work or benefits. But unlike back symptoms, there are no scans to prove people have mental health problems.
For many, it is all too real a problem. "Like with any condition, look to get help and put coping strategies in place," Richard said. "We are under a lot of pressure at the moment. We are getting nearer to Christmas, so work's getting quieter. The Brexit cloud is still hanging. But there is still that inability to admit you have got a bit of a problem."
A business' performance should not necessarily be a sign of poor mental health. Richard said: "When I was struggling, the business was going from strength to strength."