Electric discussion
Optare hosts the latest meeting of CILT's Busmark group
Optare hosted the latest meeting of CILT's (Chartered Institute of Logistics and Transport's) Busmark group. The tour of the  manufacturer's Sherburn-in-Elmet factory was the highlight of the gathering  of members from the organisation's benchmarking club for the coach and bus industry.
Whisking attendees to the plant from the venue of the meeting was an Optare MetroDecker EV. Many delegates were impressed as they boarded and rode the vehicle. From a passenger's perspective, the electric double-decker performed well considering the roads through the village of Sherburn-in-Elmet are perhaps not the most well-preened in the country. Despite there being some rattle inside, the only sound from the electric drive was when it began to accelerate from slower speeds. The bus is an engineering prototype that Optare has used for homologation testing, so any rattles no doubt reflect its hard life to date. It will be PDI'd and tidied before it goes into customer service as a demonstrator.
Apart from that, there was only the sound of the wheels on the road, which was barely perceptible with the general chatter from the vehicle's occupants.
The bus arrived at the factory just as the frame of a MetroDecker EV was being delivered. B&CB's Group Editor, Mark Williams visited the factory earlier this year (see B&CB 1524, 5 April 2019).
Inside the factory, there were a large number of single-deckers being built for a considerable order from RTA Dubai. Based on the Solo, these are interesting vehicles, representing a great deal of design work for Optare. They have powerful air conditioning systems built in to cope with the serious heat in the Middle Eastern city, which required a lot of engineering work for its designers.
The saloon layout has been configured to allow females and children to sit one side of the bus and men the other. A finished example was on site for the perusal of visitors, who were fascinated at this unusual (for the UK) layout. Optare's Commercial Director, Robert Drewery, said the Dubai buses are a good example of the manufacturer's ability to change products to a customer's requirements. This is something a builder with more automated, larger-scale production methods may not be able to do so efficiently.
Robert explained the company has made a lot of progress in export in latter years. Sadly, this has been necessary considering a shortfall in UK bus orders. Deals of note have been the £17m RTA Dubai tender and the £21m NZ Transit order from New Zealand, which saw 114 Metrocitys ordered. The company is focusing on growing sales in additional countries and export is expected to make up 50% of its output.
Robert noted, not without some hint of mischief, that if Jeremy Corbyn becomes Prime Minister, this shortfall in UK orders could change with the millions of pounds of investment the Labour leader promises to be spent on buses.
One development Robert mentioned was that all the electric buses it now builds featuring electric heating do not use diesel heaters. Diesel heating is being phased out because it is not acceptable for a zero-emission bus. Robert claimed its Mk1 water-based electric heating system is much more efficient than diesel heaters and does not require water to be pumped  from the rear of the vehicle. Currently, he said its batteries can achieve 150 miles of operation between charges in winter. The target is 200 miles a day. He pointed out that Optare's battery packs are modular, which means that once a new battery chemistry is achieved, the old batteries of existing buses can be replaced with newer variants, affectively upgrading the vehicle to the latest technology.
"I believe we can get 250 miles a day operation in a decade," said Robert. "Our recommendation is 'don't fast charge'; it's bad for the bus. Inductive charging is very expensive and inflexible. The box alone can be around £100,000, then the hole required to fit it is another £100,000. It's quite unreliable. We believe batteries are the electric future; a battery charged overnight."
When asked what is being done to get the cost of this technology down for the end user, Robert said: "It should be about realising the whole life cost of the vehicle. The other thing that would help is reframing BSOG. At the moment, the more fuel being used, the more BSOG is claimed. If we figure out how we can factor electric buses in with that, it will have a big impact."
Despite the focus on electric offerings, Robert said the company is still investing in diesel, with Euro VII expected by some to come in 2022. "Will it arrive?" He wondered. "It will be interesting to see. But diesel will have a place in the future, probably in long-haul application."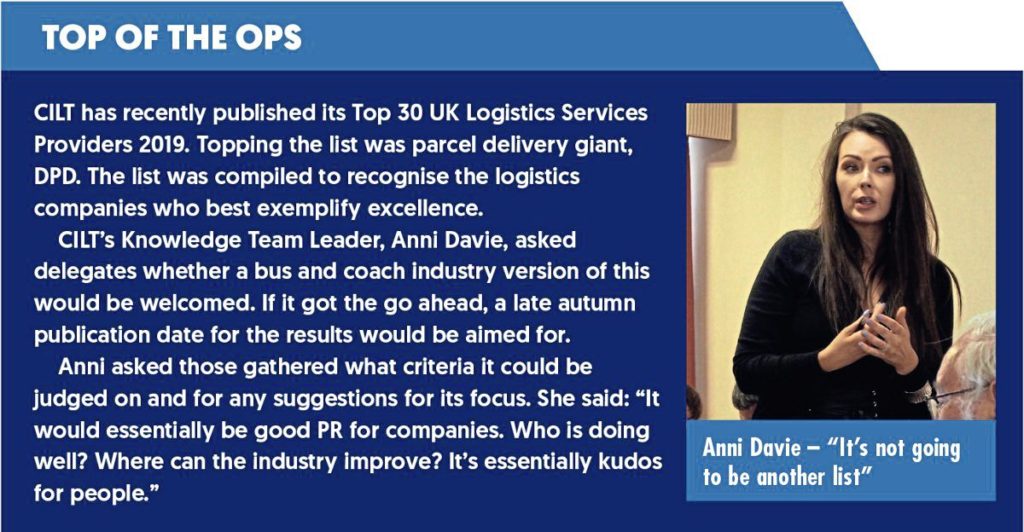 Bus open data
Chairman of CILT's Bus and Coach Forum, John Carr, outlined the requirements of bus open data provision as part of the Bus Services Act 2017. He said the work now being done with open data by the DfT is intended to enable consistent, reliable information for bus users. The information for this is to be supplied independently of the DfT, potentially by bus companies and local authorities. He said a good example of this already in place is the journey planner function in Google Maps, which some of the data is already open. By making data open, it means any supplier will be able to provide information on bus services.
The DfT's intention is to deliver a bus open data digital service (BODDS), which supports data creation, publishing, indexing and quality assurance of data about local bus services by operators. this digital service is currently in prototype and is being tested by local authorities, operators and application developers throughout England. The transitional period for the implementation of BODDS is expected to be six months from July 2019 until December this year. There is also expected to be a one-year transition period in 2020, following route and timetable requirements coming in January of that year.
The DfT believes local transport authorities will have a vital role to play during the transitional period. A UK profile for use with the European Network Timetable Exchange (NetEx) standard has been developed for use in a two-part implementation stage. The first stage will concentrate on basic fares and tickets, while the second will include a requirement for bus operators to provide complex fares and ticket data.
Good scheduling
Good scheduling is not just a benefit for passengers, but it has massive implications throughout an operation, according to Omnibus Business Development Manager, Kieran Procter. He has been a bus driver since 2007 and still on occasion does the job in addition to his work with the transport software specialist.
An important aspect to keep in mind when scheduling is that a cost-effective route is not specifically an operable route. The industry is getting a lot more data driven and it is the schedules that drive this.
A surprising place to find out whether schedules are being run affectively is social media. Kieran said: "Bus spotters like to tell you why you've cocked up. But if you have got that on social media, it gives you somewhere to look when making changes."
The power schedulers have is they control the number of drivers and duties required. They also dictate the number of buses needed. if they schedule more vehicles during the day, then more engineers are going to be required. Kieran said: "The scheduler's job is to keep everyone happy."
To keep drivers happy, they need to create sensible duties with reasonable breaks. He said: "It may be more cost affective to have a short break, but it's not operable. Where they need a single rest day, try to avoid going from a late to an early shift."
He suggested educating ourselves on what drivers have to deal with.
On keeping depot allocators happy, he said: "If you keep them happy you keep the drivers happy. It's all about flexibility. If you build flexibility into the schedule, you won't have to knock out trips and it helps them a lot."
Making sure drivers are well scheduled helps engineers. Kieran said: "Tired drivers make mistakes and it's the engineers that have to pick up the pieces."
To conclude, he said: "We ought to recognise scheduling is a skilled job and it needs the right kind of people to do it."