Driving forward
A record-breaking attendance for the annual National Coach Conference enjoyed a celebration of the industry then got down to work the following day, as the Confederation of Passenger Transport began the creation of the national coach strategy with delegates' help.
Staged at the Pera Business Centre in Melton Mowbray – also the home of one of the sponsors, John Hill Coach Sales – the two-day event began with a taste of the town's tourism and a nibble at its famous pork pies before a dinner which saw friendships forged and renewed. The real work started on day two, as delegates heard speakers on a range of subjects.
Among speakers were Julie Hartley, Sales Director of headline sponsor Irizar (UK) giving operators a glimpse into the future of coach technology. Traffic Commissioner Richard Turfitt – caught up in government purdah – gave operators a timely reminder of the duties of Transport Managers, while the CPT's International Manager, Steven Salmon, gave everyone a plain English guide to Brexit options for coach operators.
Simon Hart, Lead Partner at global auditors RM UK, gave a fascinating insight into the complexity of global economies, and Ian Wright, Head of Innovation and Partnerships at Transport Focus, brought news of a survey of attitudes to express coach travel. To round off the day, after a short forum involving CPT Coach Manager Andy Warrender, Chief Executive Graham Vidler and Keith McNally, CPT's Operations Director, the delegates took part in the first stages of creating a new coach strategy.
'Our priority is government': Graham Vidler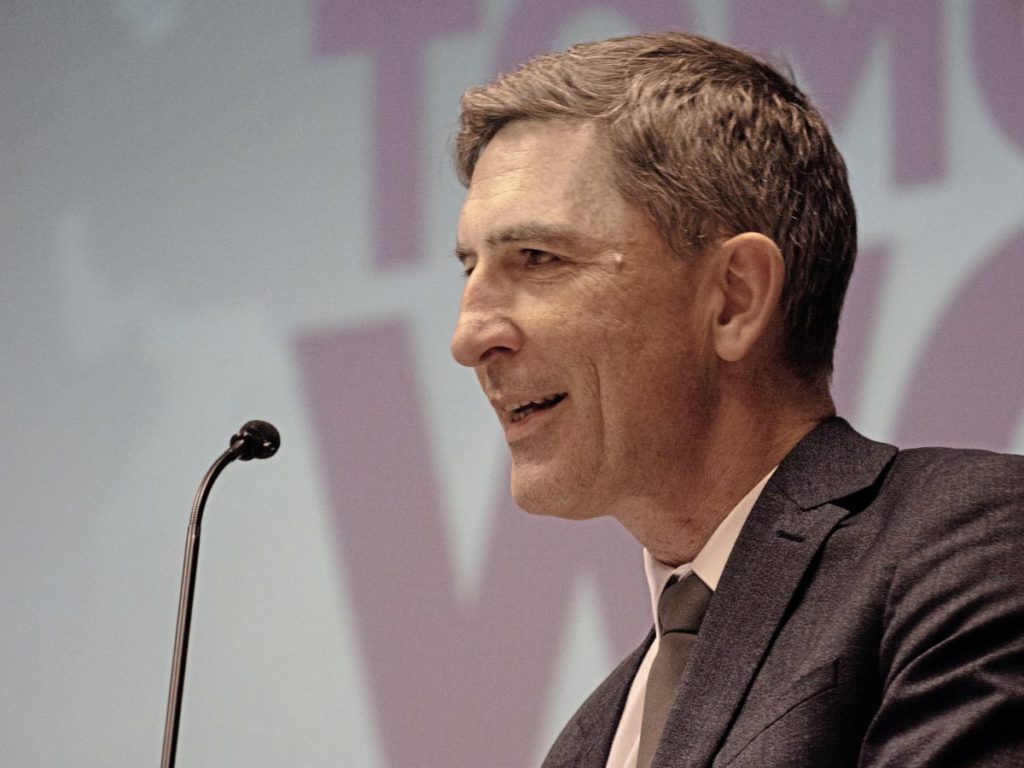 The CPT's Chief Executive, Graham Vidler, outlined his priorities for the coach industry, in another year in which it has been beset with change.
"It's not been an easy year with the implementation of PSVAR. It woudn't be good to roll back accessibility.
"Our approach is based on dialogue with the Department for Transport," he said. The DfT has since modified the application of PSVAR, allowing 20% of pupils on school vehicles to be paying students, alongside children with free transport.
"PSVAR is just one of many issues," said Graham. He said that CPT is now pressing for 'greening' the coach fleet with a funded solution. He said the industry needs to make the government aware of the effects of immigration restriction on recruitment, the need for good coach parking and drop-off, and to make coach access part of the planning process.
"We can dispel some of the myths of coach travel," he added. "We also have a general election coming. You may think that none of the parties' policies matter much, and you'd be right. Coaches are mentioned only once, in the Greens' manifesto, and that's to mention electric coaches."
He said the industry can expect Clean Air Zones to be rolled out across the country: "We want to have coaches at the top of the agenda. There's a risk coaches will be ignored. We could see an immigration system which makes it hard to get staff."
He said that there is a risk of the role of coaches in reducing emissions being ignored, and all of these factors make the creation of a coach strategy essential if the industry is to win any battles.
"Your local politicians will want to know what is happening in their area, so share the strategy please with your local politicians, and demonstrate what coaches can do and the positive impact they can have."
'Deal or No Deal outcomes': Steven Salmon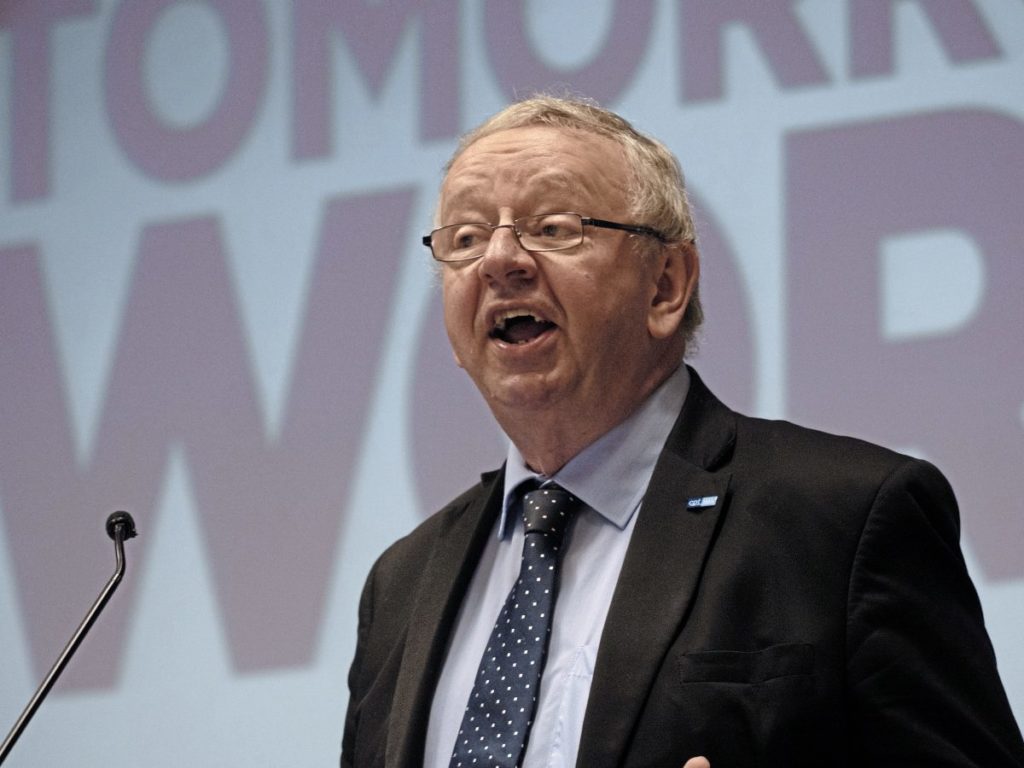 CPT's International Manager, Steven Salmon, underlined the changes operators need to anticipate in the event of a 'Deal or No Deal' Brexit, depending on the outcome of the General Election.
"If you want to understand this I suppose you could read the draft Withdrawal Bill but you will fall asleep before you reach any mention of road transport, largely because there is no mention of road transport," he quipped.
In a humorous talk which was an object lesson in using plain English, Steven pointed out that the decision to leave, if taken, is only the start of the withdrawal process and that, in the interim, the UK will be treated as an EU member state without access to the EU processes: "The negotiations were due to end on 31 December 2020 but it's my guess that if we leave, the negotiations will go on beyond that and we may get an extension.
"In that transition period, a whole raft of transition agreements need to be negotiated. I think it is highly unlikely you will be able to do all you do within the EU  at the moment," he said.
"If we leave without a deal, there will be no transition period but the EU has offered to extend road transport rights until the end of June 2020, but Deal or No Deal, both roads lead towards the Interbus Agreement."
The Interbus agreement, he explained, is designed to cover occasional services but may be extended to regular services. To do this, it needs the agreement of four other of the parties to the agreement to operate regular services outside of the EU, and he thought that process could take some time.
Non-EU countries in Interbus include Albania, Bosnia & Herzegovina, North Macedonia, Moldova, Montenegro and the Ukraine. The EU is among members. Steven said that our current O licence and driving rules adhere to the rules of the agreement, though it does not require a driver CPC system. Likewise, he said Interbus weighbills, although different, have much the same information on them.
Steven pointed out that, unusually, coach staff including drivers are not considered to be workers under the agreement, and although they must not work more than 90 days in any 180-day period, they are not considered as 'workers' with regard to visa arrangements.
"All passports used must have at least six months of validity and be less than ten years old since issued," he said. He also pointed out that passengers and crew will not be able to access medical care at the same level as residents within the EU.
He said he hoped that visiting foreign coach drivers would be treated with care by government and be welcomed in the UK, as any help the UK gives is likely to be reciprocated. He also raised the issue of ETIAS – the pre-registration system for non-EU visitors set up within the Schengen area which, he said, avoids the need for a visa. ETIAS is due to start in 2021, and each pre-registration costs €7.
"Sadly, I think our Coach is not a Truck campaign which started in 2008 is likely not to succeed," he said. "Our argument was that we should not necessarily have the same driving hours as the haulage industry, and we tried to get this through the commission, but in order to be considered, we had to prove three reasons this would improve road safety." That proved impossible, he said.
Steve said there is now a presumption that driving in the EU will include road charging: "I can see the hidden hand of the rail industry in this," he said. He said operators should be anticipating that all heavy vehicles will now have to pay "a fair whack" for road use.
He also raised the issue of Paris, which he said has '"taken against" coaches in a big way, and said the EU has not intervened in the situation.
'Proportional intervention': Richard Turfitt
Traffic Commissioner Richard Turfitt, banned from making any political pronouncements by government purdah, instead reminded operators that they need to stay in touch with their TC.
"I spend a lot of time talking to operators at PI but they're usually the bad ones; I want to talk to responsible operators," he said. "You should know that it's good to have continuity in your regulator, and that you can trust the traffic commissioners for proportional intervention."
Richard reminded operators of the importance of keeping the Traffic Area Office up to date with simple changes, such as registered office, change of directors and other banana skins which could trip up otherwise well-run companies.
"In particular, the fitness of directors to hold that position is essential when we are making a judgement of operator repute. Before making these appointments you need to check there have been no issues in the past with their business dealings."
He said that operators called to PI should consider making a representation ahead of the PI: "When I see things on paper, it doesn't necessarily mean anything to me. I need to know the background of the operator and what has happened."
Richard also underlined the importance of operators understanding that the Transport Manager cannot be the scapegoat for problems as the licence applicant – usually the directors – bear the responsibility of ensuring the fleet is managed properly. He said retraining may be essential for TMs who qualified some time ago.
"May I just suggest to you all that the state of your O licence should be a subject on every board meeting agenda. Your licence is your key asset." He said that every shortcoming should be seen as a chance for operators to review their procedures, to provide continuous and effective management.
"You also need to offer support to your employees. As a driver, your employer should not simply assume that you can be left to do the job," he said. "Do you see the driver CPC as being relevant? If so, you need to know what your drivers are being taught."
He also warned that the HMRC is now targeting hauliers with an examination of whether self-employed drivers should not be on the payroll, and said that one issue for him is whether an operator truly has control of a self-employed driver.
'EU being reformed': Simon Hart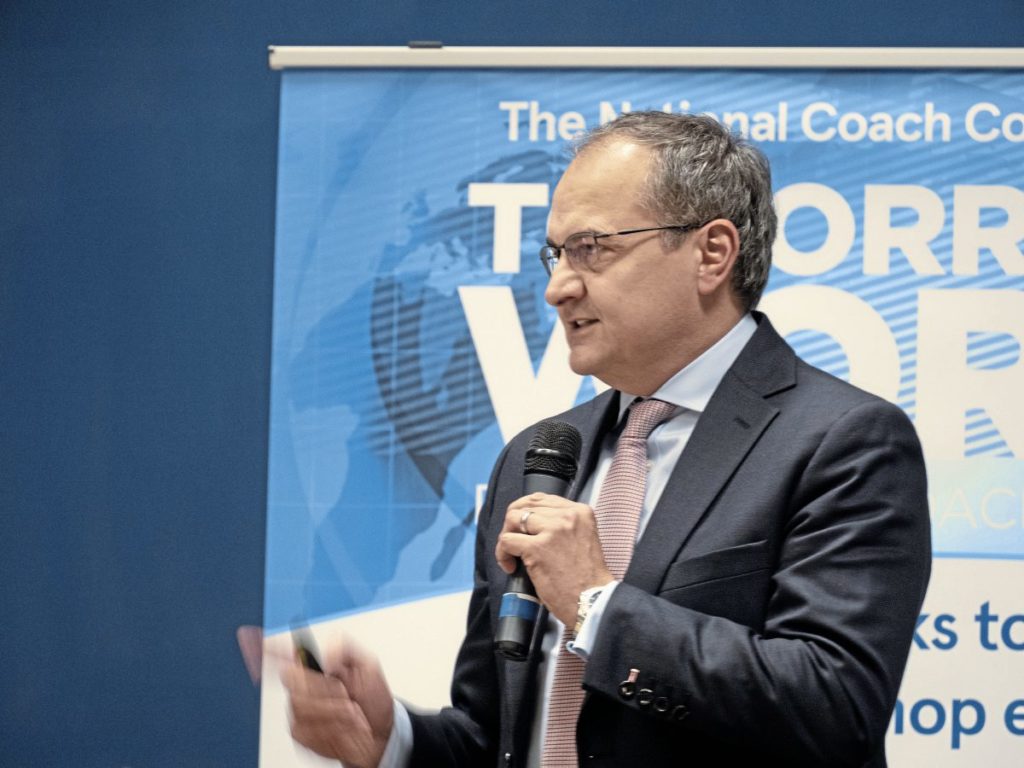 Simon Hart, Lead Partner at global auditors RM UK, showed off an extraordinary chart explaining the complexity of business and political arrangements within Europe and beyond.
"There are real push/pull changes going on in the EU, and it's reforming slowly," he told delegates. Simon said the economic effect of EU membership had been wealthier Britons who lived longer. If there were a second referendum, he said, it would be as flawed as the first: "Will we understand what we are voting for? I doubt it…"
As a member, he said, the UK ranks second after Germany in terms of trade within the trading block of 510 million people. He said the Euro had "had it moments" of instability, especially when Germany agreed to bail the relatively small economy of Greece. He said the failure of a larger economy such as Italy, would be a very serious blow for the Euro.
Other problems within the EU, he said, were of populist right-wing isolation, now rising in the politics of Sweden and Germany, among other member states. But he warned that the UK is not in a strong economic position at present, largely due to reduced investments in major, fixed assets, such as coaches, which have experienced a huge sales downturn in the last few years.
Globally, growth is slowing in part due to the trade war between the USA and China, but America, he said, is losing that battle with a shrinking share of the global economy: "We believe that the USA is tracking towards a recession," he said, supported by a graph which reflected measures of key indicators.
'When they try it, they love it': Ian Wright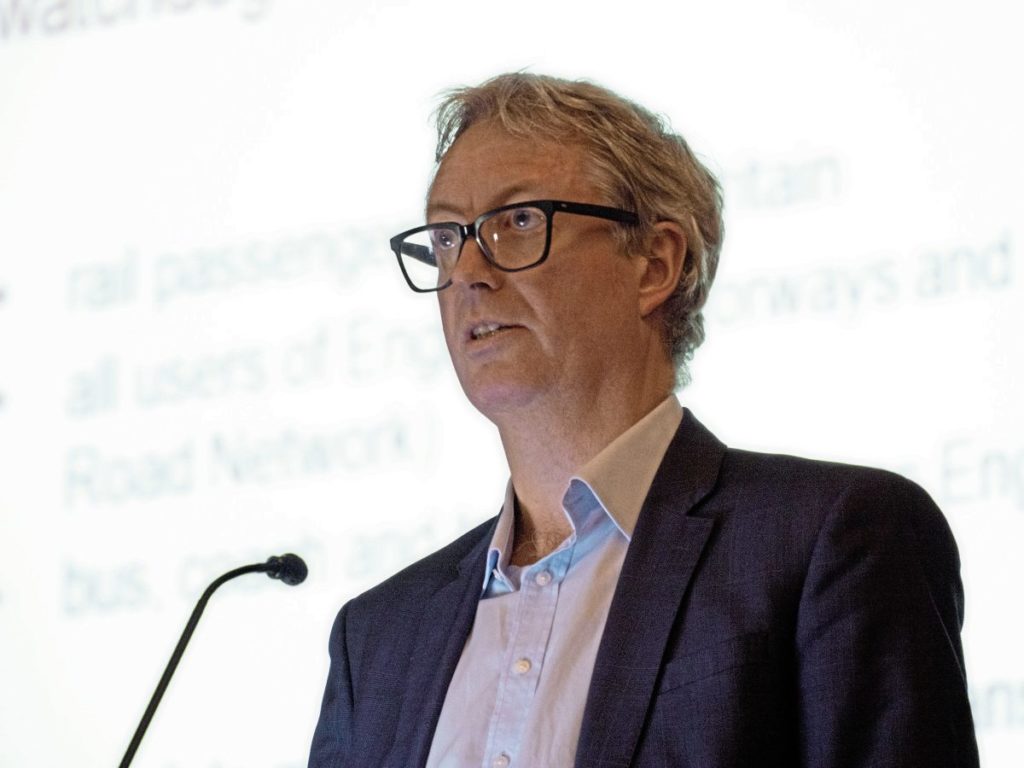 Misconceptions about coach travel are holding the industry back, and it needs to dispel the myths to attract greater ridership.
That was the conclusion of a study of airport coach access by Transport Focus, which teamed up with Heathrow to examine attitudes to coach travel. Ian Wright, Transport Focus' Head of Innovation and Partnerships, revealed some interesting findings in the study of 500 people, some of whom never caught a coach but were given free tickets and reported back afterwards to the researchers.
The study found that 62% of people never use scheduled coaches, which Ian said appeared to have a lot to do with their age and affluence. The problem for them started with not knowing how and where to book coach travel.
"Another issue is that 'cheap' can become an image, and the industry really needs to ensure the message is 'good value,'" he said. "The £1 fare is seen as too good to be true, and encourages a lower-value perception."
Despite advances in on-line booking, non-users said they didn't know where to catch the coach, and that their perception of coach stations is of places to avoid.
"They also may think of the coach as not being comfortable or clean. 52% said coaches are too infrequent, and 33% that they are old, dirty or uncomfortable."
He said that the research revealed that even those close to a coach interchange didn't know how to reach it: "The coach is often stigmatised as being for the young and old who cannot afford other transport. It's seen as 'not for me'," Ian said.
The coach user view in many areas is the reverse, he said. They see it as good quality and good value. They said the coach has a better sense of privacy than the train, not being face-to-face with strangers: "They also think it is quieter and more soothing and value always getting a seat, although they do think travelling as a group required better seat choice."
The research also revealed that, contrary to some commentators, the disabled liked the coach because it presented fewer challenges than other transport and they liked the driver being there to help.
The researchers then paid a few non-users to travel by coach, and they reported that they were pleasantly surprised by the journey: "They said how the driver is an important part of the experience. They were not worried about their luggage when travelling on a coach and appreciated the stops mid-way."
Ian implored the industry the "get more evangelical" about coach travel: "The coach is transport's best-kept secret," he said.
To read the research in full, go to https://tinyurl.com/r22db2t
'Chipping away at costs': Julie Hartley
Irizar UK's Sales Director Julie Hartley explained how the Spanish coach builder is driving down costs on its integral coaches, and improving efficiency.
The company's 'Smart Efficiency' drive has, for example, removed 300kg of weight from coaches and brought in on-demand systems such as electric power steering – which can save 0.3 litres of fuel every 100km – to chip away at the fuel consumption of coaches. But she warned that the focus will be on the road transport industry.
"25% of all greenhouse gas emissions are from transport, and 72% of those are from road transport," she pointed out. She said that Irizar's scientific and technical team does not believe that electric coaches will be the answer for some time, but that Irizar has the only self-contained electric bus factory building complete vehicles in house in Europe.
She said that although the fuel consumption of coaches has been reduced massively since the '60s, further progress has been slow as the internal combustion engine reaches its technical limits.
"Coming soon is VECTO, which targets reduction in carbon emissions," she told delegates. VECTO will first of all establish a baseline for emissions by 2022, then demand 15% improvement followed by a 30% improvement: "And that's just not possible," she said. Instead, Irizar believes that biogas and HVO are among solutions for long-range vehicles, as long as we can resolve the issues of growing crops to make fuel.
A fair deal for coaches
The conference saw a discussion panel involving Andy Warrender, CPT Coaching Manager; Keith McNally, CPT Operations Director; and Steve Whiteway, the CPT President in waiting, become a precursor to an audience participation in setting the tone for a new national coach strategy.
Introducing the strategy, CPT Policy Manager Alison Edwards said: "There are a lot of people out there who don't know how good coaches are. We need to make sure they are part of the policy of the decision makers."
She said the creation of a coach strategy would put the CPT in a better position to ask for a fair deal for coaches.
"We need to improve the image of the sector," she said. "After a decade in the civil service, I know they will ask for the evidence, but it's quite difficult to get that data." She suggested the increasing use of cloud-based software as a management tool may offer an opportunity to get more of the figures to support the CPT's pro-coach agenda, with the aim of getting a contribution from government to encourage modal shift and resolve emissions issues.
After the short presentation, the delegates were invited to discuss the issues in several areas of coach operation, with CPT staff collating their views for use in proposals for a strategy.