Continental gets smart with new tachos
German supplier Continental allows a peek behind the curtain before the IAA Show, and reveals the huge change in tachograph technology and more reaching operators soon.
Tachographs fitted to coaches are about to undergo the biggest revolution since the introduction of the first generation of the digital versions in 2006.
Those instruments proved ridiculously easy to bypass and, since then the enforcement authorities have been playing a game of catch-up, with the fraudsters usually maintaining a decisive lead.
While tacho fraud is far more a problem for the freight sector than it is for coaching, legitimate British coach operators will no doubt welcome the introduction of the fourth-generation of digital tachographs, which become compulsory on new vehicles registered from 15 June, 2019.
Capable of relaying the vehicle's actual weight as it passes through a toll gate, facilitating the introduction of fairer distance and weight-based pricing on Europe's toll motorways.
These 'smart' tachographs may seem like a long way away, but the relatively long build time for coaches means that many chassis produced in January will be fitted with the new devices so they can be registered as complete vehicles in June.
The original digital tachograph concept was meant to be virtually fraud-free because it was supposed to interconnect with the much-delayed Galileo European satellite geolocation network. That never happened, and drivers were only required to enter the nation by way of location at the start and end of each shift, opening the door wide for fraud. Combine that with a big magnet on the gearbox sender to mask inputs to the tachograph, and the unscrupulous had the opportunity to drive anywhere at any time with little chance of the offence being detected by subsequent examination of the tachograph data alone.
German automotive supplier Continental will launch its fourth-generation tachograph, the VDO DTCO 4.0, at the IAA Show in Hanover this autumn, and says that besides its anti-fraud features, the new instrument has the potential to streamline fleet management for operators thanks to its ability to generate what Conti calls 'trusted data.'
Unlike previous tachographs, the DTCO 4.0 is in active communication with the outside world. Rumours have suggested that enforcement officers will be able to fully interrogate the tachographs of passing vehicles for infringements once the new technology is introduced, but this is not actually the case. The tachograph will, however, be able to signal that irregular use is taking place: for example, the vehicle is being driven without a card or the inputs into the instrument are being interfered with, or that the device is out of calibration.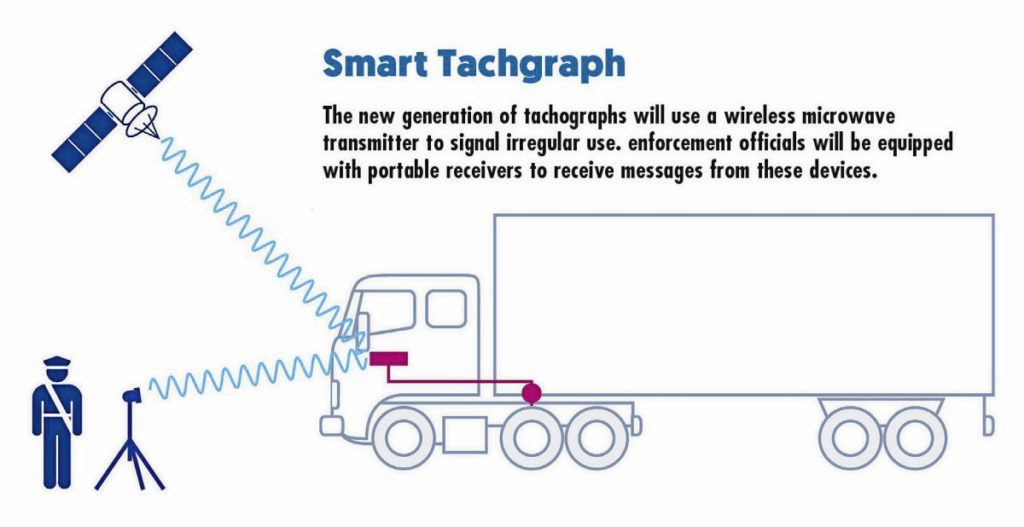 This is done via a small antenna attached to the windscreen of the coach via a wireless microwave transmitter. Enforcement officials will be equipped with suitable portable receivers.
Further protection against fraud is provided by the instrument recording its location from a satellite network (GPS, Glonass or Galileo) at the start of shift, after three hours, and after each change of activity. This information can also be taken direct from the tachograph in support of the operator's fleet management system.
There is encrypted communication between the vehicle's speed sensor and the tachograph, and the tachograph will work both with current driver's and operators' cards and new encrypted cards that have yet to be introduced.
The new tachograph can also function as a toll box, and is capable of relaying the vehicle's actual weight as it passes through a toll gate, facilitating the introduction of fairer distance and weight-based pricing on Europe's toll motorways.
Additional information can also be supplied, if required, to external providers such as fuel card companies. This would allow the automatic downloading of data such as current tank level and distance travelled since last fill at fuel stations all as 'trusted data' through Continental's TIS-Web fleet management system. All information is handled by systems that are GDPR-compliant.
Bus cockpit part of the mix
Besides tachographs and tyres, Continental provides many other systems to the automotive industry. One such system is the bus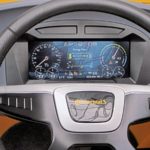 cockpit: coaches and buses have small production runs compared to cars and trucks, so many manufacturers will buy in proprietary instrument consoles, steering wheels and seats.
Continental's current bus cockpit is 18 years old, and incorporates components which are fast becoming obsolete. It is to be replaced with the new modular Drivers Workplace (mDWP), which is future-proofed to European Bus Systems of the Future (EBSF) standards.
Analogue instruments and old-school electrical rocker switches are replaced by a 12.5inch TFT (thin-film transistor) LCD isplay screen and electronic push-button switchgear.
The screen is at the heart of the human-machine interface, and incorporates displays which tell the driver what he needs to know at the time.
For instance, when the coach or bus is in motion, the screen shows a speedometer reading and navigational information. When the vehicle stops, the screen changes to show camera views of the vehicles' entrances and exits.
Engage reverse, and the screen will show either what's behind the vehicle or, if fitted with the correct camera system, a stitched-together 'birds-eye' view of its surroundings. The view from saloon monitoring cameras can also be shown if required.
Electric vehicles get an additional screen display option which shows battery levels and charging state.
A small additional head-up display shows information for the road, such as the posted speed limit.
Surrounding the TFT screen are satellite modules that can be chosen to suit the vehicle manufacturer or operator's requirements. These include panels to control the vehicle driveline, saloon climate, doors, suspension, ticketing system and more. They can easily be swapped from side-to-side as Continental is actively seeking right-hand drive customers, and is in active discussions with a major British manufacturer.
As far as production goes, the mDWP is currently in late-prototype testing with vehicle manufacturers.
The modular design and CANBus wiring of mDWP facilitates repurposing during a vehicle's life: for instance, a module containing a cup-holder on a long-distance tourer can be exchanged for one controlling a ticket machine should that vehicle be repurposed as a commuter coach.
Virtual mirrors coming soon?
Continental is campaigning hard to be allowed to fit rear-vision cameras and monitors in place of large conventional rear-view mirrors (currently necessary for Type-Approval purposes), pointing out potential fuel-savings, reduced accident damage, and even more thorough vehicle cleaning as advantages, and the mDWP to be displayed at Hanover will incorporate these.
They also form a key part in another Continental development: the turn assistant.
Concerns over collisions between 'vulnerable users' large vehicles are not confined to the British capital. In Germany around a third of cyclists to die each year do so in collisions with large vehicles turning off major roads, and the EU and German authorities are both calling for compulsory safety systems to be fitted to large vehicles.
Current technology relies on radar to detect cyclists in the driver's blind-spot, and a warning buzzer is sounded. Continental's next step is to install cameras in addition to radar. These will spot items such as guard rails and walls, and reduce the number of 'false positives' sounded, leading to greater driver acceptance.
What follows that is technology which would have seemed in the realms of science fiction just a few years go. Continental runs a computer vision lab as part of its artificial intelligence lab. Scientists here are perfecting a gesture-recognition system that will, through imaging techniques and machine learning, be able to distinguish humans from other objects in the streetscape, and, by interpreting their movement and posture, anticipate their next move. It will, for instance, realise the difference between an adult waiting to cross a road and a child chasing a ball, and act accordingly.
These are all things that a skilled and attentive human driver can do, but machines will have to demonstrate they are capable of doing before autonomous vehicles can be used safely on the road. Continental is already running a prototype system on its Innovation Truck: a Mercedes-Benz based concept vehicle; and visitors to the IAA Show will be able to see it in action.