Coach convoy Honk for Hope
In all, 95 coaches from the around the country have taken part in a rally to raise awareness of the plight of the industry during the coronavirus pandemic.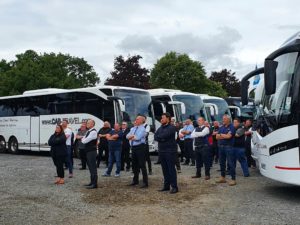 The Honk for Hope UK campaign was organised by Jenna Rush of North East Coach Travel. Jenna told Bus and Coach Buyer: "This event is not a protest but a grass roots show of support from all of us coach operators. We need to highlight the devastating affect COVID-19 has had on our industry."
Jenna said that operators from as far afield as Glasgow drove to the theme park to protest at the poor support the industry has had: "It seems to be gaining its own momentum, and we have been asked to organise another in the south, though I think someone with better knowledge of southern England should do that.
"We drive the nation. People depend on us, such as schools and the elderly. At some time, everyone will travel on a coach"
Jenna (33) joined the family firm 15 years ago, and has a PCV licence: "I absolutely love this industry. I didn't think it would be my career path but I guess it's in the blood."
The media attended en masse, with the BBC, Yorkshire Post and Press Association arriving to film and interview the coaches and their operators. Press coverage the following day was almost nationwide.
At the rally at Lightwater Valley. coach horns were honked en route as they drove under the A690 turn off for a video, which was posted on social media.
Honk for Hope is a European initiative aimed at aiding the travel industry put at risk due to COVID-19. A similar convoy took place in Germany.
A video of the convoy can be found here