Better buses for the blind
The Royal National Institute for the Blind (RNIB) has released its Bus Charter – a pledge for operators to ensure their operations are serving these people well. Chris Peat speaks to RNIB campaigner, Natalie Doig,
to find out more about this project
RNIB has made a significant impact with its Bus Charter, which now covers the 'big five' and a number of independents. Many blind and partially sighted people rely on the bus to get around their local area. As an industry, are we doing enough to welcome people with sight loss onboard?
Work on RNIB's Bus Charter started in 2012. The charity's campaigners regularly develop an idea of what areas they want to campaign in for people with sight loss and visual impairments. After some discussion, buses turned out to be at the top of the list. This should not be surprising, as Natalie said: "Transport, if it doesn't work, is a huge issue for these people." RNIB had already campaigned for better provision on trains for people with sight problems.
RNIB started by working out the problems blind and partially-sighted are having on buses. The first issue was that buses sometimes did not stop for them. Nine out of ten people with sight loss, Natalie said, could not read the bus number, making it difficult to get the attention of the right one. The charity's members noted that drivers got annoyed with them if they flagged down the wrong bus.
Once the right bus finally stops for them, one issue was the driver does not say what they need to know, what bus it is or in some cases even "Hello". An audible greeting like this is not only welcoming, but can actually help them navigate onto the bus, hearing where the entrance is.
Eight out of ten people with sight loss missed an appointment due to the above issues, according to Natalie. "We found we needed to work with the industry to understand why this was happening."
Swap with me
To right these wrongs, the 'Stop for me, speak to me' campaign was launched. One of the aspects of it is the 'Swap with me' training session, which sees drivers exchange places with blind and partially-sighted people.
Volunteers from RNIB with visual impairments sit in the bus driver's seat, while drivers don sim-specs; a special pair of glasses that replicate the effects of a visual impairment. The drivers then board the bus, giving them an insight into what the blind and visually impaired go through when they catch buses. These training sessions proved successful, Natalie reports, with almost 50 of them held since 2013. Operators of various sizes have taken part.
These events were inspired by a similar training session involving truck drivers riding bicycles to gain the perspective of cycle riders. During the first few years of holding 'Swap with me' events, Natalie said much was learnt from drivers and blind people on what works for them, gaining further ideas into the issues being faced on buses.
Some of the earliest operators to sign up to the Charter were Kinchbus and Reading Buses. In these early days, Natalie approached Barbara Bedford, former Customer Service and Communications Director for First Bus. It was agreed that First would only sign up if the then Transport Minister supported it, who in turn would only agree to it if First did. RNIB had to do some negotiating here to get them both to sign up.
As the campaign developed, it became clear there were some sticking points. For instance, driver screens were a difficult topic. The campaigners found them to make it difficult for drivers to hear. However, some operators wanted them to remain for safety reasons, while a few were open to trialling their removal.
RNIB asked operators to explore how sound travels around the entrance area of a bus. In response, one operator cut a space at the bottom of the screen, meaning it is easier to hear the driver and is still difficult for assailants to get their hand through. Some have drilled holes into the screen, while others have explored the idea of using a microphone.
There has been a big increase in the number of 'talking buses' in the industry. However, Natalie said these are not a priority, being very expensive. She is keen for the industry to explore all options, not just pricey kit, for 'talking buses.'
There has also been good progress with operators looking at apps that announce passenger's stops, Natalie observes. She noted a project Stagecoach carried out in the Lake District, which saw it put a satnav onboard its buses travelling in and around Kendal. This was linked to the bus's speakers, with voice recordings played over them when the vehicle reached a predetermined location, announcing stops to tourists: "This was found to be really popular, not just with tourists," said Natalie.
"We didn't want to make it all about talking buses. One of the other things we wanted to focus on, and it's already being done in the industry, is drivers telling people which bus they are on and ensuring passengers find a seat before driving away."
She went on to commend Go-Ahead owned Brighton and Hove Buses, which provides a taxi if a disabled passenger cannot for whatever reason board one of its buses. She said there is some variance when it comes to provision for people with sight loss on buses throughout the country: "Some are stronger at some things than others."
The 'Big Five' operators all have "big strengths", she said. When Arriva signed up to the RNIB's scheme, one thing it did was add a copy of the Charter in everyone's payslips in March. First is "crazy" about the scheme, Natalie reported, being very proactive about enacting it. National Express's strengths lie around communicating with RNIB and passengers about what it is doing regarding the Charter. Head of External Communications, UK Bus, Ali Bell, has been "absolutely brilliant" to work with, according to Natalie. Lindsay Reid, Senior Group Communications Manager at Stagecoach has been great too, particularly in Scotland.
Smaller operators have been fantastic as well, Natalie said, mentioning Go Coach in Kent. Lothian Buses has been working with RNIB, providing more room for assistance dogs. Interest in the scheme has gone further afield than these shores, with equivalents of the RNIB across Europe paying attention to it.
Natalie's experience
In Natalie's experience, who herself has a visual impairment, travelling by bus has become easier. When she was younger, it was a lot more difficult; she related stories of flagging down fire engines and post vans erroneously. Two things which have made it easier are the apps now available and talking buses: "In London, catching the bus is an absolute dream."
One of the biggest issues Natalie experiences with buses in her home county of Bedfordshire are the effects of council cuts, with there not being enough buses. Issues also include information on routes not being available and maps not being accessible for the completely blind. She said her bus to Bedford, which is 12 miles away, takes one hour on its journey: "Generally, I find drivers are more willing to engage, willing to chat. For me, it's not about having a visual impairment, it's just there's not enough buses."
The issue in London is you get off in the middle of the bus, so this misses the opportunity to talk to the driver. One of the things a lot of operators have changed, Natalie has noticed, is the way they recruit drivers. Now they ask job applicants whether they are good with people rather than just can they drive. But why is this? She said feedback from passengers tells us it is not a pleasant experience and there have been general moves around that area to improve things. "We have become more of a society where we do complain more. It's become easier to complain, with emails and Twitter. And operator's public image is now more important than it ever was."
Changing profile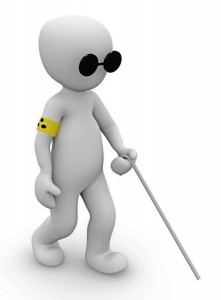 The profile of bus drivers is changing as well, Natalie claims. The stereotype of these professionals is they are middle-aged men, but she claimed more young people are now starting to be drawn into the industry and she has noticed there is much more focus on attracting women to the sector.
She is also positive about operators focusing on not just their own people, but passengers: "The bus operators that perform the best are the ones which regularly engage with disabled people and passengers in general."
To better engage with passengers with sight problems, Natalie suggested operators work with local sight-loss societies.
One easy improvement to make buses more accessible to the blind and visually impaired would be to make timetables easier to read. A simple way of doing this is to flip them to landscape and display them at eye level. Making the text bigger would help too. Only 3% of people with registered sight loss problems are actually fully blind, so they can still read.
There are a lot of people that fall into the category of having visual impairments. She said many elderly people may not consider themselves as having sight loss, but measures to improve visual elements of a bus still may help them.
"There are a lot of little things that can be improved, but you only find them out when you talk to people with sight loss." She gave the example of smartcard scanners, which she said are difficult to locate for those with vision problems. This is something RNIB mentions to every bus operator it sees.
Widespread issue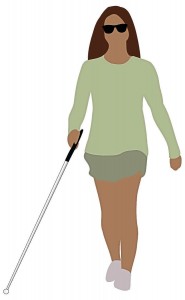 There are, Natalie said, around 400,000 people with some form of visual impairment registered across the country. However, there are more, with not everyone registered. Approximately 80% of 80-year-olds have some level of sight loss, she claimed; while it is estimated four million people in the UK will be experiencing some form of it by 2030.
The rise in diabetes is expected to have an effect on this, with the disease in some cases causing sight problems too. Compounding this, the NHS has been cutting back on cataract operations, something else RNIB is campaigning over.
An alarming figure she quoted was that 97% of people with visual impairments have reported having an accident while walking around their local area in the last three months: "When you lose your sight, it is a dangerous thing."
As can be expected, the amount of people boarding buses with visual impairments could well increase, making the need to concentrate on solutions for this increasingly needful: "In some ways, eye treatment has got a lot better," Natalie said. "But we are not getting wonder cures over-night."
There should not be a 'them and us' mentality, as something interesting Natalie has discovered when going to bus training events is that there are almost always stories of drivers that have ended their driving careers due to sight problems.
She hopes more will sign up to the Charter, with the next signee expected to be Nottingham City Transport (NCT). The operator is even planning to hold an ambitious training event where they will hire out an airfield for a day to take people with visual impairments out and get them behind the wheel.
To those who do sign up, Natalie said RNIB campaigners are not there to police the scheme, relying on their campaigners to tell them if there is a problem on a bus. "It's not a case of saying to operators they are dreadful when things go wrong, more like there are issues we need to work on. We're looking for a collaborative way forward."
RNIB's Bus Charter
There are 13 principles operators sign up to with RNIB's Bus Charter:
For drivers
Bus drivers stop for any waiting passengers at stops, positioning the bus safely.
They tell passengers with visual impairments what service they are and what their destination is.
Do not pull away until passengers have found a seat.
Audio announcements will not be switched off or turned down.
Working with others to make improvements
Operators will check its customer feedback systems with blind and partially-sighted passengers, making sure they are as accessible as possible.
They will review timetables and stop information in conjunction with people with visual impairments.
Ensure all drivers are aware of the rules around concessionary passes and will support the scheme with a travel assistance card.
The bus environment
Seek to improve the way sound can be heard through the assault screen or where possible, remove it altogether.
Actively promote awareness of priority seating for the disabled.
Make sure card scanners are as visible as possible.
Work with blind and partially-sighted people to ensure all options for providing assistance to people with these conditions are being made.
Consult with blind and partially-sighted people when introducing new technology and apps
Build sight loss awareness training into the driving tuition programme.