Back in Barcelona
Highlights from the UITP Global Public Transport Summit in Barcelona
Electric PCVs were the order of the day at the UITP Global Public Transport Summit in Barcelona, which returns following a break due to the pandemic. Here we bring you some of the highlights of the exhibition.
ABB
ABB E-mobility is helping enable fleets to electrify with its new HVC360 power cabinet, which has been designed to offer high degrees of flexibility for any site layout or use case. Each HVC360 power cabinet enables the connection of up to four charging stations as far as 100m from the power cabinet itself, while its compact design allows installation back-to-back, side-to-side or along a wall. It can allocate differing levels of power to each charging station, based on the number of vehicles plugged in or their charging requirements, while the unit also supports all charging interfaces simultaneously, from CCS to pantograph.
Speaking on the launch of the HVC360, Chris Nordh, Global Head of the Fleet & Transit business at ABB E-mobility, said: "Today's launch of the HVC360, on World Environment Day, represents yet further commitment from ABB E-mobility to meet the complex and sometimes operationally rigid needs of bus and truck fleet operators, and comes backed by decades of development and unrivaled field experience.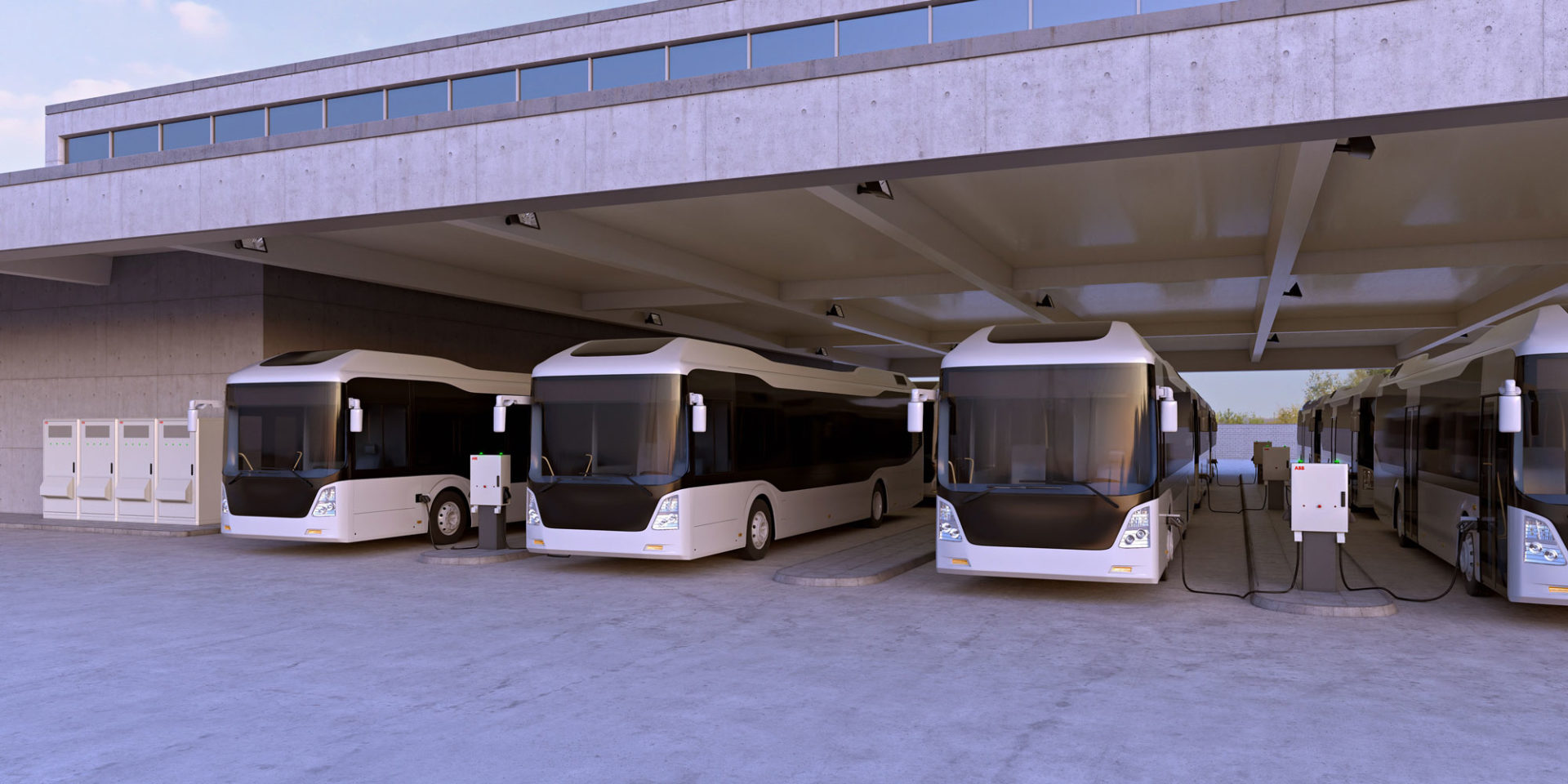 "Even more impressive than the unit's exceptional quality and power density are its extraordinary flexibility and interoperability with a wide range of OEMs, making it a truly global solution. We are very excited to see how HVC360 helps customers of all shapes and sizes to reduce their running costs and emissions as the heavy vehicle sector catches up to the excellent progress already made in the electrification of passenger vehicles."
ABB E-mobility's HVC360 will be available in CE and UL markets at the end of September 2023.
BYD Europe
BYD displayed two eBus models, including the new BYD eBus B19 (18.75m) and the first-ever customised BYD-Castrosua 12m eBus, equipped with BYD advanced pure-electric chassis and Castrosua Nelec (New Electric Castrosua) body, following a joint manufacturing announced last autumn 2022.
The BYD eBus B19 uses the latest BYD LFP Battery Technology and 6-in-1 controller for greater safety, stability, and efficiency, with a larger battery capacity (563kWh). Attention has been given to its thermal management for enhanced energy efficiency. The passenger experience is also enhanced, with a fresh new interior and upgrades to make the journey even more comfortable.
Mr Javier Contijoch, eBus Sales President at BYD Europe, said: "We are delighted to introduce some of our latest eBus innovations to delegates attending UITP Summit 2023. Our collaboration with Castrosua is especially exciting and underlines our commitment to bringing high-quality customised products that are well-suited to individual markets. Our partnership offers customers greater flexibility in eBus specification to make the move to zero-emission buses even more appealing, with the reassurance of BYD's advanced chassis technology and the versatility of Castrosua Nelec body. BYD strongly believes in strategic localised collaborations and continues to expand relationships with key partners to deliver high levels of regional sales and service support, and tailor-made solutions for local customers."
EvoBus/Daimler
EvoBus/Daimler's show vehicle was the Mercedes-Benz eCitaro, which was awarded the 2023 Electric Bus Champion award.
The eCitaro, with new third-generation lithium-ion batteries (NMC°3), combines the Citaro platform with a modular battery, charging and drive technology. The eCitaro has been available with the latest NMC 3 batteries since the end of 2022. the batteries are designed to cover long distances without opportunity charging. The improved cell chemistry, combined with its optimised battery pack, leads to a considerable increase in capacity by around 50% at the same weight.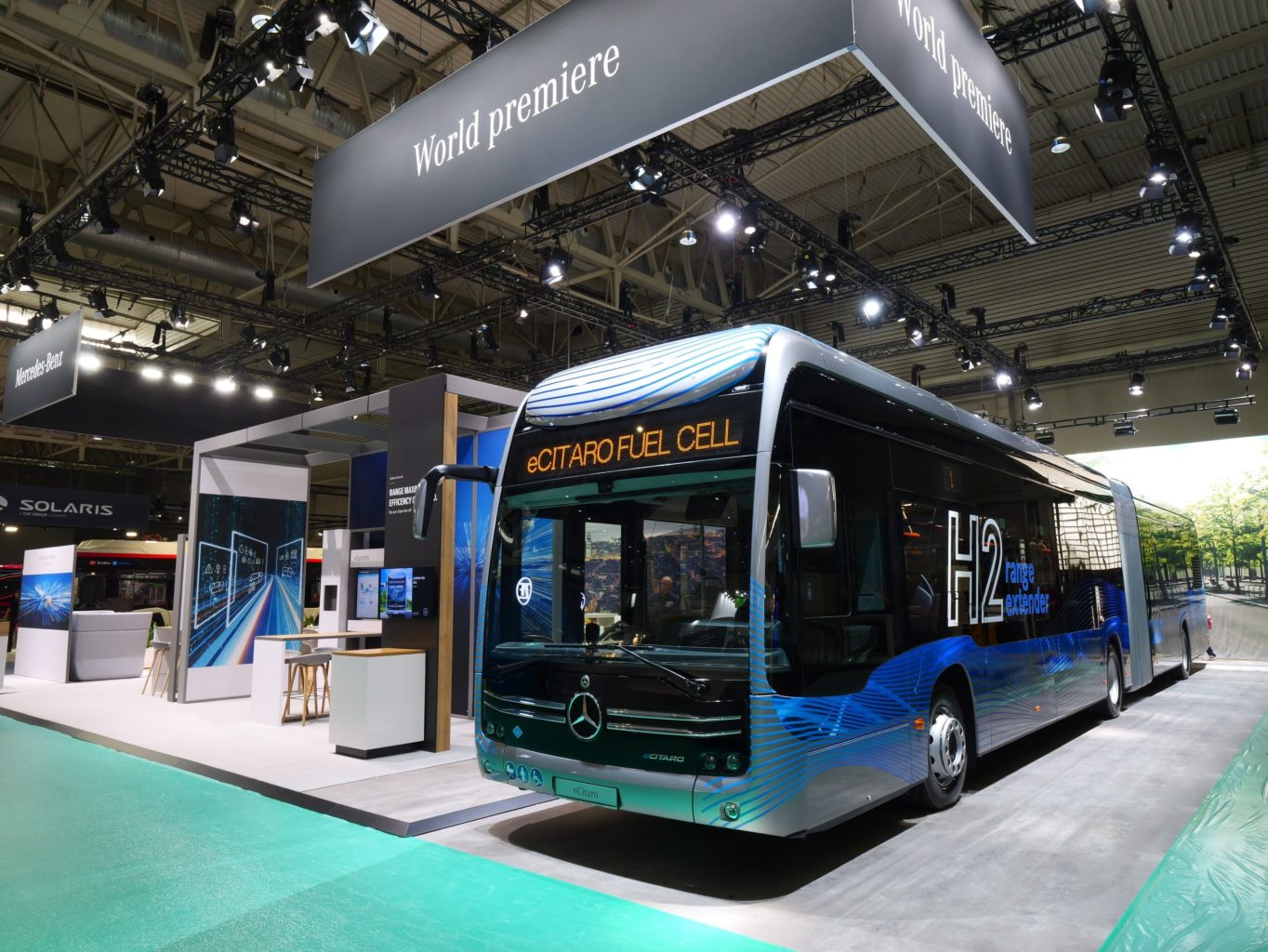 Different configurations of equipment are possible both for the solo bus and for the articulated variant eCitaro G. The eCitaro solo bus is available with a minimum of four and a maximum of six battery packs with a total capacity of up to 588°kWh. The eCitaro G articulated bus is equipped with a minimum of four, and a maximum of seven battery packs and a total capacity of up to 686°kWh.
The layout of the eCitaro passenger compartment is identical to that in the Citaro. Just as the passengers don't have to adapt, neither does the driver of the eCitaro. The almost identical controls compared with the Citaro with combustion engine should allow for quicker driver changes. The eCitaro also supports its driver in energy-saving driving with an acceleration control: when pulling away from the bus stop or traffic lights, whether empty or under full load, torque is reduced to a comfortable level.
INIT
INIT is launching the next generation of its integrated planning, dispatch, telematics and ticketing system MOBILE. INIT's nextGen products and solutions are designed to enable transport companies to improve their service quality and efficiency while achieving the transition to electromobility. Semi-automation, optimisation tools, assistance systems, and machine learning are being used to open up entirely new possibilities to transport providers. Visitors to the show were able to watch various hardware and software demonstrations.
Irizar e-mobility
On its 400 m2 stand, Irizar e-mobility two zero-emissions buses: an 18m ie tram owned by TMB (Transports Metropolitans de Barcelona) and a 12m ie tram that belongs to EMT Madrid (Empresa Municipal de Transportes de Madrid). At its press conference today at their stand, the company recapped the major milestones of its 12 years of existence. Among them were the first 100% electric buses delivered in Barcelona in 2014 as part of the ZeEUS project and the electromobility revolution in cities with the vanguard ie tram in 2017.
Managing Director of Irizar e-mobility, Iñigo Etxeberria, said: "Our production has increased 100% in a year and the growth prospects we have for the coming months are positive for both the national and international markets."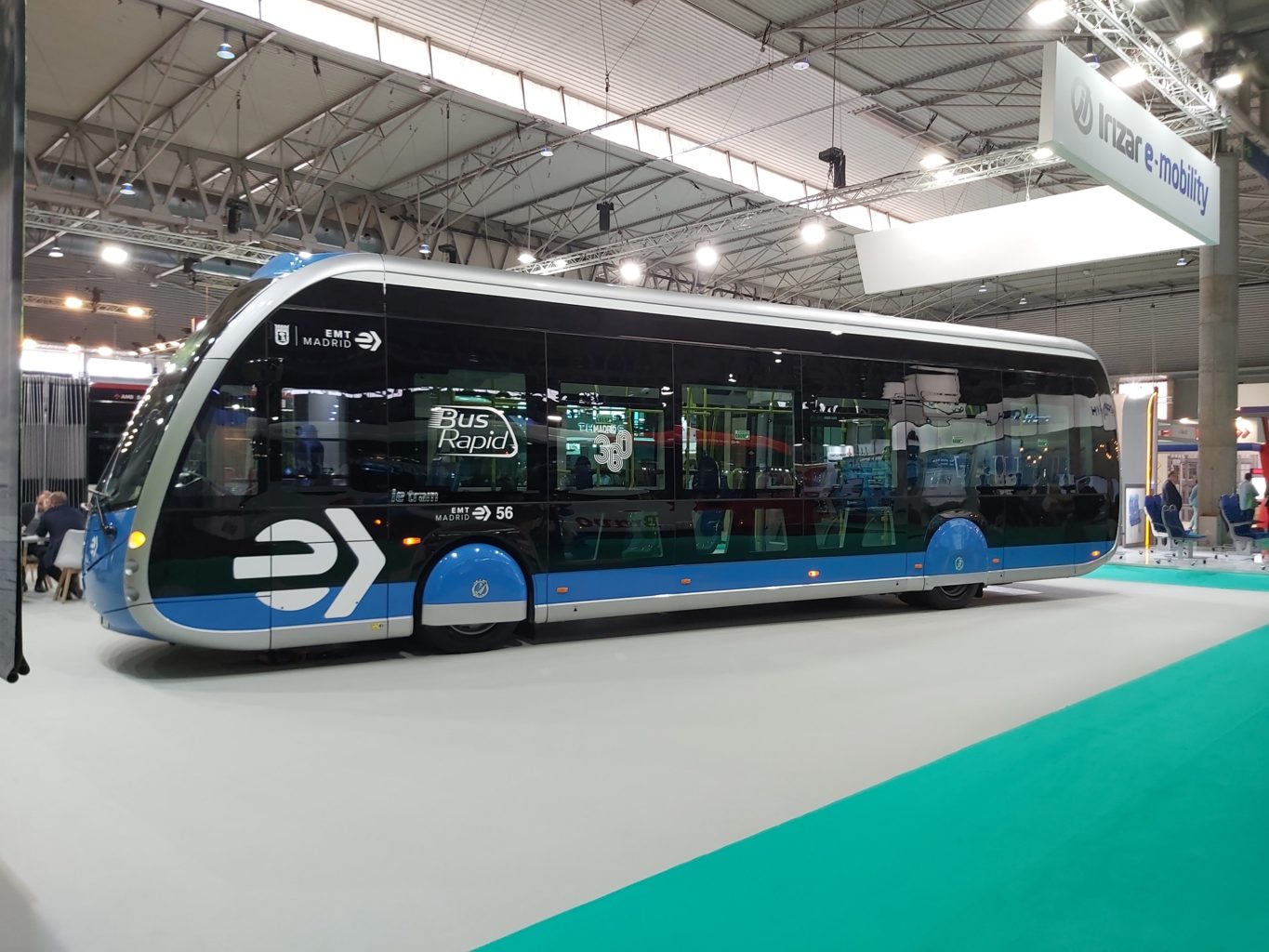 MAN
MAN presented the Lion's City 10 E, the latest model in the MAN electric bus family. It was the midibus version with a length of 10.5 metres, which has been in production at MAN's Polish city bus plant in Starachowice since the beginning of 2023.
The Lion's City 10 E is based on the construction kit of its big brother, the Lion's City 12 E, which 23 European trade journalists (including B&CB's own Stuart Jones), voted international Bus of the Year 2023 last year in Limerick, Ireland. The width, height and overhangs of the Lion's City 10 E have remained unchanged compared to the Lion's City 12 E, as has the concept of the engine tower-free rear, which provides four more seats (maximum 33 seats and 80 passengers in total) than the few competitors in the segment. The body was shortened exclusively between the axles, where a window module was removed, resulting in the overall length being reduced to 10.5m and around 350kg of weight saved. Despite this significant shortening, there is still room for a wheelchair or pram in the standing platform. A third door is also possible, with which there are still 29 seats available.
Man also focused on automation of buses. Barbaros Oktay, Head of Bus at MAN Truck & Bus, said: "The fact that urban bus mobility in the future will not only be emission-free and connected, but also automated, is not a general question, but merely a question of time."
MAN is teaming up with Mobileye to develop automated bus technology.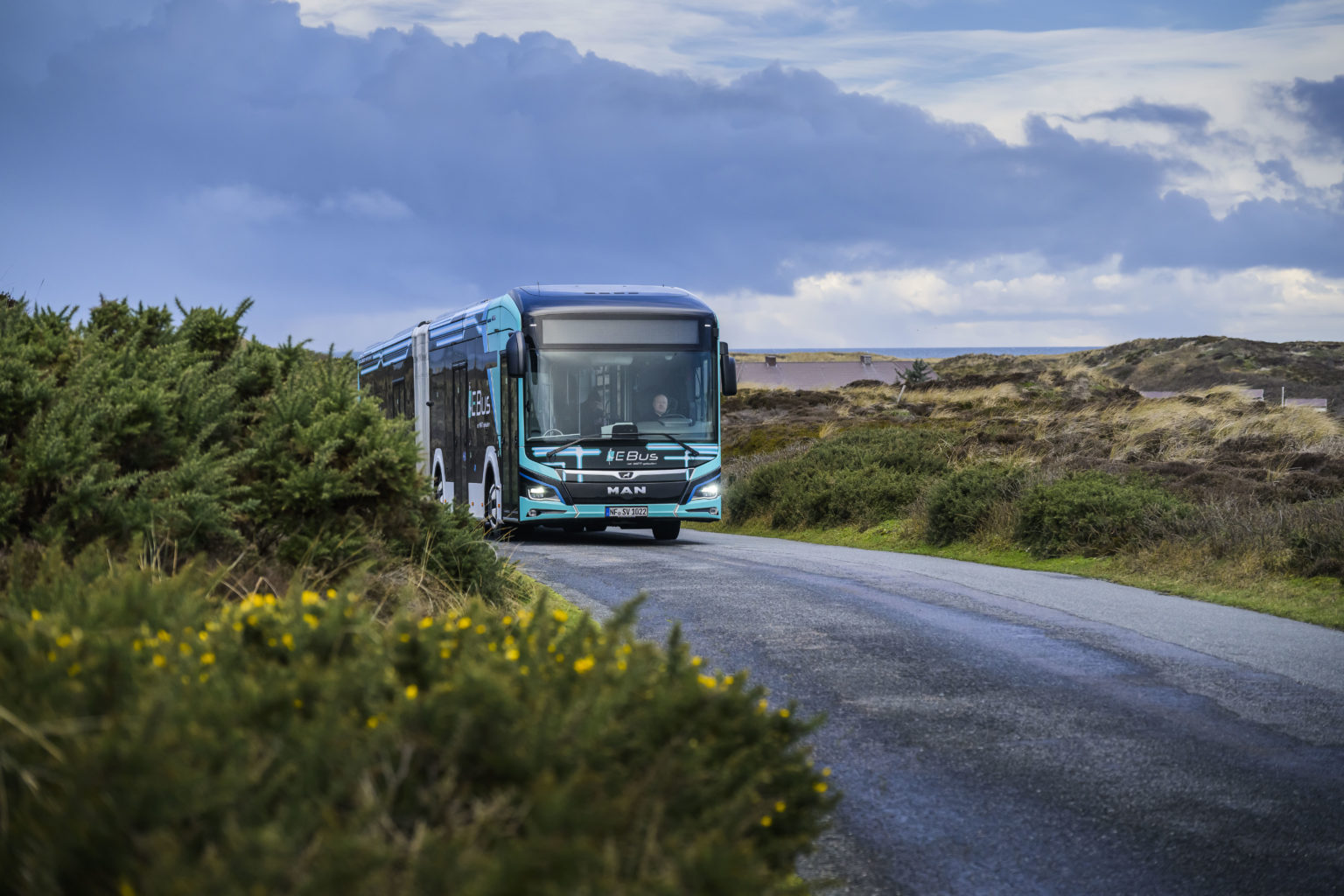 Mellor
Mellor further expanded itself onto the international stage, exhibiting the Sigma 7 electric bus. Gustavo Marqueta-Siibert from Mellor represented the company at the show alongside the Sigma 7 demonstration vehicle, which has been trialled in around 20 cities across Europe. After the exhibition, the vehicle went to TMB in Barcelona for a trial.
The vehicle has a capacity for 30 passengers, with 15 seats; complete with full air conditioning and 127kWh batteries from CATL providing a range of 200km in urban applications, according to Mellor. The 150kW motor is integrated in the rear axle. The bus is assembled by Mellor at its site in Rochdale, with components brought in from China.
Gustavo said: "The Sigma 7 is a very unique vehicle. It's a little big bus; it has space and it's light inside, but at 7m long and 2.1m wide, it's ideal for narrow streets and DRT services."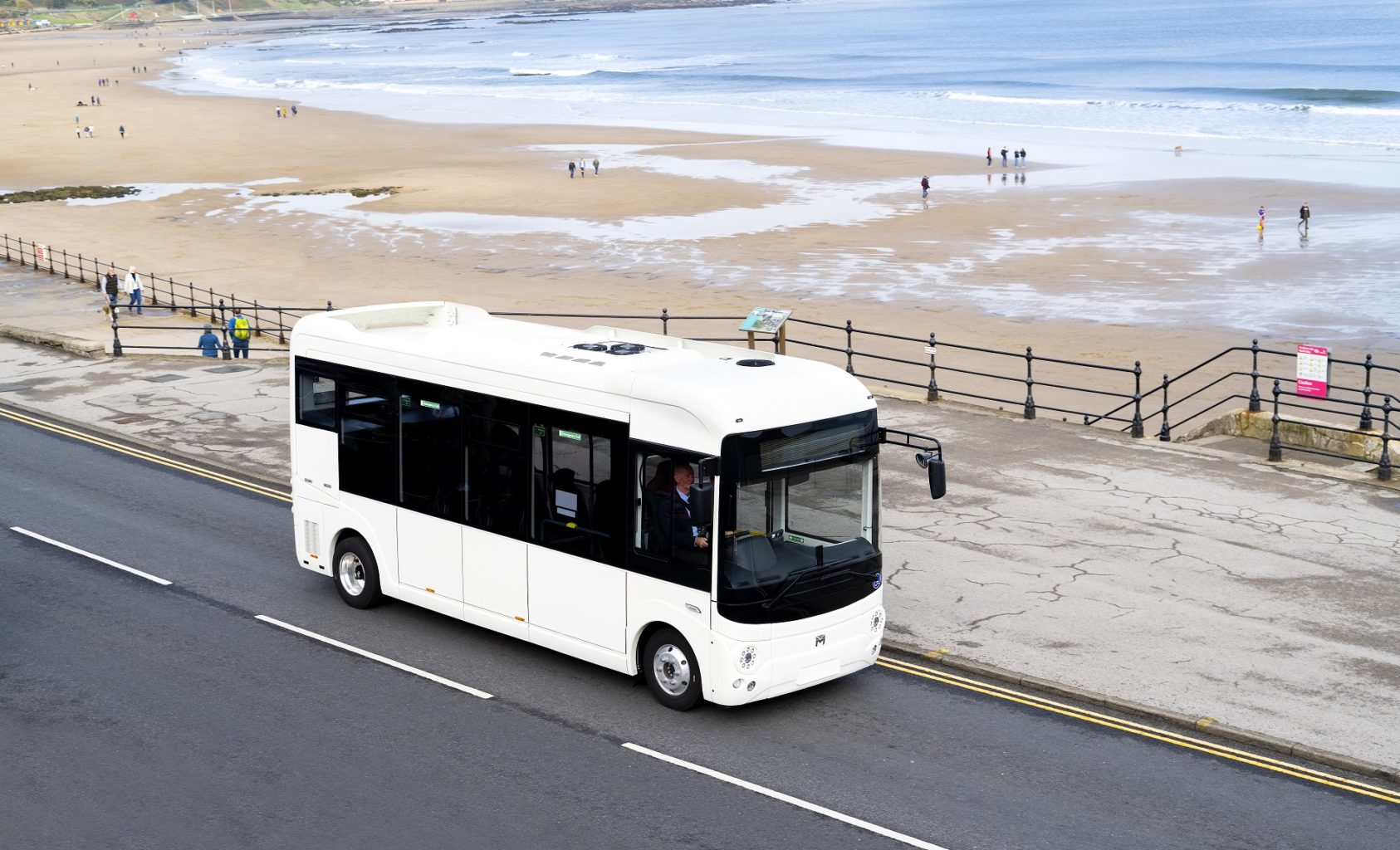 Mellor took the opportunity to explain how it is appointing distributors throughout Europe to support its vehicles. Gustavo said: "If you look at the European market, it is very focused on 12m vehicles, but we have seen a slant for more smaller vehicles.
"The show was very successful. When we came back to the UK, the sales team had a lot of enquiries. The feedback has been very positive. We had a lot of comments that this is unique, that they have seen nothing like this.
"It's in competition with Mercedes-Benz Sprinter conversions.
Scania
Scania emphasised that industry actors must approach sustainability not only from a tailpipe emissions standpoint, but rather look at the complete impact of the products and operations, considering environmental as well as social responsibilities.
Johanna Lind, Head of Buses & Coaches, delivered a presentation on how public transport investments, apart from its more expected benefits, can also contribute to economic and societal development. Additionally, Sustainable Transport Business Manager Jonas Strömberg explained how biomethane solutions can be a tool for addressing environmental as well as social challenges.
VDL
VDL Bus & Coach recently completed Europe's first large-scale battery refurbishment project. It saw 43 buses operated by Hermes, part of Transdev Netherlands, that went into service at the end of 2016, fitted with completely new and much larger battery packs over the past year, bringing the buses back up to date in terms of their equipment. After more than six years, the first-generation batteries have now been replaced by a new generation, significantly increasing the range of the buses. The old batteries will be used within project 'Anubis' in cooperation with RWE in a stationary application in the power grid.
By converting to the new battery system, the now six-year-old buses are again state of the art, which the new buses to be delivered in 2023 will also be. The initial batteries were deployed in collaboration with RWE in a second-life energy storage application in Moerdijk.