Arriva Bus and Coach
New team, new products, new approach
Arriva Bus and Coach has recently undergone a period of change, with a big focus on redeveloping the customer service experience. Kirsty met with Marketing Manager Laura Cooper to get a company update.
Meet the Team
Alan Dale joined the company on 1st February as Commercial Director and his first priority was to strengthen the sales team to support salesman David Brown. He now has a full team in place that have a variety of skills and backgrounds, some sales, some bus and coach and even a former operator, all of whom can bring different attributes to the table.
Darren Critchley was the first to join the team and looks after the North, with John Gray concentrating on Scotland and Ireland. South West and Wales is covered by Graham Messenger, whilst the Midlands is supported by the latest member of the team, Bob Birch. David Brown continues to concentrate on London and the South East, the area in which he is firmly established.
Alan joined the company from Scania and his commercial
vehicle background is predominantly truck and van, which he believes is highly beneficial to Arriva Bus and Coach because, 'The truck side of the business is very good at aftercare and sales support.'
He told me, 'Getting the right sales team in place was my first priority, the next stage now is to step back and look at the sales process and refine it and how we get to market. This was one of the key objectives set when I joined the company.'
After sales
Alan explained that the next area of focus was to improve their aftersales offer. This includes a few high level conversations with engine manufacturer DAF to look at their aftersales towards the coaching market. He believes that across the coach manufacturing market in general, particularly among the key players, the sector is comparatively very small and therefore not given the same level of priority. He said, 'It's all very well having the best product in the world but you've got to be able to support those products correctly as well. We do a very very good job already but we are by no means perfect.'
As part of the aftersales package that Arriva provide, they have two sites, the head office at Cleckheaton, near Leeds and a second at Wellingborough, from where they offer service work as well as MOTs. At the site at Gomersall they have five pits across ten bays and an ATF lane. In addition, they have six Field Service Engineers out in their vans offering roadside assistance.
They offer a 24/7 call out service and nationwide coverage.
In addition to being original equipment suppliers for Temsa and Van Hool, they are a key stockist for VDL and DAF parts. They currently stock over 8000 parts and where possible, offer next day delivery.
With all new large vehicles DAF driven, Marc Haley, the company's After Sales Manager is working with the DAF Aid network to ensure that they are getting the most from their services, tailoring it towards their specific coach needs and building towards a stronger coach presence and priority.
Alan commented that he felt that the bus and coach industry was twenty years behind the truck side of the business. He said, 'Everyone used to have a man in the garage who did everything, now, in trucks, the work goes to the franchise networks, due to the complexity of the products. In this industry they still do much of the work themselves and come to us when there is something major such as a mechanical fault or a breakdown. Much of the lucrative work is done in house.  'I come from a truck background where aftersales was key to every sale, but less so in this industry as most operators have their own workshop.  A lot of the truck technology is now filtering through and requires specialist equipment, take for example cleaning the Euro6 filters, these have to be done professionally as they are carcinogenic.'
'Aftercare is the most important area. Business is not standing still, this will run parallel with improving our offer and improving our sales process.'
Not unexpectedly, Alan wasn't prepared to commit to a time scale on this. The company has seen a lot of changes in the last three years and as Alan said, 'it is about evolution not revolution.' Laura added, 'What we have got now is very different to what we've had before. We're all now working together in the same direction and the recent feedback has been very positive. We are much more customer focussed, working with the operators and we're getting a good reception in the industry.'
Working Environment
Since Laura joined the company, she has been working hard to improve the overall working environment for their employees. She comes from an industrial lubricants background and has had to 'apply the brakes', agreeing that the industry appears to be 20 years behind the rest of the world. She has implemented a new uniform and is constantly looking at ways to better the customer experience. The site now has a dedicated coach park, new staff parking area and new branding. The company was re-awarded its ISO 9001 Quality Management System (2015) certificate and Laura has implemented some engagement activities for employees, these include the extra mile awards, charity events and an employee forum where staff are actively encouraged to have their say.
She told me, 'There are some lovely people in this industry and it's all about building relationships. People buy from people.  It's exciting times and we're looking forward to the year ahead.'
Going forward, Laura is looking at changing one of the two current reception areas at the Head Office site to a better waiting area for customers with a designated sales area, giving a more professional feel on first entering.
Their mission statement: To be the first choice partner for UK bus and coach operators
Neil Sharpe, Director of Sharpe's Coaches, based outside of Nottingham, has been a customer of Arriva Bus and Coach for several years and had this to say, 'We have worked in partnership with Arriva Bus and Coach for a number of years and have found the team to be knowledgeable, helpful and willing to go that extra mile for us when needed. We look forward to our continued relationship in years to come.'
The Vehicles
Arriva Bus and Coach are approved suppliers for the Van Hool and Temsa brands. I asked Alan if there were any plans to expand the range? He told me, 'We have two very strong brands but we are looking to expand the portfolio. The opportunity to diversify now that we have a full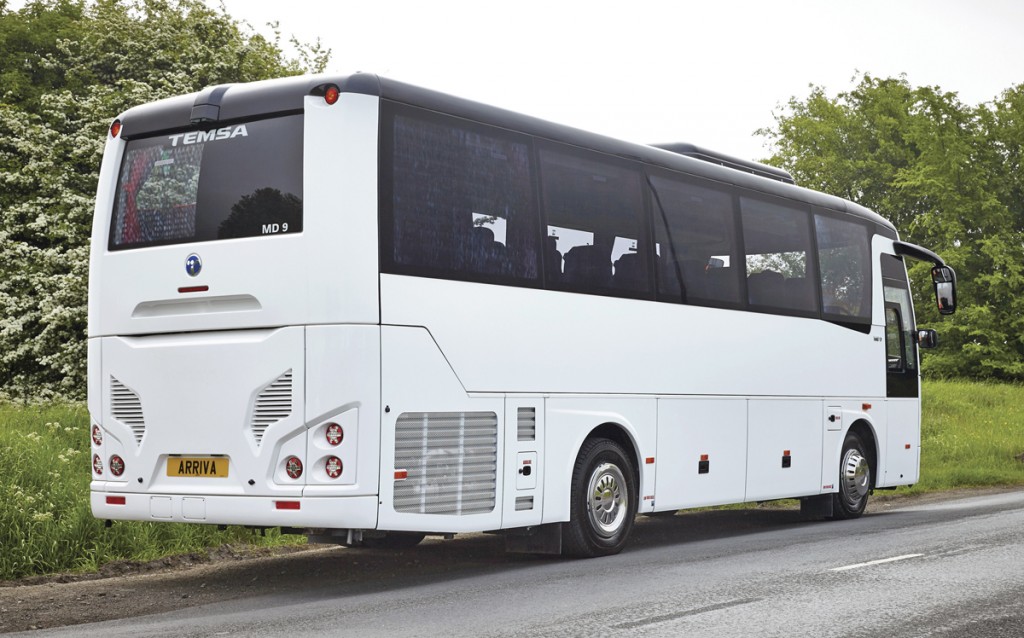 field sales force is an obvious one and we are talking to a number of different people. We may look at an entry level vehicle or another high end product, we haven't yet decided, but what is important is that we maintain the relationships that we have with our current brands and whatever else comes on board would be complementary to these and not in competition. We wouldn't just accept a brand at any cost, it has to be the right one for us.'
Laura added, 'We have to make sure that we can support the brand, that's important. The 12.5m market is strong and many operators are going down the midi route. They also want lots of seats with plenty of luggage space on a twin axle, it's filling that gap.'
This year, they have sold 45 units from Temsa, historically they have always sold around ten units and this shows the strength of the marque in the market. Laura said, 'The Temsa brand reputation is changing in the UK and is doing well. They see the UK as a key market for them. They are high quality, reliable people that look after their customers.' They will be taking another Temsa vehicle to market, trying to anticipate where the market is heading before committing to the LD, MD7 or the Maraton.
Used and Rentals
Historically, customers of Arriva Bus and Coach came to purchase used vehicles and this is still an important part of its business. They don't buy in used vehicles, the used fleet comes solely from part exchanges, which are at the salesperson's discretion and with this in mind, the vehicle range is often vast, with some non-core products.
In addition to used, Arriva offers a rental scheme on new vehicles, both long and short term, with the option of renting a used vehicle if this better suits the operator's requirements. The company is completely flexible in this way and it is also its own finance scheme and therefore feels able to compete with other leasing companies in terms of the package offered.
Euro Bus Expo
Arriva won't specifically have their own stand, instead they will be supporting the Van Hool and Temsa brands with vehicles exhibited on both.
Their Van Hool displays will include an EX 16H provided by Sharpes of Nottingham, the first of its kind in the UK, a TX15 Alicron from Reays Coaches of Cumbria and an additional EX 15H as an outside vehicle.
There will be two Temsa Safaris at the show. The one inside has been made into a hospitality area, with the inside removed and a bar installed. To the front will be seating and a coffee station. A second Safari will be outside for customers to see what it is like complete, along with an MD9 Max.
An MD9 Executive for Stephen Offord Coaches/Lynns Travel will be displayed inside and there will also be a 'test the market' exercise with an LD 13M which can go up to 67 seats. Arriva hope to get plenty of feedback from the market as to whether this could be the potential new addition to their Temsa offering.
It will be a great opportunity for customers new and old to meet the entire team. Alan, Laura and the sales team will be on hand, along with MD Steve Hodkinson and After Sales Manager, Mark Haley.
See them on stands A100 for Van Hool and J110 for Temsa. As Laura said, 'Come and meet the team, we're ready and raring to go'.