Alexander Dennis launches next generation
Enviro100EV and Enviro400EV electric buses revealed
In a glitzy launch event at Farnborough International Exhibition Centre, Alexander Dennis is launching its new electric Enviro400EV double-decker and Enviro100EV single-decker.
The manufacturer describes the vehicles as the next generation of battery-electric buses for the UK and Ireland and are to form part of a wider family of zero-emission buses.
The new buses have been engineered fully in-house as zero-emission vehicles from the ground up. Introducing them, Chris Gall, Alexander Dennis Group Engineering Director, said the company has done all it can to meet all stakeholders' needs, from passengers and drivers, through to depot managers.
Chris said: "We are really fortunate that we have some really creative designers at Alexander Dennis."

The philosophy when designing the bodies of the new electric range is to create something that is reflective of modern architecture, inspired by such stylings as the Shard in London, while at the same time retaining certain proportions and design elements of the existing Alexander Dennis range. Chris said: "We want it to be modern, but at the same time to hark back to our legacy."
Alexander Dennis President & Managing Director, Paul Davies, said: "The pace of change in our industry is rapid. We are proud of the progress we've made with electric buses over the last seven years, and our wide range of low-emission technologies before that. Now it's time for us to take the next step and take zero-emission buses to the next level.
"We're giving authorities and operators more choice, more flexibility and more value with our next generation of battery-electric buses."
Enviro400EV
Boarding the 11.1m long Enviro400EV, Chris Gall emphasised the work the team at Alexander Dennis has put into the driver's cab. Taking into consideration the driver shortage, the emphasis is on 'making the driver's office space as pleasant as possible', according to Chris. The cockpit is an evolution rather than revolution, he emphasised. Climate control is an important aspect of the design, having worked with Grayson Thermal Systems to create a solution that can heat the driver's area from zero to 30degrees Celsius in nine minutes, with a cooling capacity of a similar time. Another feature added to the driver's compartment is a second coat hook for drivers.
The driver's visibility has been improved with higher glazing, a move of the A pillars and a lowering of the instrument panel.
A new TFT display has been installed, designed to give drivers all of the information they need and the steering wheel has been designed to be more car-like. The front of the vehicle has a redesigned geometry, intended to provide drivers with better direct vision and to protect vulnerable road users. Chris explains: "We're applying proven principles from the car industry to buses: provide improved visibility for the driver, modify the form of the front end to offer angles that deflect rather than impact, and reduce system stiffness to mitigate the risk of any impact that does occur."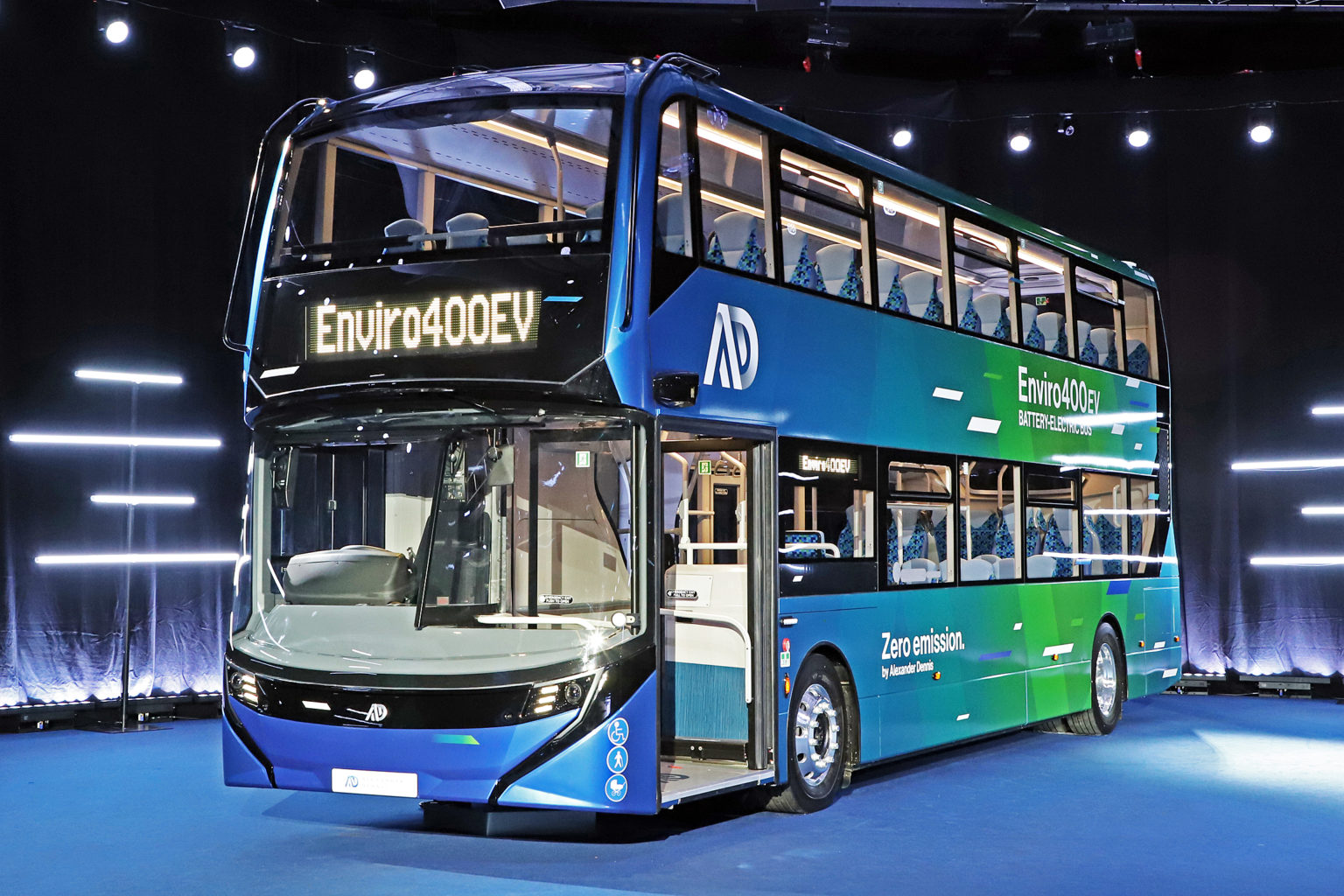 The vehicle has a flat floor throughout, with batteries installed in the floor. The batteries are nested in the chassis members, but are not at the lowest point of the vehicle, meaning they should avoid damage from road debris or over zealous driving over speed bumps. They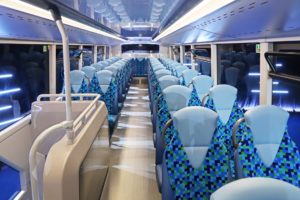 can be accessed from underneath the vehicle using a pit or lift and there should be no need to take the chassis cross-members out if removing them.
The fact there are no battery housings extruding in the passenger area creates a light and airy feel, according to Chris. Spaciousness is a design key for the passenger area, with Chris highlighting an abundance of legroom, particularly in the five seats at the rear.
Designed with urban and interurban routes in mind, the Enviro400EV has been advertised with a range of up to 260 miles on a single charge, with an emphasis on 'up to'. Alexander Dennis can use AVL Cruise, an automotive industry-standard forecasting tool, to work out a more specific range for the vehicle on exact routes and ambient conditions. The technology is used to model operational requirements through what is known as a multi-physics simulation, estimating the useful life of the batteries on the intended routes and producing running boards covering daily temperature and battery state of health. Chris said: "Every route is specific. We tell the operator what they need to know, not what they want to know."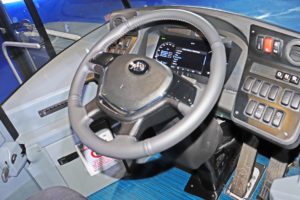 Access to the upper deck is via Alexander Dennis's 'squarecase', which is designed to improve access due to a lack of angled steps. Upstairs features full-depth windows as well as a new panoramic upper-front glass and optional skylights.
The Enviro400EV is considered a successor to the Enviro400 MMC and is a product it envisions selling for the next decade and forming a considerable part of the UK bus fleet for the next 20 years.
Enviro400EV specifications
| | |
| --- | --- |
| Construction | Welded steel chassis and aluminium body |
| Dimensions | 11.1m length / 5.9m wheelbase / 2.55m width / choice of 4.2m and 4.3m height |
| Tyres | 275/70 R22.5 |
| Passenger capacity | Up to 96 passengers with up to 80 seats (51 in upper deck, 29 in lower deck) |
| Accessibility | 1 or 2 wheelchair spaces accessed via manual or electric ramp at front or centre door |
| Electric motor | Voith Electrical Drive System HD, 410kW peak and 310kW continuous power |
| Battery system | Impact NMC lithium-ion battery, 354kWh or 472kWh |
| Charging system | Dual-sided CCS2 DC charging at up to 150kW, optional roof-mounted charging rails for 300kW opportunity charging via pantograph |
| Operational range | Up to 195 miles (354kWh battery) or 260 miles (472kWh battery) range on a single charge at beginning of life |
| Climate system | Forced air circulation with zero-emission heat pump for heating and cooling |
Enviro100EV
Chris believes the Enviro100EV could create a new market sector for a 'small big buses' of its own. The 8.5m long and 2.35m wide bus has few competitors, he says: "There is nothing out there that competes."
Described as highly manoeuvrable, the small bus has been designed to feel like a larger vehicle, with full-width seats installed. "We have not compromised passenger comfort," said Chris. It has a passenger capacity of 45, 25 of which are seated.
With an 8.6m turning radius, it has been designed with rural routes, replete with easily-struck stone walls and narrow roads, or tight urban environments in mind.
The vehicle is advertised with a 285 mile range on a single charge, but Chris reports there is some technology coming soon that could shift this figure up to 300 miles.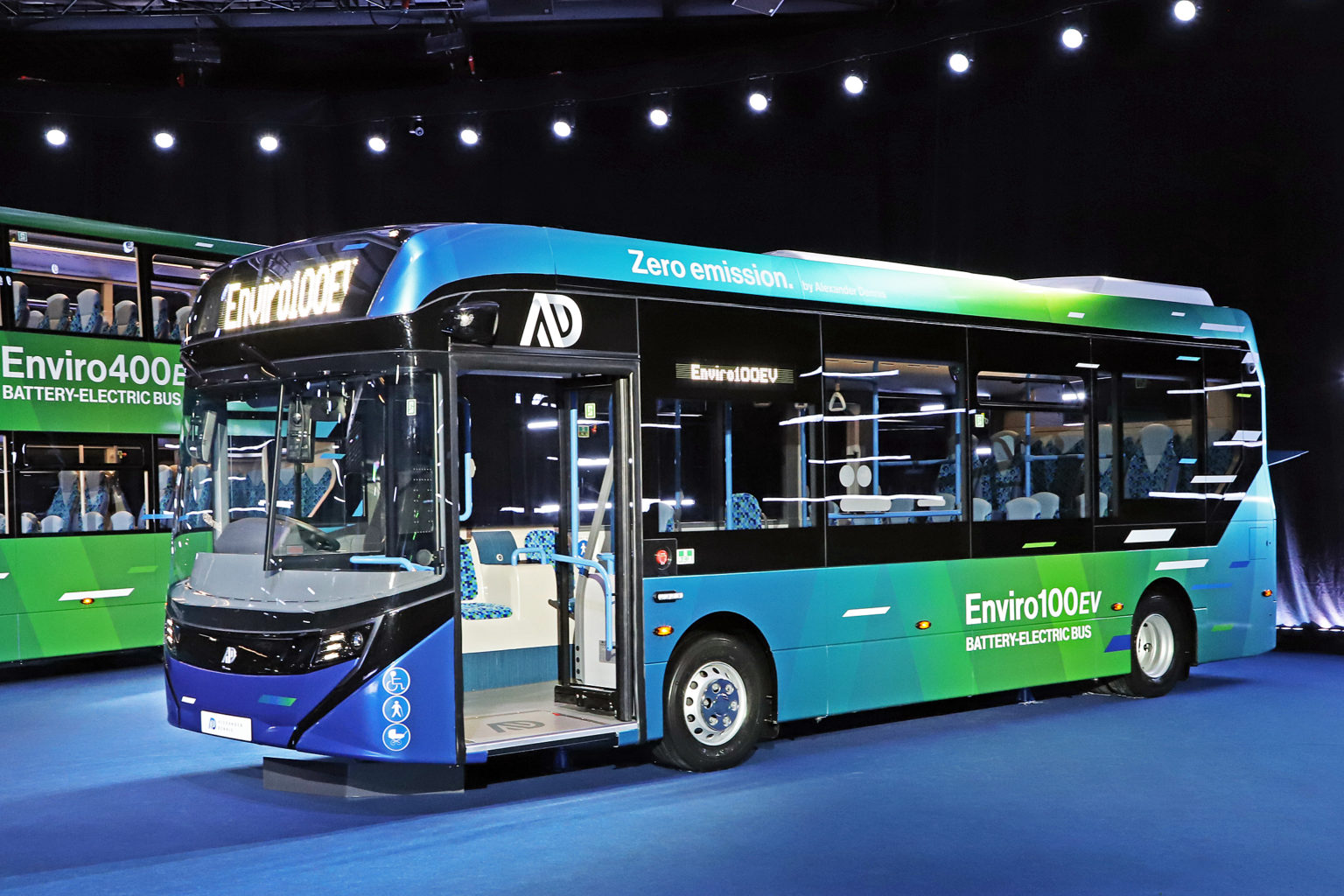 Considering the focus on supporting more rural services in the second round of ZEBRA zero-emission bus funding from the government, the Enviro100EV should be able to be produced in the timeframe needed to include it in applications for that grant. It should also be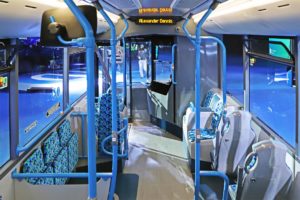 ready for applications in Scotland's similar ScotZEB funding too.
The Enviro100EV's driver cab layout is the same as it is in the Enviro400EV, with Chris saying: "It's the same layout, it's the same toolkit."
Like its double-deck sister, it is door-forward. This was something the design team had several debates about, but door-forward was selected as it encourages passenger interaction with the driver. The version currently being shown off to the industry is in single-door configuration.
Summing up the Enviro100EV, Chris said: "It has that sense of space. It's a big bus in a small package."
Enviro100EV specifications
| | |
| --- | --- |
| Construction | Welded steel chassis and stainless steel body |
| Dimensions | 8.5m length / 4.5m wheelbase / 2.35m width / 3.1m height |
| Tyres | 245/70 R17.5 |
| Passenger capacity | Up to 45 passengers with up to 25 seats |
| Accessibility | One wheelchair space accessed via manual or electric ramp at front door |
| Electric motor | Voith Electrical Drive System MD, 260kW peak and 230kW continuous power |
| Battery system | Impact NMC lithium-ion battery, 236kWh or 354kWh |
| Charging system | Dual-sided CCS2 DC charging at up to 150kW, optional roof-mounted charging rails for 300kW opportunity charging via pantograph |
| Operational range | Up to 190 miles (236kWh battery) or 285 miles (354kWh battery) range on a single charge at beginning of life |
| Climate system | Zero-emission heat pump capable of heating and cooling |
Power
Alexander Dennis has worked with technology partners to integrate the new zero-emission driveline for these vehicles in-house.
Voith Turbo supplies the Voith Electrical Drive System (VEDS), which has been specifically developed for the requirements of urban and interurban buses. While the Enviro100EV uses the medium-duty variant of VEDS, the heavy-duty version is employed in the Enviro400EV for gradeability and maximum reliability even at higher operating speeds.
A future-proof battery system has been developed in partnership with Impact Clean Power Technology from Warsaw, Poland. The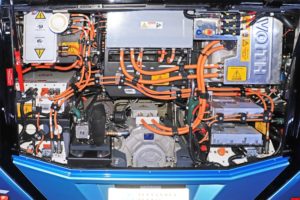 company has been active for around 20 years and supplies Polish bus manufacturer Solaris with batteries for its electric buses. The company also supplied the battery system for Alexander Dennis' Enviro400FCEV hydrogen fuel cell bus.
Using NMC lithium-ion cells, the battery system delivers a higher total energy throughput – up to 1.4GWh in the Enviro400EV – that Alexander Dennis says will allow operators to meet operational requirements with the original set of batteries for longer. NMC technology enables the slim design of the battery packs. However, Chris Gall said the business is not wedded to that battery technology and a change can be made if desired in the future.
The battery packs are mounted within the chassis and rear of the vehicle as well as under the staircase of the Enviro400EV.
Group Marketing Communications Manager, Stefan Baguette, explains it is not about selecting a battery and building a bus around it, it is more a case of coming up with what they want to achieve and then selecting items to get there. Commenting on the work with Impact, Stefan said: "We wanted to look for a partner rather than a supplier, someone we could work with to develop a battery pack together."
If replacement batteries are needed during the operational life of a vehicle, they will benefit from advances in battery capabilities without the need for vehicle modifications as pack dimensions and interfaces with the vehicle are standardised. Impact is already planning a future iteration of NMC batteries for Alexander Dennis that is expected to increase range even further.
Chris Gall said: "Impact and Voith both stood out with their innovation and attention to detail when we chose the technology partners for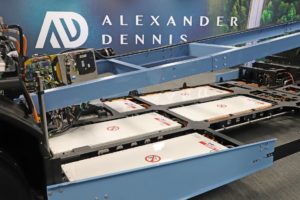 our next generation of buses. Our engineers' work has extended beyond finding the best solutions for our customers as we have spent the time to design future-proof vehicle interfaces that also protect these critical components so that authorities and operators' investment will stand the test of time."
Maximum speed for the buses depends on how each is configured, but the possibility is for up to 60mph. Stefan said the Voith driveline's power reserve should give the power needed for everyday operation, including overtaking slower vehicles and hill starts.
Combined with further measures around the vehicle, including latest assistance technologies such as speed limiting technology and audible warnings, Alexander Dennis's next generation of battery-electric buses meet current and upcoming targets of TfL's Bus Safety Standard.
Variations on batteries are possible and roof-mounted charging rails can be installed for opportunity charging capabilities.
Warranty and total cost of ownership
The new Enviro100EV and Enviro400EV come with a five-year warranty as standard. Paul Davies said: "We believe that the thoughtful engineering, premium component specification and build quality should be backed up, and it will be. Our batteries have an eight-year warranty as standard, and an extension is available out to 12 years on a sensible commercial basis."
Sample analysis shows that thanks to its 1.4GWh energy throughput, the Enviro400EV will be able to cover two consecutive seven-year contract terms on typical TfL routes without a battery change, or typical provincial routes for up to 20 years with a single mid-life change of batteries.
With the manufacturer's route modelling and by factoring in finance options, power supply, maintenance costs and available grant funding, Alexander Dennis will offer its customers a 20-year total cost of ownership calculation. The company has links with funding partners, including those ready to underwrite a full 20-year term. It can also work with infrastructure providers if needs be or with customers' existing partners.
The vehicles have been put through route analysis tests, seeing them driven on typical and not-so-typical routes across the country. Stefan said: "What we are seeing in London on the double-deck routes is that batteries should be able to last two seven-year contract terms."
He said that in higher-mileage provincial operations and interurban routes, that number of years is reduced.
Alexander Dennis is aiming for flexibility with these buses, according to Stefan: "We wanted to make sure they would comfortably run in London or on provincial express routes."
He continued: "In a way, we are getting back to what diesel buses offered. We are able to cascade them down onto other services.
"In commercial terms, we're seeing this as a whole-vehicle-life proposition."
The benefit of this next generation of Alexander Dennis buses is in its residual value, according to Stefan: "We've always stood for that; customers appreciate that with our diesel buses."
Aftermarket

The new buses will be fully supported by the Alexander Dennis' AD24 aftermarket division.

Spare parts will be stocked in the UK with 24/7 ordering through the AD24 website. Field service engineers have been equipped for the new components and trained by the AD24 Training Academy, which also offers bespoke training courses for customers at its own facility or on-site at operators' premises.

Technical publications have been taken to the next level for the next generation, introducing fully interactive manuals designed to seamlessly link to technical support options and parts ordering in a single-login digital solution.

Completing the support suite is AD Connect, a new, bus-dedicated telematics solution that gives operators the vehicle and fleet performance data they need as well as enhanced diagnostics, parts and repair information to further increase vehicle uptime. AD Connect is accessed directly through the AD24 portal or via integration into customers' existing fleet management systems.
Manufacturing
The Enviro400EV will be assembled in Larbert, where Alexander Dennis has transformed its facility and overhauled its build process by introducing digital support tools and reducing the number of build stages to improve material, process and quality control.
These new working methods will be progressively rolled out to all of the manufacturer's sites including Scarborough, where the single-deck production hall is being expanded along with the recently-announced addition of an off-site kitting and logistic facility.
This will benefit production of the Enviro100EV, which takes advantage of Alexander Dennis's global operations footprint before having its high-value components including axles, driveline, batteries, doors, seats and destinations fitted at Scarborough. Seating choice is to customer specification. The ones on the vehicles revealed by Alexander Dennis are by Lazzerini. Alexander Dennis' SmartSeat is currently not fitted to these two new buses. The seat's manufacturer, Kiel, is currently working on the successor to this model. The current SmartSeat can be installed to the Enviro100EV and Enviro400EV if requested, but it is not the suggested preference, according to Stefan.
The Enviro100EV's chassis and body frame will be produced under direct supervision to Alexander Dennis designs by the company's long-standing contract manufacturing partner in Zhuhai, China, which also takes care of manufacturing for its buses destined for New Zealand and Hong Kong.
Stefan said the reason Alexander Dennis is doing that is because it is a more competitive option, considering the company has not seen what it would deem meaningful support for UK manufacturing. He said: "Given our customers are not charities, we have to use global manufacturing."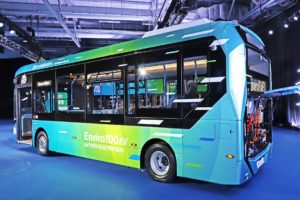 Stefan stresses the company has taken care to ensure as much valued and skilled expertise remains in the UK as possible.
Paul Davies said: "We are introducing a split-build philosophy for our new 'big small bus' that is founded on the success of almost 4,200 buses we have assembled in Zhuhai over the last 15 years. Taking a more global view to our manufacturing strategy will allow us to increase our overall capacity and keep us competitive."
Production of customer orders for both vehicle types has now begun, with deliveries expected in the first months of 2024. Over 100 of both types have been ordered by Stagecoach and Transdev Blazefield. However, these will not necessarily go into service straight away as homologation work will be required.
Homologation can be a long process, according to Stefan, with the testing still ongoing with the Enviro500EV, while testing of the Enviro400EV is currently in full swing and expected to be complete next year. The Enviro100EV is to start its homologation process directly after the launch event in Farnborough.
Stock versions of the Enviro100EV are to be built.
More to come
These two new vehicles for the UK and Ireland are only the beginning of Alexander Dennis' range of new electric buses. They form part of a new generation of zero-emission buses from the manufacturer, which is also set to include the tri-axle Enviro500EV double-decker for international markets, launched earlier this year in Hong Kong.
An international version of the Enviro100EV is under development, as is the autonomous Enviro100AEV and an open-top variant of the double-deck Enviro400EV.
The next generation of Alexander Dennis battery-electric buses for the UK and Ireland are expected to be completed in 2025 with a new Enviro200EV single-decker that will also be fully engineered and built in-house.
What about the BYD partnership?

The launch of a series of buses solely produced by Alexander Dennis may raise questions of the future of the BYD-Alexander Dennis partnership's electric bus range. "The BYD product will still very much be offered," said Stefan. "And that will continue for as long as there is demand for them."

He said further developments of the partnership's products will also depend on demand.

Over 1,500 BYD–Alexander Dennis Enviro200EVs and Enviro400EVs are currently in service across the UK and Ireland.

In a similar vein, there are no current plans for Alexander Dennis to end diesel bus production. As long as there is demand, they will continue to be built.
To see an extensive gallery of images from the launch event taken by B&CB's David Cole, including a 1925 Dennis bus and an Enviro500EV for Hong Kong's KMB, click the main picture above the headline